ST. LOUIS COUNTY — Voters in south St. Louis County face a choice on Nov. 3 that could help set the direction of the county as it recovers from the coronavirus and economic downturn.
Republican Ernie Trakas, 70, of Oakville, is seeking a second term in the County Council's 6th District, after four years in which he was one of the region's top newsmakers. Trakas helped lead a bipartisan bloc against former County Executive Steve Stenger and led a series of ethics probes into agreements and contracts the county had entered with some of Stenger's biggest donors. After Stenger resigned last year amid charges in a federal pay-to-play sting, Trakas led the council's efforts to enact reforms designed to prevent a recurrence.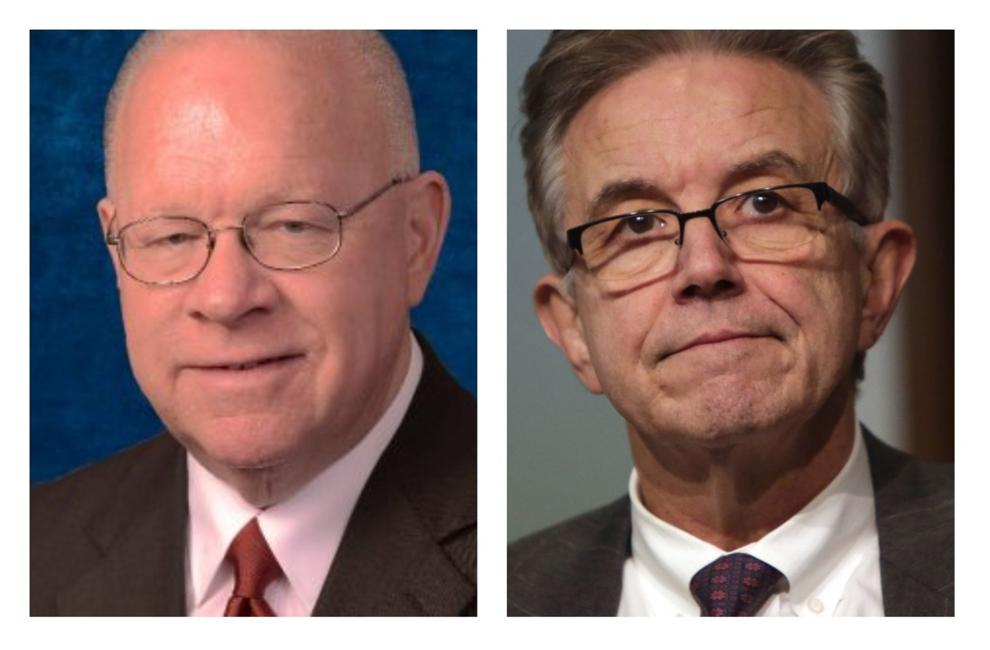 Even Trakas' opponent, Democrat Bob Burns, says he deserves some credit for that. But some Republicans are pulling for Burns, 72, a term-limited state representative from Affton and former beer truck driver, who promises to push back harder than Trakas on the progressive policies of County Executive Sam Page and Council Chairwoman Lisa Clancy. Burns says his party's left wing has abandoned people like him with talk of "defunding" police. He thinks the council should be nonpartisan and touts his own record of working across the aisle in Jefferson City.
Despite flipping a council seat to the Democrats, a Burns victory would probably accelerate the seven-member body's shift away from Page that started this summer as Rita Heard Days, D-1st District, broke away from the Democrats and emerged as one of Page's chief critics. A Burns win could even result in Days replacing Clancy as the chair.
Two other seats are up for grabs in strongly Democratic council districts. Incumbent Kelli Dunaway, the Democrat elected to replace Page in the 2nd District last year, and soundly defeated Creve Coeur Mayor Barry Glantz in the primary, faces Republican Jerry Bowen and Libertarian Arnold Trembley. Shalonda Webb, who upset incumbent Rochelle Walton Gray in the Democratic primary for the 4th District, faces Republican Curtis Faulkner and Libertarian Eric S. Harris.
Trakas has been in battle his entire term. The attorney from Oakville overcame a shadowy recall petition and a lawsuit to remove him from office on the theory that his legal work for outstate school districts disqualified him from serving — each of which he blamed on Stenger.
But the county also settled a sexual harassment complaint against Trakas by his former legislative aide, and Trakas has at times exploded at the county's legal staff. And, in recent weeks, he's lost support from several within his party who think he is too close to Page. Trakas said the lack of support from Republicans didn't bother him.
'Do the right thing'
"I don't subscribe to any type of gospel," he said. "I'm always going to try and do the right thing as God gives me the eyes to see what to do."
Burns easily defeated two strong candidates in the August primary and has been supported by Councilman Tim Fitch, R-3rd District. While Days hasn't made any appearances for Burns, she said she supports him as a party mate.
Trakas and Burns each minimized his own scandal while suggesting his opponent's was a major problem.
Trakas has maintained he did not sexually harass his aide, and the specific allegations he faced were never made public. Trakas pointed to an investigation by an outside law firm working for the county that did not substantiate the sexual harassment claim but found Trakas can be unnecessarily harsh to his co-workers. Some have questioned whether the county's investigation was designed more to settle the claim than to determine its validity. Trakas said he wasn't part of the decision to settle the complaint.
Burns said he's tired of Post-Dispatch journalists bringing up his appearances on a radio show hosted by shock jock Bob Romanik, who hosted "Kool Killer Kountry Radio." Burns declined calls to resign his seat and ran unopposed for it later in 2018. Romanik's effort to renew his license was terminated in February by the Federal Communications Commission. Burns insisted he was not a racist and said his own comments had only to do with an effort by Romanik to support troops and veterans.
"I've always voted for women's rights, animal rights, people's rights, the LGBT community's rights," he said. As for Romanik's racist and homophobic views, "I've said I don't agree with those."
Leader of the band
Trakas said his biggest accomplishment was leading the council's ethics committee, which investigated the county's long-term lease at the former Northwest Plaza shopping center in St. Ann owned by major donors to Stenger's campaign. The committee also led inquiries into Stenger's meddling with the St. Louis Economic Development Partnership.
As the only elected representative of an almost entirely unincorporated district of about 140,000 residents, Trakas said he was proud of "steadfast vigilance" over zoning in his district to block development such as storage facilities including a project that several KMOX (1120 AM) personalities lobbied for on behalf of their boss.
Burns said he was an expert at organizing people, calling on his days at Affton Senior High School as an example. He organized a 10-piece band that played churches and public schools. "And I had five musicians, four African American singers, kind of like the Temptations and the girls. Try getting 10 teenagers fully rehearsed, dressed properly, to a band job on time and ready to play."
Want to vote by mail for the 2020 presidential election? Though easy to confuse, in Missouri, a mail-in ballot is (slightly) different than an…