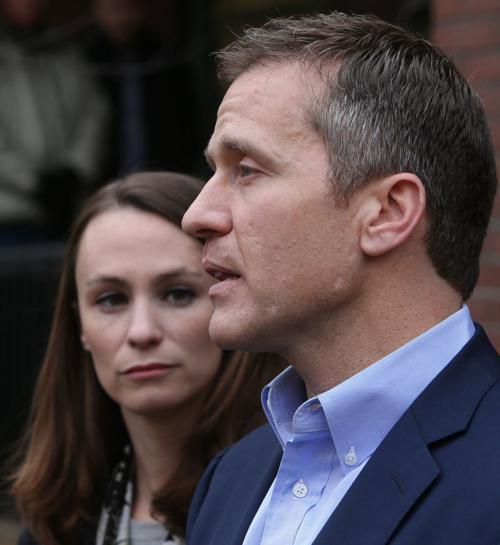 This timeline of events contains information from the ex-husband of a woman who he says had an extramarital relationship with Greitens. On Wednesday night, Greitens confessed to an affair but denied that he had taken a photograph of a woman or threatened her with its release, as her ex-husband has alleged.
Prior to 2015 • A hair stylist gets to know Greitens as a client at the Central West End salon where she works, according to her former husband. At the time, Greitens is a successful author with no political position.
February 2015 • Greitens publicly announces his intention to run for statewide office.
March 21, 2015 • According to comments the woman would later make to her husband, Greitens and the woman meet for the first time in his Central West End home. In his basement gym, Greitens allegedly binds her wrists to exercise equipment with tape, blindfolds her and partly undresses her. Then, without her consent, he allegedly takes her picture. He allegedly threatens to use it against her if she exposes him.
March 25, 2015 • In audio obtained by the Post-Dispatch, the woman's husband confronts the woman while they're seated in a parked car and, as he surreptitiously records the conversation, she admits to visiting the future governor's house days earlier. The woman tells her husband about the encounter and the picture he allegedly took. (The husband would later make her aware of the audio recording, he says.)
Sept. 26, 2015 • Greitens launches his campaign for governor.
Oct. 20, 2015 • The woman emails Greitens, asking him to stop coming to the salon, according to an email obtained by the Post-Dispatch.
December 2015 • The woman and her husband file for divorce.
September 2016 • Two months before the general election, the now-ex-husband is approached by a Democratic operative, but the allegations don't come to light before the election.
Nov. 8, 2016 • Greitens wins election as Missouri governor.
Fall 2017 • Rumors of the allegations begin percolating again in Missouri political circles. The Post-Dispatch obtains information, including interviews with the ex-husband and the tape he made, but holds off publishing the story because of the woman's refusal to be interviewed.
Wednesday night • Hours after Greitens delivers his second State of the State speech in Jefferson City, KMOV-TV (Channel 4) airs the allegations of the affair and related blackmail, without confirmation from the woman. Greitens issues a statement acknowledging an affair, while his attorney issues another statement vehemently denying any blackmail allegation. In response to those statements, the Post-Dispatch and other media report on the allegations.
Kevin McDermott • 314-340-8268
@kevinmcdermott on Twitter