JEFFERSON CITY • Employees in Gov. Eric Greitens' office have been called to testify in the ongoing investigation of the governor by the St. Louis Circuit Attorney Kim Gardner .
In an interview Thursday, Missouri Republican Party Chairman Todd Graves said his Kansas City-based law firm was representing some members of the embattled governor's team, but he wouldn't say who or how many.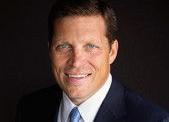 "We're representing more than one member of the staff," Graves told the Post-Dispatch. "They've been subpoenaed to be witnesses to the grand jury."
On Thursday, members of the Missouri House voted unanimously in favor of legislation outlining the rules of the panel of lawmakers that will investigate the governor.
That came a day after Circuit Judge Rex Burlison set a May 14 trial date for Greitens' felony trial on charges of invasion of privacy, in which he is accused of taking a picture of his lover nude or partially nude without her consent and threatening to release it if she mentioned his name.
From Greitens' initial statement to the legal battle, read the Post-Dispatch coverage of the governor's scandal.
The governor, a Republican serving his first term, has denied using a nonconsensual photograph to threaten the woman. His attorney has denied that a photo was taken.
Payment arrangements for the legal assistance were not immediately available, but the law firm is not being paid by taxpayers.
Among those who could be receiving legal help is Greitens' chief legal counsel, Lucinda Luetkemeyer, who is a former Graves Garrett lawyer.
It doesn't appear that any of the employees have testified before the grand jury.
At the court hearing, a lawyer defending Greitens said that the photo of the alleged victim described in the indictment "does not exist."
"There's very little I can offer," Graves told the newspaper.
Meanwhile, a lawyer representing Greitens' campaign operation said that former campaign workers and the nonprofit dedicated to advancing his agenda had not received any inquires or subpoenas from investigators.
Former U.S. Attorney Catherine Hanaway, responding to rumors of an investigation into campaign-related matters, said that the parties she and former federal prosecutor Matthew Schelp represent had not received subpoenas or inquiries from state, federal or legislative investigators.
Hanaway, who lost to Greitens in a four-way primary for governor in 2016, would not say which current and former campaign employees they represent. She confirmed they also represent the Greitens For Missouri campaign and A New Missouri Inc., which is run by Greitens' senior adviser Austin Chambers.
Asked about the woman at the center of the scandal, Hanaway said that the woman had neither sought nor received any assistance from the campaign, A New Missouri or the employees they represent.
"She has not approached anyone at the campaign or sought assistance," Hanaway said.
Also Thursday, five news media companies filed a motion in the case seeking advance notice of pretrial court hearings.
The motion filed Thursday in St. Louis Circuit Court complains that "proceedings in this case have not been readily accessible to the public or to the news media, who act as the public's eyes and ears to legal proceedings." It also says no notice was given to reporters for Greitens' initial appearance or to a Feb. 26 hearing at which prosecutors and defense attorneys argued about evidence and setting a trial date or a hearing Wednesday, when "interested media representatives who have been covering the case were given only very short notice of it."
Two Post-Dispatch reporters covered the Feb. 26 hearing in St. Louis Circuit Judge Rex Burlison's courtroom. Lee Enterprises, which owns the Post-Dispatch, is not a party in the motion.
In the House, Rep. Jay Barnes, R-Jefferson City, outlined his role as chairman of the special investigative committee, which will interview witnesses in an attempt to gather facts about the scandal.
"This is a solemn and serious obligation," Barnes said. "We will do our best."
Barnes warned his colleagues to disregard the "crazy" rumors that have been swirling through the Capitol since news of the governor's extramarital affair broke in early January.
"This body doesn't know what is true and what is not," Barnes said.
Rep. Kip Kendrick, D-Columbia, called the situation an "embarrassment."
"This has obviously been a distraction for all of us," Kendrick said. "There are going to be attempts to make this a partisan issue, and it's not. There are going to be a lot of outside influences."
In Washington, U.S. Sen. Claire McCaskill, a Democrat who is facing a potentially tough re-election battle, told reporters she was disappointed with the attempts by Greitens' allies to manipulate "the court of public opinion" by alleging that Gardner, a Democrat, was pursuing felony charges against the governor for partisan reasons.
"I think everybody should be quiet until this case is heard," the senator said.
"It is about the facts and applying the law. It is not about who you like or dislike, it is not about what political party you are, and that is what I think is so unbelievable — that there are people supporting the governor who are trying to distort this process and make it about politics. That is unfortunate, and frankly I think it is disrespectful to law enforcement in general," McCaskill continued.
Chuck Raasch of the Post-Dispatch contributed to this report from Washington.