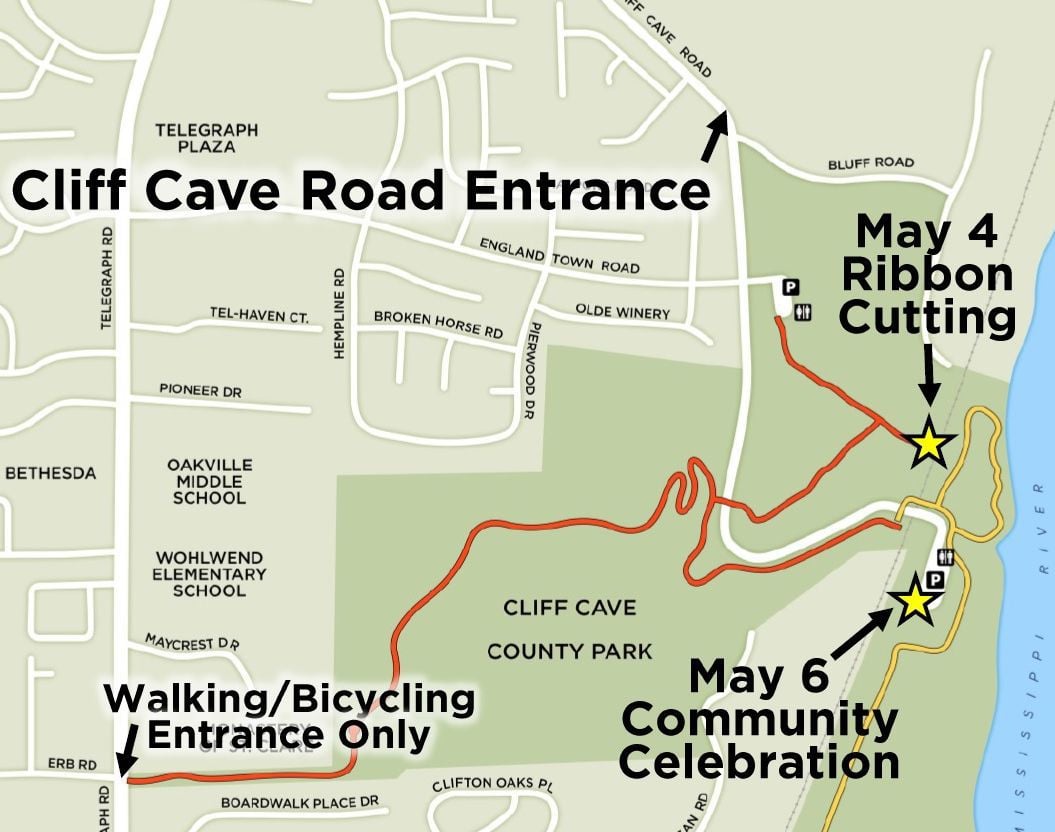 SOUTH COUNTY  •  Improvements to Cliff Cave County Park, including a two-mile trail extension and a new Mississippi River scenic overlook, will officially open to the public following a ribbon-cutting event at 10:15 a.m. Friday.
While the region has hundreds of miles of trails surrounded by scenic natural areas, here are a few selected for specific values.
Completion of the $4.3 million project also will be marked by a "community celebration" on Sunday from 2 to 4 p.m. on the park's lower parking lot.
The celebration will include music, games, free snow cones and waffles for the first 250 visitors, yoga and hiking classes and a 30-minute nature walk. Bicycles and helmets will be available for rental.
The project, funded by the Great Rivers Greenway district, extends an existing five-mile paved trail up a bluff to the new river overlook. The trail is part of the district's Mississippi Greenway.
The project also included additional parking and restrooms, a 210-foot pedestrian bridge over Cliff Cave Road to connect visitors to the overlook and a 70-foot bridge over a creek.
Also included are new native trees, shrubs and flowers.
The project also included a new signalized crosswalk across Telegraph Road to the park at Erb Road.
County Executive Steve Stenger lauded the project. "The new greenway has made Cliff Cave Park more accessible for walking, riding a bike, pushing a stroller or using a wheelchair," he said in a news release.
But Councilman Ernie Trakas, R-South County, said while the improvements generally are a good thing for the community, he remains worried that the crosswalk across Telegraph will be dangerous for people using it. For that reason, he said, he won't attend the ribbon-cutting.
"I think it would be hypocritical for me to be there," Trakas, whose district includes the area, said Thursday.
Trakas, echoing concerns of some residents, instead had pushed last year for a new bridge to carry walkers and bicyclists across Telegraph and had held up the project for a time because of that and other issues.
Last year Stenger announced a joint effort by his office and Trakas to have an independent contractor study the safety of the pedestrian walkway while construction of other parts of the project got underway.
That study, issued last June by CBB Transportation Engineers and Planners, concluded that the crosswalk was a reasonable approach. 
Trakas on Thursday questioned the credibility of the study because it had been paid for by the greenway district, the entity that had proposed the crosswalk.
He said what he had agreed to was an "independent, objective study" paid for by the county parks department.
Get Government & Politics updates in your inbox!
Stay up-to-date on the latest in local and national government and political topics with our newsletter.