CLAYTON — Before Lt. Col. Troy Doyle filed a complaint last week alleging that he had been passed over for St. Louis County police chief because he is Black, there were questions about how the Board of Police Commissioners could have picked anyone else to lead the department.
Doyle has been one of the department's most public faces for years, at times just as visible as the white chiefs he reported to: Ron Battelle, Jerry Lee, Tim Fitch and Jon Belmar. In the early 2000s, Doyle frequently spoke for the department's response on issues from dog fighting to its efforts to reduce crime in apartment complexes.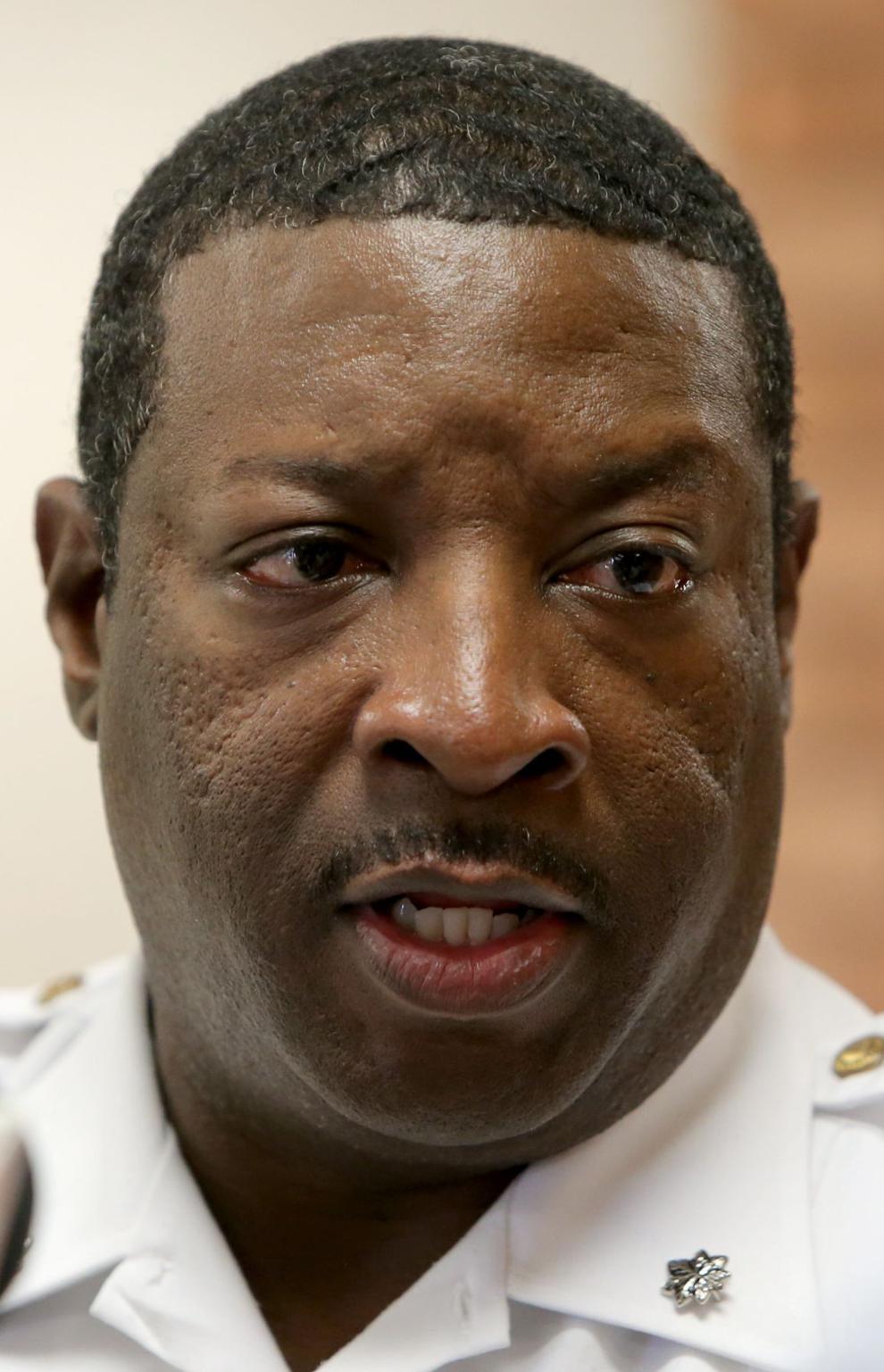 "There was no question in my mind that he was the most qualified," the Rev. Phillip Duvall, an activist who has worked closely with Doyle, said Tuesday.
Uneven testimony
But Doyle's reputation may have taken a hit when he testified in a high-profile workplace discrimination case that roiled county government in October 2019.
Sgt. Keith Wildhaber had filed an EEOC complaint against the police department in 2016 alleging that he was being discriminated against, and being held back for promotion to lieutenant, because he is gay. Weeks after the complaint, he was transferred from the afternoon shift in the Affton precinct to midnights in the Jennings precinct — almost tripling his commute to work.
Wildhaber testified that Jennings was the last place he wanted to work. And his attorneys established that the department made a regular practice of giving problem employees "geography lessons" by transferring them to a precinct far from home.
The commander at the center of the transfer was Doyle. And the testimony about how it happened was not consistent. Doyle testified that Lt. Aaron Roediger, one of Wildhaber's closest friends, had called him saying Wildhaber wanted to transfer to the Jennings precinct because he wasn't getting along with his captain in Affton.
Roediger testified that it was Doyle who had called him asking if Wildhaber would be OK with going to Jennings. And Roediger testified that Wildhaber needed heavy convincing.
In his closing statement, Wildhaber attorney Russ Riggan laid it out: "Doyle says Roediger called me and said Keith wants to transfer. Roediger said Doyle called me and said Keith wants to transfer. Roediger testified that he had no conversations with anyone about Keith getting transferred before Doyle called him. Roediger is the chief's yes man, bought and paid for by being offered a position as the chief's aide."
The jury awarded Wildhaber nearly $20 million, agreeing that department commanders discriminated and retaliated against him.
Any questions about the Doyle testimony may have been overshadowed by testimony from a police widow that another police commander, Capt. Guy Means, had called Wildhaber "fruity," and Means' testimony that he didn't remember the woman or the event where they spoke.
The woman came to court the next day with a photo of her and Means smiling and hugging, suggesting Means had not been truthful.
After the trial, St. Louis County Prosecuting Attorney Wesley Bell said in November he was launching a perjury probe. The office has never released its findings, and Bell's chief of staff, Sam Alton, said Tuesday he had no comment about the investigation.
An opaque process
After the verdict, Page was under pressure to make wholesale changes to the police department. Because all five commissioners were serving terms that had expired, or were about to, Page had a rare opportunity to influence a future chief selection by stocking the board with his own people.
Within days, Page announced four new commissioners, leaving only Mark Gaertner, an attorney, in place.
The first two members were former Missouri Supreme Court Judge William "Ray" Price Jr. and Michelle Schwerin, a lawyer and CPA. Then came LJ Punch, an associate professor of surgery at Washington University and an anti-violence activist, and Thomasina Hassler, an adjunct professor of social science at Harris-Stowe State University.
On Feb. 10, the department announced that Belmar was retiring on April 30 and that it had reached a $10.25 million settlement with Wildhaber.
Within days, a group of mayors and other public officials in north St. Louis County advocated for Doyle to become the county's first Black police chief. That group included Councilwoman Hazel Erby, who had taken a job in Page's administration directing the county's diversity efforts. (Many of the same officials gathered on Tuesday at Vinita Park City Hall to demand that Doyle be installed as chief.)
On March 19, six weeks before Belmar's last day, the police board surprised many by scheduling a closed-door meeting and emerging to announce a police chief. The board had not disclosed the names of the candidates who had applied for the job — the names of eight finalists, obtained from a source, were published by the Post-Dispatch — or that they planned to make a selection that day.
The board's pick was also a surprise to many: Capt. Mary Barton, a 41-year department veteran who commanded the department's West County precinct but did so without a fraction of the recognition Doyle had enjoyed. Barton's name had appeared just once in the Post-Dispatch archives, when Fitch promoted her to captain in 2009.
Page's statement that day suggested he was nonplussed: "The chairman of the Police Board that selected her assures me that the Board and the new Chief will work closely with county government."
Barton didn't make a public statement that day, nor for the next six weeks. She finally spoke with reporters the day of her swearing in. A month later, the County Council called her in for a meeting, some members concerned that they had not yet met with her while a national debate about police brutality was raging.
In speaking to the council, Barton ran into headwinds when she denied the existence of "systemic racism" in the police department, and two members of the council questioned whether she could lead.
The board has never explained its choice of Barton. Price, Punch, Gaertner and Hassler did not respond to messages this week.
Sometime after the Barton selection, Doyle hired lawyer Jerome Dobson, who contacted Page's office in early July and said he wanted to settle a discrimination case involving Doyle quietly so that it did not affect Page's reelection bid.
The county's legal staff has accused Dobson of trying to extort $3.5 million. Bell, the prosecuting attorney, referred the case to the U.S. attorney's office in St. Louis. In an interview on Tuesday, Dobson denied he had done anything improper and said he had not been contacted by prosecutors.
Dobson agreed to share the outline of the EEOC complaint: Page told Doyle that he had been his choice for chief and that the occasion would be "historic." Dobson said Doyle met separately with Price and Schwerin before the Page nominated them to the police board.
In January, Dobson said, Page told Doyle he was "getting pushback from persons about him being chief because of his race." Dobson said Page told Doyle the comments came from "one or two" unidentified members of the Police Foundation, which supports the police department through donations. And, Dobson said, Page told Doyle he was having difficulty getting contributions to his campaign from "significant corporate donors" for reelection to county executive.
"But he said, I'm still going to pull you across the finish line."
Next thing that happened, Dobson said, was the board chose Barton.
Editor's note: Dobson said Doyle met separately with Price and Schwerin before they were nominated to the police board. An earlier version of this story incorrectly said Dobson said Page was present at those meetings. Also, Hazel Erby was not the first African American elected to the St. Louis County Council. Charlie Dooley was.