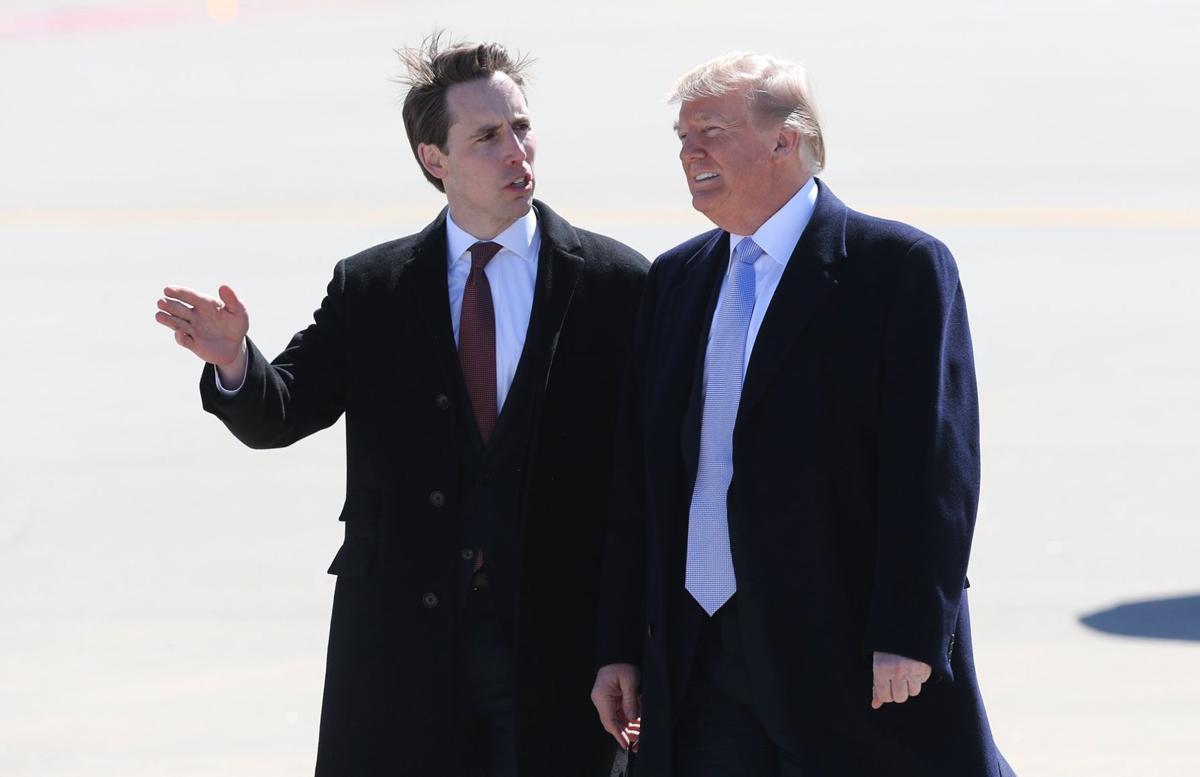 WASHINGTON • President Donald Trump had an approval rating of 50 percent and a disapproval rating of 45 percent in Missouri in March, but his numbers lag in many other states with pivotal U.S. Senate races in 2018, a new Morning Consult poll released Thursday shows.
Trump's standing in the state is down from when he took office in January 2017, when he had a 19-point (53-34) approval margin. But with the Nov. 6 election now just seven months out, Missouri is also the third-most favorable state to the president among a dozen battleground states that are key to the control of the Senate in 2019. Ten of them, like Missouri, have Democratic senators up for re-election in states Trump won in 2016.
Sen. Claire McCaskill, D-Mo., is one of the 10. Trump won Missouri by almost 19 percentage points.
Trump is more popular in West Virginia and North Dakota, where Democratic senators Joe Manchin and Heidi Heitkamp also face re-election, according to the Morning Consult survey. Trump's approval advantage in West Virginia is 26 points and in North Dakota it is 10, according to the survey.
Trump lags the most in Michigan, Wisconsin and Pennsylvania, states that he narrowly won in 2016, and which also have Democratic incumbents facing re-election in potentially tough races. 
Nationally, Trump's March approval was 41 percent, his disapproval 54 percent, according to the poll. Morning Consult says it has polled almost 1 million registered voters since the month that Trump took office, and that its survey samples by state are large enough to produce margins of error ranging from 1-4 percentage points. The margin of error in the Missouri sample for March was 2 percentage points, according to Morning Consult.
Republicans now control the Senate, 51-49, and the outcome of that battle for control of that legislative body in November could have huge ramifications on Trump's third and fourth years in office - from judicial nominees to legislative battles over everything from health care to environmental policies.
When he took office in January, 2017, Trump had a positive approval rating in 38 states. In March, that number had dwindled to 19 in the Morning Consult survey.
Trump has visited Missouri three times since becoming president, the latest for a $50,000-a-plate fundraiser for McCaskill's potential Nov. 6 opponent, Attorney General Josh Hawley.
Hawley is one of a handful of Republicans seeking Missouri's Republican nomination to oppose McCaskill. The primary is Aug. 7.