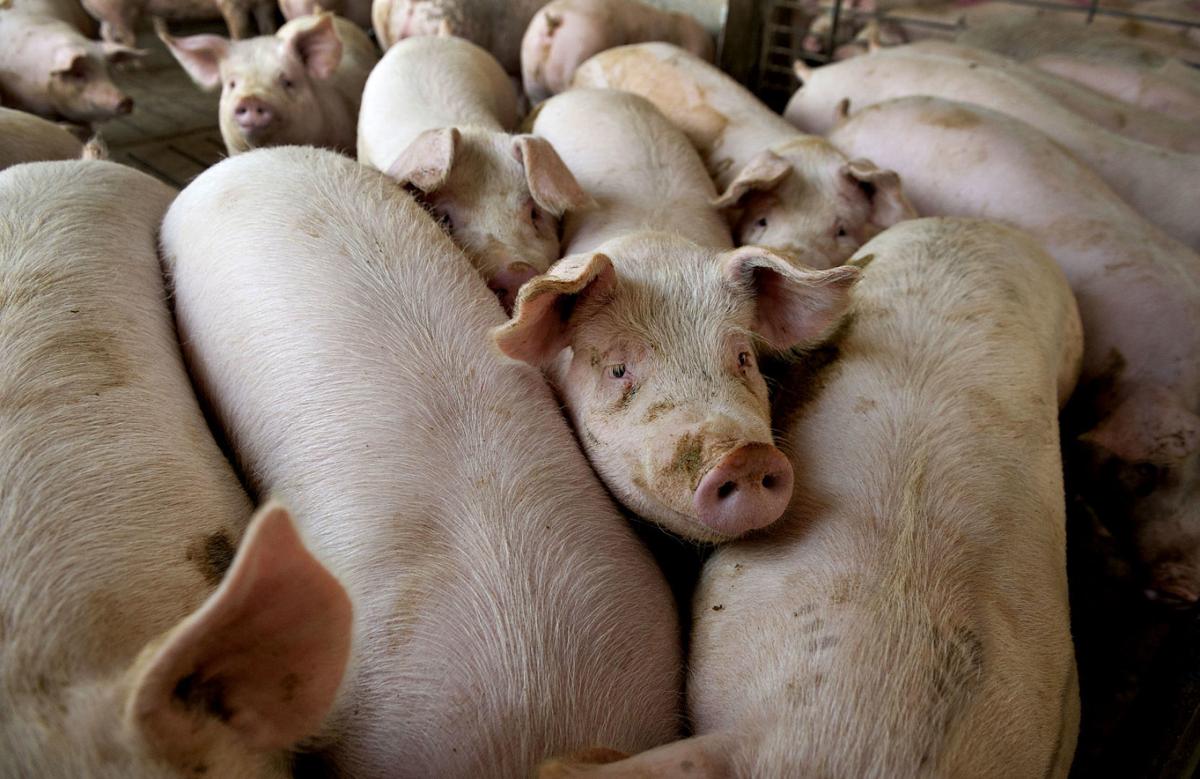 JEFFERSON CITY • When a proposal to build a feeding operation for 6,000 swine bubbled up near Carrol and Freddie Key's home in Grundy County, they didn't buy the economic development arguments.
They were worried about the stench.
"They can build these things 1,000 feet from your house," Carrol Key said Monday. "That's pretty darn close."
As the Missouri Legislature wraps up its 2016 session, language is being folded into several bills that critics say would make it easier for out-of-state companies to establish "shell corporations" and build such hog farms.
At issue is whether the companies have what's called "continuing authority" — what opponents of concentrated animal feeding operations, or CAFOs, say is necessary to ensure that a company has enough assets in Missouri and won't up and leave if there is some catastrophe.
In the Keys' case in Grundy County in northern Missouri, the state Clean Water Commission in February reversed an earlier Department of Natural Resources decision that granted Trenton Farms an operating permit. The commission's decision was based on two points: that it was unclear how a 100-year flood would affect the facility; and, that "continuing authority" hadn't been established.
State records show the parent company of Trenton is Minnesota-based Pipestone Holdings. With the permit denied, the case is now in court.
Under one change proposed in the Legislature, a corporation, partnership, limited liability company or other business organization would need only to be in good standing with the state to meet "continuing authority" requirements.
That has certain groups rooting around to try to stop the moves.
"Not only are family farmers objecting to thousands of hogs moving into their communities next to their farms, but the companies are also setting up these shell corporations that limit their accountability and liability," said Tim Gibbons, spokesman for the Missouri Rural Crisis Center.
"The whole impact of this is to reverse the decision made by the Clean Water Commission on the continuing authority," said Jeff Jones, the president of Friends of Responsible Agriculture. That group is opposing another proposed CAFO near Kingdom City, about 100 miles west of St. Louis.
"If the Legislature changes that continuing authority, good grief," Carrol Key said.
But a main backer of the "continuing authority" tweak, state Rep. Joe Don McGaugh, R-Carrollton, said the Grundy County decision upended about 25 years' worth of precedent. He said the commission didn't realize the effect it would have on how entities such as subdivisions obtain permits.
"It's almost like they put the cart before the horse," he said.
McGaugh said that everyone wanted clean water. In this case, though, Missouri might lose out on investment because of a poorly thought-out decision by the commission.
"This was an investor from Minnesota who wanted to come to Missouri to set up an operation," McGaugh said. "Now he's going to go to Iowa, or Nebraska — he's going to go somewhere else because bureaucrats in Jefferson City decided to change the rules on him midstream."
The continuing authority language floating around is based on a bill by McGaugh. Though it received a committee hearing in April, the House hasn't taken further action.
Instead, the language — or similar wording — has been tucked into several other bills, avoiding the scrutiny standalone bills receive, critics say.
"We see something like this every year — they push something complicated through, no hearing," said state Rep. Tracy McCreery, D-Olivette, who is the ranking minority member on the House Agriculture Policy Committee.
The language was in at least three bills as of Monday. House Bill 2376, which deals with construction permits, has continuing authority language. So do HB 1588, which would waive certain reporting requirements for some farms; and HB 1827, which deals with livestock owner liability.
Another amendment, sponsored by state Sen. Brian Munzlinger, R-Williamstown, would change the makeup of the seven-member Clean Water Commission, stating that "no more than four members shall represent the public." That amendment was adopted into HB 1713 on Thursday.
Similar language has been added to Senate Bill 937, which is now in a House committee.
Editor's note: There are seven commissioners on the Clean Water Commission, which the amendment on HB 1713 would not change. A previous version of this article suggested the amendment would have changed that number.