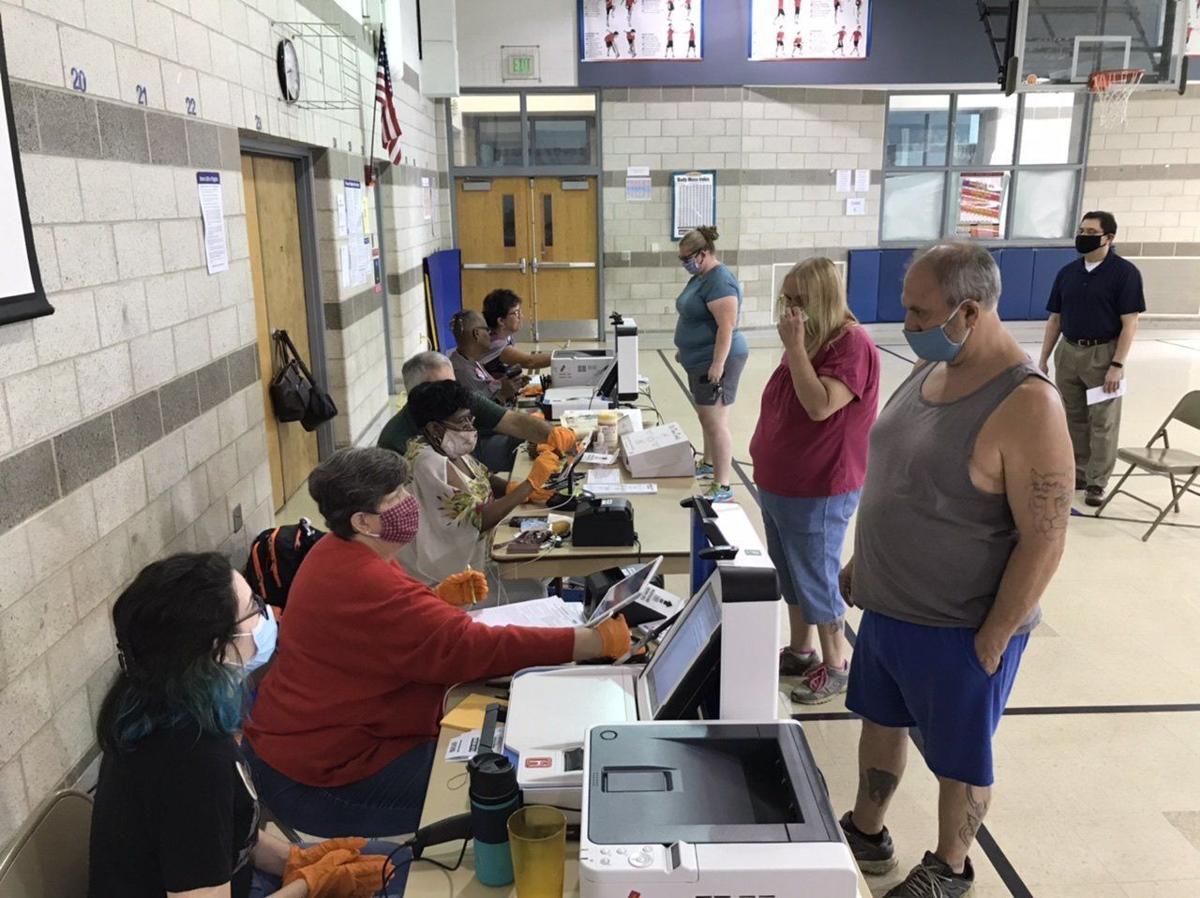 Two months later than usual, much of the metro area will hold elections Tuesday to choose a long list of local officials, including mayors in several cities, and decide more than 40 tax hike or bond issue proposals.
Among those in line for new leadership is Ferguson, which over the weekend was the scene of protests and violence reminiscent of the turmoil there in 2014.
An executive order issued by Gov. Mike Parson delayed the election, originally scheduled across Missouri for April 7, to try to reduce the spread of the coronavirus.
But worry about COVID-19 remains part of the backdrop for Tuesday's replacement vote, with St. Louis County reducing the number of its polling places by more than half because 1,100 election judges refused to work this time around.
Eric Fey, the county's Democratic director of elections, said 360 polling places used for the March presidential primary have been consolidated into 160.
Election officials in St. Charles and Jefferson counties also report absentee-voting increases and declines in poll workers, although not to as great a degree. Meanwhile, the city of St. Louis won't have an election Tuesday.
In St. Louis County, based on mail and in-person advance votes cast by Friday afternoon, Fey said he expects the absentee count to hit 40,000 to 50,000.
In the April 2019 local election, he said, there were about 9,000. He said he expects the total number voting in the county Tuesday to be similar to or fewer than the 109,000 last year. "It's an extraordinary circumstance, obviously," Fey said.
Meanwhile, voters who do show up in person in the three counties will encounter poll workers wearing masks, repeated wiping down of polling stations and markers on the floor guiding people to stay 6 feet apart if waiting. Hand sanitizer will be available.
While St. Louis County poll workers are required to wear masks, those in St. Charles and Jefferson counties have only been encouraged to do so.
"I can't make them wear gloves and masks; I'm having enough problems with people canceling (as judges) anyhow," said Jefferson County's top election official, County Clerk Ken Waller.
Jefferson and St. Charles counties are taking one step not being used in St. Louis County — placing plastic shields between election judges and voters who check in. Meanwhile, voters in the three counties won't be required to wear masks.
Not only has voting been affected by the pandemic, so has campaigning.
Ferguson Councilwomen Ella Jones and Heather Robinett, who are vying Tuesday to become mayor of Ferguson, each said they could do less meeting one-on-one with voters in recent weeks, given the need to practice social distancing.
"We had to go to social media" more, said Jones of her campaign. Robinett said, "We used the phones more than I planned to do."
She added that she and other candidates for office weren't able to hear residents' concerns at neighborhood meetings, which suddenly ceased.
And because of the need to spread out, Jones and Robinett are holding their respective election night events for supporters outside meeting halls instead of inside.
The two seek to succeed term-limited Mayor James Knowles III, who became a familiar figure across the metro area and elsewhere during the unrest in 2014 after the fatal shooting of Michael Brown, a black teen, by a white Ferguson police officer.
Knowles' tenure nears its end as Ferguson again became a local focus of protests against the killing of black people by police.
This time, the anger was sparked by the death on May 25 of Minneapolis resident George Floyd, a black man, after white officer Derek Chauvin kneeled on his neck for 8 minutes and 46 seconds, according to a criminal complaint.
Several buildings in downtown Ferguson were damaged and officers were injured late Saturday and early Sunday when a peaceful protest devolved into violence.
Robinett and Jones, in interviews Sunday, expressed sadness at the violence but also said they supported the goals of the peaceful protesters who marched earlier.
"The country stands with George Floyd," Robinett said. "I hear what's happening. ... I feel it. I realize we don't have it right across the country (or in) Ferguson."
However, she said she just doesn't understand the rationale for the violence that further harmed "our businesses who are barely hanging on" in the coronavirus-related economic slowdown.
Jones said the peaceful march drew attention to a widespread concern that "black men feel so much injustice." But she sharply criticized "agitators who come out and break into … businesses" whose owners are just trying to make a living.
Each pledged if elected to help Ferguson continue implementing changes in city practices since the 2014 unrest, including the consent decree worked out with the U.S. Department of Justice.
Jones, 65, or Robinett, 49, will each make history if elected. Either would be the city's first female mayor. Jones also would be the first African American to win the office. Both cite their council experience.
Berkeley
Another notable mayoral election is in Berkeley, where longtime Mayor Ted Hoskins seeks reelection against two opponents at the same time he's fighting felony charges filed against him last year.
The charges allege that Hoskins, in the months leading up to the April 2018 election for four city council seats, submitted fraudulent absentee voter applications and other documents from at least three residents.
Hoskins, 81, a former state representative, said he's running on his record. "My position is you're innocent until proven guilty," he said. If reelected, he said, he'll work to follow through on city plans to build a community center and to promote community policing.
He's opposed by Babatunde Deinbo, 69, a former mayor and city councilman, and Barbara Jean Holmes, 80, a retired finance official with the city. Deinbo says he'll work to hire more police to fight crime and improve streets.
Holmes says the city needs "new blood" in elective office and that she'll work to set up an activity center for kids.
Other mayoral races
One of the larger cities with a mayoral race is Wildwood, where incumbent Jim Bowlin, 55, is opposed by Councilman Niles Stephens, 41.
Also facing opposition Tuesday is Richmond Heights Mayor Jim Thomson, 73, who is challenged by former Councilman Paul Lore, 65.
Among other cities with contested mayoral races are Pagedale, Breckenridge Hills, Cool Valley, Sunset Hills and Valley Park.
Propositions
The various ballot issues are scattered across cities, school districts and fire protection and ambulance districts.
School districts seeking bond issues that would not trigger tax hikes include Francis Howell, Kirkwood, Ritenour, Wentzville, Fox and Maplewood Richmond Heights. The Cottleville Fire Protection District is seeking the same.
Bond issues that require property tax increases are being sought by the Brentwood School District and Riverview and Monarch fire protection districts.
Also seeking approval for property tax boosts are the Wentzville, Orchard Farm and Warrenton school districts and the Spanish Lake, Hillsboro, Pacific and Dunklin fire districts.
Among cities weighing sales tax increases are Maplewood, Breckenridge Hills, Dellwood, Byrnes Mill and Herculaneum.
A Voters Guide for Tuesday's election, produced by the Post-Dispatch and the League of Women Voters of Metro St. Louis, is available online at stltoday.com/votersguide.
This report originally appeared in the Monday, June 1, edition of the St. Louis Post-Dispatch.
Search the voters guide by address to see what will be on your ballot.
Concerned about COVID-19?
Sign up now to get the most recent coronavirus headlines and other important local and national news sent to your email inbox daily.