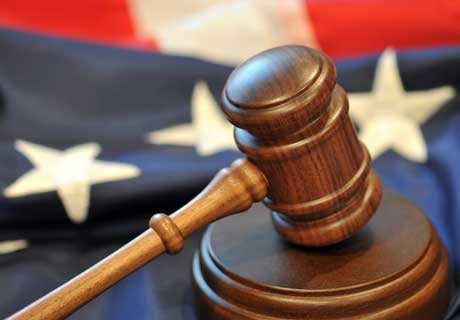 CLAYTON • Two men charged in an altercation outside a contentious town hall forum in 2009 were found not guilty of assault after a trial in St. Louis County Municipal Court.
The verdict came today after a trial that started Monday.
Elston McCowan, of St. Louis, and Perry Molens, of De Soto, had been charged with attacking a third man who was selling buttons outside the politically charged meeting, called by U.S. Rep. Russ Carnahan, D-St. Louis, at the height of debate over health care reform. Carnahan had wanted aging to be the subject, but many in the crowd wanted to argue over the president's health care plan.
Kenneth Gladney said he was selling "Don't Tread on Me" buttons and flags outside the forum when McCowan and Molens attacked him without provocation.
The two were charged with assaulting a person and interfering with police, both ordinance violations. The interfering with police charges were dropped and the trial was for assault charge, for which they could have each faced up to one year in jail and a $1,000 fine.
The jury deliberated about 40 minutes before returning with their verdict.
"They lost because they lied, it's as simple as that," said Molens after hearing the verdict. He said since the incident he has received death threats from Tea Party members, who had Gladney speak about the incident at Tea Party gatherings.
"I'm thrilled," said Paul D'Agrosa, the attorney representing McCowan and Molens. "It wasn't tried on the internet. It wasn't tried on the blogosphere," he said, referring to political groups who wrote about the incident online, posting videos of the incident and interviews with witnesses.
Gladney, 40, of St. Ann, declined to comment after the verdict and directed questions to his twin brother, Keith.
Keith Gladney said the judicial system failed his brother.
"It's atrocious. It's obvious," Keith Gladney said. "The legal system here has come to the point where you can beat somebody up and still get off."
McCowan and Molens, each at the meeting for the Service Employees International Union, claim Gladney was selling anti-Obama buttons, and that when they confronted him about them, Gladney started the physical attack by slapping McCowan's hands.
Molens testified that Gladney slapped McCowan's hands a second time, and that McCowan pushed him.
"Gladney started punching him in the face," Molens said. "I tried pulling him off."
The attack escalated with more punches and shoves, and McCowan suffered a fractured shoulder, he testified.
McCowan, a Baptist minister, got chuckles in the courtroom when he testified that he didn't turn the other cheek because it "hadn't gotten hit yet."
Four others were also arrested and charged that night.
County Counselor Patricia Redington said charges against two were dropped after the defendants completed 32 hours of community service each. A charge of interfering with an officer against a Glendale man was also dropped.
A Post-Dispatch reporter covering the events that night also was charged with interfering with a police officer for allegedly failing to obey repeated commands to leave. That case is pending.
---
EDITOR'S NOTE: An earlier version misidentified attorney Paul D'Agrosa. This version has been corrected.