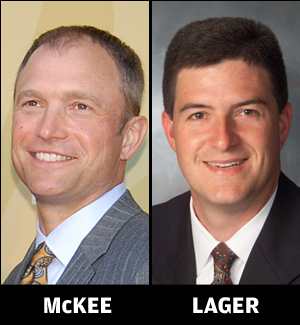 ST. LOUIS • Developer Paul McKee has already been widely criticized for exerting too much control over Jefferson City.
Come next November, he could gain an even stronger connection to the state Capitol. McKee's youngest son, Chris, who also is a developer, is running for lieutenant governor as a Republican, he announced Monday.
Another Republican — state Sen. Brad Lager, a vocal critic of tax credit legislation pushed by Paul McKee and others — also entered the race Monday, setting up an intriguing rivalry in the GOP primary. Even more Republicans may join the race in the wake of the unexpected exit of state House Speaker Steve Tilley, who was the party's consensus choice for lieutenant governor.
"Missouri needs a pro-jobs administration in Jefferson City," Chris McKee said in a release Monday. "In this economic climate we need officials who understand job creation so we can start to move Missouri forward again, and I am qualified to do that."
McKee, of Frontenac, would almost certainly have to put his own money into the race to gain credibility as a novice candidate. His candidacy may reflect frustration among business people at the inability of state lawmakers to advance legislation in a special session last month that was seen as key to the region's economic development.
One prominent corporate leader recently bemoaned the state's political leadership as "dysfunctional" and decried continued financial support for their re-election campaigns as "the dumbest thing I can think of."
Still, McKee may have a hard time convincing voters that he would not be simply a proxy for his father, who has a stake in almost every major discussion in the Legislature, from the failed China hub deal to redevelopment tax credits.
Chris McKee is president of O'Fallon, Mo.-based Optimus LLC, which helped restore the Peabody Opera House, formerly the Kiel. His father's company is McEagle; his older brother runs the construction firm Paric.
Lager, of northwestern Missouri, is an opponent of some of the special-session proposals championed by the older McKee.
"Missourians are tired of self-interested politicians beholden to special interests getting in the way of good government," Lager said in a statement.
It's no surprise that Lager, who ran unsuccessfully for state treasurer in 2008, is running again for statewide office. He has about $70,000 in his campaign account and, after his second term in the Senate comes to an end, will be barred by term limits from re-election.
At least two of Lager's Senate colleagues - Eric Schmitt of Glendale and Rob Mayer of Dexter - are also weighing the race for the state's No 2 office.
Whoever wins the GOP nomination in the August primary may face a familiar foe in the general election: former state Auditor Susan Montee, chairwoman of the Missouri Democratic Party.