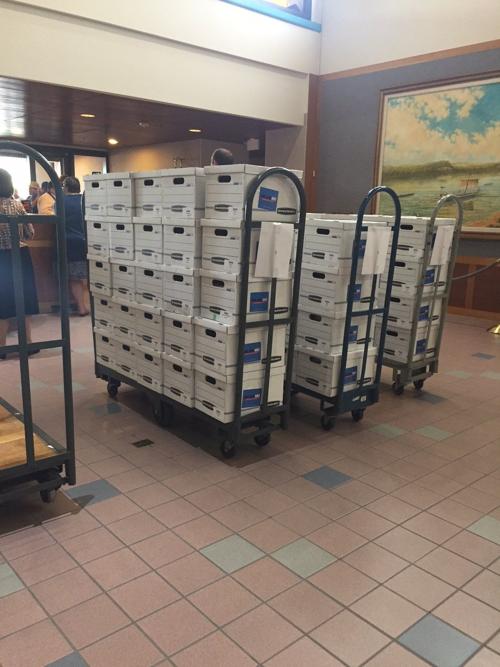 JEFFERSON CITY • Missouri labor unions moved to block the state's new right to work law from going into effect, submitting on Friday more than 300,000 signatures calling for voters to weigh in on the measure.
In a blow to Gov. Eric Greitens and the Republican-controlled Legislature, the effort — pending a review of the petitions by Secretary of State Jay Ashcroft — leaves the pro-business initiative in limbo until the November 2018 election.
Prior to submitting the 310,567 signatures — more than triple what is required — a coalition of unions held a boisterous rally in the Capitol rotunda to celebrate their success in circulation the petitions.
"I think the people have spoken and they are not all union people. This is democracy in action," said Rep. Doug Beck, D-Affton, who is a union pipefitter.
Dennis Palmer, a union electrical contractor from Columbia, told the crowd that the object of the law is to lower wages.
"In Missouri, middle class jobs are disappearing. Right to work would further diminish these middle class jobs," Palmer said.
Under the law approved in February, workers cannot be compelled, as a condition of employment, to join or to pay dues to a labor union. It was scheduled to go into effect Aug. 28.
The unions were able to stop the law from being implemented by using a special referendum provision in state law. It hasn't been used since 1982, but when it has been, voters have repealed laws 24 of the 26 times they've been placed on the ballot since 1914.
Greitens, a political newcomer, has claimed the change as a signature achievement in his brief political career.
At a press briefing Thursday, before the petitions were submitted, Greitens said the right-to-work law has businesses taking notice that Missouri is "open for business again."
The Missouri Republican Party claimed that thousands of people are trying to withdraw their signatures after being mislead about the petition they were signing.
"Union bosses and Big Labor groups are being dishonest with Missourians about Right to Work, and as a result, we are seeing thousands of people rescind their signature from these anti-right to work petitions," party chairman Todd Graves said.
Both sides are expected to spend big dollars to convince voters to repeal the law or support it assuming that it is placed on the ballot in November 2018. A nonprofit formed to support Greitens has already contributed $100,000 to a political action committee that supports right to work.
Unions, too, are contributing five- and six-figure checks to the We Are Missouri coalition to support the repeal.
"Working families have to remain vigilant in the fight to protect workers' right to bargain collectively. Gov. Greitens should consider himself on notice when it comes to unions and protecting the middle class. The fight has only just begun," said Philip Gruber, general vice president of the Machinists' Midwest territory.
The union represents 12,000 Missourians at factories including Boeing, Harley-Davidson and Honeywell.