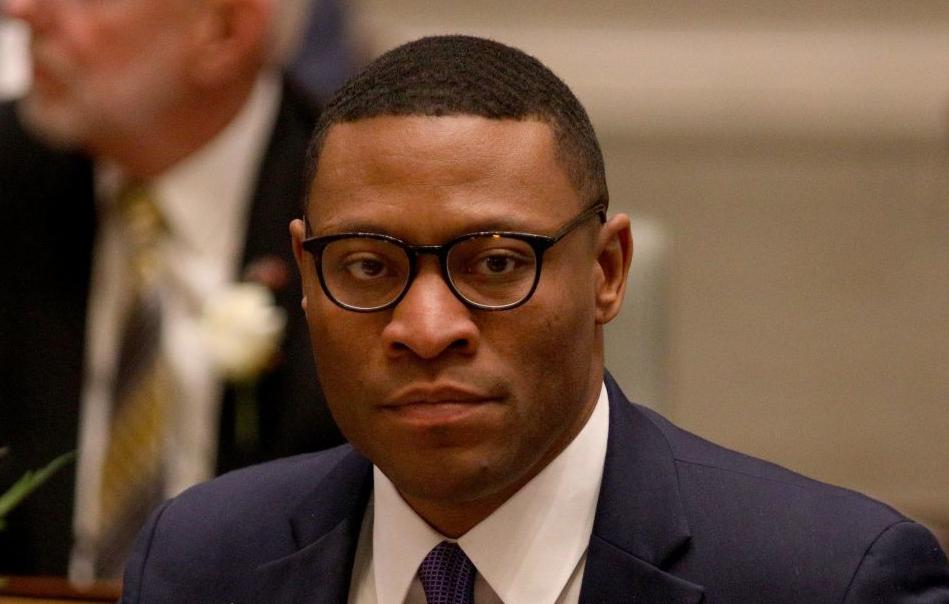 JEFFERSON CITY — A state senator from University City has spent $10,975 in campaign funds on "outing(s)" since last December, according to a Post-Dispatch review of the Democrat's campaign finance disclosure reports filed with the Missouri Ethics Commission.
Sen. Brian Williams, who was first elected last year, said his campaign started paying for meals with lobbyists and others to avoid compliance issues with "Clean Missouri," also known as Amendment 1, last year's voter-approved constitutional amendment that limited lobbyist gifts to $5.
Instead of a lobbyist picking up a tab, Williams' campaign takes care of it.
"We just make sure we cover any cost for meetings with elected officials, folks in the community, lobbyists," Williams said of his campaign. "We just want to make sure we're in compliance (with Clean Missouri) so we cover any cost."
Vague campaign reporting illustrates the relaxed nature of Missouri's campaign finance laws — the senator rarely elaborated on the purpose behind his "campaign outing(s)" — and how corporate interests maintain influence in Jefferson City during an era of limited lobbyist gift-giving.
Williams' spending stands out among other St. Louis-area state senators, who spent far less in recent months on meals through their campaign accounts.
Legislators accept donations from corporate political action committees and others, and can then spend the money on food, travel and lodging as long as the spending is in some way campaign-related.
The Post-Dispatch reported in August on some vague campaign finance reports, including a $1,077 expense described only as "auto expense" by one state representative and a $13,000 payment by a state senator to a credit card company.
Williams accepted $9,500 in campaign contributions last fundraising quarter, from July 1 through Sept. 30.
That included $2,000 from the St. Louis County Police Officers Association, $2,000 from hospital employees' HealthPAC, $1,000 from Charter Communications, $1,000 from members of the Simmons Hanly Conroy Law Firm, $500 from Johnson & Johnson and $500 from a political action committee funded by Emerson Electric.
The first-term senator declined to provide a breakdown of his "campaign committee outing" spending for the last fundraising quarter.
Only expenses over $100 are itemized in Missouri campaign reports. Williams said most of the meals he had with constituents, campaign staff and lobbyists cost between $50 and $60.
"None of them are really expensive," he said.
"We also have volunteers that work on our campaign," Williams said. "And since we don't pay consultants we usually take them out to campaign outings, dinner, things of that nature. And that's how we thank them and that's how we also meet to discuss any campaign things."
Williams — a former staffer to U.S. Rep. William "Lacy" Clay, D-University City — said he would ask his campaign treasurer, Robert Arbuthnot, if there was a better way to report expenses.
Williams' purchases
The majority of Williams' purchases this year — $8,750 — were under $100, while the rest went to pay larger tabs.
Larger payments included a $224 tab at a French bistro in St. Louis, an unexplained $150 payment to the University of Missouri, and a $130 tab at the upscale Barred Owl lounge in Columbia.
Williams' spending picked up over the summer. From July through September, he spent $4,459 on small purchases (under $100). Records also show he spent a combined $1,086 last quarter on eight restaurant tabs that exceeded $100.
On July 15, Williams spent $221 on a "campaign outing" at 801 Chophouse in Clayton.
On July 18, he spent $102 on a "campaign outing" at Three Monkeys on Morganford Road in St. Louis.
During a three-day span in September, Williams spent almost $370 on three campaign outings: two tabs he charged to his campaign while visiting Los Angeles, and one $145 "campaign outing" at O'Donoghue's Steaks and Sea Food on Sept. 11 in Jefferson City; lawmakers had returned to the Capitol that day for a special legislative session.
Williams' "outing" spending last quarter exceeded the meal spending of two Republicans who control the flow of legislation in the GOP-dominated Legislature.
House Speaker Elijah Haahr, R-Springfield, spent $4,109 on "Food & Drink" in the last three months. House Majority Leader Rob Vescovo, R-Arnold, spent $2,147 in that same time period.
Sean Nicholson, campaign manager for "Clean Missouri," said corporate influence still seeps into Missouri politics through campaign accounts.
"Rules will continue to evolve and I think reformers and activists will continue to need to do work to meet the realities that exist," he said.
When lobbyists were allowed to give unlimited gifts to legislators, lobbyists filled out forms listing the value of the gift and the recipient of the gift.
Lawmakers aren't required to report with whom they went to dinner.
Nicholson said he would "push back on the suggestion" that Clean Missouri led to less-transparent corporate influence in Missouri government.
Before the amendment's passage, he said, the majority of gifts had been reported as "group" expenditures, shielding individual recipients from scrutiny.
Spending stands out
Williams' 14th Senate District stretches from Clayton to Hazelwood, covering a broad section of St. Louis County. Records show his meal spending stands out among his St. Louis-area colleagues.
Sen. Bill Eigel, R-Weldon Spring, spent $1,810 on small (less than $100) meal purchases last fundraising quarter.
Sen. Karla May, D-St. Louis, spent $1,181 on small (less than $100) food purchases last quarter, records show. She racked up tabs at two restaurants that exceeded $100.
Sen. Paul Wieland, R-Imperial, spent $1,250 on meals last quarter.
Sen. Andrew Koenig, R-Manchester, spent $265 on small food purchases last quarter, and did not incur any restaurant tabs exceeding $100.
Sen. Scott Sifton, D-south St. Louis County, spent $160 on "food for event" at Bar Napoli in Clayton, and another $76 in small food purchases.
Democratic Sens. Jamilah Nasheed of St. Louis and Jill Schupp of Creve Coeur did not report spending any campaign money on meals last quarter. Senate President Pro Tem Dave Schatz, R-Sullivan, also did not report any meal spending.
Sen. Gina Walsh, D-Bellefontaine Neighbors, spent $154 on a meal at the Piccadilly in St. Louis. She spent $284 on small meal purchases.
She also spent $139 at Schnucks on "non-perishable goods for striking UAW workers."
Get Government & Politics updates in your inbox!
Stay up-to-date on the latest in local and national government and political topics with our newsletter.