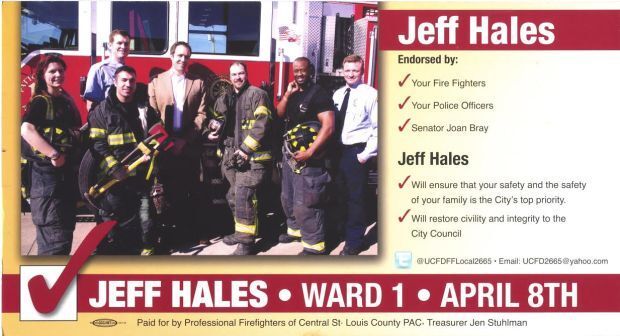 Five University City firefighters were told Wednesday afternoon they were suspended for the next three months without pay for violating a statute that forbids first responders from being involved with political campaigns while in uniform or on duty.
It's unclear if a sixth firefighter, who also posed in pictures with City Council candidates, will be suspended. 
City Manager Lehman Walker told the firefighters after the April 8 municipal elections that they were being investigated. Depending on what was found, he said disciplinary action ranged from verbal reprimand to dismissal. 
Though they can keep their jobs, the firefighters were angry about the suspensions. Walker informed them of the decision in short meetings Wednesday. 
"These are mothers and fathers who are going to have to try to figure out how to feed their families without a source of income," said Kurt Becker, district vice president of the Fire Fighters Local 2665. 
He added: "We will expend all resources necessary to make this situation right. The city manager was so far out of line, it's beyond the pale. The city was completely wrong with their interpretation of the law." 
Another union representative has said the firefighters weren't wearing official uniforms in the campaign literature.   
City Manager Lehman Walker couldn't be reached for comment Wednesday evening. 
"Several residents brought it to my attention and considered it to be inappropriate that firefighters be directly involved in an election," Walker previously told the Post-Dispatch. "We believe city employees should be neutral."
The case was under review the past two weeks. 
The disagreement comes amid continued tension between representatives of firefighters and some city officials over contract issues.
---
EDITOR'S NOTE: Kurt Becker is district vice president of the Local 2665. His title was incorrect in an earlier version of this story.