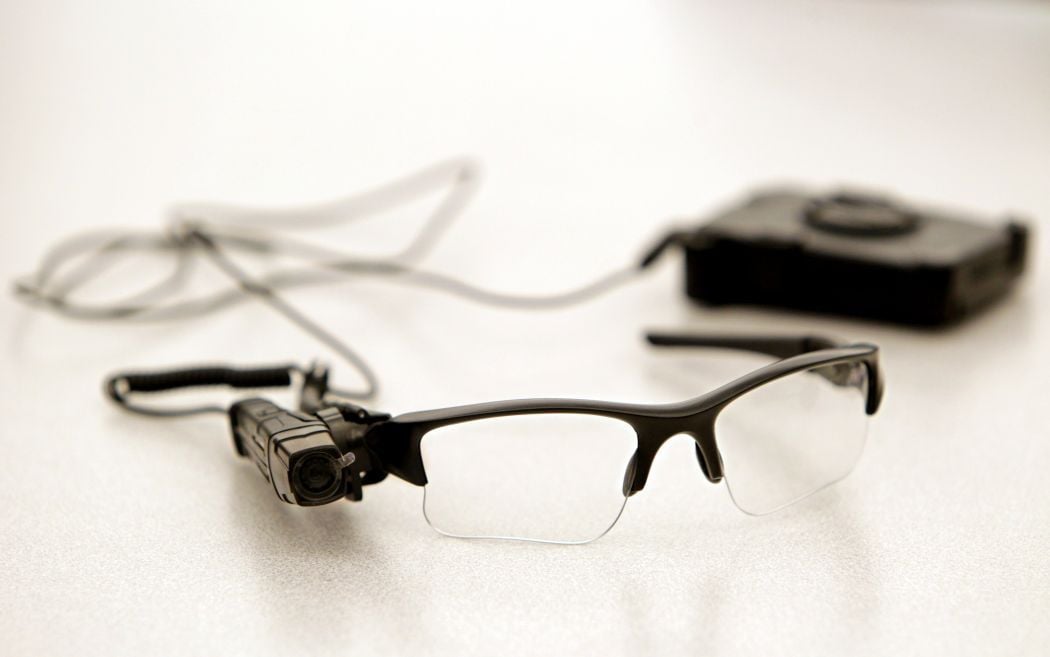 When city voters head to the polls on Tuesday, there's a good chance someone with a clipboard will approach them to talk about police body cameras.
The idea is to get enough people to sign a petition that would set in motion a series of steps with the end goal of providing body cameras for every uniformed patrol officer within the St. Louis Police Department.
The plan was put together by two of St. Louis' most unlikely allies: Democratic state Sen. Jamilah Nasheed and conservative activist and businessman, Rex Sinquefield.
Together, they are trying to collect 20,000 signatures over the next two months, including 10,000 on Tuesday as people arrive at and leave from their voting places.
Twenty thousand signatures would get a measure on the Nov. 8 ballot to amend the city charter to allow the city assessor's office to absorb the functions currently handled by the recorder of deeds office.
According to research from the Nasheed-Sinquefield alliance, the resulting saving would free up about $1 million — presumably enough to launch a body camera program in St. Louis.
Sinquefield could not be reached for comment but Travis H. Brown, his top political adviser, called the plan an act of philanthropy.
"Everything Mr. Sinquefield does for St. Louis is because he wants to make it a better place to live," Brown said.
If the effort is successful, it would cost at least a few people their jobs, and it would most likely end the career of Sharon Quigley Carpenter, the city's longtime recorder of deeds.
Even if the petition drive doesn't result in a body camera program, a number of prominent people agreed that the merger of two government offices would alone be worth it.
Nancy Rice, executive director of Better Together St. Louis, along with Mayor Francis Slay and a police union spokesman, all said they favor efforts to streamline city government.
"The independently-elected Recorder of Deeds Office is part of this City's archaic and fractured government," Slay said in a statement. "I applaud this group's efforts to dissolve it."
For others, including Nasheed, the goal is about outfitting cops with cameras. Research has shown that both police and the people they encounter are better behaved when both sides know there's a camera present.
"I've been trying for two years to get funding at the statehouse for body cameras, but I keep getting blocked by Republicans," Nasheed said during a meeting at her north St. Louis office this week. "They say it's an attack on cops."
"This is not an attack on police, and this is not an attack on anyone else," she said.
Political motives?
Carpenter was appointed recorder of deeds in 1980, and elected to her first term two years later. She ran into trouble in July 2014, when it was discovered that she'd hired her great-nephew for summer work — a violation of the state's nepotism law.
She was forced to resign, but ran again later that year, winning re-election with 61 percent of the vote.
In the two years since, Carpenter has found herself on the outs with Slay, even though she used to baby-sit him as a child. Additionally, fellow Democrats, including Nasheed and Gov. Jay Nixon have called on her office to be audited.
"Enron didn't get audited as much as me," Carpenter said from her office last week, expressing remorse for times when she's "misread the law."
"It was not a proud moment for me when you find out you've violated a law when you certainly had no intention of doing that," she said. "It was embarrassing to find out that I was wrong."
That rough patch in office is part of the reason Carpenter said she can't shake the feeling that the petition drive to dissolve her office might have more of a political motive behind it than simply funding body cameras.
"My suspicion is that there are still a few people who are unhappy that I won re-election," she said. "If someone is mad at me, I'm sorry, but I won re-election without saying a bad thing about anyone. Still, some people believe I shouldn't have won."
On the issue of body cameras, Carpenter said the Nasheed-Sinquefield alliance would be better served focusing on U.S. Department of Justice grants that exist specifically to support local law enforcement.
"I belong to a lot of (professional) organizations," she said. "I don't know of one place in the U.S that has a recorder of deeds merged with an assessor's office."
Carpenter said it's too early for her to actively be fighting the petition drive, but she anticipates doing so if it makes it onto the ballot. She said she owes it to her 39 employees.
Most important records
The Recorder of Deeds office has been around since 1764 when it was founded by the French and housed in the Old Courthouse. Its main function was to handle disputes related to property and marriage.
Today, the office records and archives records related to land, marriage, births and deaths.
"We handle the most important records in a person's lifetime," Carpenter said.
Ultimately, Carpenter thinks her office will be saved by a Missouri statute that specifically says that in each county in the state, "there shall be an office of recorder."
However, supporters of the Nasheed-Sinquefield proposal dismissed that argument. They said the functions of the recorder's office would still exist in some capacity under their plan.
Nasheed, while acknowledging the likelihood of layoffs should the Recorder of Deeds office be dissolved, said the goal is to keep the damage minimal.
"The employees of that office will have the opportunity to apply for other positions with the same salary and same benefits," she said.
The recorder's office has an annual budget of about $2.8 million, with $2.5 million of that made up of salary and benefits. Carpenter makes $101,783 a year.
Body camera debate
Jeff Roorda, business manager for the St. Louis Police Officers Association, said he's "not necessarily against the idea" put forward by Nasheed and Sinquefield, but not exactly on board either.
"There is tremendous waste in city government," he said. "But our question is why does the city government always have time and money for pet projects like body cameras but not for police compensation."
After receiving $4,000 raises in recent years, St. Louis police are still the lowest paid in the region, Roorda said, with average salaries $8,000 below the regional average.
Roorda said he's seen estimates that could put the price of launching a body camera program at $6 million.
"This is a case of misplaced priorities," he said. "Let's spend the $6 million to fix some of the things that cause the problems we have. Let's spend the money on education and summer job programs."
Meanwhile, St. Louis Police Chief Sam Dotson put the cost of a body camera program at $1.2 million to launch and roughly the same amount to keep it running annually.
Additionally, he estimated that the cameras and their accompanying equipment would have to be upgraded every three to five years.
Dotson acknowledged that his department of 1,300 officers is short about 160 people, and that morale is at risk when city officers are paid less than their counterparts in the county.
But "I'm absolutely in favor of body cameras," he said. "If I was a young police officer, I'd want to wear one, and I'd wear one every time I left the station. My job as a police officer is to go out and keep people safe, and do it in a lawful way. There's nothing I should be embarrassed about; there's nothing I should be ashamed of."
Dotson added that body cameras will help prove wrong critics "who question the legitimacy" of the job officers do.
Should the money for body cameras materialize, the Nasheed-Sinquefield plan would have one more hurdle to jump: The contract between the Police Department and the police union requires that both sides would have to agree on the use of the cameras before the department's roughly 800 uniformed patrol officers start wearing them.
If a stable funding source for body cameras materializes, Dotson said they could be phased in over 24 months in the best-case scenario.
Get Government & Politics updates in your inbox!
Stay up-to-date on the latest in local and national government and political topics with our newsletter.