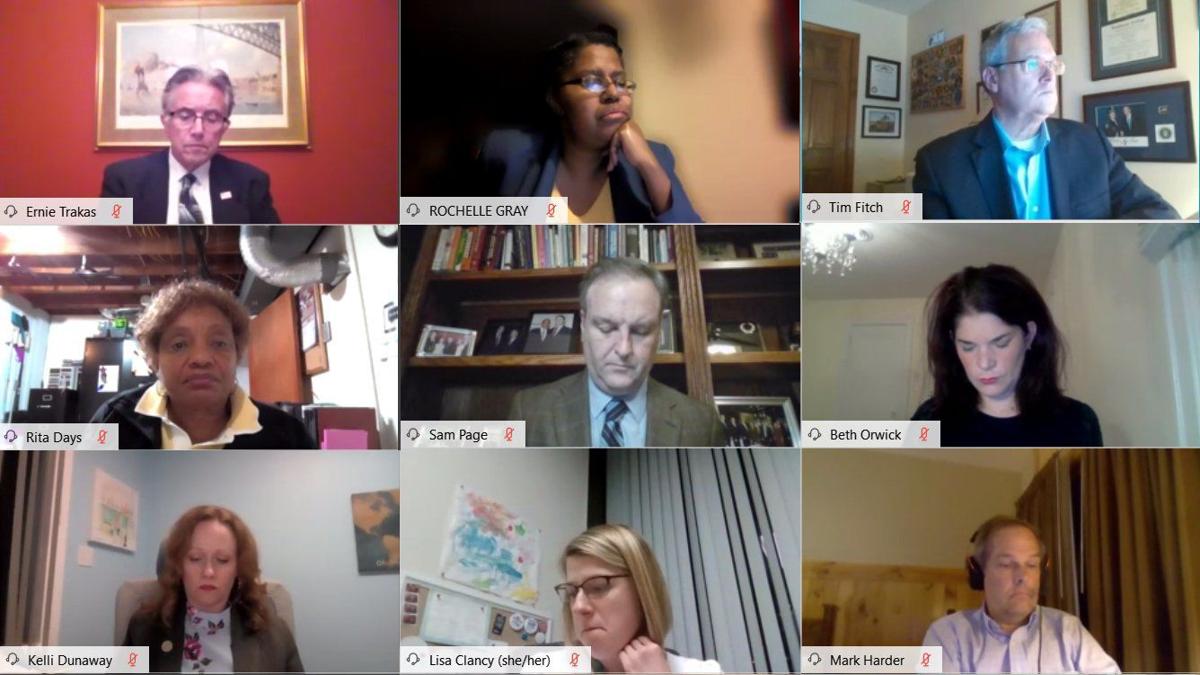 CLAYTON — Before the St. Louis County Council could take action Tuesday night on controversial bills curbing County Executive Sam Page's and the health department's authority to issue emergency orders during the COVID-19 pandemic, the public weighed in with prepared emailed comments.
Two thousand, two hundred and thirty comments.
The number of comments — likely a record for any council meeting — reflected a roiling power struggle between Republicans on the council and Page, a Democrat, over the county's public health measures to curb the spread of the coronavirus.
At previous meetings, facing hundreds of comments, council members voted to limit the public comment period to two hours. But no such limit was set Tuesday night.
At about 9 p.m., after about 75 comments had been heard, Councilman Mark Harder, R-7th District, moved to limit comments, so the council could move forward with its business. Councilman Tim Fitch, R-3rd District, seconded and supported the motion.
But Council Chairwoman Lisa Clancy, D-5th District, said the time limits imposed at previous meetings had boxed out many voices, and she felt that was wrong.
"Over the past few days it's come to my attention that many of my constituents and others have submitted comments that have not been read due to the time limit," she said.
Councilwoman Kelli Dunaway, D-2nd District, concurred. She said the council, at past meetings, was hearing only from "a very small minority," and it was important to hear from everybody.
Clancy moved to keep reading comments until 10:30 p.m., then recess the meeting until Wednesday.
Dunaway, and Council members Rita Heard Days, D-1st District, and Rochelle Walton Gray, D-4th District, supported the motion.
Councilman Ernie Trakas, R-6th District, who at previous meetings objected to limiting public comments, abstained.
"It's simply unfair to not hear all the voices," he said.
The vote represented a reversal of past meetings, when Democrats voted to limit comments which were overwhelmingly critical of Page and Republicans argued for no limits. On Tuesday, both sides accused the others of encouraging supporters to flood the public comment period.
It's unclear whether the council, when it reconvenes at noon on Wednesday, will have time to take up regular council business, including the bills limiting Page's authority.
Critics of the bills include Local 655 of the United Food and Commercial Workers, which represents union grocery workers, and the St. Louis County NAACP. Both groups warned the bills would lead to the removal of key health orders, including the county's mask mandate.
"We cannot let politics take over basic community needs," John Bowman, president of the St. Louis County NAACP, wrote in a letter dated Tuesday to Clancy.
"Your decision to reopen at this aggressive rate is a direct threat to our front-line workers in St. Louis County," Bowman said. "I urge you to reconsider your decision to reopen at full capacity."
Fitch said the bills are only meant to check Page's power, and aren't aimed at current health mandates.
"It's about oversight of one branch of government by another," said Fitch, before the meeting. "It's about having the county executive explain to the council why he's making the decisions he's making."
Even if the bills are approved by the council, Page has said he would veto the bills if they are approved. He said that while unpopular, the health orders have limited the spread of COVID-19 and saved lives from the disease.
"Public health orders are not always popular, but they save lives," he said Tuesday.
Page has been the target of protests by groups upset with health orders that limited social gatherings and activities, particularly child athletics. Page has since relaxed the orders as the spread of COVID-19 has declined.
But, he warned, the virus is still present and health orders are still necessary.
"Until we have a vaccine, we must stay the course," he said.
The Centers for Disease Control and Prevention recommends most people age 2 or older wear masks in public settings to prevent the spread of COVID-19, but Missouri has no statewide mask mandate.
In the city of St. Louis, everyone must wear a mask inside public places, and also outside when social distancing is not possible.
Fitch said before the meeting that the council wouldn't necessarily opt to lift the current mask mandate should they vote to curb Page and the health department's authority.
"We may well agree with the mask mandate but we never had a chance to have any input," Fitch said.
Concerned about COVID-19?
Sign up now to get the most recent coronavirus headlines and other important local and national news sent to your email inbox daily.