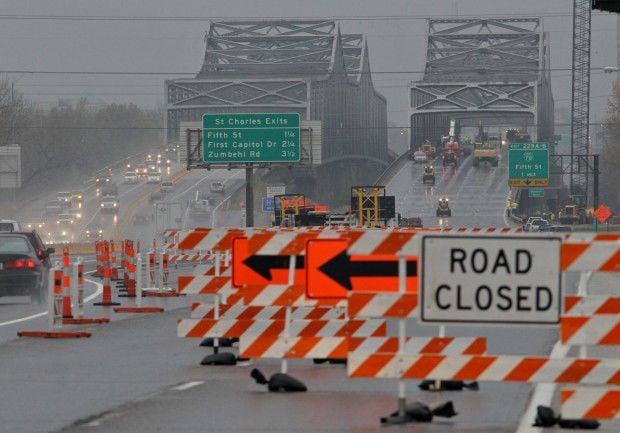 JEFFERSON CITY — Missouri transportation officials are on track to begin replacing 40 bridges as part of a $350 million road improvement program approved by lawmakers and signed this week into law by Gov. Mike Parson.
Most of the projects are small bridges in rural areas of the state.
There are no bridges in St. Charles County on the list and only one is in St. Louis County. The work includes the replacement of the Ladue Road bridge that spans Hibler Creek in Creve Coeur. Work is scheduled to begin on that one later this fall.
Other nearby projects include the Missouri Highway 30 bridge over Saline Creek in Jefferson County and the Highway 79 bridge over McLean's Branch near Winfield.
Money to pay for the work is coming out of a $50 million fund set aside by lawmakers this spring as they attempted to craft a transportation improvement program without the aid of additional dollars from the state's gasoline tax.
The motor fuel tax typically pays for roadwork. But, in 2018, voters rejected a phased-in increase of 10 cents in the state's 17-cents-per-gallon tax on gas.
Parson, a Republican, had backed the tax hike as a way to address a growing backlog of road repairs facing the Missouri Department of Transportation.
Without that additional revenue, he convinced lawmakers to allow MoDOT to sell $301 million in bonds to pay for repairs to 220 bridges across the state. But, as part of a deal with lawmakers reluctant to take out a loan for the work, the bonds will only be used if the state is awarded federal matching funds to replace the 59-year-old Interstate 70 bridge over the Missouri River near Rocheport.
MoDOT Director Patrick McKenna said he believes Missouri has a good chance of receiving the grant because of the amount of commercial truck traffic plying I-70.
"It puts us in a hopeful position," McKenna told the Post-Dispatch.
The state could find out by September whether the federal dollars are coming for the estimated $350 million project.
Missouri's application calls for the state to pay $105.2 million, and Columbia and Boone County each would provide $2 million. The state also would receive a $73.1 million federal loan.
"It was a very aggressive application," McKenna said.
Eigel said he took his concerns to Parson in hopes of addressing the absence of work in one of the state's most populous counties.
In making his pitch for the brige plan, Parson said the list of projects was not politically driven, because they were chosen by regional planning boards and then approved by the state Highways and Transportation Commission.
After the first round of 40 bridges get underway, others the St. Louis region expected to be replaced include the $2.7 million replacement of a bridge over Happy Sac Creek in Franklin County and a $4.4 million replacement project at the intersection of Valley Dell Drive and Gravois Road in Jefferson County.
Also on tap for work are the North Broadway bridge over Interstate 44 in St. Louis and the replacement of the Missouri Highway 47 bridge over Interstate 44 in St. Clair in Franklin County.
Get Government & Politics updates in your inbox!
Stay up-to-date on the latest in local and national government and political topics with our newsletter.