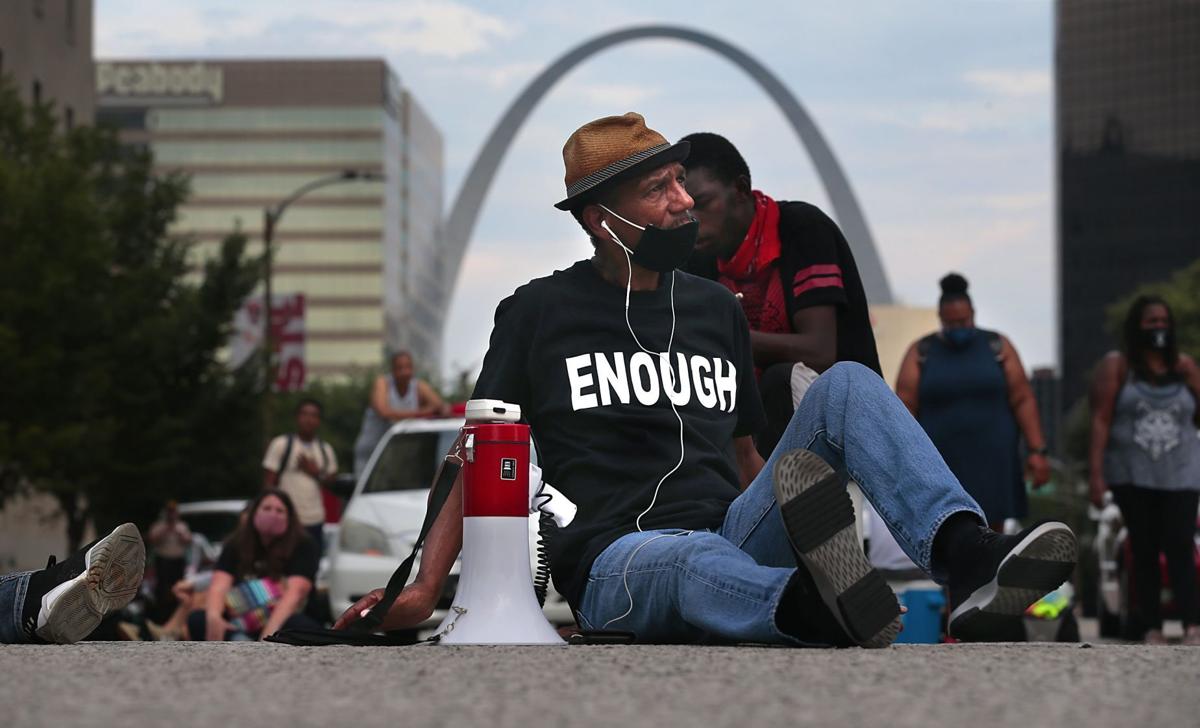 JEFFERSON CITY — The Rev. Darryl Gray grew up hearing his older family members talk about literacy tests and poll taxes, methods used to keep Black Americans from voting.
Once, when his grandfather tried to vote, he was presented with a cucumber, a corn cob and a bar of soap.
Poll workers told him the "literacy test" he had to pass was to guess the number of bumps on the cucumber, kernels on the corn cob and bubbles in the soap.
"The person who was in charge of the polls looked at my grandfather and said to him, 'There are no right answers,'" Gray said.
Gray and other voting rights advocates repeatedly invoked the nation's history of "Jim Crow" laws treating Black people as second-class citizens as they explained their concerns with voting-related proposals in the Missouri Legislature.
A Missouri Voter Protection Coalition rally at the Capitol on Wednesday took place just before a legislative committee began consideration of bills that would add hurdles to the initiative petition process.
The Senate Local Government and Elections Committee heard three separate initiative petition-related proposals already approved by the House.
One sponsored by Rep. John Simmons, R-Washington, would raise filing fees to $500 for initiative petitions, a process where voters can collect signatures to put an issue on the ballot.
While the $500 fee "may seem nominal to some, it actually makes it unreachable for the average hardworking citizen," said the Rev. Cassandra Gould, executive director of Missouri Faith Voices, which has been involved with initiative petitions in past years.
Testifying in favor of the bill, Missouri Secretary of State Jay Ashcroft said the filing fee, which he supports making refundable, would cut down on the number of petitions filed by people who aren't serious about gathering signatures.
Some individuals file 60 or 70 petitions, which create work for local governments that are required to determine their impact, he said.
Ashcroft, who supported the other two proposals as well, said he also appreciated that Simmons' legislation would expand the word count for ballot summaries so people can understand what they're choosing.
A proposed constitutional amendment sponsored by Rep. Mike Henderson, R-Bonne Terre, would raise the standards for both getting voter-initiated constitutional amendments on the ballot and getting them approved.
Henderson said the Missouri Constitution has been changed 30 times since 2000. He thinks the process should be more difficult, though he said it would still be possible if voters feel strongly. Thirteen of the amendments still would have passed under the new standards, he said.
Henderson's proposal says those collecting signatures would have to convince at least 10% of voters in each of Missouri's eight congressional districts to sign on, compared to the current standard of 8% of voters in six of the eight districts.
Voters could approve Henderson's amendment with a simple majority. But if approved, the standard would change to two-thirds of voters for all future amendments.
Under those standards, "only those with exorbitant amounts of money can actually get something passed," House Minority Leader Rep. Crystal Quade, D-Springfield, said during the rally.
Advocates at the rally connected the proposals to a pattern of legislators trying to overturn the will of the voters, such as reversing local minimum wage increases and refusing to fund Medicaid expansion. Initiative petitions are meant to give voters recourse when lawmakers aren't listening to them, they said.
"They want to take away our right and ability to hold them accountable," said Mo Del Villar, legislative associate with the American Civil Liberties Union.
Courts could still rule on constitutionality, Wiemann said during House debate.
In addition to Ashcroft, representatives of the Florida-based Opportunity Solutions Project and of the Missouri Farm Bureau testified in favor of changing the petition process.
Those testifying in opposition to some or all of the proposals included unaffiliated individuals as well as representatives of the NAACP, ACLU, Missouri Faith Voices, Missouri Jobs with Justice, the Jewish Community Relations Council of St. Louis, the Missouri National Education Association, and Secure Democracy.
The rally outside the Capitol focused on Simmons' and Henderson's proposals, as well as proposals adding photo ID requirements for voting a regular ballot.
Rep. Ashley Bland Manlove, D-Kansas City, said the proposals create "second-class votes and second-class voters" because those without photo IDs could only cast a provisional ballot.
Advocates said ID requirements would disproportionately affect racial minorities and elderly Missourians.
More than 200,000 registered voters in Missouri lack a current Missouri state-issued ID, according to an information sheet from the Missouri Voter Protection Coalition.
Editor's note: The name of Secure Democracy was incorrect in an earlier version of this report.