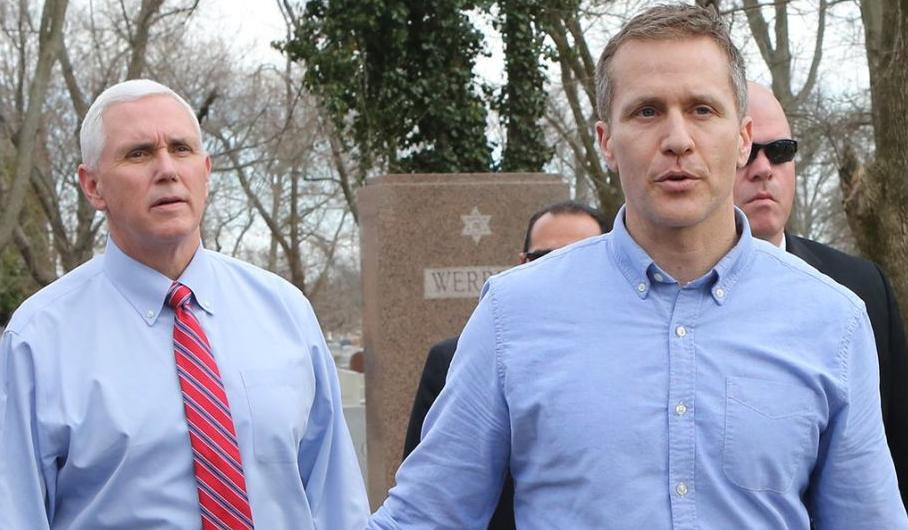 JEFFERSON CITY • The chief of staff to Vice President Mike Pence discussed soliciting contributions from "restricted donors" while he was advising future Missouri Gov. Eric Greitens' 2016 campaign, according to a complaint filed Tuesday with the state's ethics commission.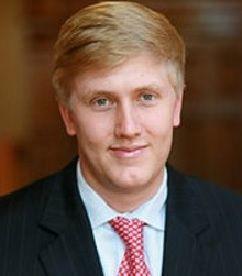 The complaint also says that Greitens for Missouri, which Pence chief of staff Nick Ayers advised, "funneled" donations through 501(c)(4) nonprofits, which do not have to reveal donor identities.
One potential donor, according to an email a Missouri House investigative committee obtained, was employed by a company that "manages money for the state of Missouri" — and could thus be barred by federal law from donating to political campaigns.
It is unclear to what extent, if any, Ayers was involved in discussions with that particular donor. But an email from 2015 shows that Ayers was in contact with the Greitens campaign about a "restricted donor."
The revelation is contained in a 24-page complaint by Rep. Jay Barnes, R-Jefferson City, who led the now-defunct House committee that was collecting evidence to determine if Greitens should be impeached and removed from office.
Barnes asked the ethics panel to investigate several alleged campaign infractions by Greitens and his campaign. The complaint singles out three close advisers: Ayers, fundraiser Meredith Gibbons and campaign manager Austin Chambers.
Barnes wrote that the committee obtained a June 27, 2016, email to Gibbons from an undisclosed "early supporter and fundraiser of Greitens." The person writes to Gibbons that "I'm pretty sure he's not allowed to give," because "[redacted] manages money for the state of Missouri".
"Eric can mention the 501(c)(4) if applicable, but no idea how [redacted] will react to that," the email says.
Complaint against Greitens for Missouri and A New Missouri, Inc. presented to the Missouri Ethics Commission
It is unclear from Tuesday's complaint who the prospective donor was, and whether the donor ultimately cut a check to help propel Greitens to office. But Barnes wrote that on June 29, 2016, two days after the email, a 501(c)(4) group called Freedom Frontier donated $500,000 to LG PAC, the mysterious entity that spent more than $4 million to attack Greitens' competitors in the 2016 primary.
Though the Greitens campaign denied coordinating with LG PAC, Ayers filed a financial disclosure form last year that said he worked for Freedom Frontier during the 2016 campaign.
"There's been interest from the White House about how this is playing out politically in Missouri," said one Republican, who spoke on the condition of anonymity.
In addition, Barnes said that on Dec. 4, 2015, Ayers and Gibbons exchanged emails about a "restricted donor," though the two do not elaborate.
"There is a restricted donor that we'd like for you to reach out to when you have time," Gibbons wrote to Ayers. "I can explain more over the phone."
"Will buzz you soon re: restricted donor," Ayers replied.
Craig Holman, government affairs lobbyist for Public Citizen, a Washington-based consumer advocacy organization, said if a "restricted" person ended up donating to Greitens' cause, the person could have violated federal pay-to-play rules.
He said there is a "long history" of financial firms attempting to win government business by "making campaign contributions to endear themselves to those who are responsible for rewarding the contracts."
Alyssa Farah, press secretary for Pence, defended Ayers in a statement issued Tuesday evening: "This is a complaint lodged against former clients of Mr. Ayers, who has always complied with federal and state campaign finance laws meticulously, and did so in this instance as well," Farah said.
Catherine Hanaway, attorney for Greitens' campaign, said in an emailed statement that the complaint was "full of false accusations."
Hanaway wrote: "The Greitens for Missouri campaign never attempted to solicit or receive campaign contributions from prohibited sources. There was never any attempt by staff or consultants of the Greitens Campaign to violate campaign finance law. Missouri law was not violated — period. Any suggestion otherwise is completely false, and the facts prove that."
Chambers could not be reached for comment Tuesday.
In a joint statement, two of the three Democratic members of the 10-member committee — Reps. Gina Mitten of Richmond Heights and Tommie Pierson Jr. of St. Louis — said they were confident the ethics commission would determine that punishment is warranted.
"With the ethics complaint that has been filed based on the work of the House investigative committee, the Missouri Ethics Commission has overwhelming evidence to conclude that Eric Greitens, his campaign committee and affiliated dark money organization broke state campaign finance laws," the statement noted.
Other infractions
Barnes alleges several campaign infractions by the disgraced former chief executive, including that Greitens failed to form a campaign committee after spending $500 on his statewide bid and that he did not report the $4 million spent by LG PAC as an in-kind contribution.
"Missouri voters are wondering: To whom are you, as the next Governor of our state, beholden?" then-Lt. Gov. Peter Kinder wrote to the future governor in October 2016.
He said the Greitens campaign violated Missouri law by purposefully concealing the ultimate source of the $4 million spent by LG PAC, as well as the source of a $1.97 million donation to the Greitens campaign from the opaque group called SEALs for Truth.
Barnes also released a Nov. 17, 2015, email exchange between Chambers and Gibbons, in which the two discuss directing two Democratic donors to an unknown 501(c)(4) "so that they don't appear on our reports," Chambers said.
Evidence the House committee obtained "strongly suggests that Greitens for Missouri engaged in activity purposefully designed to conceal donor identities," Barnes wrote.
Though the ethics commission can only consider civil punishment for breaches of campaign finance law, the complaint also mentions another possible violation of state law: using taxpayer resources for political purposes.
Barnes said that "upon information and belief" Greitens' taxpayer-paid general counsel Lucinda Luetkemeyer "regularly attended meetings" with the Greitens campaign and A New Missouri, Greitens' political nonprofit. State employees are barred from political activities while they are on the clock.
The Post-Dispatch reported in January that Luetkemeyer was on a fact-finding mission in the hours before news broke that Greitens had an extramarital affair with his hairdresser in 2015. Luetkemeyer did not respond to an inquiry on Tuesday.
Barnes also said that once in office, Greitens formed A New Missouri to skirt campaign donation limits and purposefully conceal the identities of donors.
Barnes said last year's formation of A New Missouri to support Greitens' agenda was in response to the 2016 passage of a statewide referendum that placed caps on campaign contributions at $2,600 per election.
"The principals of Greitens for Missouri set up A New Missouri Inc. for the purpose of evading the newly-enacted campaign finance laws in Amendment 2," the complaint says.
That, Barnes said, violates the state constitution, which bars people from using fake names to contribute money to political causes.
Two Post-Dispatch reporters visited the downtown Jefferson City offices of A New Missouri on Tuesday. The organization shares office space with Greitens' campaign committee. The reporters rang a doorbell, but no one answered. It appeared that no one was at the office.
It is not uncommon for governors throughout the United States to use similar dark money groups.
Of those, 70 percent did not voluntarily disclose their donors to the public, the CREW report noted.
Noah Bookbinder, executive director of the left-leaning group, said the unchecked spending allows special interest groups and wealthy donors to exert influence on the political process.
"Shadow governance groups allow governors to benefit from unlimited spending by sources unknown to the public — but possibly known to them," Bookbinder said. "This is a growing, cutting-edge way for secret money to influence politics, and we need to start paying more attention to it."
Other governors with similar organizations include Ohio's John Kasich, New York's Andrew Cuomo and Wisconsin's Scott Walker.
The registered agent for A New Missouri is Robin Simpson of Monroe City. Simpson, who was appointed by Greitens to serve on the Missouri Lottery Commission, has not responded to telephone messages.
The ethics commission does not comment on pending complaints.