JEFFERSON CITY — The top Democrat in the Missouri House on Thursday filed her own plan for Missouri's eight congressional districts, one she said makes the St. Louis County-based 2nd District more competitive than under a recent GOP proposal.
While the 2nd District, currently represented by Rep. Ann Wagner, R-Ballwin, would become more competitive, the 1st District, held by Rep. Cori Bush, D-St. Louis, would reach into St. Charles County, another major difference from the GOP plan filed last week, which keeps the majority-minority 1st Congressional District within St. Louis and St. Louis County.
"If we're trying to make this as fair as possible, we feel like our map is the better starting point," said House Minority Leader Crystal Quade, D-Springfield, the plan sponsor.
Because Republicans lack a two-thirds majority in the House, GOP mapmakers are poised to rely on Democratic support so the congressional map may take immediate effect, giving Democrats rare leverage in the Republican-dominated Legislature.
The end result could be a map that gives Democrats two safe seats and a shot at the 2nd District, which Democrats have unsuccessfully targeted the last two election cycles.
Quade said Democrats tried to draft a map that delivered them three of eight districts, but that doing so likely would mean sacrificing the 1st's majority-minority status.
"I don't think that we can," she said when asked if the Democrats could accomplish both objectives. "We did try."
Quade said the 1st stretches into St. Charles County due to population growth there over the last decade, including from African American voters moving there from north St. Louis County.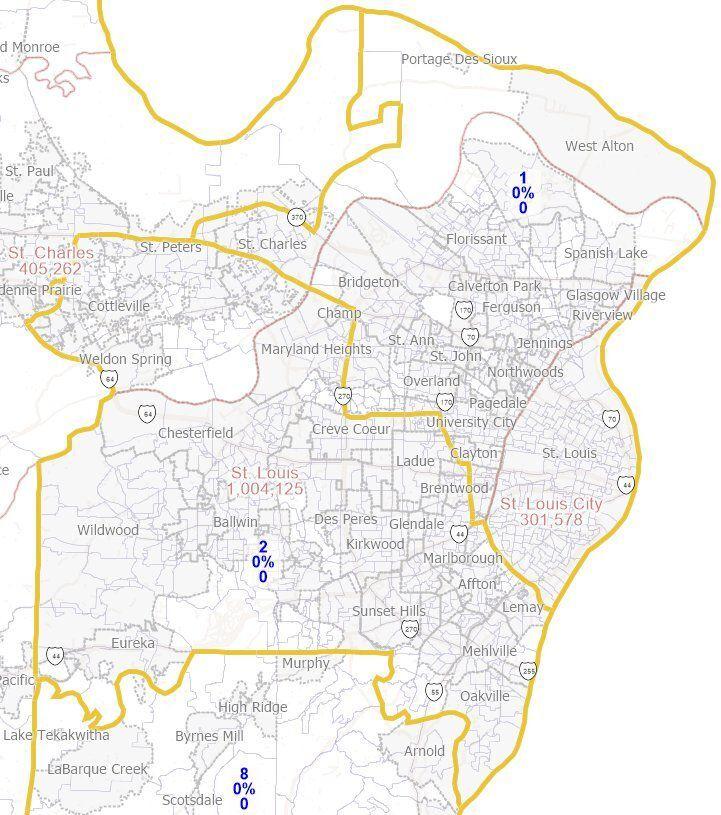 The Democrats' map also differs from the GOP proposal by placing most or all of Webster Groves, which votes Democratic, in the 2nd Congressional District rather than the 1st, which is already heavily Democratic.
Other major changes from the GOP proposal include placing both Fort Leonard Wood and Whiteman Air Force Base in the 4th Congressional District.
Both are currently in the 4th, represented by Rep. Vicky Hartzler, R-Harrisonville, who serves on the House Armed Services Committee.
Another difference is that the Democrats' proposal places all of Jefferson County in the 8th rather than including it in the 3rd, which includes many areas roughly along Interstate 70 between St. Charles and Jefferson City.
The Democrats' map places Lincoln County in the 3rd rather than the 6th, which covers northern Missouri.
Lawmakers have said they will move fast to approve congressional maps this year. They return to Jefferson City on Monday.