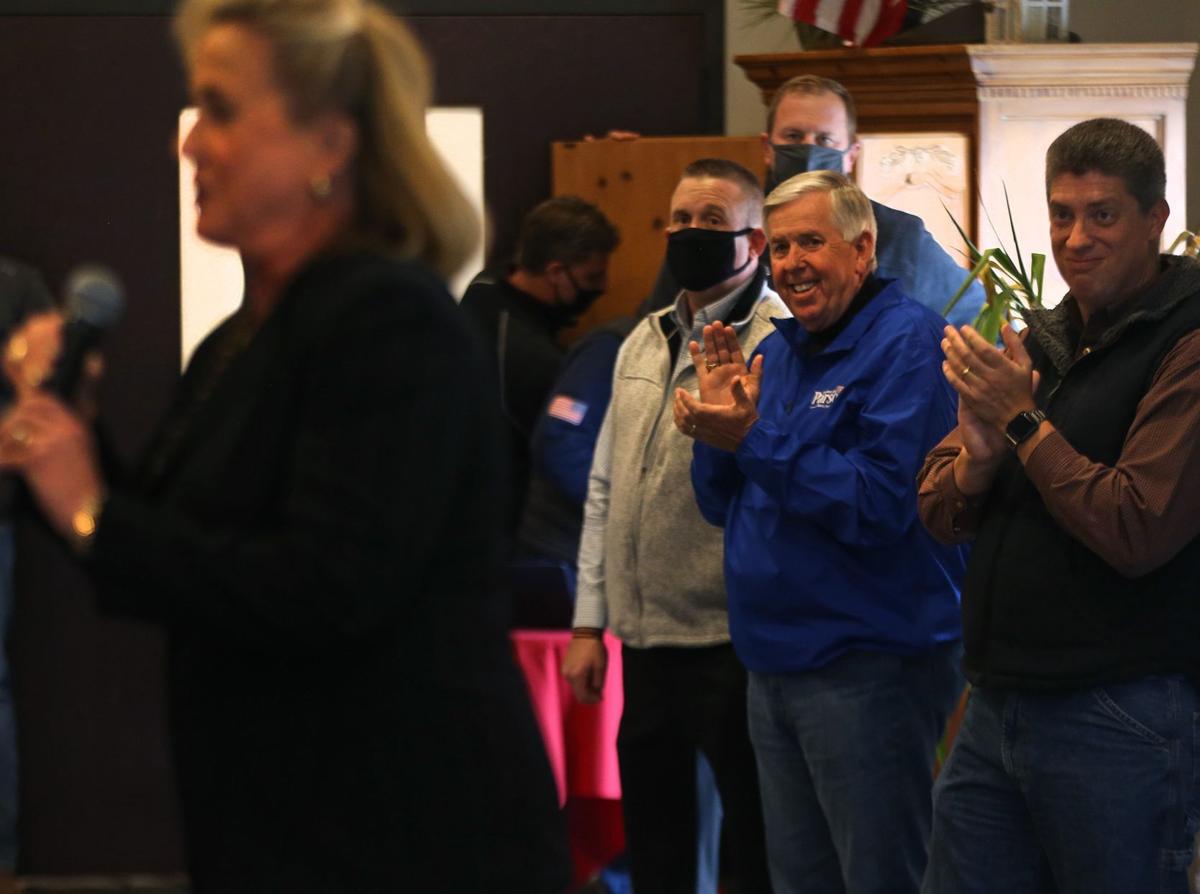 ST. LOUIS COUNTY — U.S. Rep. Ann Wagner successfully and decisively fended off a well-funded effort by Democrats to flip Missouri's lone swing district, helped by a strong Republican wave that swept across much of the state.
The four-term incumbent, in fact, performed better this time against her Democratic challenger than she did in 2018. Wagner, who received 52% of the vote on Tuesday, defeated state Sen. Jill Schupp by nearly 7 percentage points, according to unofficial results. Two years ago, she won with 51%, less than 4 points ahead of political newcomer Cort VanOstran.
The size of Wagner's victory on Tuesday also was magnified by the high turnout this year, with the number of people casting ballots in the district up 18% compared with 2018.
"I'm just absolutely thrilled and humbled, both, to have been reelected by such a resounding margin," Wagner said Wednesday.
Wagner's victory came as other Republicans, including Gov. Mike Parson and President Donald Trump, won the state by wide margins, including in GOP-leaning parts of the 2nd Congressional District, which stretches from Fenton to St. Charles. That, and Wagner's advantage as an incumbent, boosted her to victory, said Ken Warren, a political science professor at St. Louis University.
"What you're seeing here are clear coattails," Warren said. "Republicans voted for Trump, Parson and Wagner in similar percentages — that's not coincidental at all."
Schupp, a four-term state legislator, hoped to build off VanOstran's run in what became a nationally watched bid to flip a mostly suburban district, which has had Republican representation in Congress for all but two of the past 33 years.
But Wagner on Tuesday captured large leads in Republican-leaning Jefferson and St. Charles counties. In the politically split area of south St. Louis County, the most populous part of Missouri's 2nd, Wagner fended off Schupp by 3 points. Trump and Parson lost all of St. Louis County by more than 20 points, but the strongly Democratic areas of north St. Louis County, which are not in the 2nd District, likely were the reason.
Schupp focused on criticizing Wagner for voting to repeal the ACA, noting that a repeal would remove protections for preexisting conditions for millions of Americans during the COVID-19 pandemic. She also pointed to the decision by 53% of Missouri voters to expand Medicaid, which garnered narrow support in St. Charles County despite Republican opposition, as a sign the congressional district was ready to turn blue.
Wagner pointed to legislation she sponsored that would write protections for preexisting conditions into federal patients rights. She criticized Schupp as being soft on crime, and her campaign launched several ads that accused Schupp of "siding with dangerous criminals" and attempting to tie Schupp to calls for Medicare for All and to defund police, both of which Schupp said she did not support.
The race saw a record influx of cash for any election in the district, as Wagner spent about $5 million and Schupp about $4 million and outside groups invested millions more to support and oppose both candidates.
Incumbents roll
But all of that likely mattered little to most voters, who usually cast their ballot for names in their political party that they recognize, Warren said.
Incumbents on Tuesday ended up prevailing in seven of Missouri's eight congressional districts. The one exception was the solidly Democratic 1st Congressional District, where U.S. Rep. William Lacy Clay was defeated in the Democratic primary by eventual winner Cori Bush.
"Only about a third of people, on average, can tell you who their U.S. rep is by name — even Wagner," he said. "And a lot of people outside Schupp's state senate district wouldn't know who she was."
Wagner on Wednesday said the 7-point margin was proof "that I represent the values of this district," she said.
"I believe that I am a reflection of their values and I look forward to representing them again for two more years in Washington, D.C.," she said. "I look forward to another COVID-relief package and other things we can do to help them as we move forward and navigate these difficult times both economically, health-wise and otherwise."
Schupp said that while the race was over, "what our campaign stood for will endure."
"Being your nominee has been the greatest honor of my life," she wrote, "and my commitment to protecting people with pre-existing conditions, making our communities safer from gun violence, and creating an economy that works for all of us remains steadfast."
Wagner has served four terms in Congress, served as ambassador to Luxembourg under former President George W. Bush, and was a top official and fundraiser in the Missouri and national Republican parties.
Schupp, a four-term state legislator, is one of few Missouri Democrats to win a high-profile race in recent election cycles. In 2014, she narrowly defeated Republican Jay Ashcroft in the 24th Senate District; Ashcroft is now secretary of state. Her state Senate district includes a swath of St. Louis County that's home to some of the area's most affluent communities.