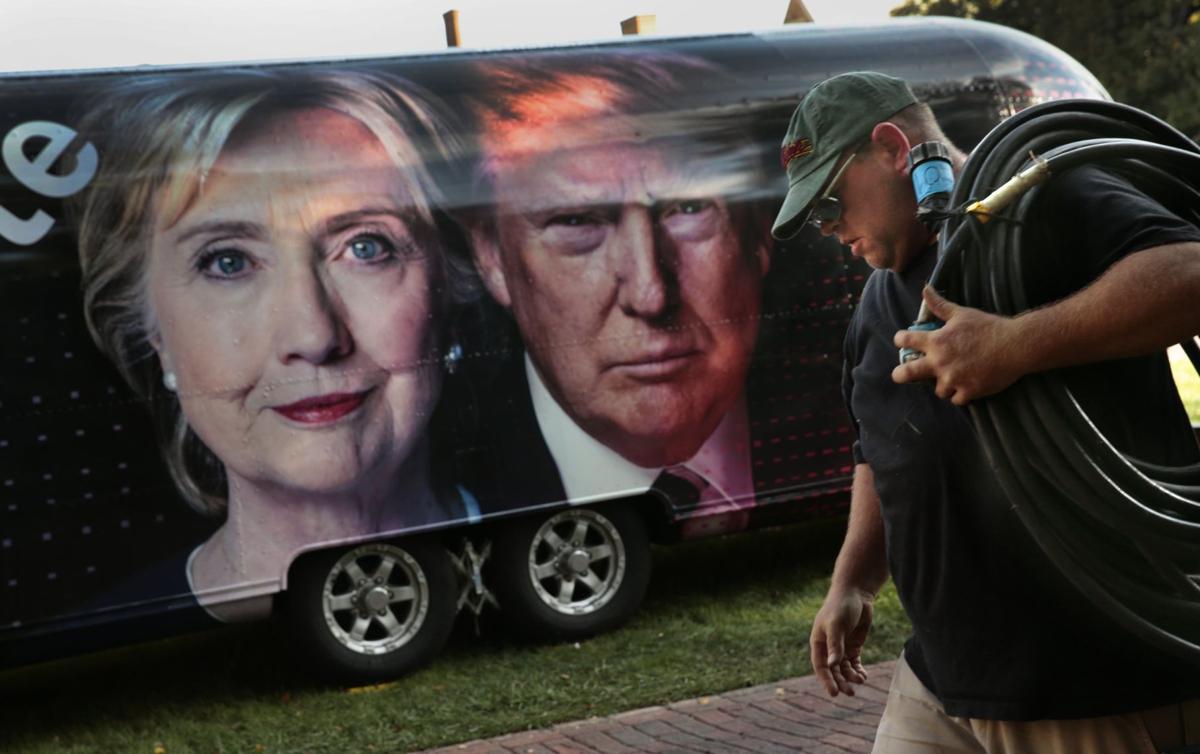 WASHINGTON • After the coarseness and chaos, what did its citizens learn about America in the brawl that has been Campaign 2016?
Many are unsettled about and dissatisfied in the pursuit of the American Dream, and they are deeply unhappy with the choices the two major political parties gave them to address those concerns.
They are unsure of their nation's place in the world, and worried that their government is not keeping them secure within it.
And, in Donald Trump, they have witnessed the power of social media to divide and motivate people who are deeply opposed to the direction of the country but are unable or unwilling to reach a consensus on which direction to go.
"Election 2016 ends where it began — an unhappy electorate looking for change, dissatisfied with the choices they had for president," said veteran pollster Peter Hart, who conducted focus groups throughout the campaign for the Annenberg Public Policy Center at the University of Pennsylvania.
"It is both sad and dispiriting," he said. "Yes, there are passionate supporters for both Donald Trump and Hillary Clinton. But the truth is … people are voting more against, rather than for, a candidate."
As one undecided man told Hart in a focus group in Charlotte, N.C., in late October: "The message is not, 'Vote for me because I'm the best candidate.' The message is, 'Vote for me because I am less of a sleaze ball.' "
The bottom-line result, no matter who wins the presidency on Tuesday, will be the continuance of a bitterly divided federal government.
House Republicans are gearing up to investigate Clinton if she wins. Congressional Democrats, many of whom have publicly pronounced Trump a danger to the republic, will be pushing back hard if he triumphs. As in 2008, when Barack Obama took office, there will be no bipartisan consensus that the next president needs to succeed in order for the country to.
Campaign 2016 leaves more questions than it answered.
Alasdair Roberts, a professor at the Truman School of Public Affairs at the University of Missouri, said that Americans "are clearly dissatisfied with the formula that held sway from 1980 to 2007: open borders, free markets, less government intervention," but that this election did little to address where to go from there.
"On the left and right, people are making demands for fair shares, fair treatment, and more responsive governmental institutions," he said. "In previous eras (like the 1960s) this might have translated into a demand for more active government. Today, though, the debate is complicated by one carryover from 1980 to 2007: lingering skepticism about the capacity of government to address problems effectively, especially at the federal level. So the simple '60s solution — government should do more — doesn't sell."
"This should have been an election about ideas. The old paradigm is exhausted, so where do we go next? But neither candidate was ready to do that.
"Trump lacked the capacity to articulate a coherent new agenda, and Clinton was too closely tied to the status quo. So the campaign degenerated into questions of personality or conduct alone."
And, aided by the power of social media, every vulnerability was exploited, day after day, hour upon hour, tweet upon tweet.
Trump's use of Twitter will be central to every history of the 2016 election. His Tweets sparked news bursts and transfixed TV talking heads. The cacophony drowned out discussion of real issues and turned debates into tests of whether Trump was fit, personally and temperamentally, to hold the office. The attacks also raised questions about whether Clinton's propensity, in critics' minds, to co-mingle personal and public affairs made her unfit.
Trump's "Crooked Hillary" 140-letter attacks incited those who have long disliked and mistrusted her. When damaging information from her long public career came out — WikiLeaks' stolen email dumps and FBI director James Comey's bombshell announcement that the agency was taking a fresh look at emails while she was Secretary of State — the conversation turned even more afield from issues that worry and interest Americans. The final hours were roiled even further Sunday with Comey's announcement that the FBI would not prosecute Clinton based on the new emails.
The social media election
The impact of speed-of-light communications on American politics cannot be overstated: None of these elements — email, social media, the WikiLeaks counter-culture — even existed when Clinton's husband was elected president 24 years ago.
"The natural state of things is to pull people into silos, to separate," said Roy Temple, chairman of the Missouri Democratic Party. "I think it requires a conscious effort to restore the sense of a common good and get people to refocus on the values that we share and the things we can work toward. It was always hard (before social media). It has gotten even harder."
Obama was able to harness social media to victory in 2008 because, as the first black president, he represented change. And he had a far sparser public record to grind the social media grist mill than Hillary Clinton has.
Clinton "does not start out with the natural goodwill that would have strengthened her effort" because "there has been a generation of people demonizing Hillary Clinton on a daily basis, and it has had its effect," Temple said.
"You talk about death by a thousand paper cuts," he added. "Her reputation has been nicked by a billion dollars-worth of paper cuts."
Peverill Squire, the Hicks and Martha Griffiths chair in American political institutions at the University of Missouri, said that "Twitter is good at getting bits of information out to supporters and rallying them, but it is not a mechanism for working through complicated policy problems."
Roberts said social media did not cause continuing, protracted divides about where the country should go on big issues such as trade, immigration and foreign policy. But the power of Twitter, Facebook and other social media outlets, he said, may have contributed to the division.
"My own view is that the effect of technology is of secondary importance," Roberts said. "The main thing is the collapse of an old paradigm and the search for a new one."
All of the campaign acrimony has done little to ease Americans' concerns about their country's position in an unstable world. Trump's build-a-wall call, and his attacks on foreign trade deals, are a major pivot from the negotiate-with-old-foes and free-trade ideology of Republican presidents of the post-Cold War era.
Democrats are equally split, with many blaming Bill Clinton's administration for trade deals that liberals say hurt American workers.
"It appears that many Americans expect the world to do what we want while at the same time, we are trying to withdraw from international affairs," Squire said. "Although we are still the most powerful nation in the world, the ability of any nation to dictate to others has declined dramatically."
Said Roberts: "My own sense is that the anxieties about foreign affairs are mainly a symptom of a sense of drift at home. That is, if people felt that the candidates were offering a clear view of how to handle domestic problems, they would be worrying less about the place of the U.S. in the world."