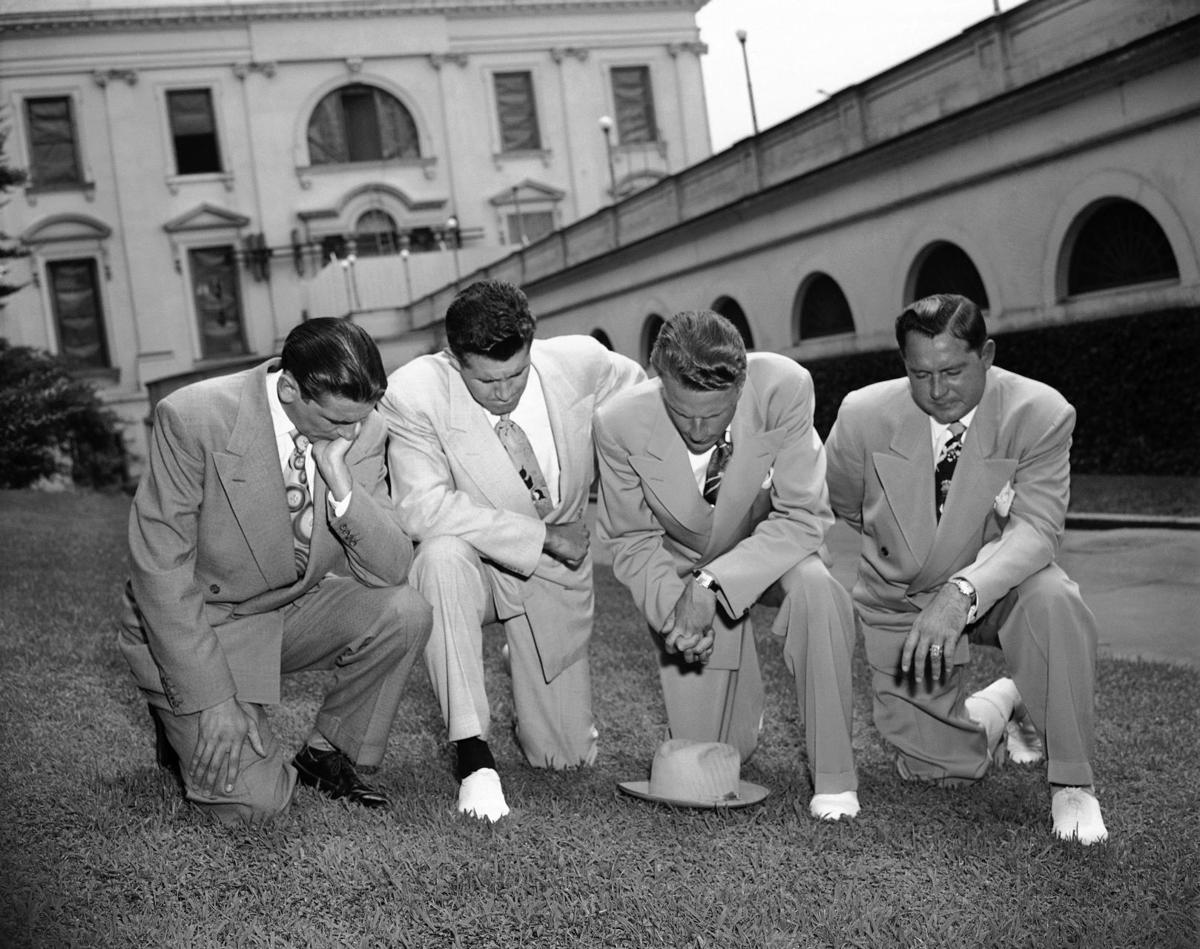 WASHINGTON • On a July day in 1950, a month after the start of the Korean War, a young evangelist named Billy Graham came calling on President Harry S Truman at the White House.
The meeting with the Missouri-born president had been set up by a couple of members of Congress, Reps. John McCormack of Massachusetts and Joseph Bryson of South Carolina. Both, like Truman, were Democrats, and both wanted the president to meet this rising evangelical figure.
The Rev. Graham was accompanied by associates Grady Wilson, G.F. Beavan and Cliff Burrows. The visiting party wore white suits and buck shoes, the latter a fashion nod to Truman, who also wore them.
And the meeting went downhill from there.
Truman told the 31-year-old Graham, a rising evangelical star, that he lived by the lessons of the Sermon on the Mount, in which Jesus declared that those who seek humility and hunger for righteousness shall be blessed.
After about a 15-minute meeting, "I put my arm around (Truman) and I said, 'Could we pray?' " the Rev. Graham recalled years later. "And of course that was taking advantage of the president's graciousness in receiving us. He replied, 'Well I don't see any harm.' And so I prayed with him."
Graham's group then met reporters on the White House grounds. They knelt in prayer for a picture that appeared in many newspapers. They recounted details of their conversation with Truman.
Within days, Truman's circle was leaking to columnists that the young evangelist was persona non grata at the White House for breaching the details of a private conversation. Truman reportedly came to view the young evangelist as a self-promoter.
"It was a terrible mistake on my part," Graham wrote later, adding that "national coverage of our visit was definitely not to our advantage.
"The president was offended that I had quoted him without authorization."
From then on, Graham wrote, "I knew that you didn't quote famous people."
In the shorthand of history, and in the wake of the Rev. Graham's death, that meeting at the beginning of the Cold War gets boiled down to Graham being counselor to presidents from Truman to Trump.
But the details of that first Truman meeting remind us that relationships on the public stage are complex, and that there are truly no final acts in politics, not even after death.
In reality, Truman and Graham made up 17 years later when the preacher visited the haberdasher-turned-president, who was 83 years old, at Truman's home in Independence, Mo.
It came during Graham's "Heart of America" crusade that year. The two men were pictured, smiling, and Graham reportedly told Truman: "You will go down in history as a great and decisive man."
Now Graham, the fourth civilian since 1998 to lie in honor at the Capitol Rotunda (two Capitol Police officers and the civil rights activist Rosa Parks preceded him) is himself consigned to history.
Photos: Friends, family, politicians and worshippers pay their respects to Rev. Billy Graham
The Rev. Billy Graham will lie in honor, Wednesay in the nation's Capitol, in the Rotunda. It's a rare honor for a private citizen to lie in honor at the Capitol. Graham died Wednesday in his sleep at his North Carolina home. He was 99. Earlier in the week, mourners and former presidents Clinton and Bush attended a public viewing at the Billy Graham library in North Carolina.