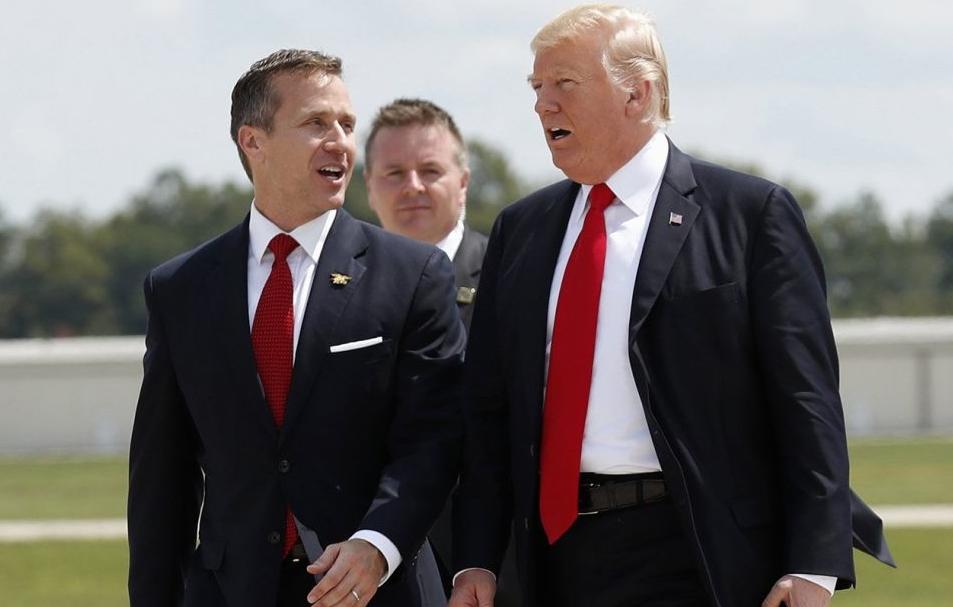 JEFFERSON CITY • President Donald Trump's administration is actively gauging the mood in Missouri's Capitol as it considers how to handle Gov. Eric Greitens, a governor from Trump's party who refuses to quit in the face of scandal, five GOP officials have told the Post-Dispatch.
"When leaders lose the ability to effectively lead our state, the right thing to do is step aside. In our view, the time has come for the gove…
"There's been interest from the White House about how this is playing out politically in Missouri," said one Republican Missouri House member, who spoke on the condition of anonymity. "So they're really just trying to get information about how much support the governor has in the Legislature, and how much he has, kind of, statewide."
White House officials believe that the president's weighing in would not necessarily prompt Greitens to resign. And Vice President Mike Pence, who campaigned for Greitens, is reluctant to weigh in on the scandal in part because he does not want to appear to be getting out ahead of the president on the issue of Greitens.
A White House official also told the Post-Dispatch that the White House believed that, politically, the story was better confined to Missouri rather than exploding into a national scandal for the GOP as a whole.
Nick Ayers, a top adviser to Vice President Mike Pence who advised Greitens during the gubernatorial campaign, has not had contact with Greitens since the scandal broke, according to a White House source.
The Missouri lawmaker said legislators had also been contacting the White House behind the scenes, attempting to pressure the president to act.
"I reached out to them," the lawmaker said. "Some of us have been proactive, and then others, like I've said, have been reached out to by them."
Greitens, a former Navy Seal, founded The Mission Continues in 2007. His alleged use of a fundraising list from the charity is under investigation.
A second Missouri GOP lawmaker confirmed that White House officials were taking the temperature in Missouri, and a third said he had received a phone call from a White House official in recent days.
"There are these liasons from the White House that have been in touch with several lawmakers," said the second lawmaker, who also spoke on the condition of anonymity.
"I was given — numbers in case I want to call, like contact information for some of these people (in the White House)," the second lawmaker said, adding that she received the contact information through an intermediary.
"The discussions are widespread and the concern is real, from top to bottom," said someone close to the talks, who spoke on the condition his name not be used.
Hawley, a Republican like the govenor, said his office possessed evidence that Greitens obtained and transmitted a donor list without the perm…
Greitens has faced a full court press from members of his own party, with top GOP lawmakers and Missouri Attorney General Josh Hawley, also a Republican, telling the governor to quit. He faces increasing legal troubles, on one front defending himself against a felony invasion-of-privacy charges and allegations of sexual misconduct. He also faces potential felony computer tampering charges in St. Louis for allegedly taking a donor list from the charity he founded and using it to raise campaign cash.
"It is certainly something that is very concerning and something that we are taking very seriously," Sanders said.
Her statement came after a trio of Senate Republicans sent Trump a letter pleading for him to intervene in Missouri.
Missouri lawmakers considering whether to impeach Republican Gov. Eric Greitens may first have to wrestle with an unprecedented question: Does…
"I believe that there is one person who could get this soldier to stand down. He's trained as a Navy SEAL," Sen. Rob Schaaf, R-St. Joseph, said Tuesday on the Senate floor. "He's trained not to walk away from battle. But he is also trained to listen to his Commander-in-Chief."
But in calling on Trump to intervene, Schaaf illustrated an interesting dilemma the president probably faces: not wanting to be rebuffed by Greitens, who has refused to resign despite calls from the upper echelons of Missouri politics.
Trump could also face questions about sexual misconduct allegations of his own if he were to publicly raise awareness about the situation in Missouri.
GOP insiders also are worried about how Greitens' predicament will affect the 2018 midterms, from Hawley's bid to unseat Democratic U.S. Sen. Claire McCaskill, to down-ballot legislative races.
One Missouri political consultant predicted Trump would intervene "in some way."
The consultant, who spoke on the condition of anonymity, added that top Republican leadership in the U.S. Senate had concluded that the scandal surrounding the governor had imperiled the party's chances of defeating McCaskill in November.
"It is absolutely disastrous to any chance of beating Claire," the consultant said. "Greitens' situation and just his presence, just the fact that he remains governor, (are) disastrous."
The source familiar with talks between the White House and state legislators said the GOP's down-ballot state legislative seats could be the most vulnerable if Greitens remained in office — not Hawley, who with allied groups will spend millions trying to influence the race.
"He can fly over this by force of sheer millions," the person said in an email. "The people who can't are the state legislators who are dealing with a rapidly deteriorating environment for Republicans in the state while trying to win local races with tighter resources."
The first Republican state lawmaker said Tuesday evening's statements from House Speaker Todd Richardson, Senate President Pro Tem Ron Richard and other top Republicans could give the White House some room to move in on Greitens.
"I wouldn't speculate and say the White House is going to call on him to resign or something like that," the lawmaker said, "but I would be shocked if you saw a statement from President Trump defending Gov. Greitens."