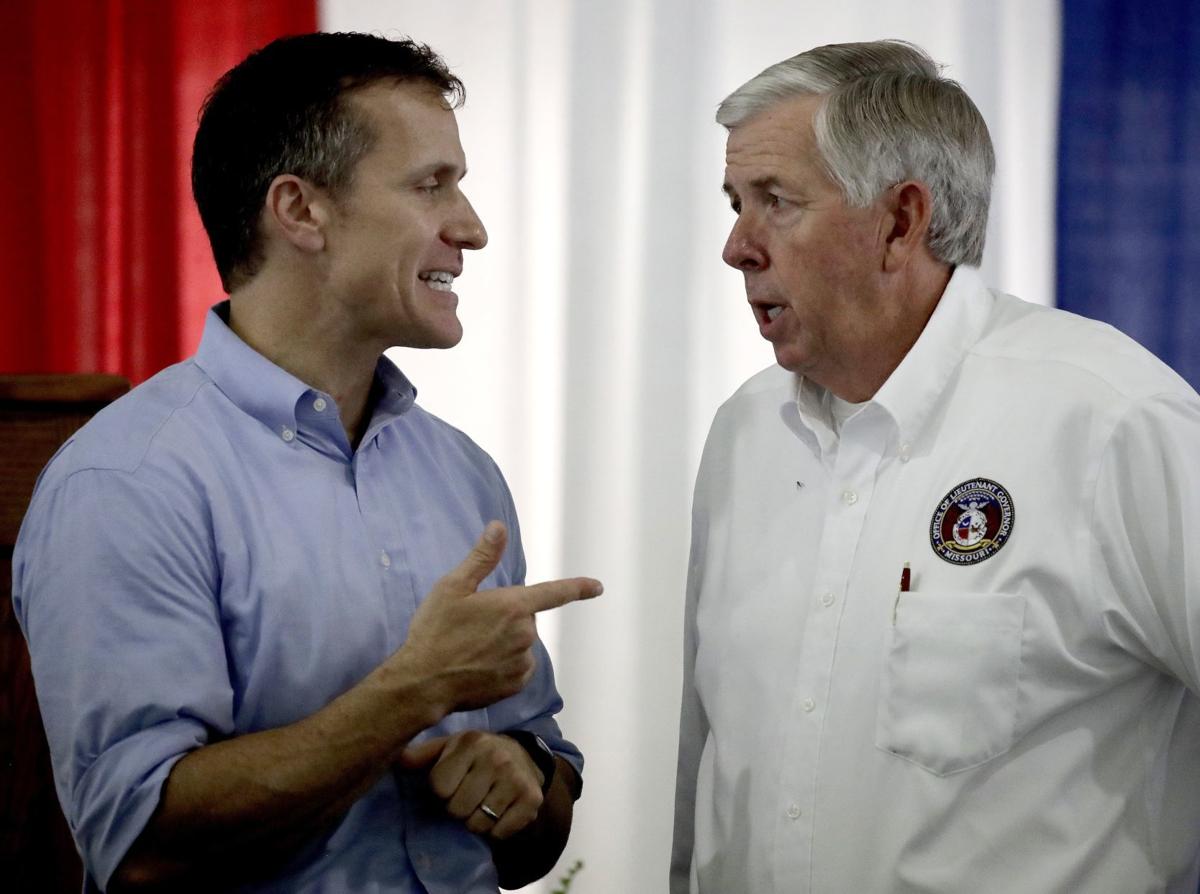 JEFFERSON CITY • The current governor is a city boy who billed himself as an outsider. The man positioned to take his place hails from a farm and is very much part of Missouri's political establishment.
After Gov. Eric Greitens was indicted Thursday on a felony invasion of privacy charge, leaders in the Missouri House announced they would investigate the governor, possibly heading down the road to impeachment. If that occurs — or if Greitens resigns — the next governor of Missouri would be Mike Parson, a veteran and former rural county sheriff who began his career at the Capitol in 2005.
"He (Parson) has deep relationships in the Legislature," Silvey said. "He understands the importance of getting along with people to move policy forward. I think it would be a night-and-day difference in how the state operates. I don't think we would have senators standing on the Senate floor every day rattling off a list of complaints about Mike Parson and how he's operating."
And on Friday, a spokeswoman said he wouldn't comment on the events.
During his time in office, Parson, 62, has backed looser gun regulations, has championed tax credits for ethanol and beef producers, and pushed for pro-business legal changes.
"He's got a good outlook on what the economic development needs (of the state) are," said Sen. Doug Libla, R-Poplar Bluff. "He's a highly respected individual."
Sen. Jacob Hummel, D-St. Louis, served in the House with Parson. Parson now serves as president of the Senate, one of his few official duties as lieutenant governor.
"Aside from ideological differences, he seems like a pretty straightforward guy," Hummel said.
Parson has split publicly with the governor on some issues. While Greitens banned people in his office from accepting lobbyist gifts, Parson was accepting gifts. Of the seven statewide officeholders last year, only Parson accepted freebies from lobbyists. He took almost $4,000, according to Missouri Ethics Commission records.
Parson, who briefly ran for the state's top spot during the 2016 election cycle before switching to the lieutenant governor's race, also broke with Greitens over low-income housing tax credits.
In the Missouri House, he co-sponsored the legislation that enacted the "castle doctrine," which has since been expanded, and supported a measure to limit who could sponsor ballot initiatives.
Parson is also close with the political firmament in Jefferson City.
He reported receiving thousands of dollars from former Speaker of the House Steven Tilley, who has been a lobbyist since 2012.