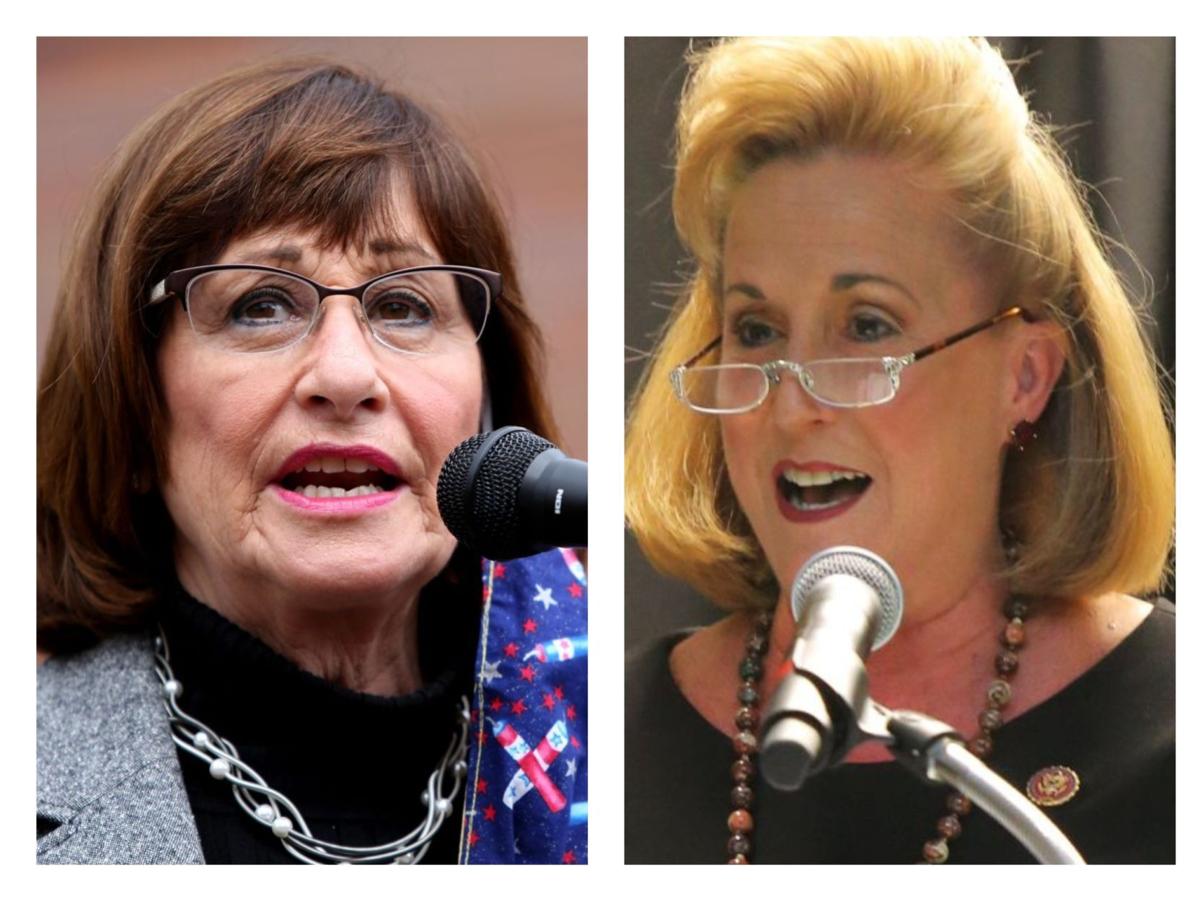 ST. LOUIS COUNTY — President Donald Trump lost support in the mostly suburban 2nd Congressional District, but he didn't pull down other Republicans with him.
Trump, who won the district by 10 points in 2016, barely held on this year, fending off a challenge from Democratic nominee Joe Biden by less than a percentage point, according to an analysis of precinct-level election results.
The president was expected to win Missouri, and he did so handily, but Democrats had hoped to flip the district that takes in much of St. Louis County and parts of St. Charles and Jefferson counties.
Instead, U.S. Rep. Ann Wagner, the four-term Republican incumbent, defeated a stiff challenge from Democratic state Sen. Jill Schupp by a margin of more than 6 points, outpacing Trump by wider margins across the district and decisively countering reputable polls that predicted a tossup in Schupp's favor.
The comparison reflects a national trend: suburban voters drew away from Trump while standing by down-ballot Republicans.
"We had spent the whole year talking about how unpopular Trump had become in suburbs like these," said Dave Wasserman, with the nonpartisan Cook Political Report. "But Trump being atop the ballot was perhaps the best of both worlds for Republicans."
Trump brought out millions of conservatives who don't often vote and "would never have showed up in a midterm or election year for a Republican not named Trump," Wasserman said.
And conservatives who didn't like Trump could split their ticket, unlike in the 2018 midterms, when rebuking Trump meant giving Democrats more control of Congress, he said.
Meanwhile Republicans in relatively affluent suburbs like Missouri's 2nd could differentiate themselves from Trump, who appealed to other groups of conservatives, said J. Miles Coleman with the nonpartisan Sabato's Crystal Ball at the University of Virginia Center for Politics.
There were also voters who decided to keep down-ballot Republicans in Congress after polls predicted a Biden victory, he said.
"A lot of wealthy suburbanites, they really want the illusion of balance," Coleman said. "We don't like Trump, but we don't want to give the Democrats everything, so let's have the Republicans keep Biden in check."
As expected, the Democratic base of the 2nd Congressional District in both the presidential and congressional races radiated outward from the city of St. Louis and from north St. Louis County, according to the precinct-level analysis.
But Wagner, of Ballwin, scored wider margins than Trump did throughout the district.
Along the divide between Democrats' base and the Republican-held west and south portions of the district, Wagner won several precincts in Chesterfield, Ballwin, Manchester, Ladue, Lemay Ferry and Oakville that Trump lost to Biden.
The Republican strongholds of St. Charles and Jefferson counties kept Trump ahead despite losses from 2016 in St. Louis County, the state's most populous county and the largest part of Missouri's 2nd. Wagner won St. Louis County by 2.5 points — an improvement over 2018, when she held Democratic challenger Cort VanOstran there by less than a point.
Biden's popularity in suburbs wasn't unexpected, as polls noted he was more favorable to a wider array of voters than Trump's 2016 opponent, Hillary Clinton.
Biden endorsed Schupp, but Wagner avoided mention of Trump. To reporters, Wagner said she — and voters — disagreed with Trump's rhetoric but supported GOP policies under his administration
"The tweeting, the negativity and bullying of others," Wagner said this week, "many were turned off by that, but I will say the policies were sound."
Close political watchers noted that an advertisement Wagner's campaign ran featured Biden criticizing Medicare for All — a policy Wagner sought to tie to Schupp — hinting that Republicans were aware of Biden's favorability even while they sought to tie other Democrats to left-wing policies.
"It was a way for us to distinguish how far out of step Jill Schupp was," Wagner said.
Schupp, who publicly opposed Medicare for All during the campaign, said it was difficult to counter the Republican messaging tying her to policies she doesn't support.
And the COVID-19 pandemic affected candidates' ability to campaign; her team decided not to canvass door-to-door to avoid the risk of infecting anyone with the virus, she said.
"There are always these ideas that maybe there were better ways we could have done this," said Schupp, of Creve Coeur, noting polls suggested she could win. "We might have changed how we put our message out or where we focused, but it never would have changed my positions."
"I have said and always believed that I'm running against Ann Wagner," Schupp said, "and needed to make my case to voters on the differences between Wagner and me.
"We delivered a positive message about how this district could be represented and the voters made their choice."
Down-ballot races
The top ticket also cast a shadow over some of the most competitive Missouri state legislative races in Missouri's 2nd.
"We knocked on thousands of doors and we would certainly hear people say that they weren't thrilled with Trump, so you take that they might be voting for Biden," said state Sen. Andrew Koenig, R-Manchester.
Koenig held his seat in the 15th Senate District against a high-profile bid by Democratic Rep. Deb Lavender, of Kirkwood, to flip the traditionally Republican district, which includes all or portions of Ballwin, Chesterfield, Fenton, Glendale, Sunset Hills, Valley Park and Wildwood.
"We tried to keep the focus on why people should vote for me," Koenig said. "A low-tax message, combined with law and order, is something that people were really receptive to."
Rep. Trish Gunby, a Democrat who flipped a Republican seat in west St. Louis County, said door-to-door canvassing, with masks and social distancing, allowed her to persuade voters, including anti-Trump conservatives and Trump supporters.
"I had some people say, 'I'm going to vote for you but I'm going to vote for Trump,'" said Gunby, of Ballwin. "That's why I think that personal connection really matters."
Before the election, Democrats had pointed to Missouri voters approving ballot provisions raising the minimum wage and expanding Medicaid, both Democratic policies, as signs the suburbs were shifting in their favor.