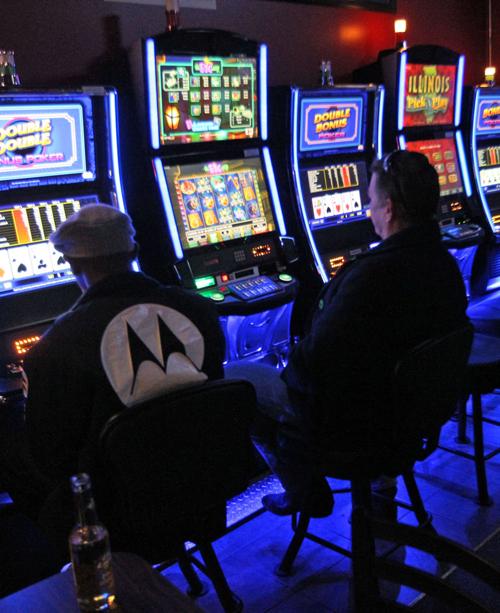 JEFFERSON CITY — A county prosecutor has filed illegal gambling charges against Torch Electronics, one of the largest operators of unregulated slot machines in the state.
Linn County Prosecuting Attorney Shiante McMahon on Jan. 6 charged Torch with promoting gambling in the first degree, a class E felony that carries a $10,000 fine if the company is found guilty.
Torch, owned by Wildwood businessman Steve Miltenberger, is one of the companies whose machines have triggered a mixed response from law enforcement. The company is also a player in Missouri politics, contributing more than $20,000 to Gov. Mike Parson's election effort.
The filing is the first known instance of a county prosecutor in Missouri bringing charges against the company.
According to a probable cause statement, two Brookfield Police Department officers on Sept. 12 removed three "slot machines" from the County Line Convenience store after speaking with store manager Tannis Williams.
"Williams advised me that the slot machines belonged to Torch Electronics," Lt. Tom Bunnell wrote in his report. "On a prior trip to the store, I had been advised by a male employee that a customer puts cash into the machine and if they win, they receive a ticket."
A hearing is scheduled in circuit court in Linneus, Missouri, on Feb. 27.
"Torch will be defending our operations in Linn County to the utmost," company spokesman Gregg Keller said in an email. "We're confident that, once local law enforcement and prosecutors there learn more about our entirely legal games, they will allow them to continue operating just as has happened all over the state."
Some prosecutors believe the machines are legal video games, not illegal slot machines. Others say the terminals are slot machines, which are only allowed inside the state's 13 licensed casinos.
The owner of a coin-operated game company based in Sullivan sued Torch in December, accusing the company of operating illegally and eating into his bottom line.
"Torch machines operate statewide to the benefit of dozens of family-owned small businesses and charitable organizations in the state. We will fight all big-government crony capitalist attempts to use state power rather than free market competition to pick winners and losers," Keller said when the lawsuit was filed.
Keller is a political consultant who is heading up President Donald Trump's reelection effort in Missouri.
Because the machines are unregulated, machine revenues don't go to public education, there are no rules for acceptable payouts, and there are no state gambling addiction resources funded by machine revenues.
Money from Torch and its owner, Steven Miltenberger, flowed to numerous politicians last year, according to Missouri Ethics Commission records.
Uniting Missouri, the political action committee supporting Parson's election bid, accepted $20,000 from Torch.
Miltenberger contributed $2,650 to Parson's campaign on Dec. 26. Miltenberger's wife, Sondra, contributed another $2,650.
The Miltenbergers last year also donated to state Sens. Andrew Koenig, R-Manchester; Jamilah Nasheed, D-St. Louis; Bob Onder, R-Lake Saint Louis; and Caleb Rowden, R-Columbia.
St. Louis County Executive Sam Page's campaign accepted $2,000 from Steven Miltenberger in December, according to the ethics commission.
Lawmakers are considering numerous proposals that would regulate or crack down on out-of-casino slot machines.
Torch retains three lobbyists in the Capitol. One is Steve Tilley, a longtime friend of Parson.