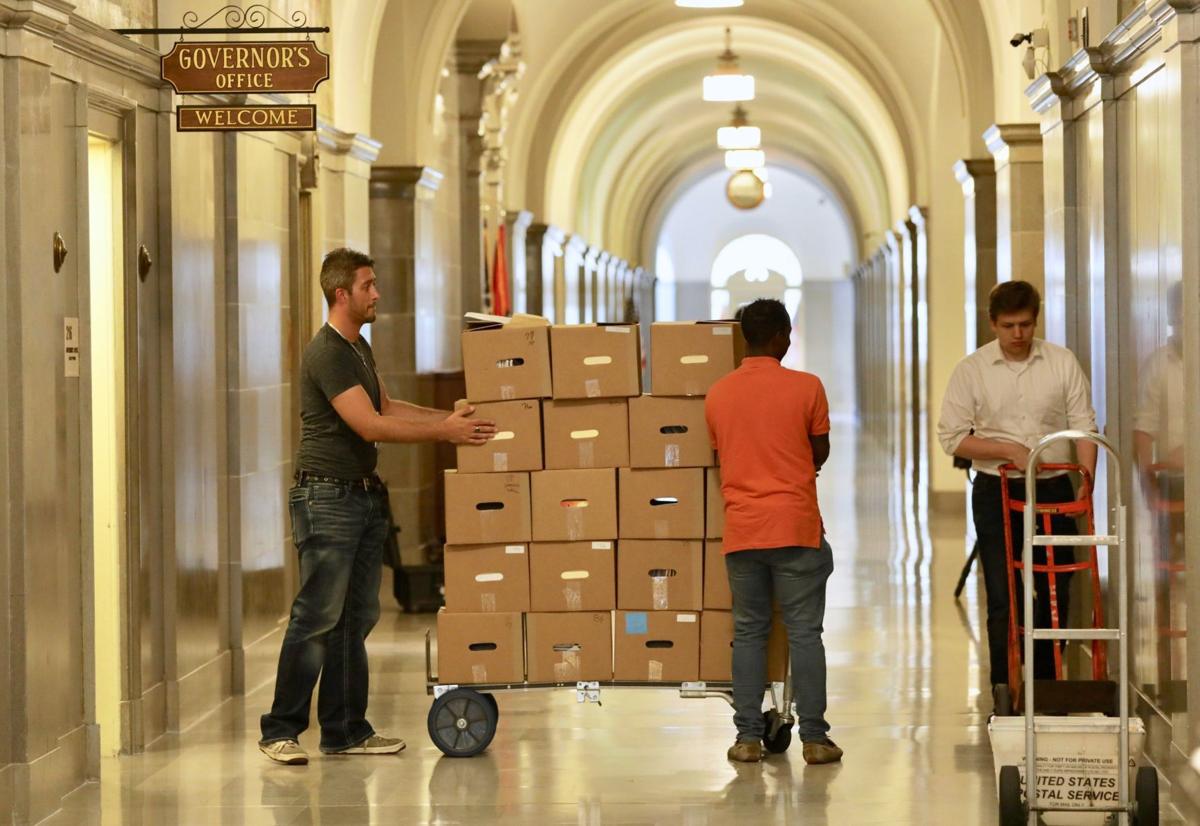 JEFFERSON CITY • When then-Missouri Gov. Eric Greitens finished delivering his four-minute resignation announcement on Tuesday, reporters pounced, yelling questions as the diminished chief executive walked away from them, perhaps for the last time.
"Governor, are you going to answer questions at any point?" one of the reporters shouted.
Greitens didn't, as had been his practice for most of his 17-month tenure.
Among the biggest unanswered ones remaining in his wake: What was the source of millions of "dark money" dollars donated either to Greitens' campaign fund or to a secretive nonprofit that worked to further his agenda? And will the wide range of loopholes and creative maneuvers Greitens and his allies have used to get around campaign finance and open-records laws prompt changes in those laws?
"The same special interests that sought to influence the Governor will remain" after his exit, state Auditor Nicole Galloway, a Democrat, wrote in a letter last week imploring state legislators to continue their probes into Greitens' campaign funding practices, even though he's no longer governor.
"Missourians deserve a full accounting of the truth and full disclosure of the extent of dark money's influence on state government."
Greitens, a Republican, entered office in January 2017 with multiple dark-money issues already swirling around his campaign. He left office having avoided publicly addressing most of them.
• Greitens' 2016 campaign received one of the largest political donations in Missouri history through a complex process involving a federal super PAC and a briefly formed nonprofit corporation — a process that effectively made it impossible to determine who provided the money, because nonprofits don't have to reveal their donors.
"When drug dealers do this," noted one political expert at the time, "it's called money laundering." To this day, the money's source remains unknown.
While Greitens has denied using the donor list to raise political funds, an Associated Press analysis last year concluded that his campaign to…
• Soon after Greitens took office, his allies formed another nonprofit called A New Missouri. The group's activities included an attack ad publicizing the personal cellphone number of a Republican lawmaker with whom Greitens was feuding.
The group doesn't have to reveal its donors or other basic information that political PACs are normally required by law to provide. Among the questions a Missouri House investigatory committee had for Greitens before he resigned was whether that nonprofit and his own campaign fund illegally coordinated with one another on policy or political efforts.
But last December, a federal financial disclosure form filed by Nick Ayers, who is now Vice President Mike Pence's chief of staff, acknowledged that his consulting firm was paid by the nonprofit and Greitens' campaign.
• The House committee also was investigating donations totaling $40,000 given to Greitens' campaign by two LLCs that, some suspected, were set up as "shell companies" for the specific purpose of funneling money to the campaign without revealing the original donors.
• A former Greitens campaign adviser told the committee the Greitens campaign discussed soliciting donations from foreign nationals, which would be a violation of federal law, and that he doesn't know if they went through with it. Greitens' attorneys have denied the allegation.
• As he launched his campaign for governor, Greitens embarked on a tour to promote his book "Resilience: Hard-Won Wisdom for a Better Life" — the logistics for which were bankrolled by a grant from the nonpartisan John Templeton Foundation. The foundation is probing whether those funds were misused.
Incoming Missouri House Speaker Elijah Haahr, R-Springfield, said during a Wednesday interview that "at this point" the House investigative committee was not disbanding, adding that if and when it did, it was "possible" records deemed public would be released.
"Some of these issues may become moot" when Greitens resigns, he said. "We have to make a determination about what our jurisdiction is and what we've gathered, and what of those are public documents and what aren't."
Others hope that, rather than rendering the issues moot, Greitens' resignation will force legislators to finally deal with them.
"If anything, Greitens' resignation should significantly increase the momentum toward requiring disclosure of dark money," said state Sen. Scott Sifton, D-south St. Louis County. "It shows so clearly why it's needed."
Sifton noted that Greitens, after firmly vowing to stay in office through months of lurid allegations of sexual abuse and blackmail, announced his resignation just hours after a judge ordered records from A New Missouri be turned over to the House committee. "That was apparently the straw that broke the camel's back. And that's galling."
SEALs for Truth
The willingness of Greitens and his allies to creatively circumvent fundraising and public disclosure rules was demonstrated in multiple ways, long before he won office in November 2016. Several of the incidents involved nonprofit corporations, which aren't required to reveal who their donors are.
Though both Missouri statewide and federal candidates are required by law to reveal their donors, the involvement of nonprofits makes that information meaningless, since the only "donor" being revealed is ultimately a shadowy entity whose funding sources can be kept secret.
Perhaps the most brazen example involved a group with the virtuous name SEALs for Truth.
As the Post-Dispatch reported during the 2016 race, Greitens' campaign fund, Greitens for Missouri, reported in July of that year that the campaign had received a single donation of $1.975 million from SEALs for Truth. It was a federal super PAC with records showing a Washington P.O. box, a Greitens-affiliated former SEAL as treasurer, and not much else.
As a federal super PAC, SEALs for Truth was allowed to raise and spend unlimited amounts of money. However, super PACs are supposed to limit their political spending to things such as issue-oriented ads, and are specifically barred from donating directly to political candidates.
So why was SEALs for Truth able to give the money directly to Greitens? Because the rules over federal super PACs are enforced by the Federal Election Commission, which has jurisdiction only over federal candidates. As a state candidate, Greitens was outside the FEC's authority.
Federal super PACs are required to reveal the sources of their money — but that too was an easy rule to get around.
Records showed SEALs for Truth's main funding source was a $2 million donation received on the same day that it gave all but $25,000 of that money to Greitens' campaign fund. The donation came from still another nonprofit corporation, with another meaningless name — American Policy Coalition Inc. — which had been set up the previous year.
Again, nonprofits can raise unlimited money, and aren't required to reveal their donors. Ever.
So the original donors of the money remain unknown, in defiance of the clear intent of both state and federal law, because they gave it first to the nonprofit, which passed it to the federal super PAC, which donated it to Greitens' campaign fund — all in one day.
Why the Rube Goldberg machinations, when Missouri law at the time would have allowed the original donors to simply hand the whole amount directly to Greitens' fund? To many, the obvious purpose was to hide the donor names, which under Missouri law would have been made public with a direct contribution to Greitens.
"Missouri voters are wondering: To whom are you, as the next Governor of our state, beholden?" former Lt. Gov. Peter Kinder wrote to Greitens shortly before the election.
Kinder, a Republican who had earlier lost to Greitens in the GOP gubernatorial primary, said in the letter he was canceling a joint campaign appearance with Greitens because of Greitens' refusal to explain the SEALs for Truth donation.
"You've stated over and over that yours is a campaign dedicated to cleaning up a corrupt Jefferson City, and bringing transparency to that locality," wrote Kinder in the recently publicized letter. "Where is the transparency here?"
Still fighting disclosure
On Tuesday, a Cole County judge ordered that A New Missouri, the nonprofit that has been backing Greitens' policy goals, had to turn over its records to the House Committee so legislators could comb them for evidence of illegal coordination with Greitens' campaign.
Later that afternoon, Greitens stunned the state by announcing he would resign.
He didn't say he was leaving so the nonprofit wouldn't have to reveal its records, but the timing raises that question. By Friday, Greitens' defense team had won a stay of the judge's order, pending a hearing where the lawyers will argue that the records shouldn't be turned over to the committee because a former governor is no longer subject to the committee's scrutiny.
His resignation "makes the whole investigation moot," Greitens attorney Catherine Hanaway told the Post-Dispatch on Friday.
Galloway, the state auditor, strongly disagreed in her letter to lawmakers last week. She praised the committee members and asked that "the driving principle of their work — seeking truth for Missourians — continue."
"This is too important to the future of our state and to the integrity of public service to be swept under the rug," she wrote. "In order to restore the public trust, the Legislature must continue its work into the investigation of coordination between dark-money organizations and state entities."
Specifically, she called on lawmakers to approve legislation requiring political nonprofits to disclose their donors, and to file reports with the Missouri Ethics Commission the way other political committees do. That proposal aligns with MEC chairman James Klahr's recent advisory opinion that groups such as A New Missouri should be filing disclosures with the MEC.
"I'm not going to hold my breath," responded state Sen. Rob Schaaf, R-St. Joseph, who spent hours laying into Greitens on the Senate floor this year over the governor's use of dark money.
Mysterious billboards attacking Schaaf subsequently appeared around the state, along with A New Missouri ads airing his personal cellphone number.
"I'm hopeful but not optimistic, just because politicians aren't going to change the system that keeps them winning," said Schaaf, who introduced two bills this year designed to lift up the shades on dark money. "They had an opportunity this year and didn't take it."
Greitens — who had $2.5 million in his campaign coffers as of April — portrayed his resignation as a temporary setback in Tuesday's speech. "This is not the end of our fight," he said. "I will always be a fighter for the people of Missouri. A great deal of work is left undone."