JEFFERSON CITY — Democrats opposed to a Missouri proposal outlawing most abortions say women who perform one on themselves could soon be subject to felony charges. Republican sponsors say this would never happen.
But detractors of the bill — which bans abortions at eight weeks of pregnancy — have laid out several scenarios in which they believe prosecutors may be able to charge a woman who undergoes an abortion.
A scorned lover could accuse a woman who had a miscarriage of actually having an abortion, in violation of the law, they say. The woman could take a drug to induce an abortion, in violation of the law, they say.
A Jefferson City attorney who analyzed the bill for the Post-Dispatch said it is possible that a woman could be charged with a Class B felony for performing or inducing her own abortion. A Class B felony carries a sentence of between five and 15 years in prison.
"My opinion is that there are circumstances in which it is at least possible that a woman could be charged with a felony," said Lowell Pearson, a Husch Blackwell managing partner who has represented a number of Republican clients, including U.S. Sen. Josh Hawley of Missouri.
Pearson also served as general counsel in the office of former Gov. Matt Blunt, a Republican. Pearson said he was not involved in the drafting of the bill and had not analyzed it before a reporter called him on Wednesday.
If Parson, a Republican, signs the measure as expected, the provision in question would take effect in August. A spokesman for the governor said in an email, "It is our understanding that HB 126 does not provide for any criminal penalties against a woman receiving an abortion."
Democratic prosecutors in Kansas City and St. Louis are also grappling with the language — and considering whether women could be charged.
The measure bans abortions at the eighth week of a woman's pregnancy, except in medical emergencies.
The bill says: "Any person who knowingly performs or induces an abortion of an unborn child in violation of this subsection shall be guilty of a class B felony, as well as subject to suspension or revocation of his or her professional license by his or her professional licensing board."
"It seems to me — if a woman takes some sort of drug or does some other activity to herself, she would be potentially within that provision," Pearson said.
"I think it's a pretty big reach to try to read that in a way that says the woman would be liable," said Rep. Mary Elizabeth Coleman, R-Arnold, who is a lawyer and who helped draft the bill.
"When you read the language, it's clear that there's no penalties except for those who cause an abortion to be induced or performed," she said, referring to the doctors or nurse practitioners who perform the procedure.
The bill goes on to say that a "woman upon whom an abortion is performed or induced in violation of this subsection shall not be prosecuted for a conspiracy to violate the provisions of this subsection."
"To be abundantly clear, there's another sentence immediately following that says a woman shall not be charged with conspiracy," Coleman said.
But an exemption for conspiracy charges would not cover a woman who completes an abortion herself, detractors argue.
"If I live in Sikeston (Missouri) and I go to Illinois, get my pills, and then take my pills in Missouri, I think I could be prosecuted under this — not for conspiracy but for inducing an abortion," said Rep. Gina Mitten, D-Richmond Heights, who is an attorney.
"My reading of the statute is that it's only a physician that performs or induces the procedure that could be prosecuted," said St. Charles County Prosecutor Timothy Lohmar, a Republican.
"I guess it could be boiled down to an interpretation of what does the word 'induce' mean," he said. "Can a woman induce her own abortion? I don't know. From my reading, I don't think that was the intent, from the language that was drafted.
"If I were to get a warrant application for a woman who is accused of inducing her own abortion, I don't think that under the version of the statute that I could prosecute that," he said.
When asked whether they would enforce the pending abortion law, and whether prosecutors believed women could be charged, St. Louis-area Democratic prosecutors sent statements that did not answer either question.
"We are currently examining the ramifications of the passage of recent abortion legislation on health care professionals who provide women health services in the city of St. Louis," said Susan Ryan, a spokeswoman for St. Louis Circuit Attorney Kimberly M. Gardner.
St. Louis County Prosecutor Wesley Bell said in a statement, "Roe v. Wade is the law of the land and has been settled law since 1973. It is infuriating that this fundamental constitutional principal — and the humanity of women — is being put into play for political purposes."
The state's only abortion clinic is located in the Central West End, which is under Gardner's jurisdiction.
Rep. Ian Mackey, D-Richmond Heights, said a woman who had a miscarriage could be accused of having an abortion in violation of the law.
"I think that's completely plausible," said Mackey, an attorney.
It would be less plausible that she would be charged in St. Louis, Mackey said.
But, he said, in conservative counties around the state: "I think that there are prosecutors who would prosecute that. I think there are husbands and ex-boyfriends and abusive paramours who would allege that."
If the U.S. Supreme Court strikes down Roe v. Wade, Missouri's abortion laws would become even tougher, outlawing all abortions except in cases of medical emergency.
Samuel Lee, an anti-abortion lobbyist who helped guide the measure to the governor's desk, said Democrats and others are trying to confuse the public and dissuade Parson from signing the bill.
In recent days, abortion rights advocates have lit up Parson's office with phone calls, and they have held protests around the state urging him to veto the bill. St. Louis County Executive Sam Page, in a meeting with the governor this week, urged Parson to veto the bill. But Parson has said he will sign it.
"It's simply not true," Lee said of whether women who undergo an abortion could be charged. "These are just detractors who are trying to find any way to undercut either the governor signing the bill, or confusing the public for whatever reason.
"The implication in the law is that it is someone performing or inducing an abortion upon someone else," he said of who would be charged.
When told that there did not appear to be an explicit prohibition against charging women undergoing an abortion, Lee said: "I am absolutely, 100 percent confident that no woman would ever be charged under this bill."
The legislation is House Bill 126.(tncms-asset)fdaf5220-7a75-11e9-8d5a-00163ec2aa77[0](/tncms-asset)
---
Abortion rights supporters protested in downtown Tuesday
Hundreds rally for abortion rights, against near-total ban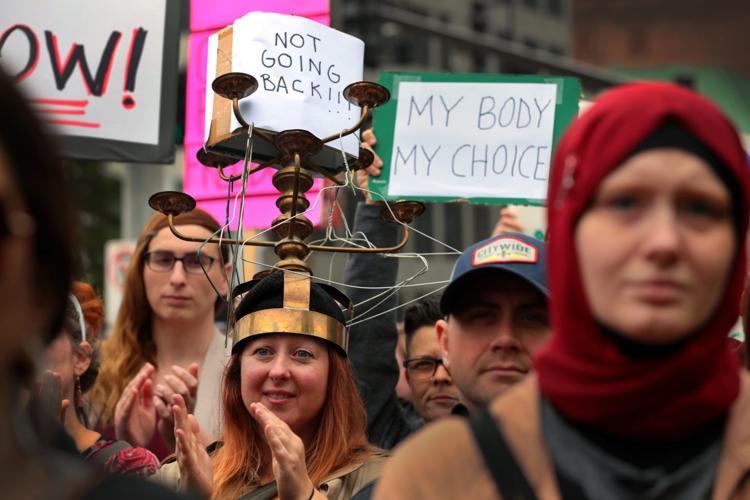 Hundreds rally for abortion rights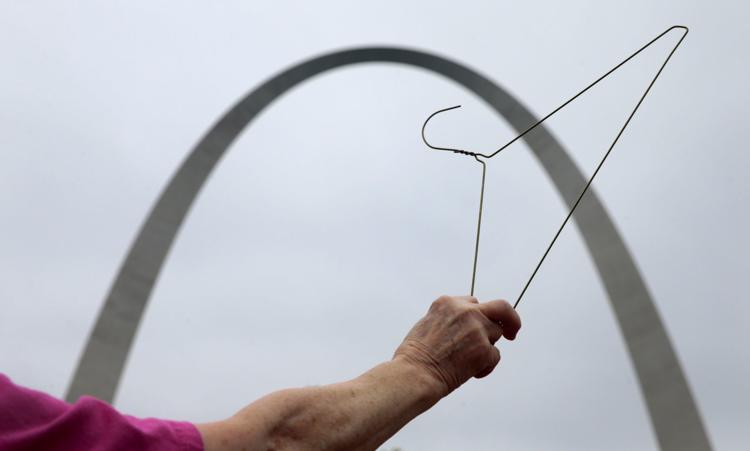 Hundreds rally for abortion rights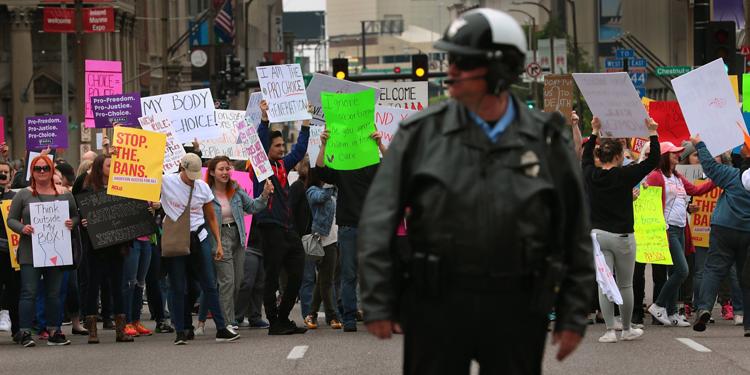 Hundreds rally for abortion rights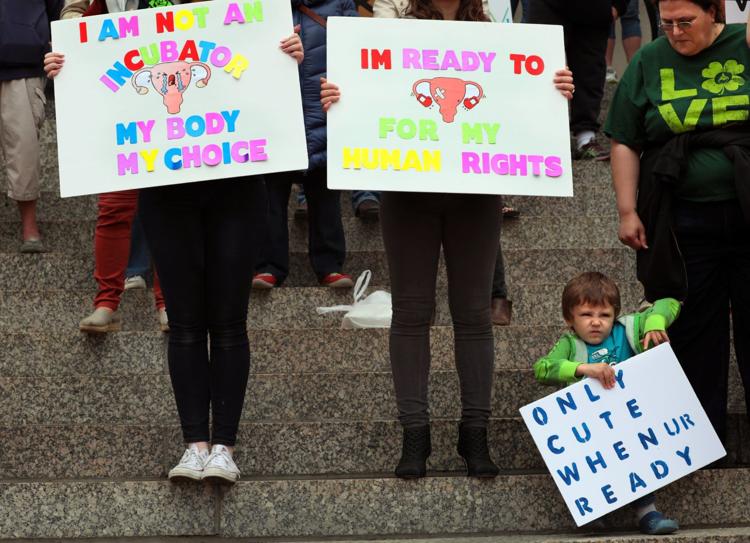 Hundreds rally for abortion rights, against near-total ban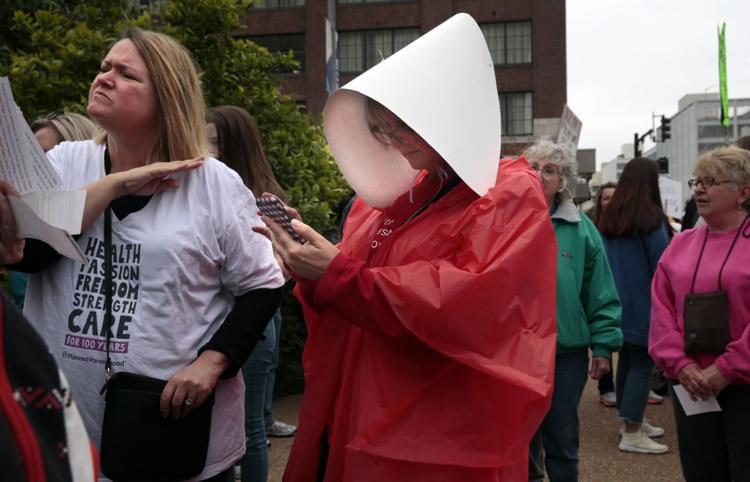 Hundreds rally for abortion rights, against near-total ban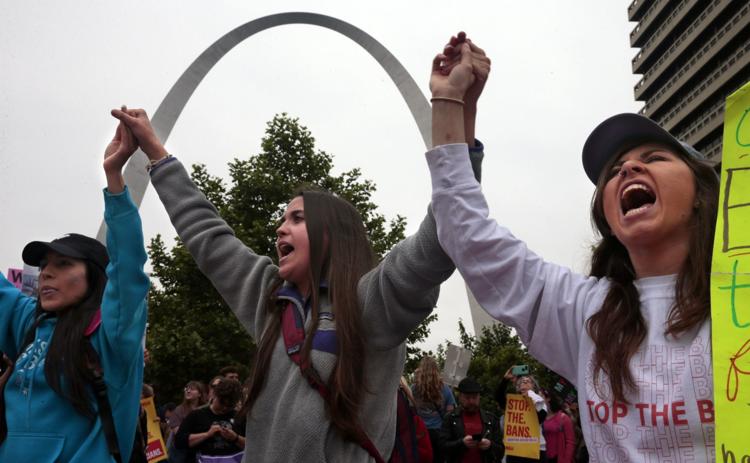 Hundreds rally for abortion rights, against near-total ban
Hundreds rally for abortion rights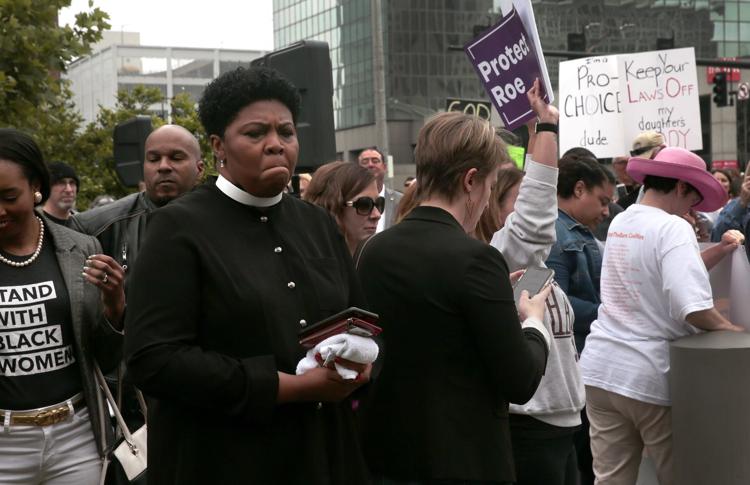 Hundreds rally for abortion rights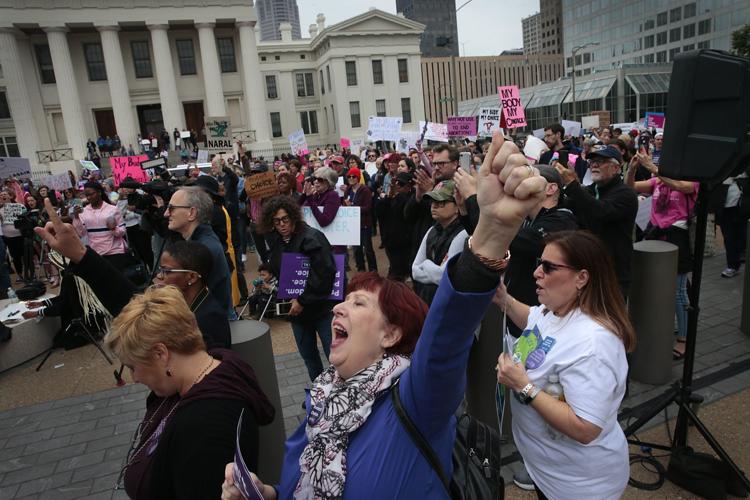 Hundreds rally for abortion rights, against near-total ban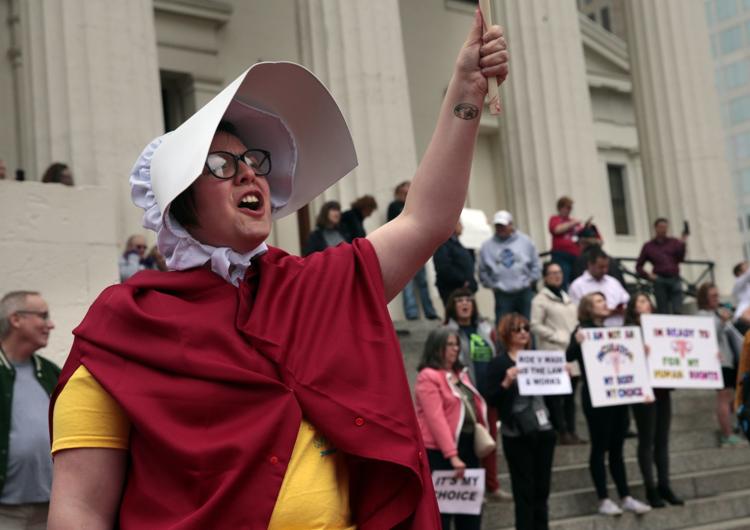 Hundreds rally for abortion rights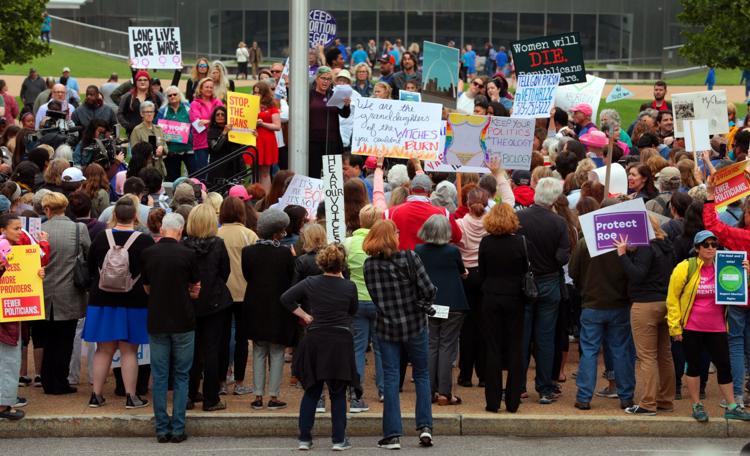 Hundreds rally for abortion rights, against near-total ban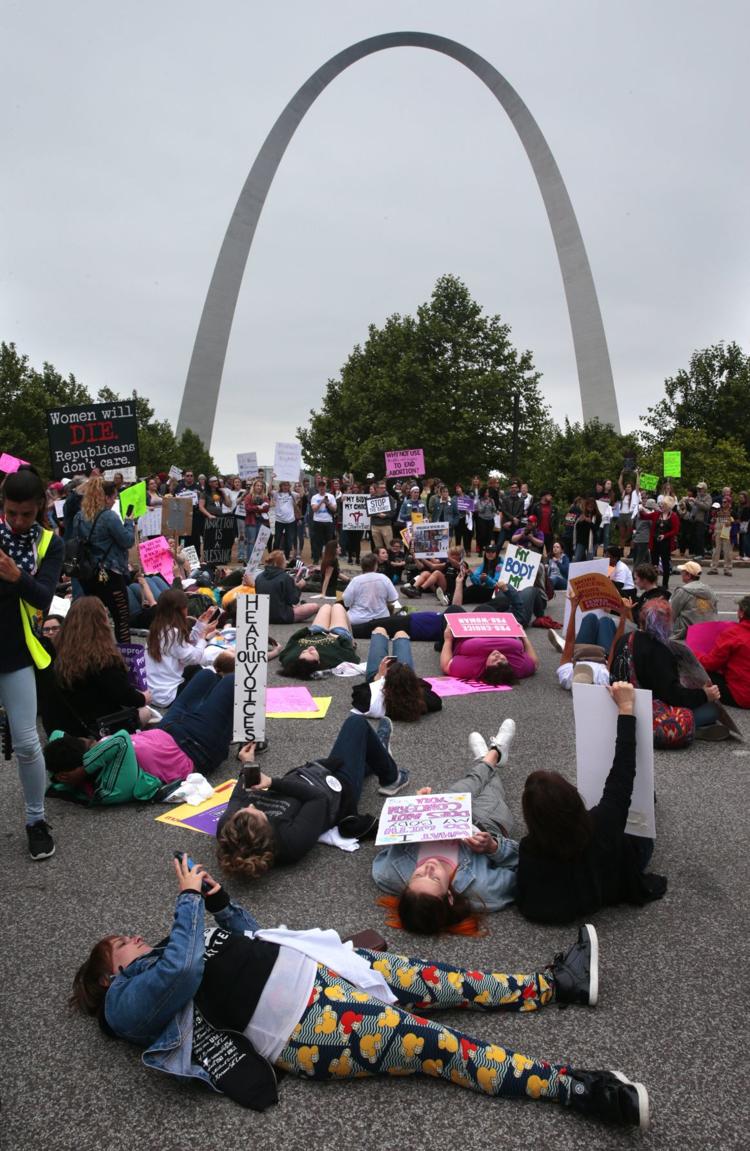 Hundreds rally for abortion rights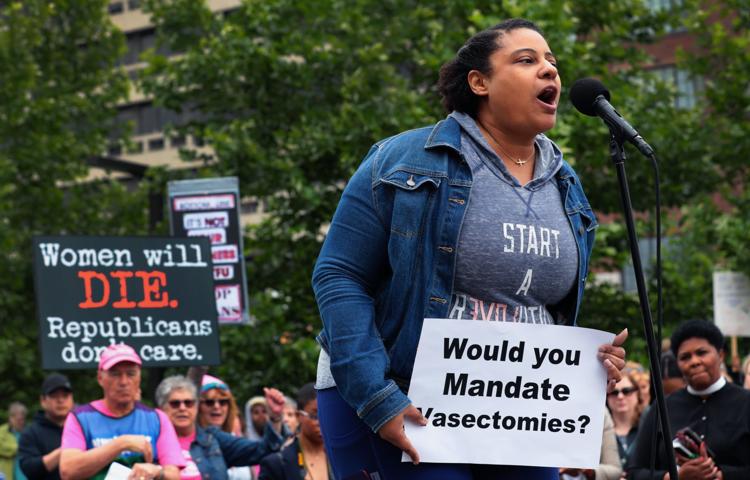 Supporters of abortion rights protest in downtown St. Louis