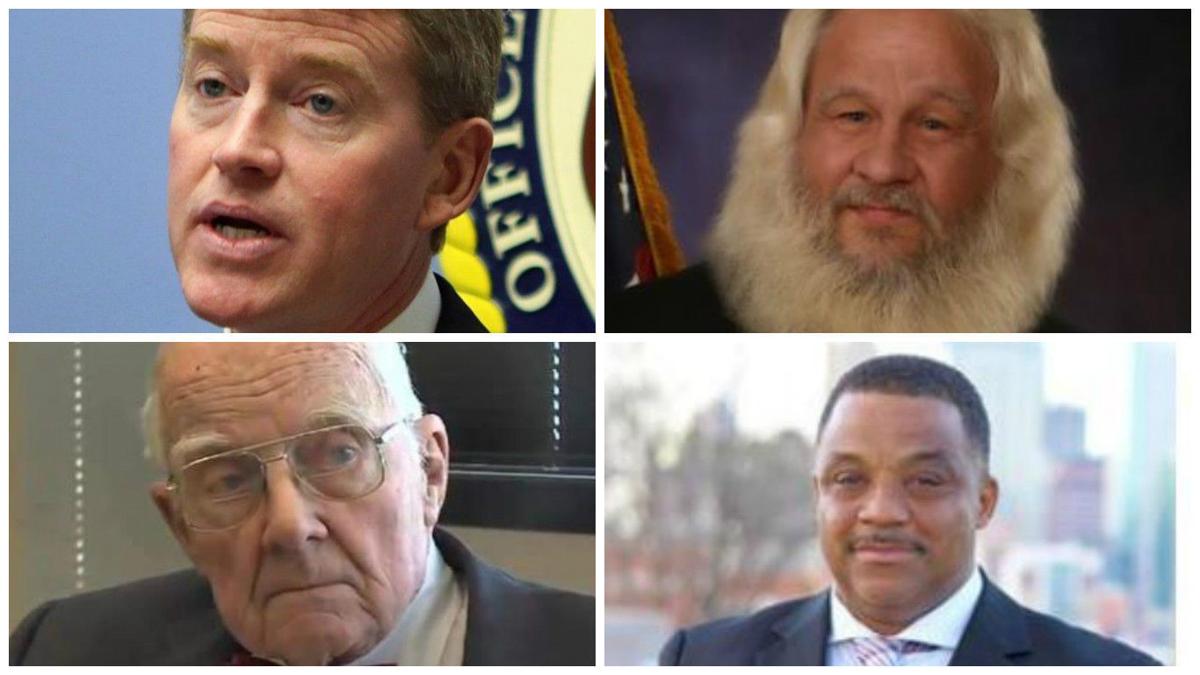 For months, Missourians have watched the candidates for the Republican nomination for governor slug it out in televised debates, in their commercials and in the media. With four well-funded, politically viable campaigns in play, it is the state's marquee race for the Aug. 2 primary election.
There also are four candidates for the Democratic gubernatorial nomination — a fact that might surprise those who, when they hear anything at all about the Democratic primary, hear that state Attorney General Chris Koster is the party's presumptive nominee.
That's because Democratic Party organizations at the local, state and national levels have already coalesced around Koster's bid with money and support, something that hasn't happened in the GOP primary.
The main reason for the difference is that, while any one of the four Republicans stands a realistic chance of winning the nomination, the same can't be said of three of the four Democrats.
In the shadow of Koster's $13 million in fundraising (nearly a third of it from organized labor), his three fellow Democrats have reported raising no money at all. Only one of them, an octogenarian former mayor, has any previous elective experience.
None of the three is running any major advertising, leading rallies or doing the other things that viable campaigns do. Though they are formally seeking statewide office, two of them couldn't be reached for comment in multiple attempts last week.
"My main issue is, I'm running against Mr. Koster," said the one who was reachable, Leonard Joseph Steinman II of Jefferson City, who sports a thick white hair-and-beard mane on his Facebook campaign page. A former truck driver and perennial political candidate, he describes himself as "the most people-oriented person you could ever run into."
Koster "is an insider," Steinman said, explaining his candidacy, "and I'm tired of insiders."
Steinman and Koster will share the Democratic gubernatorial primary ballot with former Kansas City Mayor Charles B. Wheeler, who served in the 1970s and is 89; and Eric Morrison, a bishop for Kingdom Word Ministry in Kansas City, whose "gifts," according to the church's website, include dream interpretation.
Neither Wheeler nor Morrison, nor anyone with their campaigns, could be reach for comment last week.
Koster, a former Republican legislator who switched parties in 2007, is finishing his second term as attorney general. As is typical in primary season for candidates with no real in-party competition, he has done little campaigning, limiting it mainly to party events and written statements responding to what the Republicans are saying.
In an interview, Koster aimed most of his criticism at his former perch — the state Legislature's Republican leadership — and warned that giving them a Republican governor would lead to irresponsible tax cuts and resulting losses in state services.
"Higher education has been slashed ... a billion dollars annually is cut from (elementary school) budgets, infrastructure investment has come to a halt at the hands of the Republican Legislature," Koster said. "I'm trying to bring some balance back to state government."
Koster himself has supported income tax cuts as recently as 2014, and he currently favors targeted business tax reductions. The only specific tax hike he has said he supports is on cigarettes.
Still, he argued, a cigarette tax hike combined with natural economic growth could provide the money needed to rescue state services, as long as Missouri doesn't "run headlong into another round of tax cuts."
Koster also criticized "the kinds of cultural signals that are being sent out of Jefferson City," citing the Republican legislators' failed attempt this year to pass a measure that would have allowed businesses to refuse to serve same-sex weddings.
"The Republicans would like to memorialize a certain level of discrimination in the state constitution," Koster said.
In response, Missouri Republican Party Chairman John Hancock cited what has become a common GOP criticism of Koster as a political changeling.
"Chris Koster has spent his entire political career attempting to redefine Chris Koster," Hancock said in a written statement to the Post-Dispatch. "Whether it is changing his message, changing political parties, or changing issue positions, Chris Koster is perhaps more responsible for Jefferson City gridlock than any other living, breathing person."
Labor and lawyers
A Post-Dispatch analysis of Koster's campaign finances shows that, with the start of the general election race still a month away, he has already raised just over $13 million this cycle.
For perspective, that equals about 85 percent of the combined total fundraising for all four GOP gubernatorial candidates — businessman John Brunner, former Navy SEAL Eric Greitens, former Missouri House Speaker Catherine Hanaway and Lt. Gov. Peter Kinder — who together have raised about $15.3 million.
Some of Koster's money has been spent to set up and run the campaign, conduct fundraising and other expenses. As of the end of March, Koster reported having $7.4 million cash on hand — or almost six times the amount of campaign money that presumptive Republican presidential nominee Donald Trump has available. Koster has raised about $2 million more since that report was filed, other records show.
In addition to Koster's big money advantage over his potential Republican general election rivals, he has been elected to statewide office, with the public name recognition and, arguably, political gravitas that that bestows. On the Republican side, only Kinder, a three-term lieutenant governor, can say the same.
But Koster also has some significant baggage, mostly tied to his campaign fundraising practices.
In 2011, the Post-Dispatch reported that Koster's campaign committee had accepted more than $180,000 from law firms — some from outside Missouri — that were trying to get in on a lucrative lawsuit Koster's office was pursuing.
And in 2014, Koster was cast as Exhibit A in a lengthy New York Times article on state attorneys general around the country who accept campaign contributions from companies that they are investigating and then, in some cases, drop or curtail those investigations.
The article, which ultimately won a Pulitzer Prize, drew sharp denials from Koster that he'd coddled companies his office was investigating — but he nonetheless announced a policy of no longer accepting campaign contributions from those companies.
Koster's latest campaign figures indicate he still gets massive support from lawyers, though he gets more money from labor.
He has received more than 900 donations from the legal profession in this election cycle, records show, totaling more than $2 million. But support from unions and other labor-related entities totaled more than $4.2 million.
The labor spending on Koster stands out even for a Democrat, and may signal that Missouri will continue to be a major battleground in the national debate over "right to work" laws, which would diminish the power of unions.
All four of Missouri's Republican gubernatorial candidates strongly support instituting such legislation here, saying it will free businesses to create more jobs. Koster calls it "an attack on working families," and has highlighted his opposition to it in his fundraising materials.
Walker Moskop of the Post-Dispatch contributed to this report.