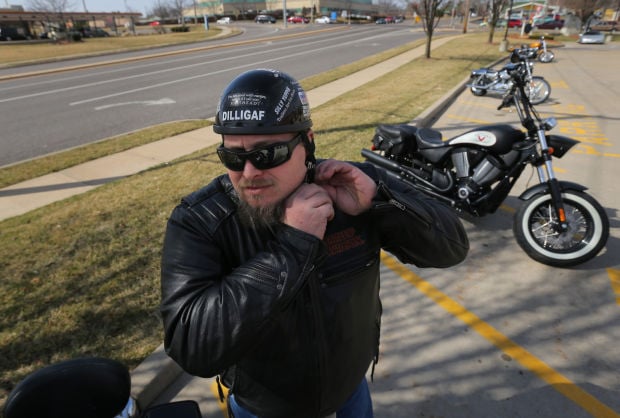 JEFFERSON CITY — The number of motorcycle riders who die in Missouri is likely to increase if Gov. Mike Parson signs off on a new helmet law this summer.
According to the Insurance Institute for Highway Safety, states that have approved laws similar to the bill Missouri lawmakers sent Parson last week have seen fatalities increase by more than a third.
"When states enact universal helmet laws, deaths, injuries and medical costs go down. When they repeal those laws, the reverse often happens," the institute noted in its 2017 annual report.
Before adjourning for the summer on Friday, the House and the Senate approved legislation that would require motorcycle riders under the age of 18 to wear protective headgear. That means adults will be able to go without helmets, as long as they can prove they have health insurance.
Tony Shepherd, lobbyist for A Brotherhood Aimed Toward Education, or ABATE, said getting the helmet law across the finish line came as a surprise given its long history of failing.
"We are stoked," the 62-year-old O'Fallon, Mo., resident said. "We're still in disbelief."
The original sponsor of the proposal is Sen. Eric Burlison, a Springfield Republican who had backed similar legislation during his tenure in the House.
The measure awaits Parson's signature. As a member of the House in the 2000s, Parson twice voted in favor of abolishing the state's helmet laws. If approved, the change would take effect Aug. 28.
Shepherd attributed the win to a new mix of lawmakers in the Senate and the fact that the legislation was just one provision in a larger mix of transportation-related changes that were included in one bill.
"It just happened to come at the right time," Shepherd said.
In the past, there has been resistance largely in the Missouri Senate because operating a motorcycle tends to be more hazardous than operating a car.
According to National Highway Transportation Safety Administration, 1,859 motorcyclist lives were saved in 2016 because they were wearing helmets. In addition, if all riders had worn helmets, an additional 802 lives would have been saved, the report notes.
According to the federal Centers for Disease Control and Prevention, helmets reduce the risk of head injuries from motorcycle crashes by 69 percent and deaths by 37 percent.
Currently, 19 states and the District of Columbia have universal helmet laws requiring all motorcyclists to wear a helmet. Twenty-eight states require only some motorcyclists to wear a helmet. Three states — Illinois, Iowa and New Hampshire — do not have a motorcycle helmet law.
According to the institute, when California imposed a helmet law covering all riders in 1992, the number of motorcyclist fatalities dropped by 37 percent.
When Texas changed its law in 1977 to require helmets only for riders younger than 18, the state saw a 35 percent increase in motorcycle fatalities. The Lone Star State reinstated its helmet law in 1989 and saw serious injury crashes decrease by 11 percent.
In 1997, Texas again weakened its helmet law, requiring helmets only for riders younger than 21. Operator fatalities increased 31 percent in the first full year following the repeal.
Shepherd downplayed the statistics, saying he's crashed his bike with and without a helmet.
"It's about freedom. We want to get the government out of our lives. We're not outlawing helmets. We are letting you decide," Shepherd said.
Get Government & Politics updates in your inbox!
Stay up-to-date on the latest in local and national government and political topics with our newsletter.