WASHINGTON • Sen. Claire McCaskill said Tuesday that she was introducing the Arla Harrell Act to help veterans of World War II who say they were exposed to mustard gas prove their cases.
The bill is named after Missouri veteran Arlie Harrell, who says he was twice exposed to mustard gas experiments in 1945 at Camp Crowder in Missouri. He has suffered lifelong health problems, including cancer and lung disease.
McCaskill's bill would shift the burden of proof. Instead of veterans' having to prove their case, the Department of Veterans Affairs and Department of Defense would have a higher burden to reject them. She rolled out her legislation Tuesday with a video describing Harrell's case and her legislation.
The VA has four times rejected Harrell's claims for benefits. The latest rejection came last month. McCaskill said that only about 40 of 4,000 veterans ostensibly exposed to the mustard gas experiments in World War II had been able to prove claims.
VA officials told the Post-Dispatch they didn't disbelieve Harrell. But they said they hadn't gotten the necessary proof that he was exposed at Camp Crowder in southwestern Missouri near the end of World War II. Harrell said he had been told the servicemen were part of experiments to teach medics and other Army personnel to recognize and know the effects of mustard gas.
Test subjects were threatened with military prison if they talked about it, he said.
His children and wife, Betty, have continued to appeal for recognition, in part because they believe Arlie Harrell has viewed the claims rejections as tantamount to the military he served not believing him.
"You just made my day," Bev Howe, one of Harrell's daughters, said Tuesday when informed of McCaskill's legislation. "I've got tears in my eyes."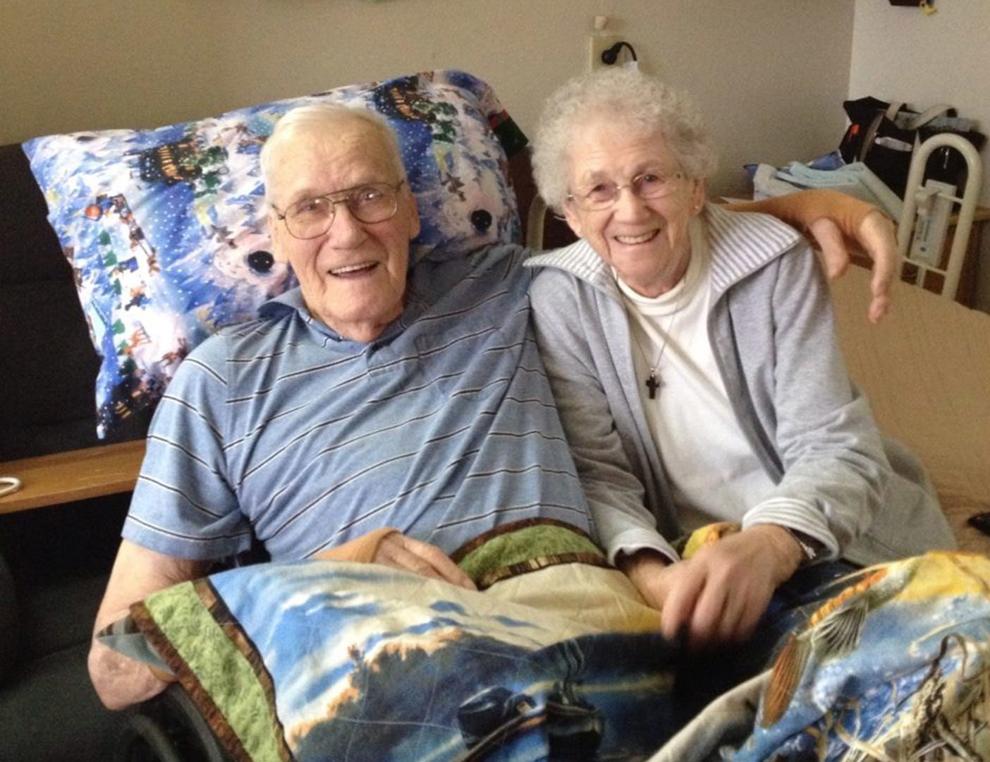 Harrell is 89 and living in a nursing home in Macon, Mo., in north-central Missouri. He may be the only surviving Missouri veteran who was among an estimated 4,000 soldiers subject to the tests involving mustard gas, McCaskill said. Harrell cannot talk, but he submitted written testimony in his latest appeal, describing how he was twice exposed.
VA Secretary Robert McDonald promised last week a review of Harrell's claim, after the new eyewitness testimony of another veteran at Camp Crowder describing chemical weapons experiments in a "gas chamber" there.
McCaskill and her staff have been digging into this issue since last year. On Tuesday she told reporters that her legislation "mandates an expedited review of all denied claims … shifting the burden of proof in a way that we believe the vast majority of them will be approved."
The bill also directs the Pentagon and VA to better coordinate efforts to contact World War II veterans who may have been exposed. McCaskill said efforts so far had been "woefully inadequate" and a "systemic failure."
She acknowledged that a lack of congressional oversight since 1993 might also have contributed to the problems she described. That year, the VA was told to contact veterans who were potentially exposed.
"I am not going to sit here and tell you that Congress should not have done more sooner," McCaskill said. "I can just tell you what I am doing, and what I am doing is I am trying to fix this problem because it needs to be fixed."
"So it has been difficult for these veterans to reach the standard, the very high standard, the VA has set for them in terms of proving this," McCaskill said.
VA spokesman James Hutton issued a statement saying the VA was reviewing McCaskill's bill and "greatly appreciates the service and sacrifices of every World War II veteran, and any veteran who may have been injured in mustard gas testing."
Hutton said McDonald and Deputy VA Secretary Sloan Gibson had "directed senior caseworkers to review Mr. Harrell's case again."
Meanwhile, a Pentagon spokesman said Tuesday that new Corps of Engineers documents uncovered by the Post-Dispatch make it "reasonable to accept that chemical agents were present at Camp Crowder. But Maj. Benjamin Sakrisson said the Pentagon could find no records of actions described by Harrell and the other eyewitness at Camp Crowder.
"The description in the report would lead to the conclusion that training with chemical agents occurred at Camp Crowder," Sakrisson told the Post-Dispatch in an email. "However, there's nothing that indicated that chemical warfare research or scientific investigation transpired."
Sakrisson said that "without records of chemical agent use (training or testing), we have no evidence of exposures. When Camp Crowder was closed, any retained records should have transferred to other Army bases, but retained only as long as their disposition records required."
He added: "In the (Pentagon's) efforts to find evidence of chemical warfare agent testing, we investigated every military base where there was the possibility of remaining records and recorded the results when exposure information was found. Nothing was ever found documenting exposure to service members at Camp Crowder."