WASHINGTON — Josh Hawley had never held elected office when he became Missouri attorney general four years ago. Most of his top staff had no government experience.
So Hawley turned to a man in Baton Rouge for guidance.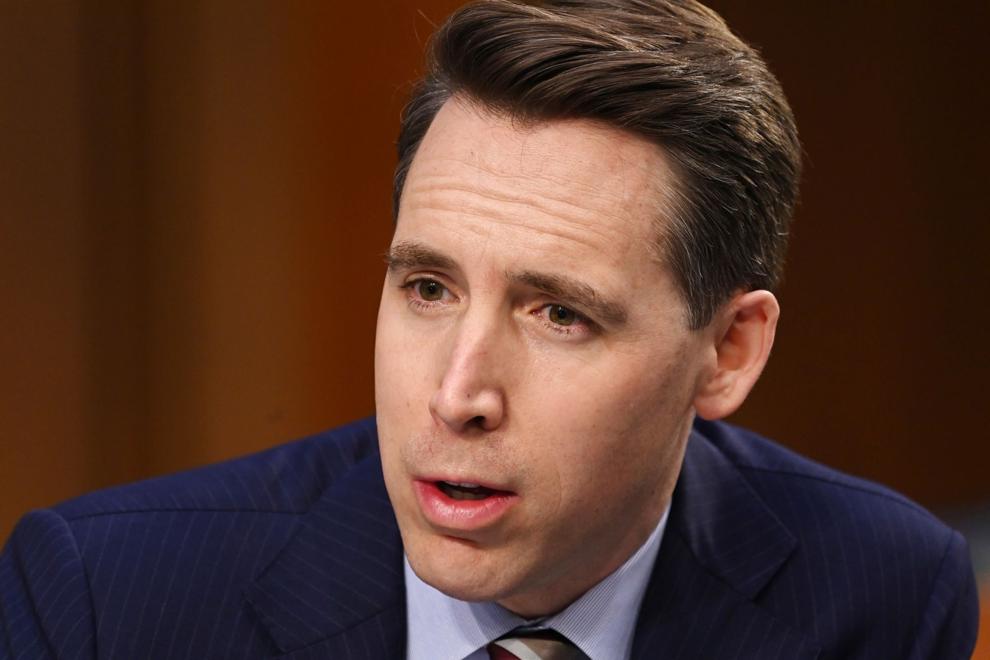 Timmy Teepell, a political consultant with the firm OnMessage, had served as former Louisiana Gov. Bobby Jindal's chief of staff. He guided Jindal's rise from Congress to the governor's mansion, where he managed the state's response to multiple hurricanes and one of the worst oil spills in history.
He also ran Jindal's brief run for the 2016 Republican presidential nomination.
Hawley looked to Teepell to play the same role in Jefferson City: helping oversee operations of the office he held and positioning him to run for the next one, in this case the U.S. Senate. The lines between the two missions often blurred, and Hawley faced criticism for his use of the attorney general's office as a campaign operation.
As Hawley eyes a 2024 presidential candidacy, Teepell remains a behind-the-scenes figure unknown to most Missourians. He rarely speaks publicly and declined an interview request for this story. But his advice has placed Hawley, like Jindal, on a path to potentially run for president.
"Josh does not talk to a big circle," said a source involved in Missouri GOP politics. "I'd put his wife in there and Timmy."
Even elders of the Missouri Republican Party had to run their ideas by Teepell during the 2018 Senate campaign. When former Sen. John Danforth, Hawley's political mentor, proposed an in-depth policy conversation between Hawley and Democratic incumbent Sen. Claire McCaskill, he pitched Teepell, not the candidate, Danforth's office confirmed. Nothing ever came of the idea.
The Kansas City Star conducted more than 20 interviews with people who encountered Teepell as he advised Jindal and Hawley. The 46-year-old consultant lives in Louisiana with his wife and six children. A product of homeschooling who rose through the conservative movement without an elite background, he exemplifies the populism Hawley espouses.
Hawley's critics see the influence of Teepell and other consultants in the senator's defiant approach following the Jan. 6 Capitol riot. They say he helped enable the deadly attack with his challenge to the Electoral College results.
Hawley has dismissed the backlash against him and aggressively fundraised off of his new notoriety. He sent a six-page letter to prospective donors in Florida that recounts his life from his Lexington childhood to his time at Stanford University and Yale Law School, through his tenure as attorney general to the Senate and his Electoral College objection.
"Their (OnMessage's) model is to turn their client into a living profit machine. And you can't trick poor white people in the Midwest out of their money unless you're drawing a contrast with something in Washington," said a Washington-based Republican strategist involved in Senate races.
Hawley's state and federal campaigns have paid OnMessage more than $15 million, going back to his 2016 bid for attorney general. That includes $80,000 for its role in directing the Missouri attorney general staff.
Hawley's attorneys told Missouri Secretary of State Jay Ashcroft's office that he tapped Teepell to advise his team "on the most effective way to execute the Attorney General's agenda and to serve the people of Missouri," citing his experience working for a congressman and governor.
In an April 2017 interview with a Louisiana public radio station around the time he was advising Hawley's official staff, Teepell touted his firm's success in Senate races.
"OnMessage, if you look over the past decade, only seven Democrat U.S. senators have been beaten by Republican candidates. And four of those seven were beaten by our clients," Teepell said.
Hawley launched his Senate campaign later that year.
Blue jeans and tobacco spit cup
Before Teepell became Hawley's most trusted adviser, he occupied that role for another ambitious Republican with Ivy League credentials. Like Hawley, Bobby Jindal was young and in a hurry. He'd built a reputation as a wunderkind after holding high-level government positions in his 20s, first as Louisiana Health and Hospitals secretary and then as president of the University of Louisiana system.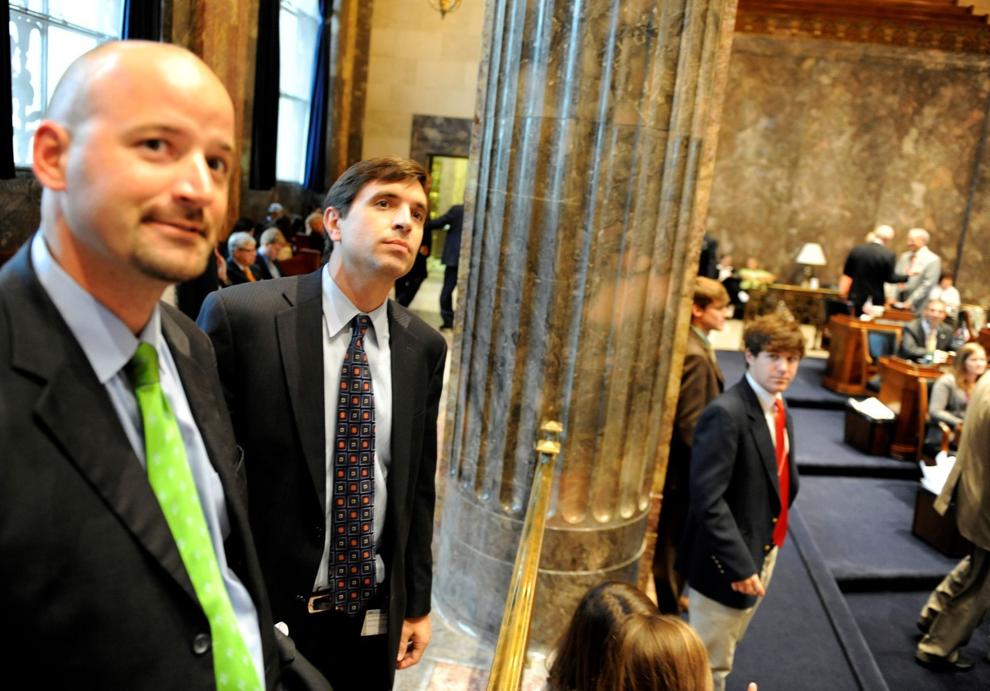 "Timmy was Bobby Jindal's mouthpiece and chief architect of his failed bid for president. Everything that was done in Louisiana was in furtherance of his failed bid," said Karen Carter Peterson, a New Orleans Democrat and one of Jindal's principal foes in the legislature and who is now a candidate for Congress.
"They tap into that far-right divisive group of people and drive hate and fear and they'll do it at all costs," she said. "People in Missouri better pay attention and not be fooled. You better know who's behind the curtain and watch the puppeteers."
Teepell's path to politics could not have been more different than that of Hawley and Jindal. The one-liner in Louisiana political circles was that Jindal was a Rhodes scholar and Teepell "a roads scholar."
He was the second of four boys. His parents, a salesman and a homemaker, decided to home-school their children just as he was starting high school.
His career began after his family met Michael Farris, a leader of the Christian home-school movement. At 18 and without a formal high school diploma, Teepell moved from Baton Rouge to Washington to work for him.
"When everybody else was going to college, Timmy was learning grassroots politics from an evangelical Christian leader," said Jan Moller, director of the Louisiana Budget Project and a former statehouse reporter for the Times-Picayune.
Farris later hired Teepell as executive director of the Madison Project, a Virginia-based conservative PAC whose website says its mission is to elect "candidates who have every intent of storming the castle and challenging the leadership in both parties."
After a brief stint at the Republican National Committee, Teepell returned to Louisiana to oversee a congressional campaign for Jindal, who'd lost a close race for governor to Democrat Kathleen Blanco in 2003. After connecting with Teepell, he won won a U.S. House seat at the age of 33.
In 2007, again with Teepell at the helm, Jindal won the governor's mansion on his second attempt. He named Teepell chief of staff.
He quickly established himself, in the eyes of lawmakers, as the man to see in the Jindal administration
"Timmy pretty much ran the show for Bobby. When you went up to see him, he had on his cowboy boots and blue jeans," said Danny Martiny, a former Republican state senator who often carried bills for Jindal. "But I would say he would have been the most influential person there."
Teepell, tobacco spit cup in hand, roamed the halls of the state capitol. One former Jindal staffer said he instructed staffers to wear their dirtiest jeans when they met with university officials as a way of humbling the state's academic elites.
He was known for his hardball tactics with lawmakers.
"They would knock a committee chairman's ass off," Roy Fletcher, a Louisiana-based Republican strategist, said of the operation Teepell headed.
"They'd take dead aim on you if you wasn't playing ball. Some people criticized. I thought it was legitimate. If you're going to get on the team, you play with the team."
Democrats held the majority in the Louisiana House when Jindal took office in 2008.
He ran on ethics reform, but Carter Peterson, at the time the speaker pro tempore, said her relationship with Teepell went off the rails when she sought to ensure his reform bill applied to the governor's office as well as the legislature.
The push to amend the bill failed after Teepell's lobbying. Jindal proceeded to punish proponents in both parties with line-item budget vetoes of projects in their districts.
"Whatever Timmy said, the team followed. He was the hatchet guy," Carter Peterson said. "And look, I proudly wear the title as chief nemesis."
Campaign-in-waiting
Hawley has surrounded himself with former Jindal staffers. In addition to Teepell and other consultants, Hawley's chief of staff, Kyle Plotkin, served as a communications staffer and then chief of staff for Jindal, following Teepell.
Plotkin managed Hawley's 2018 campaign, which relied on an aggressive "win the day" media strategy. It's a tactic that has continued during Hawley's Senate tenure, but was first honed in Baton Rouge under Jindal.
"It was a campaign operation disguised as a governor's office," said Bob Mann, who was a spokesman for Blanco, Jindal's predecessor. "Teepell and Plotkin were two of the main people responsible for that."
Plotkin declined to respond to Mann's criticism. The two were frequent sparring partners on social media during Plotkin's time in Louisiana.
Detractors say this style of governance didn't produce results, an assertion Teepell and Plotkin's allies dispute.
A former Jindal staffer pointed to Teepell's approach to the BP oil spill in 2010, which focused on publicly pressuring the oil giant to speed up its response.
"Timmy ran it more like a political campaign. BP was not moving as fast as it should have on the response side. Timmy did a good job getting us national attention," said the staffer, who spoke on condition of anonymity.
The staffer said that Teepell's tenure in Louisiana politics, a state with a historic populist bent, gave him insight into the direction of the Republican Party nationally. And Hawley has been moving in that direction.
"I think Timmy kind of knows where the puck is going to be. This thing's not going to cool down. Timmy sees his shot," the staffer said.
Like Jindal, Hawley has faced criticism that he is using his elected offices as a springboard for the next job.
It took less than two weeks after Hawley was sworn in as Missouri attorney general before out-of-state political consultants looked to raise the political newcomer's profile.
Teepell and Gail Gitcho, another consultant with ties to Jindal, strategized with Hawley's official state staff on ways to expose him to a national audience.
"If we can do a call next Tuesday or Wednesday, that would work great because I am having lunch with (Fox News anchor) Chris Wallace on Thursday and was going to pitch Josh as power player of the week," Gitcho wrote in January of 2017.
In the following weeks, Teepell directed staffers on a range of tasks from the hiring of a press secretary to obtaining funding for a human trafficking director. A heavily promoted anti-trafficking initiative led to cable news coverage for Hawley but no felony convictions.
The Star revealed the consulting arrangement during the final weeks of the 2018 campaign. Hawley disputed the story at the time, but subsequent investigations by Missouri Secretary of State Jay Ashcroft and Auditor Nicole Galloway confirmed the details.
Teepell told Ashcroft's office that he traveled to Missouri six times in the course of six months and had regular conference calls with Hawley's office staff. He said the purpose was to provide "advice in helping the office function as effectively as possible in serving the people of Missouri and accomplishing the priorities of the Attorney General."
Ashcroft, a Republican, concluded there was no wrongdoing on Hawley's part as he wrapped the investigation shortly after Hawley began his Senate term. Hawley said it amounted to "a complete and total vindication." Records show that Ashcroft allowed one of Hawley's top lieutenants from the attorney general's office to sit in interviews with key witnesses.
Galloway, a Democrat, found in a report released last year that Hawley potentially misused his office, but she said that the use of private email by Hawley's team prevented her from making a definitive finding.
A pending lawsuit from Democratic Senatorial Campaign Committee against the attorney general's office holds the potential to uncover new details about the role of Teepell and other consultants in Hawley's rise.
'Trying to go somewhere'
It comes at a time of growing speculation that Hawley will pursue a presidential run in 2024. His decision to object to President Joe Biden's Electoral College victory has largely been viewed through this lens. Hawley has maintained that he was responding to the concerns of his constituents.
A presidential campaign would be new terrain for Hawley, but not for Teepell.
Teepell joined the consulting firm OnMessage after Jindal's 2011 reelection as governor. He remained Jindal's closest adviser and went onto manage his 2016 presidential campaign.
The consultant worked with Jindal for years to prepare. The governor made frequent trips to Iowa, delivered a poorly-reviewed GOP response to President Barack Obama's 2009 address to Congress and signed the largest tax cut in Louisiana history — a move that devastated the state's finances.
"There was like constant pressure on Timmy, in general, to constantly be generating press that he controlled, to not allow bad press to get any traction," said J.P. Morrell, a former Democratic state senator.
"There was always an announcement, always some new idea he had, even if the ideas weren't particularly good."
For his part, Teepell said in 2017 that Jindal wasn't confident about running for president until just before he announced.
"Now, I think that the decisions he made in office, he would have made whether he was going to run for president or not," Teepell said.
But even Jindal's allies say his presidential aspirations distracted from his duties as governor during his second term, especially as the state's finances foundered following the tax cut he signed in his first term.
"He focused his talents on the presidency and not the people of Louisiana," Martiny said. "I think Teepell was one of the movers. I think they were both trying to go somewhere."
Jindal's presidential campaign failed to gain traction in the 2016 primary race that was rocked by Donald Trump's insurgent candidacy. He couldn't raise money and his polling numbers were too low to make it into the prime time debates.
He dropped out of the race in November of 2015, months before the Iowa caucuses.
Three months before, OnMessage had already signed a new client: Hawley.
The Kansas City Star's Eric Adler contributed to this report.