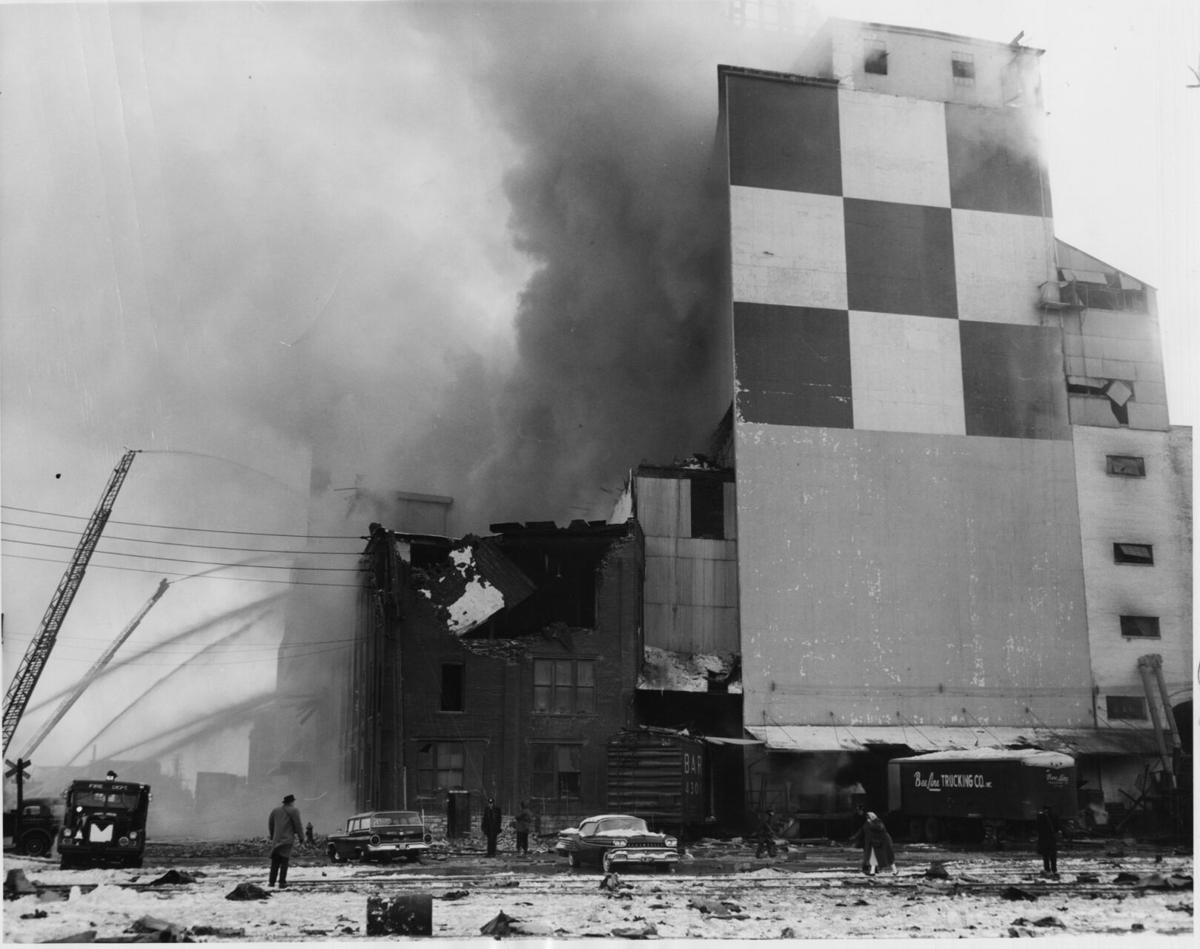 ST. LOUIS • On Jan. 10, 1962, all the talk was about bitter cold. At 3 p.m., with the temperature only 4 degrees, Carson Crocker was cutting a customer's hair at 702 Chouteau Avenue. Police officer Kenneth Jones tried to stay warm in his patrol car one block away. Major Nesbit worked inside the Ralston Purina feed mill that towered over the neighborhood just south of downtown.
The quiet chill was shattered at 3:20 p.m., when a grain-dust explosion ripped through the Ralston mill, at Seventh and Gratiot streets. The blast blew open Crocker's front door, showered airborne debris around Jones' car and threw Nesbit across the room.
"I heard this 'whoom' and there was fire everywhere," Nesbit said. "I crawled until I could see and then I cut out of there."
It was the beginning of one of St. Louis' biggest fires, and one of the wildest nights ever for the St. Louis Fire Department. In temperatures that quickly froze their water sprays, firefighters fought two general-alarm fires and handled 44 other calls. For a time, the department had only seven pumpers in reserve for a city of nearly 750,000 people.
At Ralston, the blast killed two workers. Fire quickly raced through the labyrinth of Checkerboard Square, the company's signature location since 1896. Firefighters on 22 pumpers took stations around the widening blaze. A captain died of a heart attack.
Then at 6:39 p.m., a fire broke out in the Ambassador-Kingsway Hotel, West Pine Boulevard and Kingshighway. Twenty minutes later, the department began sending the first of 15 pumpers to a major fire at the Musical Arts Building in the Gaslight Square entertainment district.
Fire Chief James Mullen ordered all off-duty firefighters to work. "At 8 p.m., we were really hurting," Mullen said.
As firefighters labored overnight at Ralston and Gaslight Square, the temperature fell below zero. Next morning, with the temperature at minus 7, sunshine played brilliantly on sparkling ice formations covering the fire scenes. But John Woods, a Ralston employee, was dead. So was fire Capt. Roy Simpson. Ralston employee Sherrill Parker was missing. Thirty-six Ralston employees and 22 firefighters were injured.
For nearly a week, firefighters poured 29 million gallons of water onto the Ralston ruins. Parker's body wasn't found until two weeks after the fire.
Ralston pondered rebuilding the downtown mill, then chose to build the office tower and complex that exists today. On Jan. 1, 2002, a late-night fire gutted the top floor of the 15-story tower. It was 16 degrees that night.