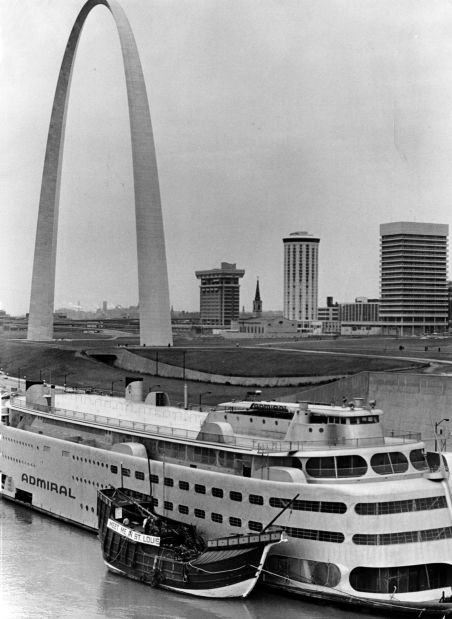 ST. LOUIS • It was an odd scene at an old steamboat landing — a harbor tug pushing a replica of Christopher Columbus' sailing ship Santa Maria alongside the S.S. Admiral. A small crowd braved windy 30-degree weather to mark its arrival downtown on March 29, 1969.
Mayor Alfonso J. Cervantes, proud of his Spanish heritage, had snapped up the Santa Maria in a bidding war with one of the Rockefellers. Three years before, he had led the effort to bring the Spanish Pavilion here from the 1964 New York World's Fair. The Santa Maria was to be another nod to St. Louis' brief history as a Spanish colony two centuries ago.
Even by the loose standards of tourist boats on the levee, a 15th-century Spanish cargo ship didn't fit. The Santa Maria became the butt of local jokes.
Perhaps mercifully, its presence was brief.
The 80-foot replica was built in Barcelona, Spain, and hauled across the Atlantic Ocean by freighter for the New York fair. After it flopped as a tourist attraction in Washington, Cervantes twisted the arms of some of his supporters to raise $375,000 and buy it.
The Santa Maria opened on the levee on April 25, 1969, drawing a modest average of 450 visitors each day.
On the evening of June 28, a wild thunderstorm roared through St. Louis with tornadoes, 70 mph wind and two inches of rain. The storm broke the moorings of the old Becky Thatcher restaurant boat, with 100 people on board, and carried the Santa Maria along with it two miles downstream. The vessels struck a dock on the Illinois bank, and the Santa Maria sank like a tub. The Becky Thatcher and everyone aboard were saved.
As a Coast Guard launch brought Cervantes and reporters alongside the wreck, the mayor said, "We could not have prevented this from happening."
Workers raised it, exposing a wide gash in its starboard side. Sold for $1, it was repaired and returned to the levee the next summer. But in March 1973, a Florida promoter had it shipped to Titusville, near Cape Canaveral, for yet another try as a tourist draw.
On June 27, 1974, it was gutted by fire. Cervantes, out of office a year, said, "Nothing would surprise me about the Santa Maria. That is just an ill-fated ship."
The Becky Thatcher left the riverfront in 1975, serving as a dinner theater in Marietta, Ohio. It was moved to Pittsburgh in October, and last month sank in the Ohio River after a massive snowstorm.
The Spanish Pavilion had a better fate. It became part of a hotel, now called the Hilton St. Louis at the Ballpark.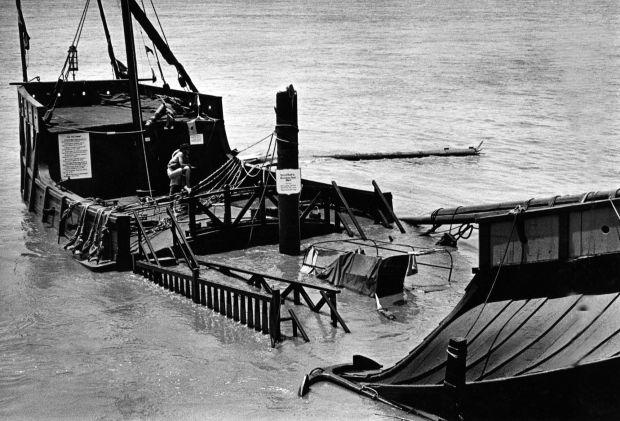 ---