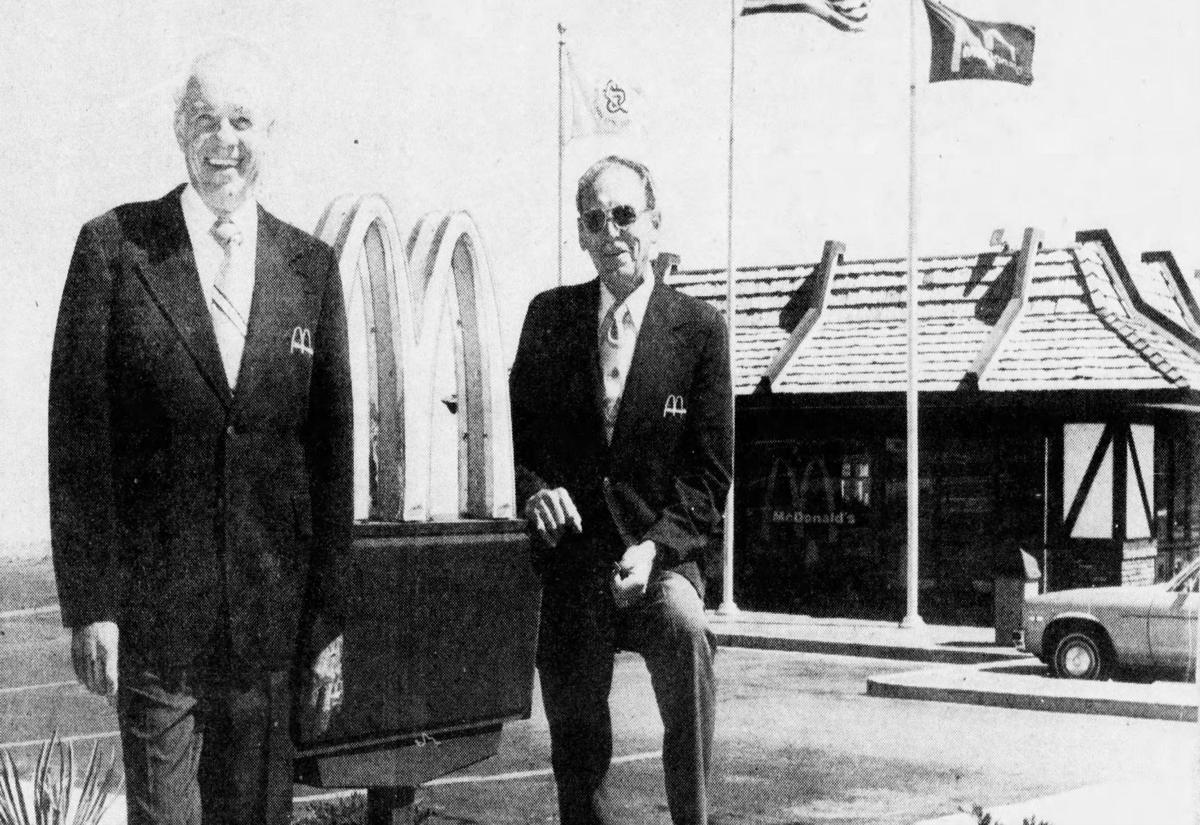 On August 30, 1958, Bill Wyatt and partner Don Kuehl opened the first McDonald's restaurant in Missouri, at 9915 Watson Road. The restaurant is still there today. Thirty years after the opening, we profiled the man who brought the Golden Arches to St. Louis. Here is the article from 1988.
Washington's Birthdays aren't memorable occasions for most people, but Bill Wyatt has vivid memories of Feb. 22, 1959. That was the time, a school holiday, when the noon crew didn't show up at his McDonald's.
Wyatt and partner Don Kuehl were six months into the ownership of the first McDonald's in the state of Missouri, a walk-up-service stand at 9915 Watson Road, and they were expecting one of their busiest times ever. Wyatt had the day shift.
''Five employees who were scheduled to come in at 11 a.m. were riding in the same car and they were involved in a collision,'' Wyatt said. ''One of the boys phoned. Nobody was hurt, but the car was wrecked and they didn't know how they'd get there.''
As expected, hordes of famished teen-agers attracted by the area's first Golden Arches started appearing at Wyatt's windows, calling orders from the limited menu of the time - hamburgers, French fries, milkshakes and sodas. Wyatt and a handful of employees tried to accommodate them.
''I was working frantically,'' he recalled. ''That first year as an owner was a tough one, seven days a week, and we were anxious to provide what McDonald's was known for - good, fast food. The bun man arrived in the middle of the rush and he felt sorry for me.
''He said, 'Is there anything I can do?'
''I said, 'Yeah, put on a cap and go to work!'
''He stayed for more than an hour, not sure what he was doing, but really helping. It would have been much worse without the bun man.''
Wyatt owns 21 of the 112 McDonald's franchises in metropolitan St. Louis. August 30 marks the 30th anniversary of the opening of the first one.
Wyatt described the long-ago Washington's Birthday fiasco over cheeseburgers at - where else? - a McDonald's, the one on Watson Road where it happened.
The building in Crestwood was replaced 10 years ago, and the new model bears little resemblance to the old place. It has a Bijou movie motif, with photos of 1930s film stars and art deco light fixtures over the booths, and a 22-person staff serving walk-in and drive-through diners.
Maybe you were a Parkmoor person, or perhaps it was the Libertine. See the restaurants we miss from  years gone by. 
The food list has undergone equally dramatic changes, including complex salads, a dozen varieties of sandwiches and a much-publicized breakfast menu.
All of the employees who were delayed by that car wreck three decades ago, by the way, were boys. One of the rules for holders of McDonald's franchises was that only males would work there.
''Ask Ray Kroc,'' Wyatt replied, smiling as he referred to the late creator of the McDonald's empire. ''Oh, I'm sure it was because he believed that if there were girls working, boys would start hanging around and that would create an atmosphere that might cause older customers to stay away.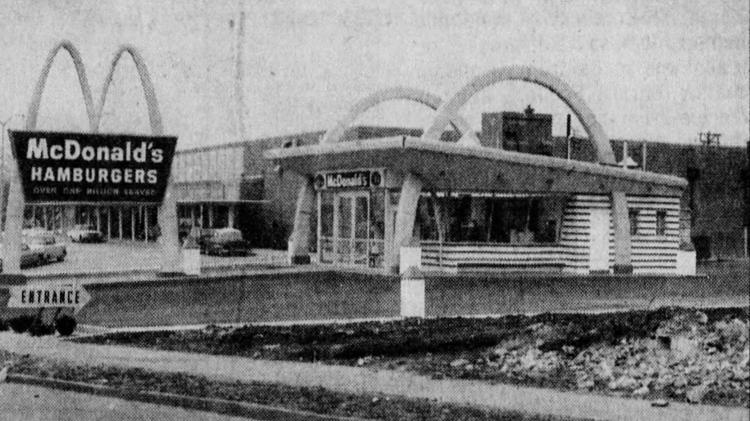 ''A franchise owner even had to get special permission to employ his wife or daughter.
''All that changed during the Vietnam War.''
Although women now make up the majority of McDonald's employees, the chain still has a policy that discourages extended stays. There are no jukeboxes and no telephones. (At McDonald's on interstate highways, an outdoor phone is provided.)
Wyatt knew Kroc, having been among the earlier franchise holders, and met him at management meetings at the company's Chicago headquarters. Kroc died in 1984.
The first McDonald's drive-in restaurant was opened in San Bernardino, Calif., in December 1948 by brothers Dick and Mac McDonald. Six years later, Kroc became the franchising agent for the brothers, but it wasn't until 1961 that Kroc bought out the McDonalds for $2.7 million. There were more than 200 restaurants then.
Wyatt was trying to keep his own sandwich shop going at about the same time the McDonalds were starting out. That was in the middle stage of the St. Louisan's business career.
''I attended Blow School and Cleveland High, but when I graduated it was the middle of the Depression,'' Wyatt said, ''so there was no thought of college. Instead, I joined the Civilian Conservation Corps and was put to work cutting down trees.
''I only stayed with the CCC for six months, but it was a lifesaver because it got me and a lot of other unemployed people off the streets.''
Wyatt left to take a job with a bakery, slicing and wrapping bread, and later got a bread delivery route. Later he operated a sandwich shop for several years, but he was out of that and working as a journeyman machinist in 1956 when he and Kuehl heard about a new kind of restaurant chain that had originated in California. A McDonald's.
''The nearest one was in Champaign, Ill., so Don Kuehl and I drove there to see it,'' Wyatt said. ''We were impressed, so we drove on to Chicago and bought a franchise.''
The price then was $2,500. A franchise now costs about $22,000, and what buyers get, essentially, is a piece of paper entitling them to operate a McDonald's. Equipment and other start-up costs total about $400,000. The land and the store remain the property of the McDonald's Corp.
''It took two years to find a location and get the building up,'' Wyatt recalled. ''That first year was a struggle, because nobody knew us; we were just another hamburger place then.''
Wyatt had married in 1940 - ''The Japanese celebrated our first anniversary by bombing Pearl Harbor'' - and his wife, the former Verna Fett, was a schoolteacher. She taught for 12 years in the Hancock district and two years in Mehlville.
The Wyatts have a daughter, Lana, and three grandchildren.
It was six years before Wyatt and Kuehl opened their second McDonald's, at Gravois and Hampton, but others followed quickly. Tom Hillmeyer joined the group as manager and part owner of their third franchise; he now is Wyatt's general manager.
Kuehl wasn't actively involved in the company's operations in later years, and in 1987 he sold his share of the business to Wyatt.
One of the chief concerns for Hillmeyer and other McDonald's executives is personnel.
''The birthrate dropped in the '60s, and there will be a shortage of teen-agers until 1992,'' Wyatt said, ''so we've had to find alternatives. We hire a lot of housewives who help us through lunch time and go home in time to meet the school bus.
''Older citizens have also worked out well. You've probably seen our TV ad in which the older gentleman comes home from his first day as a McDonald's employee. His wife asks him how it went and he says, 'I don't know how they ever got along without me!'
''He isn't far from the truth. We depend on our older employees, especially to do the labor-intensive jobs in the back, such as preparing salads. The kids are a little faster up front.''
For all McDonald's employees, there is an emphasis on cleanliness. Every store manager is required to complete the courses at the company's ''Hamburger University'' in Chicago and then pass the word. Franchises can be revoked. (Thirty per cent of the world's 10,000 McDonald's are owned by the corporation.)
''There are two inspections a year,'' Wyatt said. ''One is announced ahead of time and the other isn't. They're intensive, white-glove checkups, where they examine everything from the air-conditioner to the temperature of the grill.''
Wyatt is in his office at 11422 Gravois Road every day, keeping himself involved in all phases of his 21 restaurants.
''If there is a new store ready or some promotion getting under way, I can't wait to get to the office,'' he said, smiling. ''Neither Ray Kroc nor I ever expected McDonald's to become the amazing success that it has, but one of Ray's secrets was that in awarding his franchises he went out and got fighters, guys who weren't afraid to work.
''I could have retired long ago. People ask me why I don't take time to smell the roses, and my answer is that these stores are my roses. They just come in different varieties for some people.''
Editors note: William C. Wyatt died on May 1, 1995, at the age of 80. At his peak he owned 21 McDonald's restaurants in Missouri. Today there are more than 350 in the state.