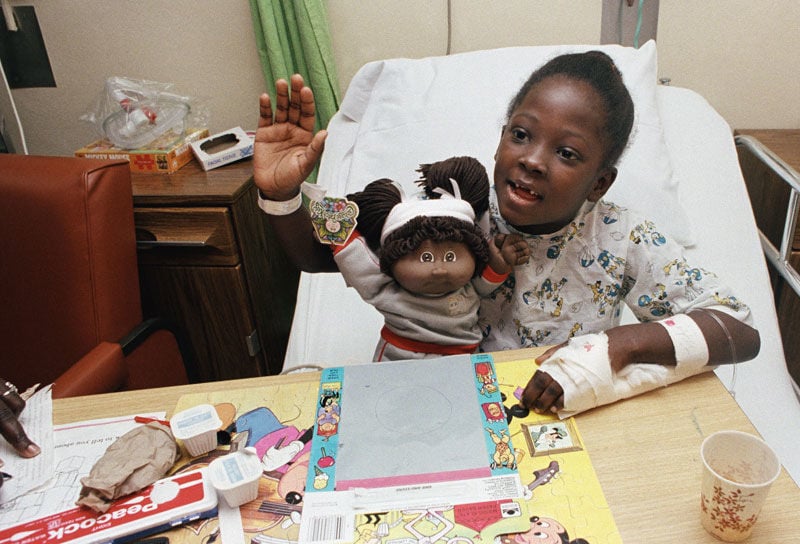 In 1983, the hottest of the hot toys? Cabbage Patch Kids dolls. This front-page story in the Post-Dispatch on Nov. 28, 1983, painted the grim picture for parents on the prowl.
Are you at wit's end trying to find 'Cabbage Patch Kids' dolls? Weary? Been everywhere? Called the gamut of toy and department stores?
You're not alone in your frustration. So are thousands of other shoppers in the St. Louis area. And the search is likely to be in vain, merchants say, unless a backlog of orders nationwide suddenly ebbs.
'Ninety-nine percent of the calls we get are about the Cabbage Patch dolls,' said a spokeswoman for the Children's Palace store at 3715 North Lindbergh Boulevard, Bridgeton.
'Nobody has them, and we probably won't have them again by Christmas. They're on order, but I'm not optimistic,' she said.
She said the store had sold 350 of the dolls in 45 minutes in October -- the day after the store advertised that the dolls were in stock.
The one-of-a-kind dolls come with a name, a birth certificate with footprints, 'adoption papers' and a personality profile.
Tom Grudzielanek, a merchandise manager for the K mart store across from Northwest Plaza Shopping Center, said the dolls had been sold out for some time and that prospects of getting another shipment before Christmas were slim. 'Everyone has got them on back-order,' Grudzielanek said.
Bev Moist, a manager at Circus World, a toy store at St. Clair Square Shopping Center in Fairview Heights, said the store had 12 of the dolls Wednesday.
'They sold in five minutes,' she said.
Ms. Moist said the store would not advertise the dolls even if it had them in stock. 'You're talking mobs if we do that,' she said.
Ms. Moist suggested that parents devise a kind of 'gift certificate' themselves to stuff in childrens' Christmas stockings, promising the children they will get their dolls sometime after Christmas.
'I really can't think of anything else for them to do. There aren't any to be found, and there won't be for a while,' she said.
Mike Delia, manager of another St. Clair Square toy store, Kay-Bee Toy and Hobby, said the store had been deluged with inquiries about the dolls. Delia said the store had six of the dolls in stock last week. 'They just zoomed out of here. They were gone before we got them out of the box.'
Another hot-selling item, 'Care Bears,' also is becoming a rarity, store officials said.
'That's another extinct item,' Ms. Moist said.
And Delia just smiled when asked if the store still had the the cuddly creatures in stock.
Delia said some customers had become irate after learning the store had neither Cabbage Patch dolls nor Care Bears.
In Miami, a 75-year-old man was knocked down Thursday by customers in a frenzy trying to buy the moon- faced dolls.
Although area store owners have reported no such incidents so far, they expect customer frustration to last until the holiday season is over.
'It's a shame, but there's really nothing we can do if we can't get them,' a store owner at St. Clair Square said.
But some shoppers are prepared to keep up the quest. Said one: 'If you have a little girl at home who wants one badly, you keep looking.'
In Concord, N.H., about two-thirds of the people in line outside the Zayre Corp. store went home empty-handed, although some made new friends during the long wait. Many had been in similar lines at other stores.
''The grandchildren want them, what can I say?'' said Clayton LaClair of Stoddard, one of the unlucky shoppers unable to buy any Cabbage Patch Kids. ''We have been all over New Hampshire and Vermont looking for these dolls,'' he said as he and his wife, Alice, stood trying to keep warm near the end of the line.
In other cities, the dolls have triggered pandemonium. When 40 dolls went on sale a month ago at a Child World store in Bergen County, N.J., a pregnant woman was trampled in the stampede, the Bergen Record reported. At a Caldor store in Paramus, N.J., last month, one woman trying to get to the front of a line for the dolls elbowed another woman to near-unconsciousness, the Record reported.
In Charleston, W.Va., grown men snatched dolls from the hands of little boys, and women and children were knocked to the floor of the Hills Department Store on Sunday as 5,000 people clambered in to buy up the 120 popular dolls in stock. Prospective buyers were lined up around the store before it opened at 1 p.m., some waiting since 8 a.m., store manager Scott Belcher said.
In Wilkes-Barre, Pa., at least five people were injured and William Shigo, a store official, stationed himself behind the counter armed himself with a baseball bat as about 1,000 shoppers, some who had been waiting nearly eight hours, jammed a Zayre department store.
Five women were treated for bumps and bruises at the Wilkes- Barre General Hospital, including one who was admitted in fair condition, according to an emergency room nurse who declined to be identifed.
The Associated Press contributed to this report.