In 1927, Charles A. Lindbergh landed his Spirit of St. Louis monoplane near Paris, completing the first solo airplane flight across the Atlantic Ocean in 33 1/2 hours.
Here is our historic coverage of the Lindbergh flight from take off to landing and through his triumphant return to St. Louis.
You can browse all the historic Post-Dispatch pages in our archive.
May 20, 1927 - Lindbergh Sets off to Paris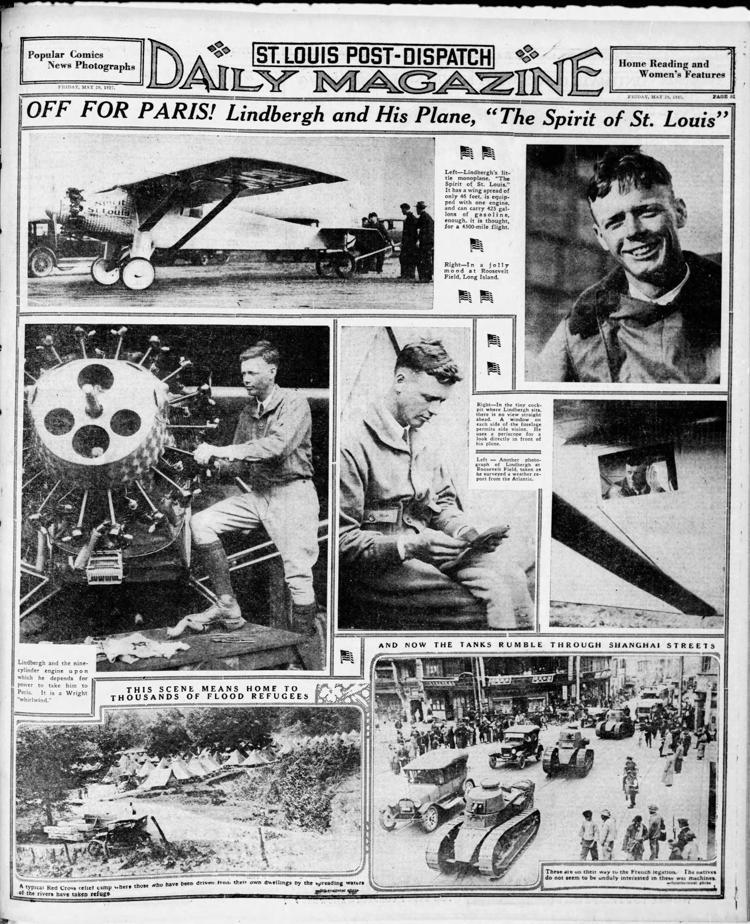 May 20, 1927 - U.S. Ships at Sea Keep Watch for Lindberg Plane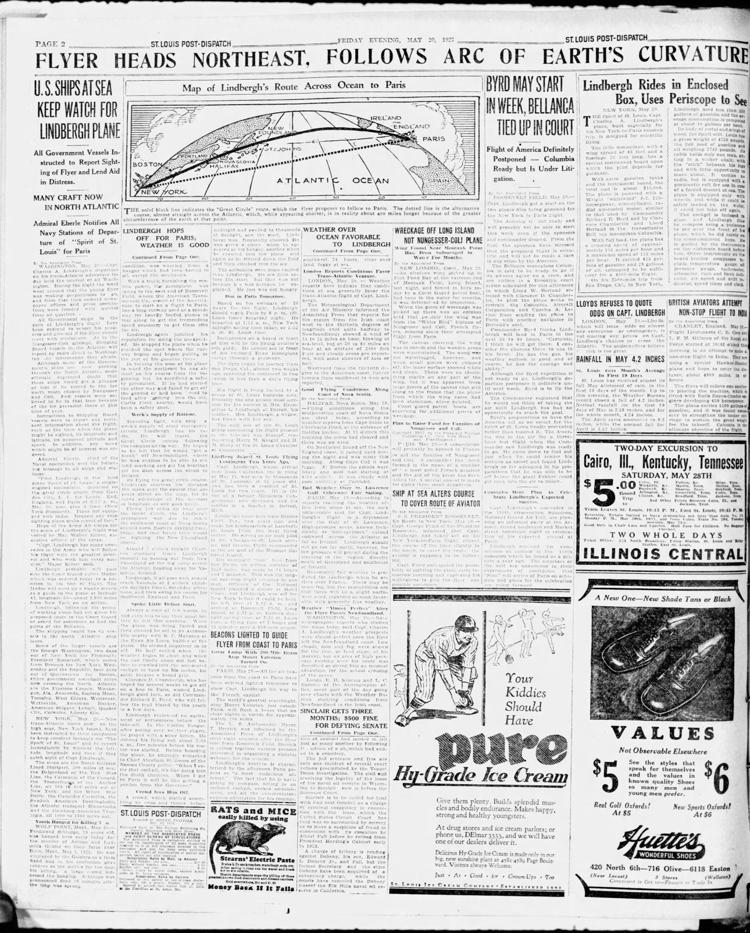 May 20, 1927 - Lindbergh Gets Away At 7:52 a.m.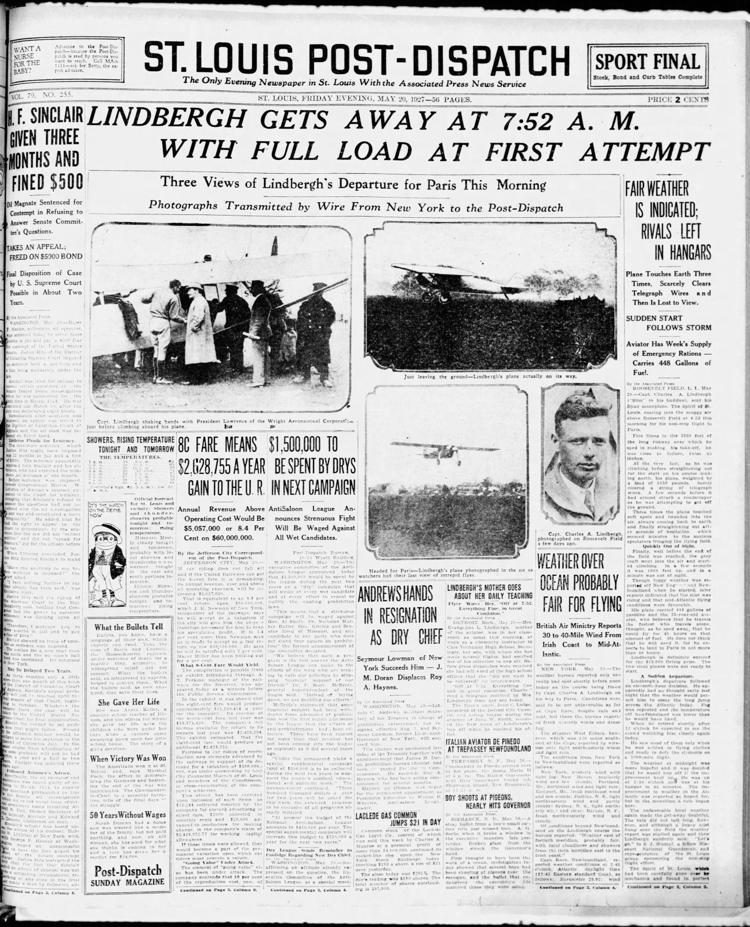 May 20, 1927 - Last View of Lindbergh's Plane Winging its way to Paris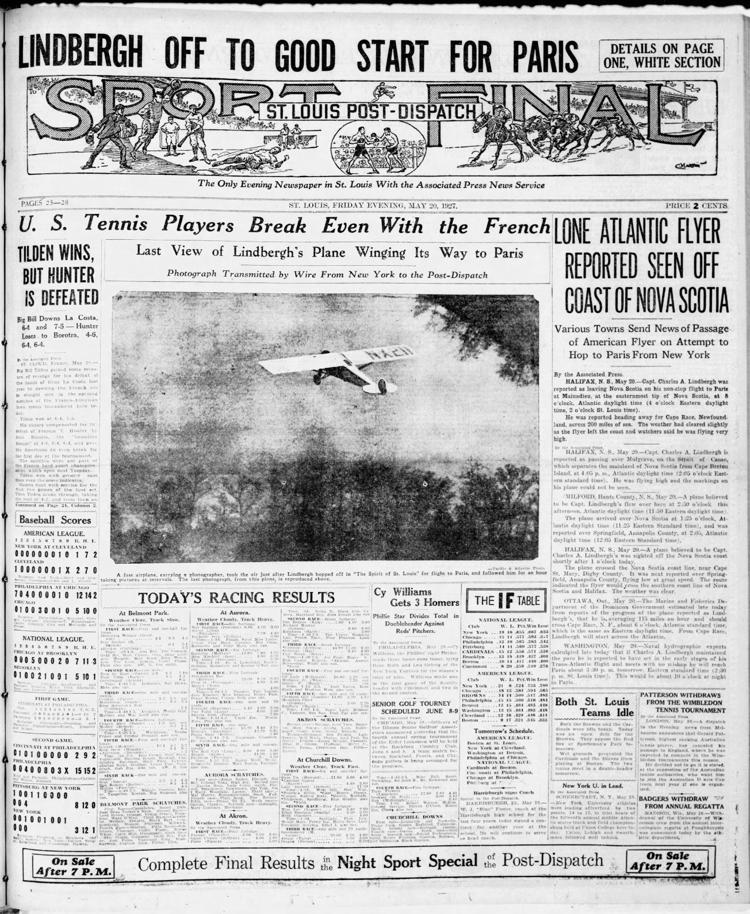 May 21, 1927 - Lindbergh Got Bearings Before Turning to Sea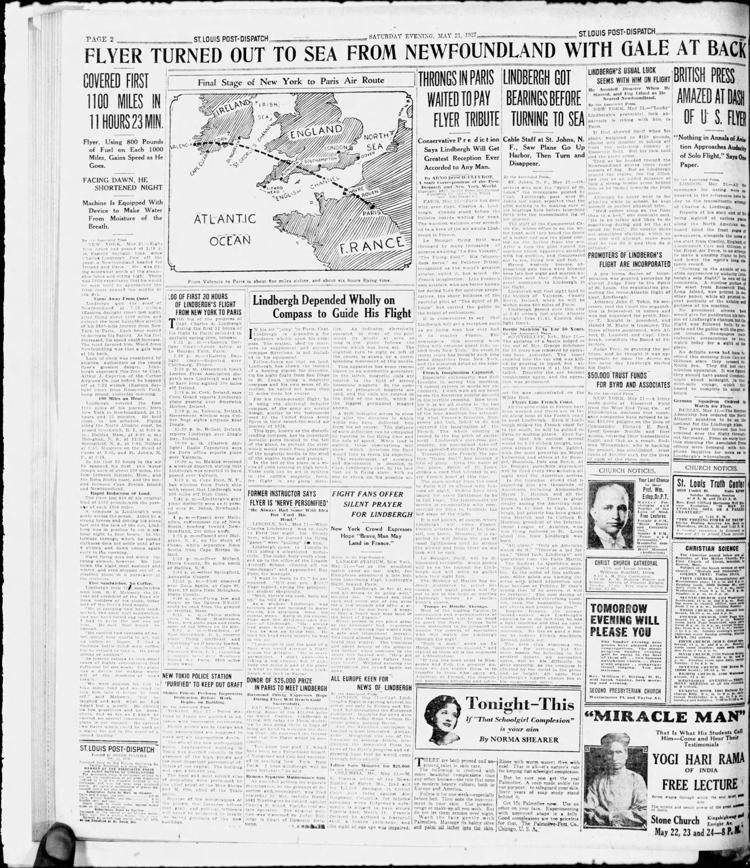 May 21, 1927 - Lindbergh Lands Safely at Paris
May 22, 1927 - Lindberg Sets Record in Trip Across Atlantic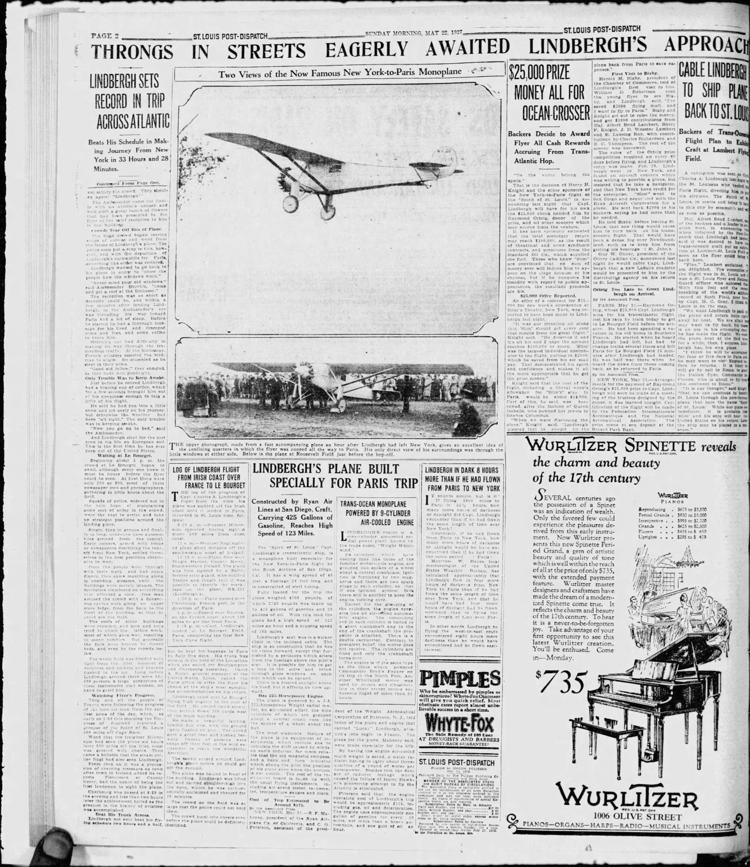 May 22, 1927 - Lindbergh Lands Safely on Paris Flying Field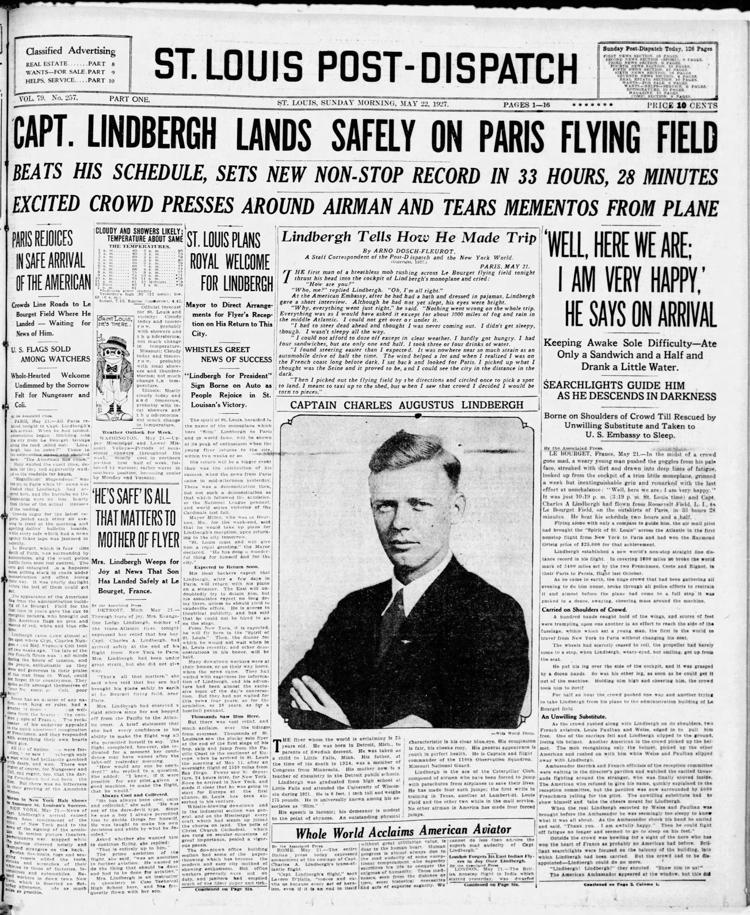 May 22, 1927 - Lindberg Made trip from San Diego to Paris in 55 hours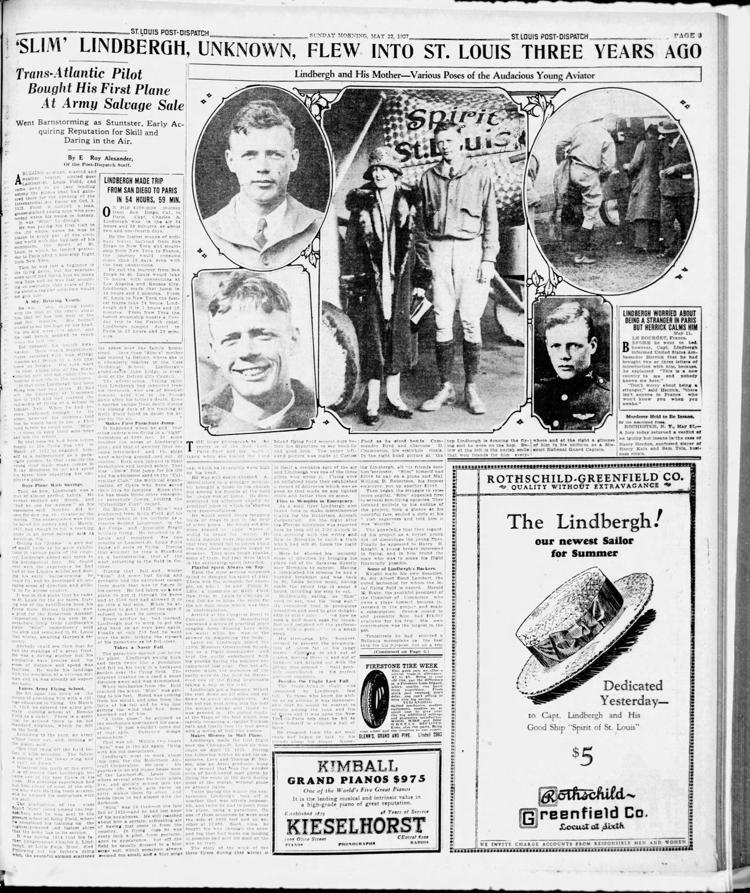 May 22, 1927 - Lindberg Flew into St. Louis 3 years ago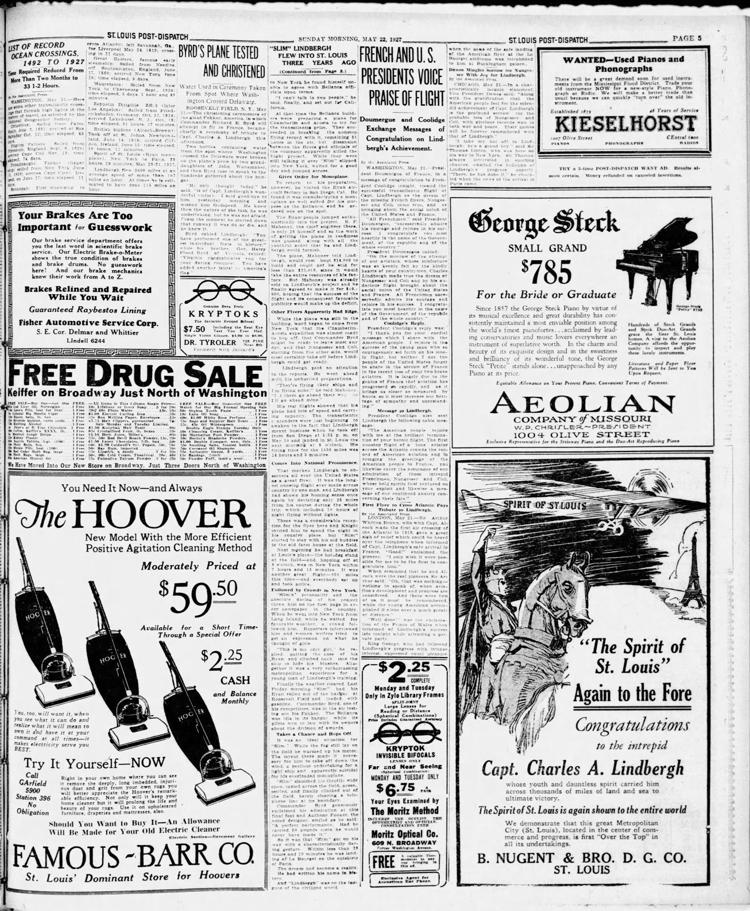 May 22, 1927 - St. Louis Praise Wired Lindberg Ahead of Arrival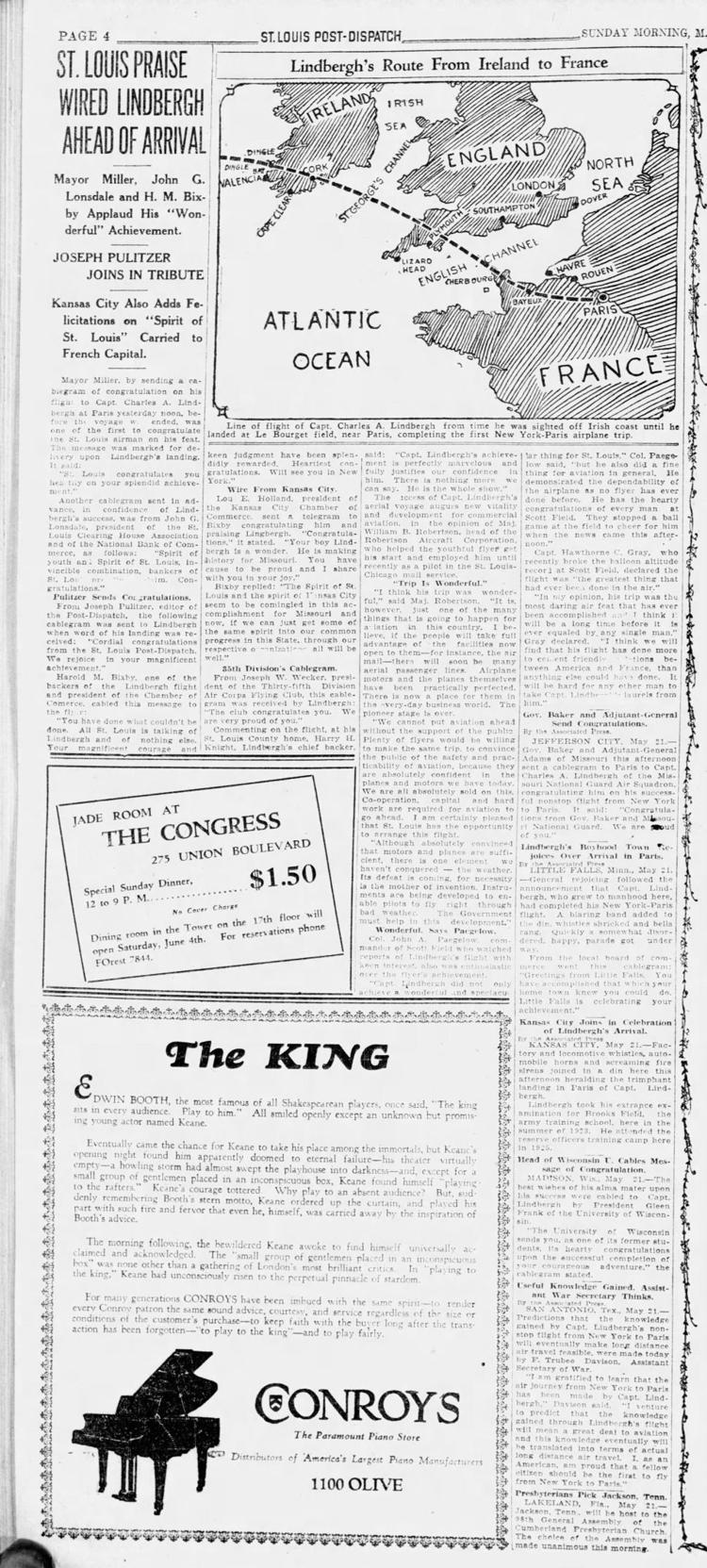 May 23, 1927 - Lindbergh Gives Highlights of his Great Achievement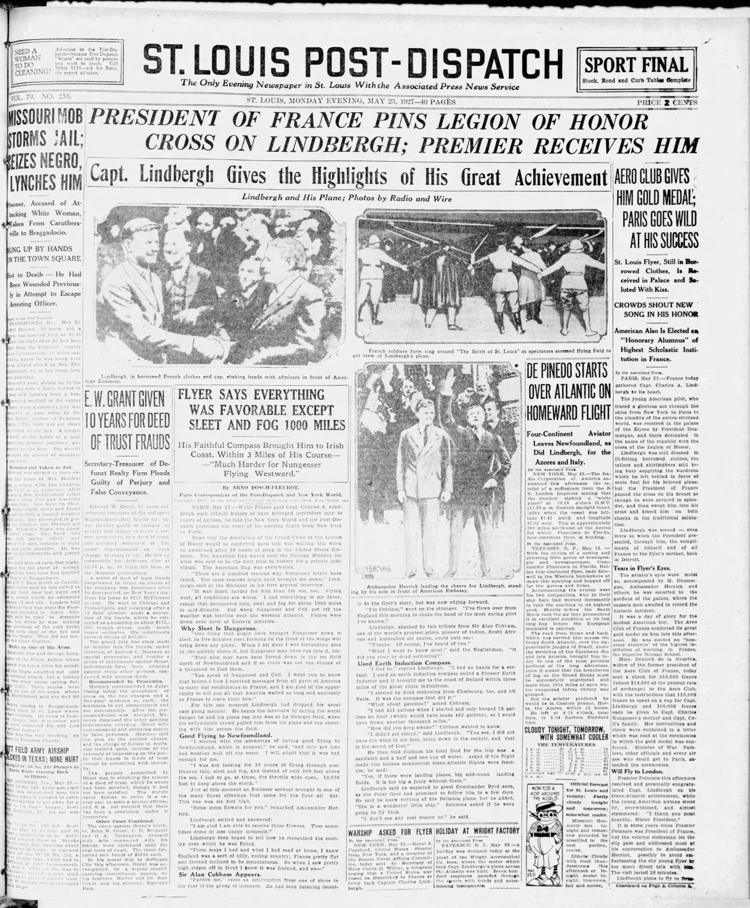 May 23, 1927 - Lindbergh Explains to British Pilot How He Guides His Plane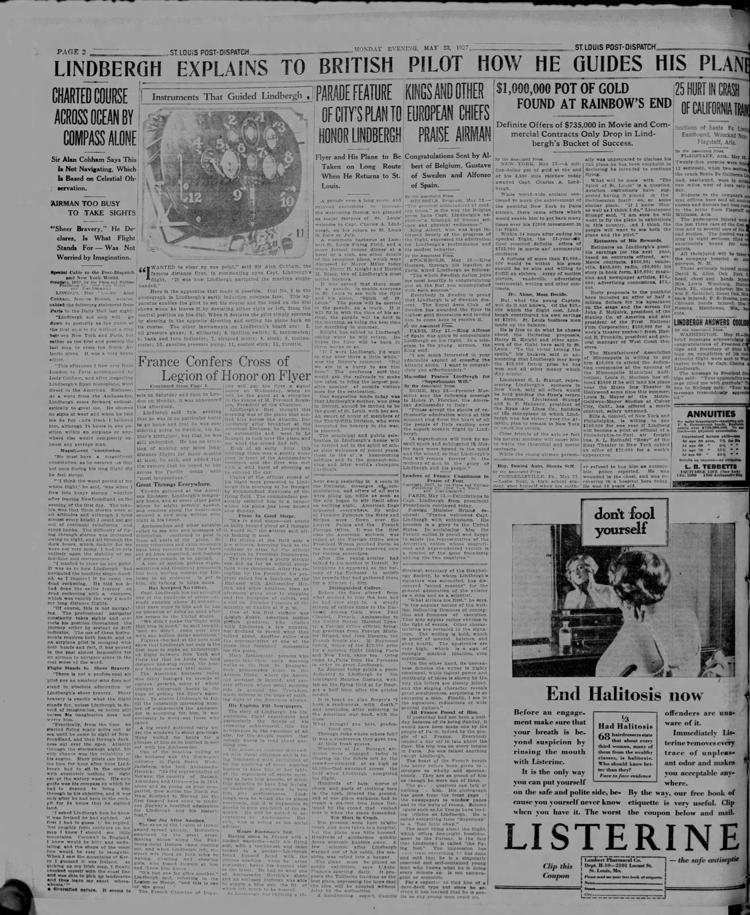 May 28, 1927 - Birthplace of Lindberg has its Celebration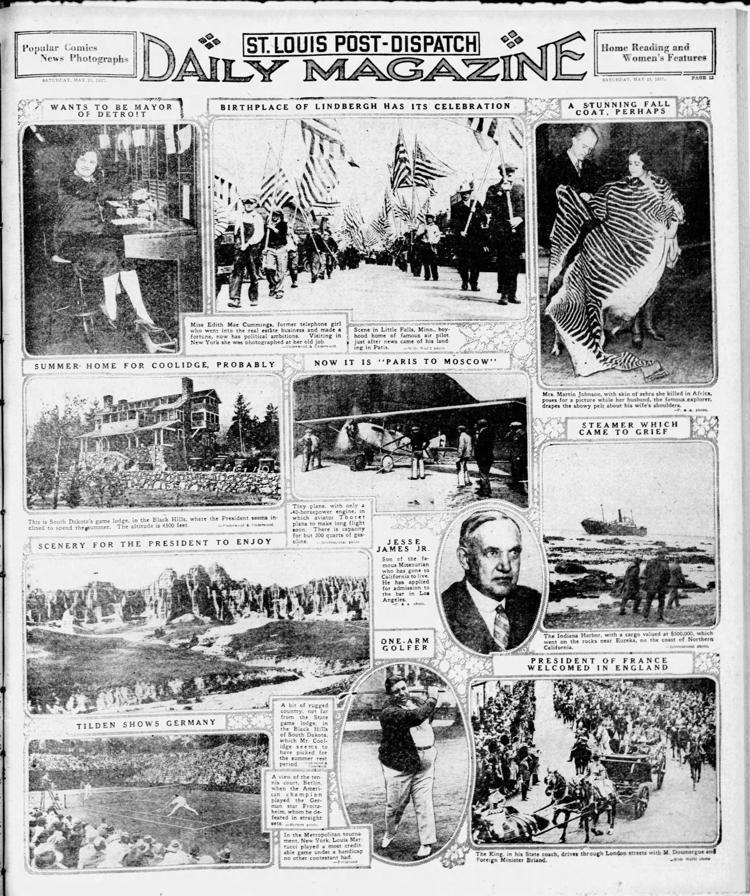 May 29, 1927 - Lindbergh and His Start on Record-Making Flight to Paris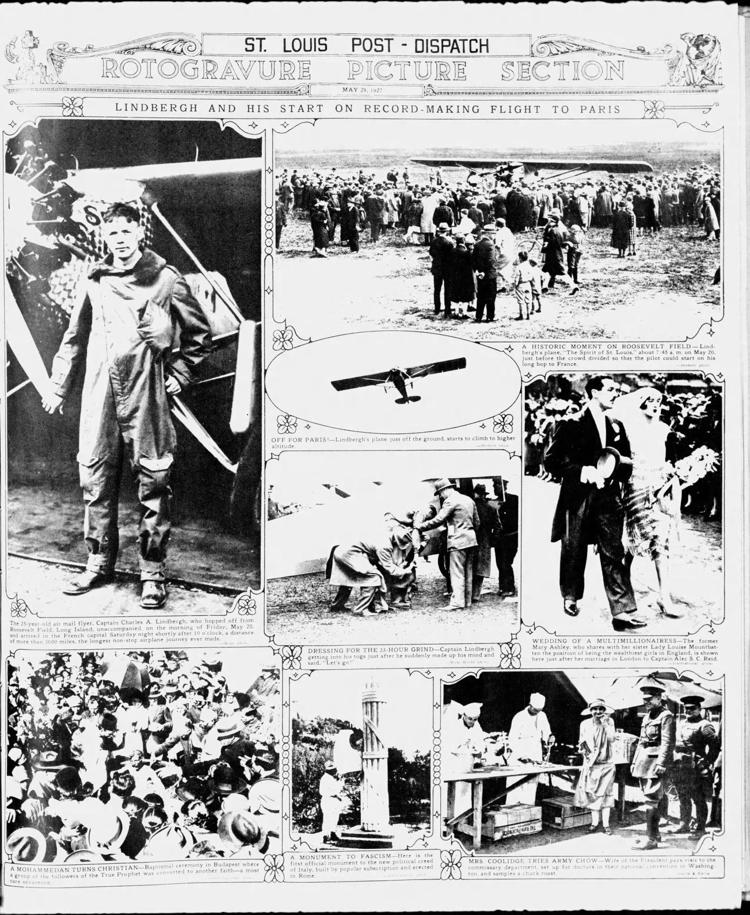 May 31, 1927 - King George Confers British Air Force Cross on Lindberg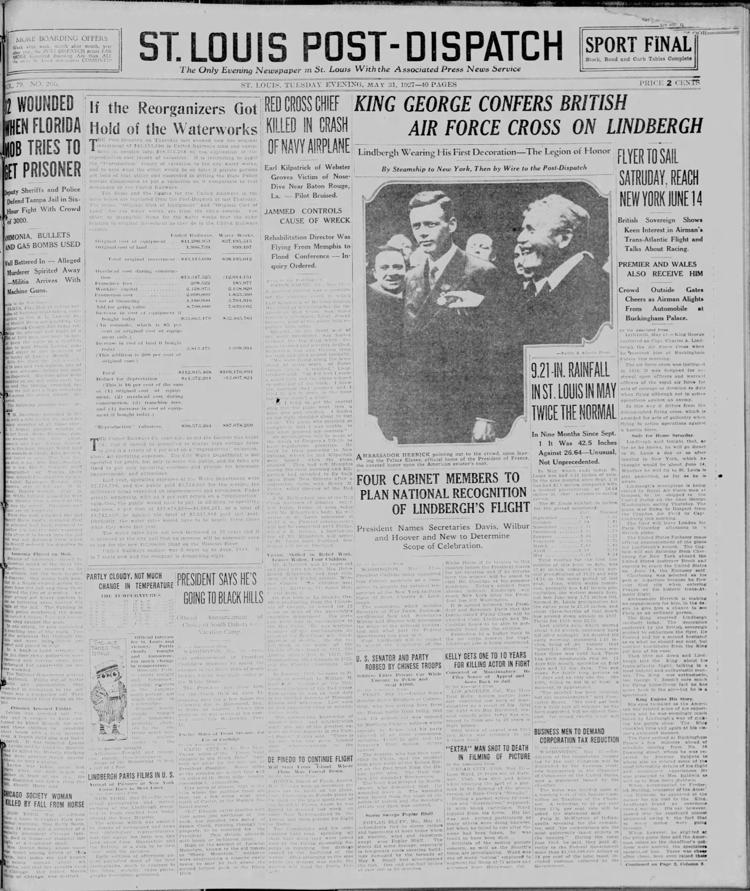 June 11, 1927 - President Decorates Lindberg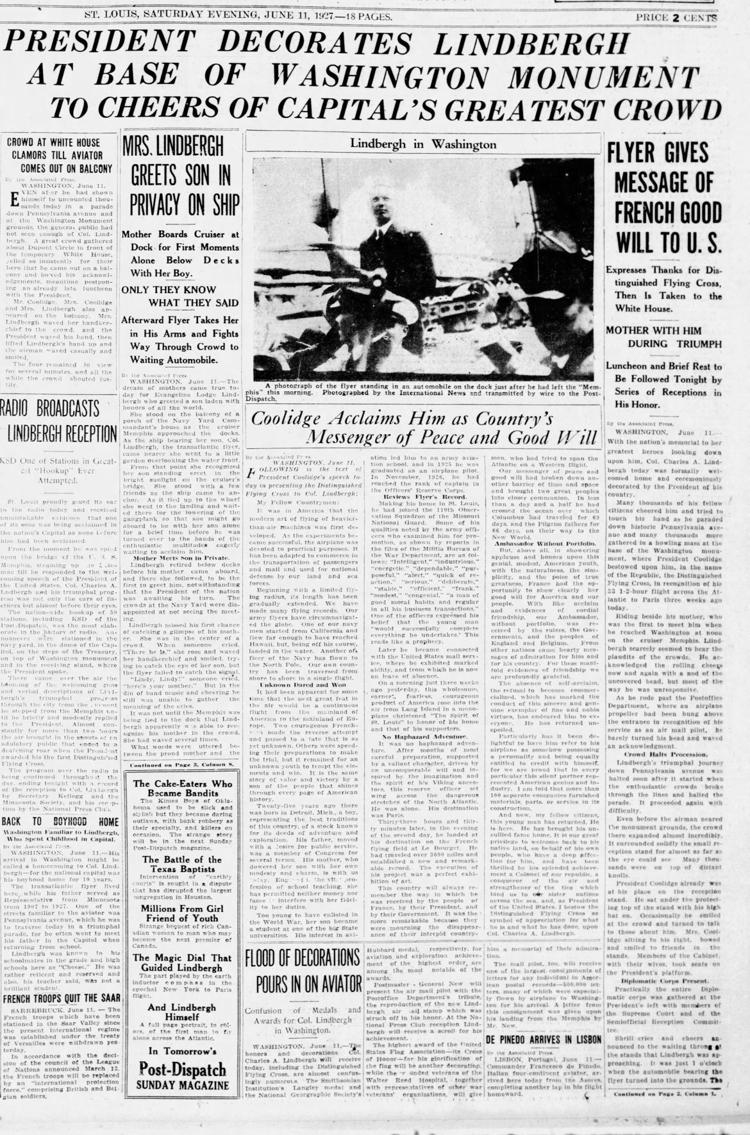 June 11, 1927 - Lindbergh Passes Along Pennsylvania Avenue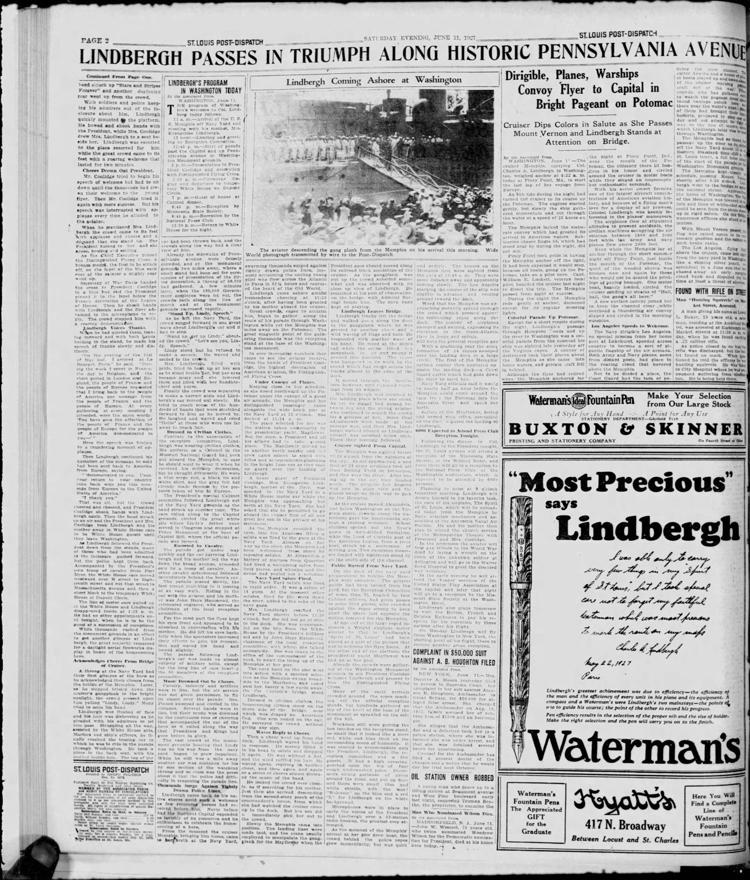 June 11, 1927 - Lindbergh Boarding Cruiser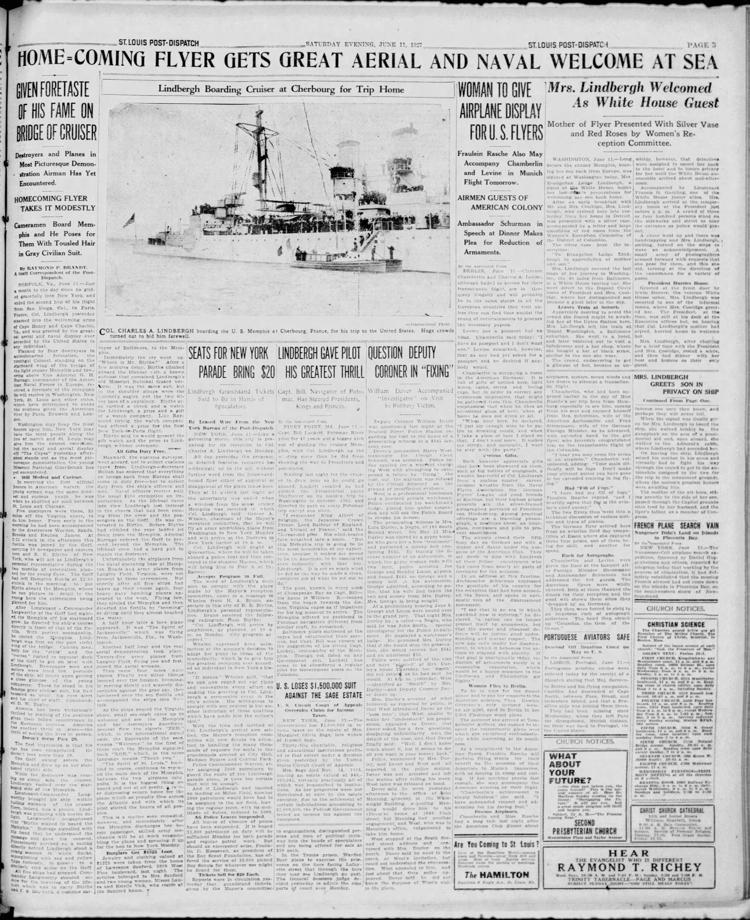 June 11, 1927 - The Post-Dispatch's welcome plan
June 12, 1927 - Lindbergh Decorated by President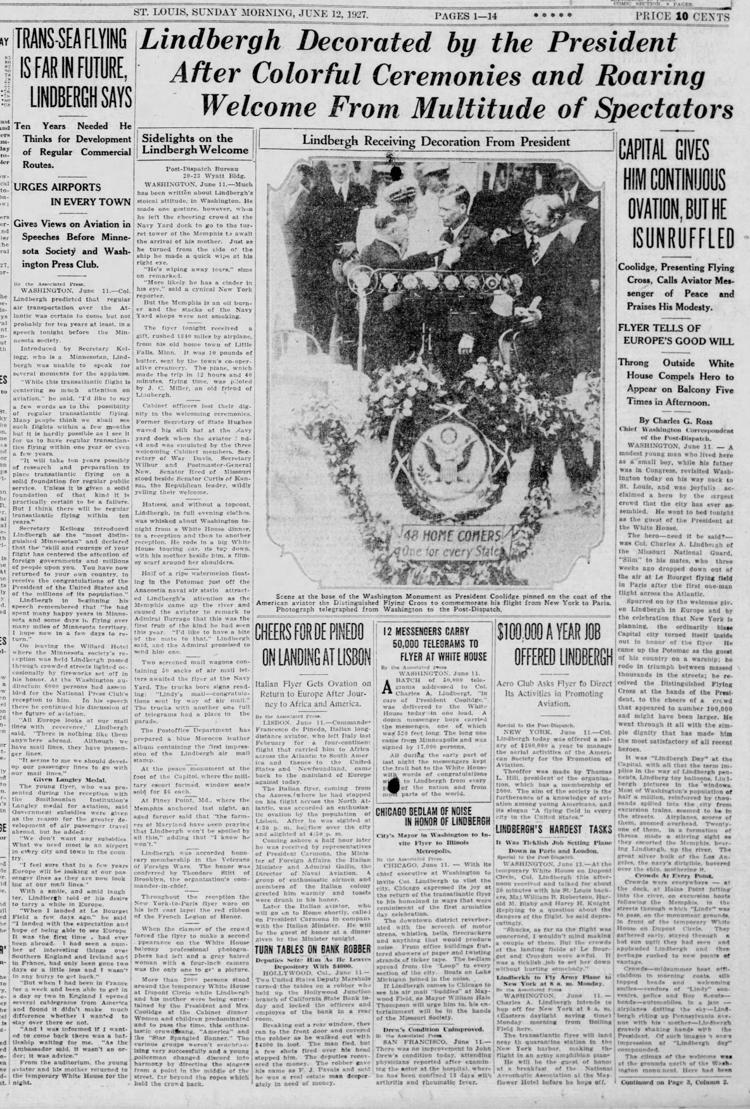 June 12, 1927 - President Acclaims Linberg as the ideal American Youth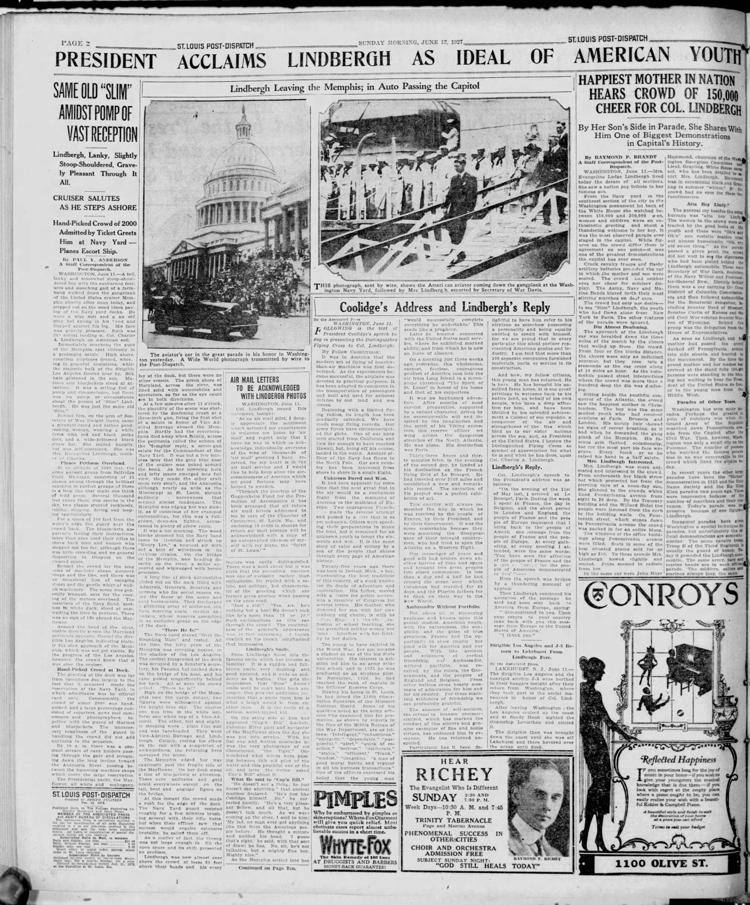 June 12, 1927 - Lindbergh Given Continuous Ovation by Washington Crowds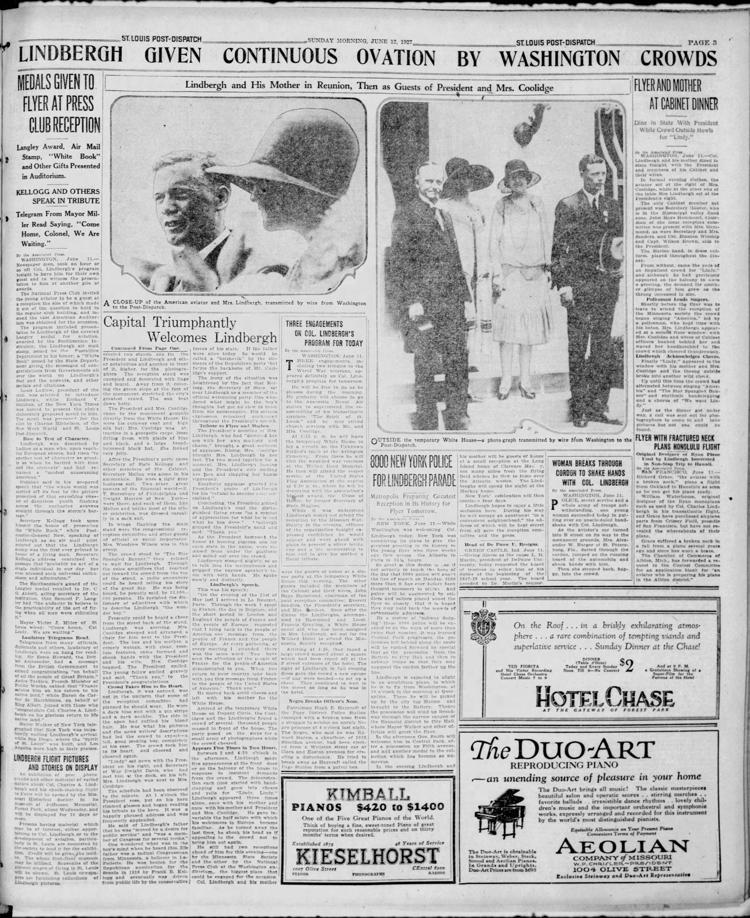 June 12, 1927 - Charles Lindbergh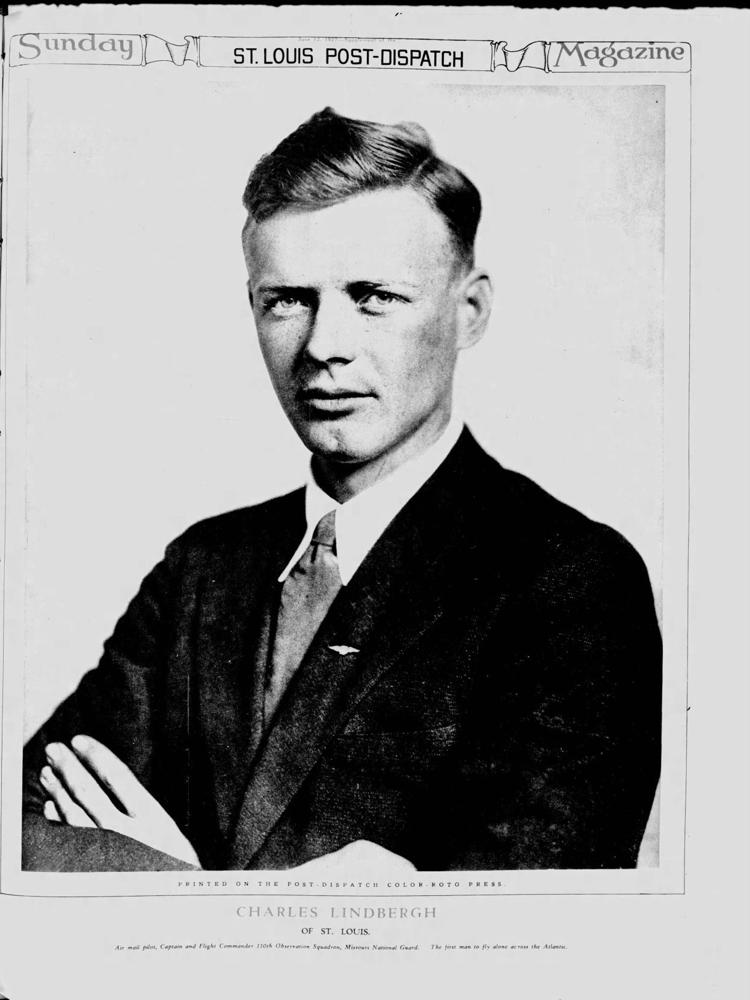 June 13, 1927 - Gov. Smith Decorates Lindbergh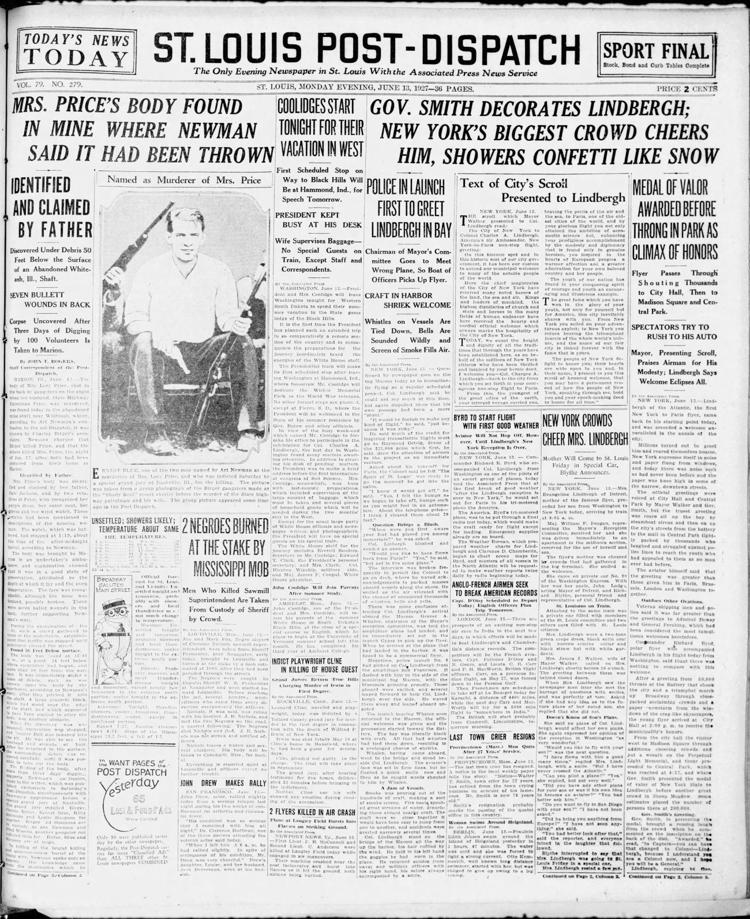 June 13, 1927 - Lindberg Flies to NY in Army Plane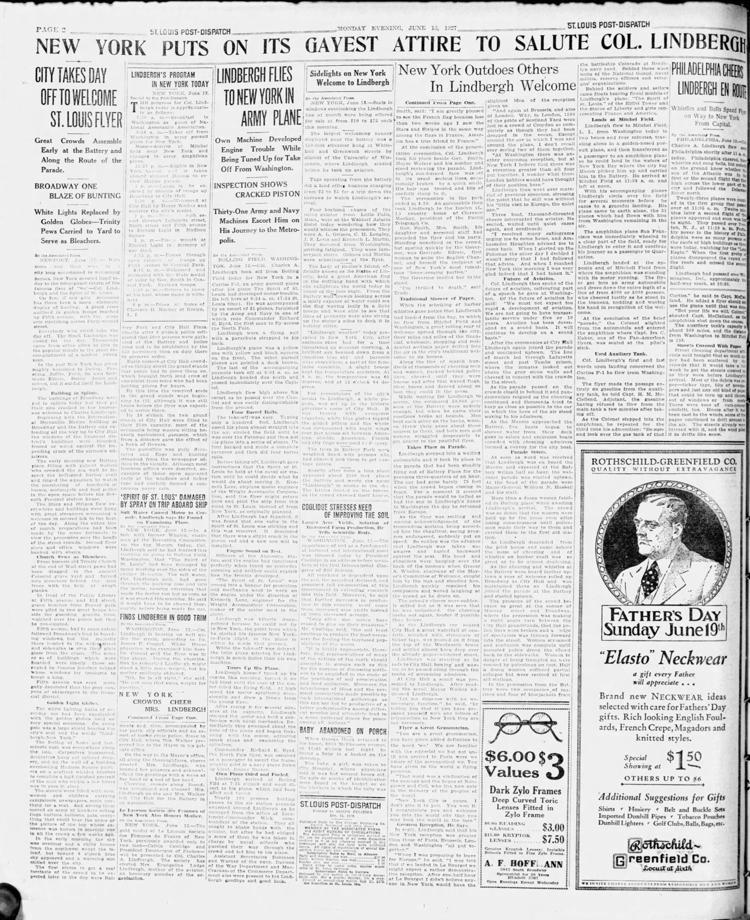 June 13, 1927 - Greet Homecoming Lindberg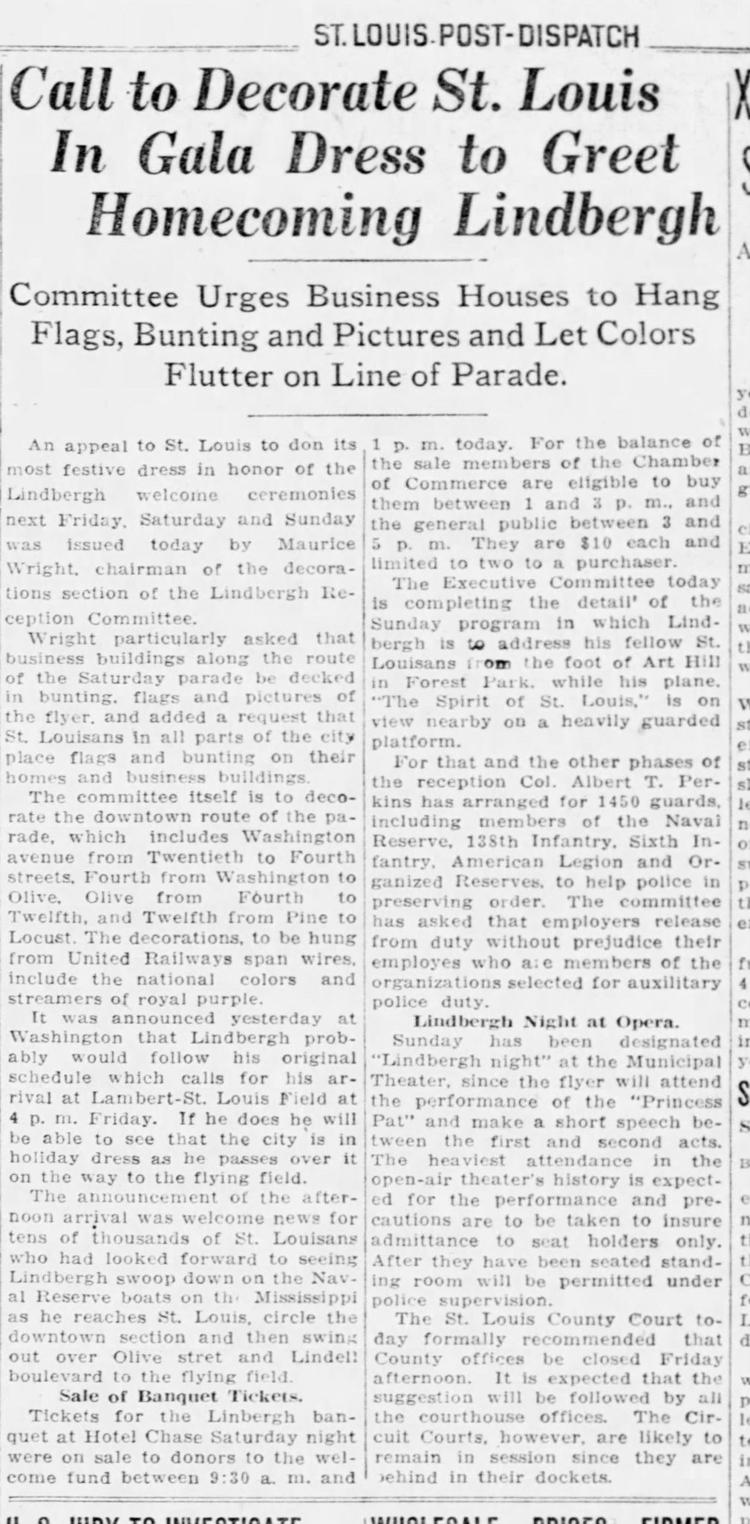 June 13, 1927 - Lindbergh Day in the National Capital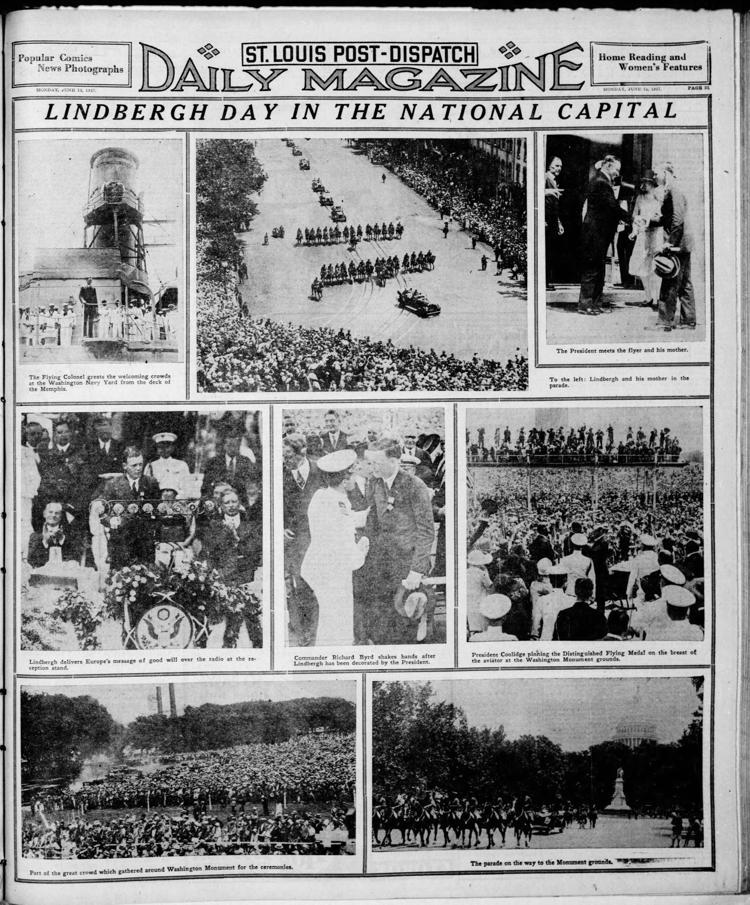 June 17, 1927 - Lindbergh's Spectacular Homecoming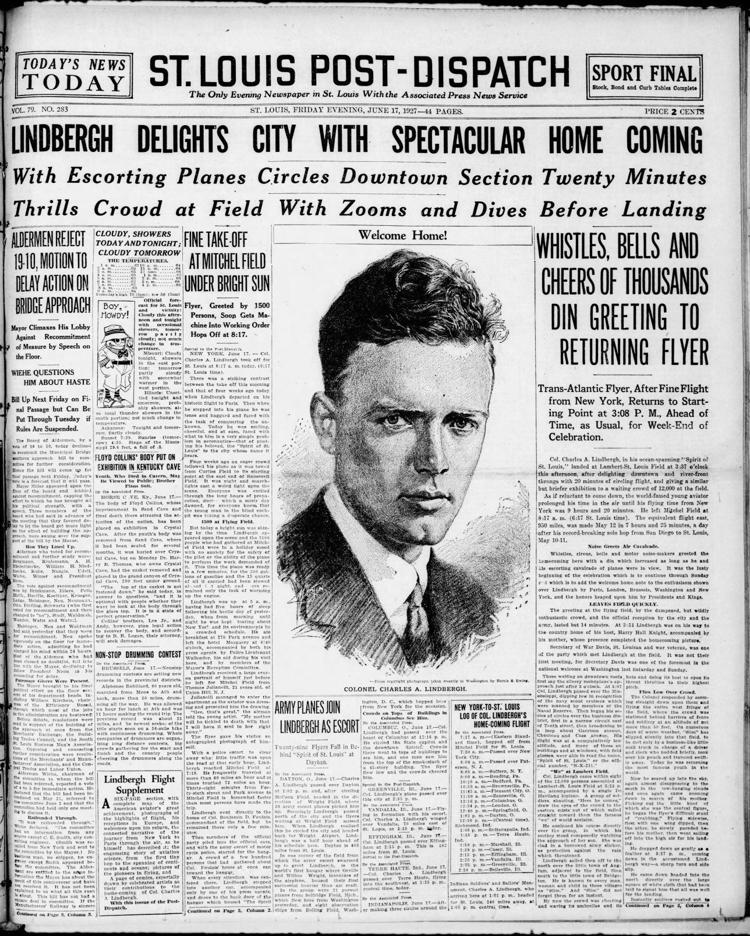 June 17, 1927 - Lindbergh Welcome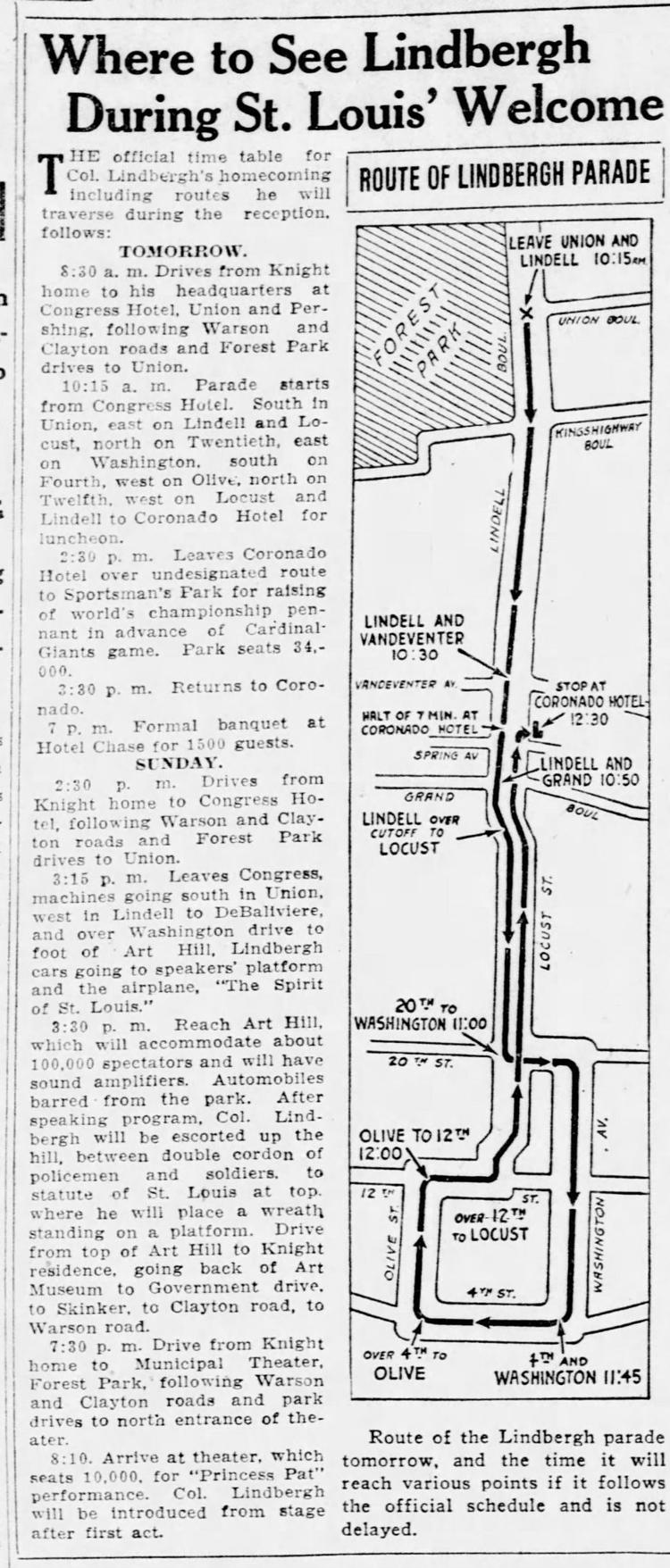 June 17, 1927 - Lindbergh Comes Home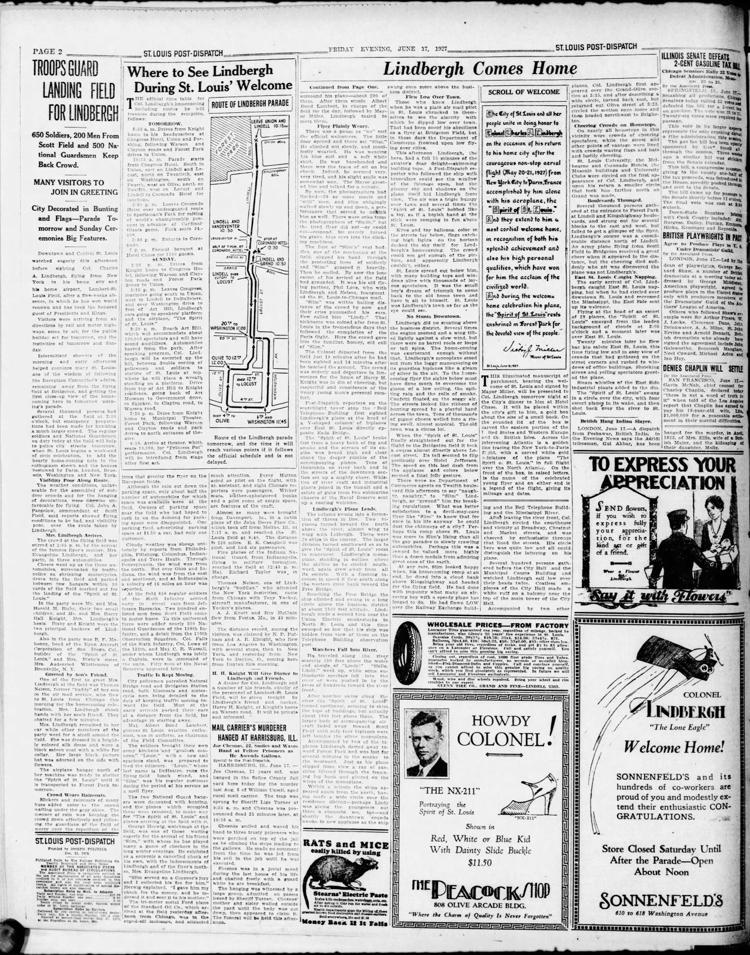 June 17, 1927 - Lindbergh's Mother in St. Louis

June 17, 1927 - From NY to Paris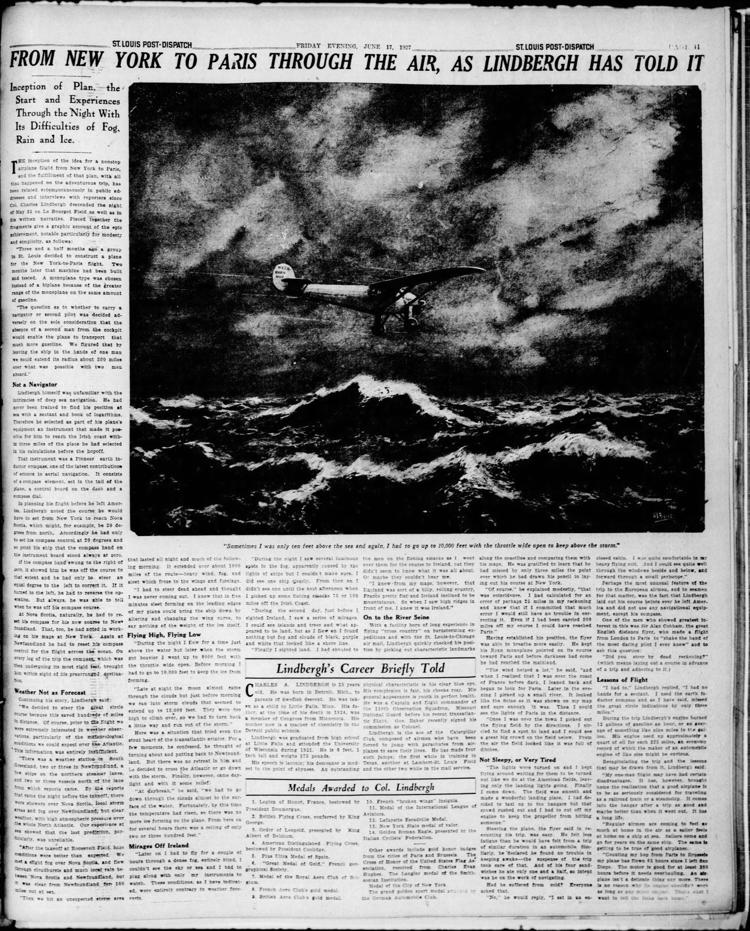 June 17, 1927 - Story of Aviation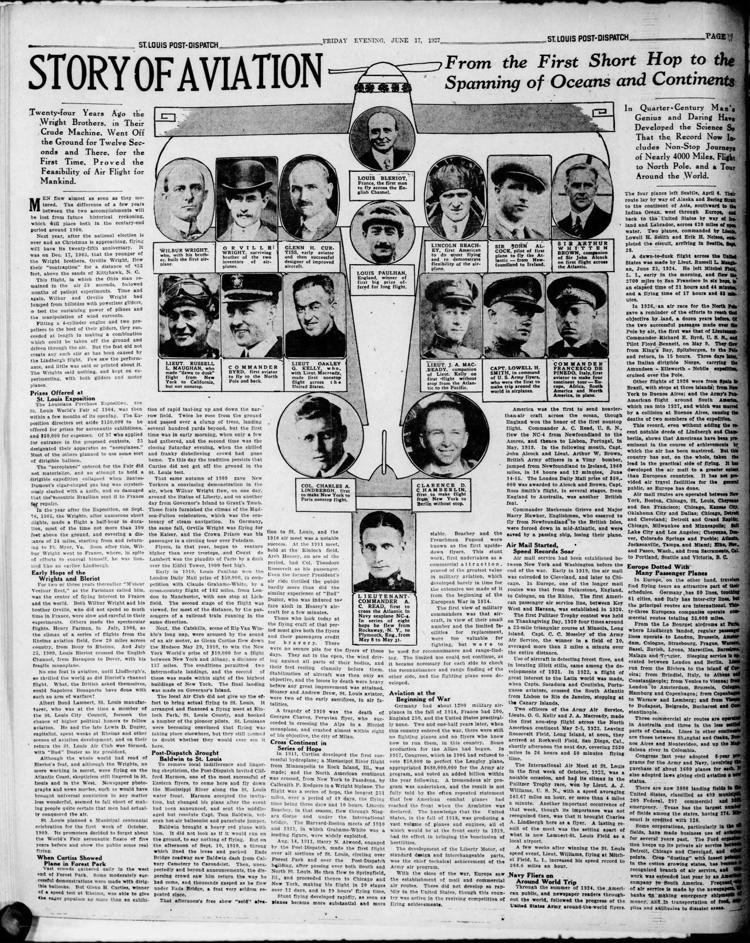 June 17, 1927 - Lindbergh Flight Supplement
June 17, 1927 - Lindy's map (part II)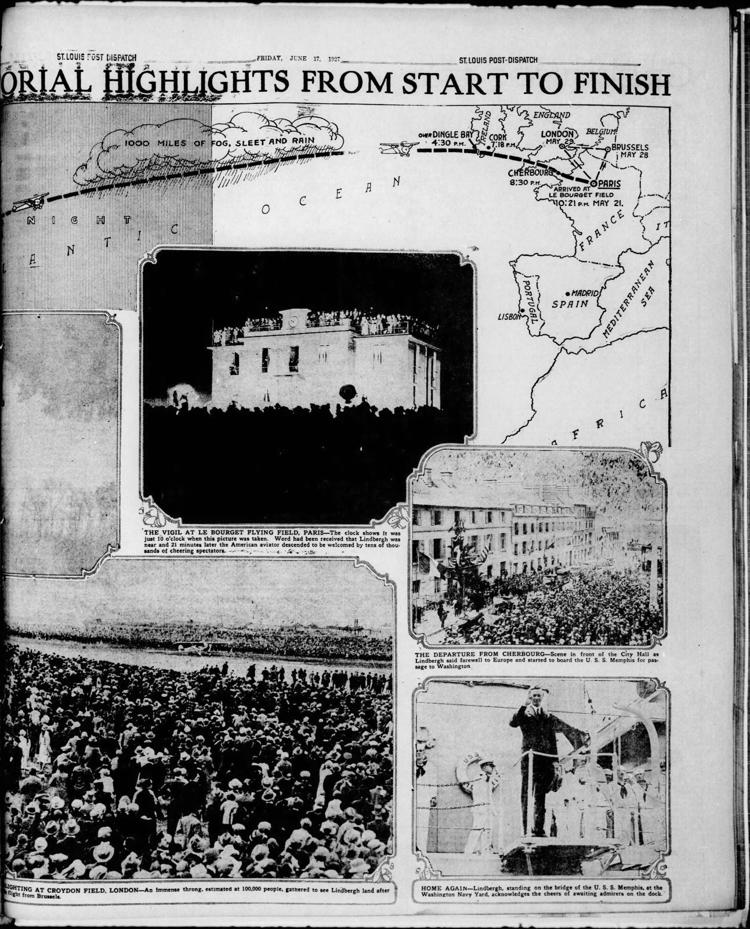 June 17, 1927 - Lindbergh Comics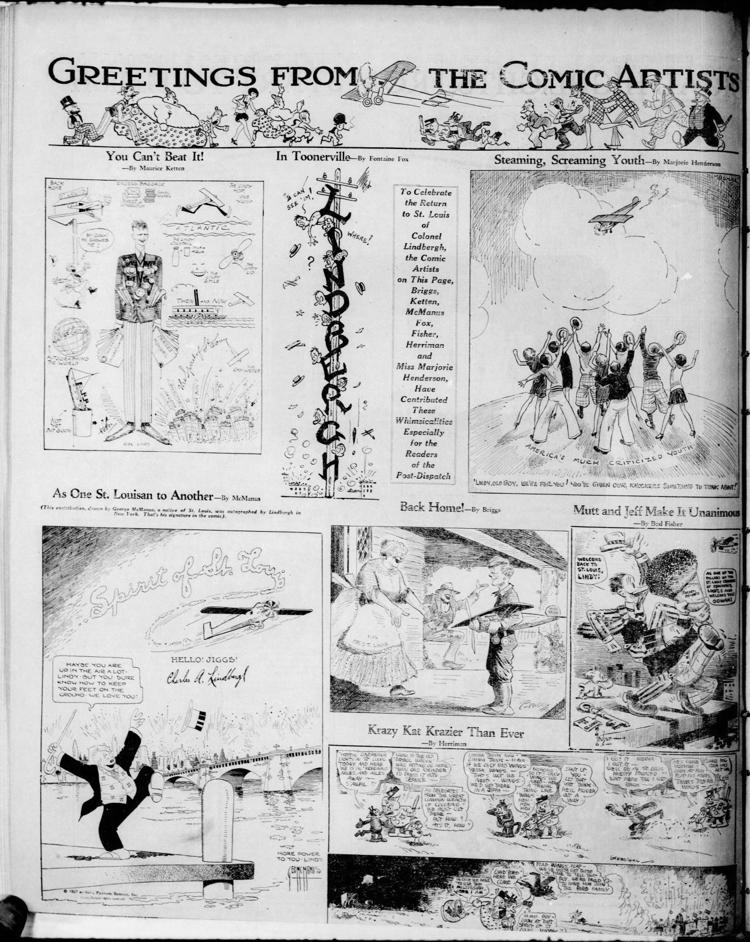 June 17, 1927 - Map of Lindbergh's Great Flight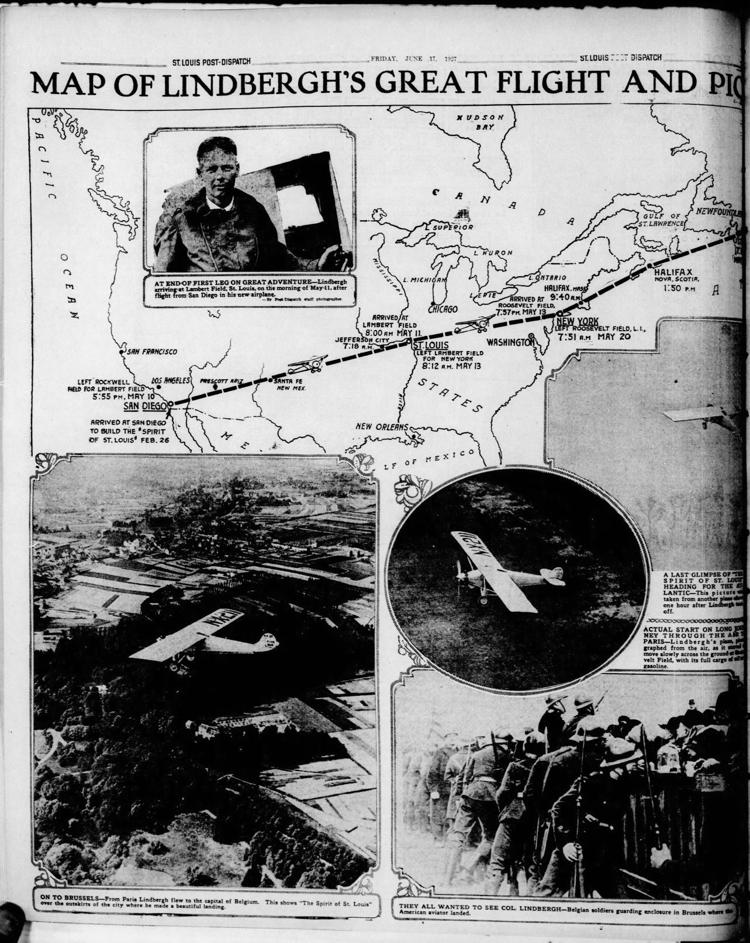 June 18, 1927 - Huge crowds welcome Lindbergh to St. Louis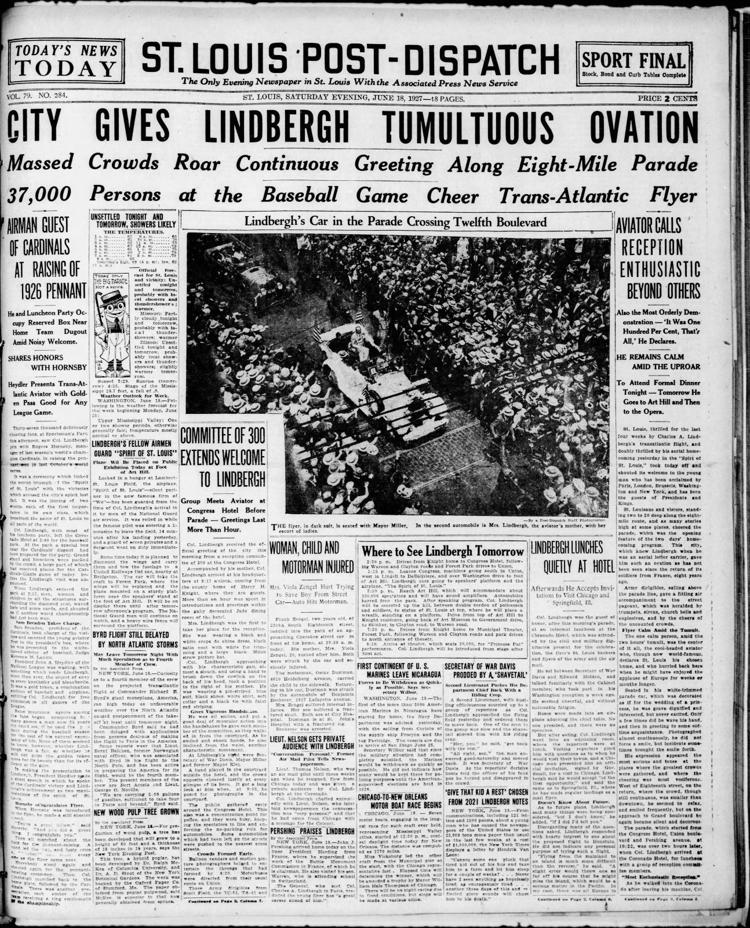 June 18, 1927 - Thousands cheer for Lindbergh
June 18, 1927 - Photos of Lindbergh welcome at Lambert