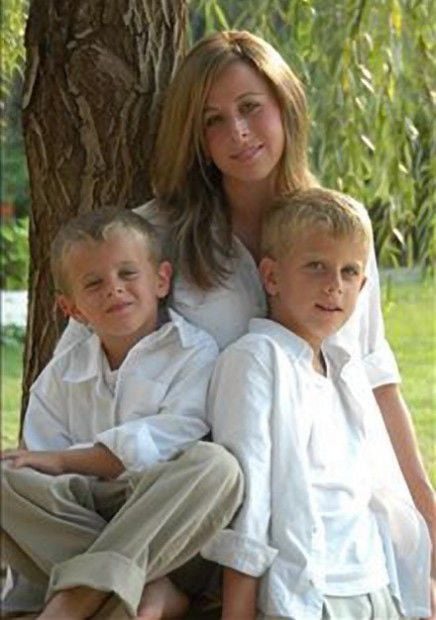 Editor's note: On May 5, 2009, Christopher Coleman called police to have them check on his family's welfare. Officers found his wife, Sheri, and their two young sons dead inside. Ultimately, Coleman would be charged and convicted in their strangulation murders. This was the Post-Dispatch's first story on the murders, published on May 6, 2009.
COLUMBIA, Ill. — Police worked into Tuesday night trying to unravel the mystery of who killed a mother and her two young sons in their home in a quiet subdivision of this quiet town.
The bodies of Sheri Coleman, 31, and sons Garett, 11, and Gavin, 9, were found in their house at 2854 Robert Drive.
A source close to the case said someone had scrawled a message on a wall inside. The law enforcement source also said that Christopher E. Coleman called police shortly before 7 a.m. Tuesday, saying he had been at a gym in south St. Louis County and asking that they check on the welfare of his family. The source would not elaborate.
Neighbors said they saw Christopher Coleman, distraught and flailing on his driveway shortly after the bodies of his wife and sons were discovered.
The former Marine military police officer works in security for Joyce Meyer Ministries, a worldwide television evangelist organization in nearby Jefferson County.
Neighbors said he had told them in the past of receiving threatening letters related to his work for Meyer.
Jeff Connor, deputy commander of the Major Case Squad, said the Coleman family had called police in the past but declined to be very specific. "It was just some ... there was some interaction between an unknown individual and them that was suspicious in nature." He said it wasn't necessarily about a crime but that "they contacted police and wanted to document some incidents."
A neighbor, Michelle Kunzelman, said police knocked on her door and the doors of other neighbors last week and asked if anyone had seen anything unusual related to the Coleman's mailbox.
Connor told reporters, "We are not going to discuss any motive."
Columbia police called out the Major Case Squad, which supplements small departments with manpower and expertise.
Connor provided few specifics, and would not say how the victims were killed. Neighbors said officers told them the three had been strangled.
Columbia police found the bodies, Connor said. Pressed about the husband's role in the discovery, he said, "I can confirm the husband was involved in finding the family."
He said investigators had leads but no specific suspects.
The city of Columbia operates a network of security cameras, including some in residential neighborhoods, and there is one near the subdivision's entrance. Police declined to discuss it Tuesday.
As neighbors gathered near the house Tuesday morning, Meyer arrived about 8 a.m. to offer consolation. Jennifer Grimm, a neighbor, said Meyer was "heartbroken. ... She came here immediately when she found out."
Later Tuesday, the ministry released a statement calling Christopher Coleman "a very dear friend" and promising him "full support, encouragement and prayer during this time of immense grief."
Another neighbor, Harold Rushing, said Coleman works as security chief on the overnight shift for the ministry and frequently travels in his job.
The Colemans' house is in the heart of the Columbia Lakes subdivision, a blufftop development overlooking Interstate 255's wide bend at Illinois Highway 3 on the north end of Columbia. The two-story home with white siding and green shutters sits across the street from a small lake.
Regina Leveque, a neighbor, said she told police that she took out her trash at 1:15 a.m. Tuesday and noticed nothing amiss. Leveque described the area as a quiet, family-oriented subdivision, adding, "You can come on any weekend and you'll see families walking their dogs, (riding) bicycles."
Leveque said the case "really freaks me out. If someone walked in their home and did something ... Well, that's just something I thought would never happen here. Not that close to my house or anything."
But Columbia Police Chief Joe Edwards said, "Bad things happen here like they happen everywhere."
Through the day, detectives interviewed neighbors and checked sewer drains and trash cans, at one point taking a pair of stained surgical pants from trash as possible evidence. The bodies were removed in hearses about 3 p.m.
The Colemans had lived there since buying the home in March 2005. Before that, they lived in Affton, just south of Grant's Farm. Neighbors in Columbia Lakes said the family had put the home on the market at least once, but had been unable to sell it.
In November, Sheri Coleman's name was removed from the title, which left only Christopher E. Coleman as owner, according to Monroe County records.
A former neighbor of the Colemans in Affton described Sheri Coleman as "a very sweet Christian lady." Tina Houska, who had lived across the street from them, said the Colemans were active at Joyce Meyer Ministries and that Sheri Coleman mainly stayed home to raise the boys.
Christopher Coleman grew up in Chester, Ill., the son of a minister, and joined the Marine Corps after graduating from Chester High School in 1995. An online posting on Classmates.com by Chris Coleman of the Class of '95 said he was in the Marines until 1999 as a K-9 military police officer and met his wife at Lackland Air Force Base in San Antonio, where she was an Air Force K-9 officer. The posting does not list her hometown or when they were married.
Dan Miller, dean of students at Chester High School, said Christopher Coleman was "a very nice young man, a good athlete and student." Miller said he was on the basketball and track teams.
Christopher Coleman's father is the Rev. Ron Coleman, pastor of Grace Church Ministries in Chester. A man who answered the telephone at the Ron Coleman residence Tuesday called the case a "tragedy" but declined to comment further.
The slain children attended Parkview Elementary School in Columbia. Ed Settles, the Columbia school superintendent, said in a statement, "It is difficult for any of us to understand and comprehend this horrendous act of violence."