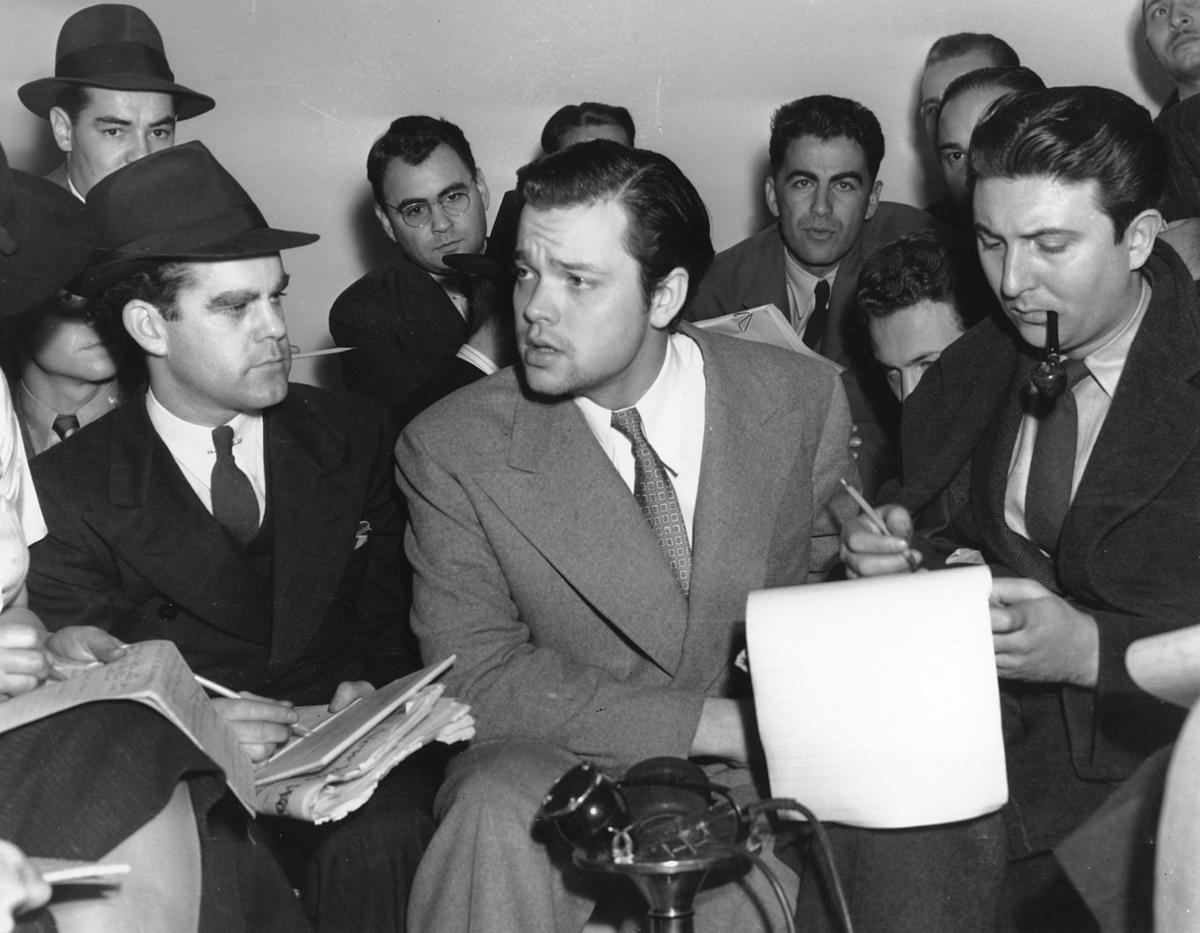 A national panic started on Halloween Eve 1938 when a radio broadcast warned that Martians had landed. The broadcast was actually H.G. Wells' classic "The War of the Worlds," performed by 23-year-old Orson Welles. Here's how the Post-Dispatch reported the St. Louis reaction to the broadcast.
Oct. 31, 1938 - "Demons from Mars," who landed by radio last night just a few kilocycles in advance of Halloween's witches, caused panic in the homes of some St. Louisans and others throughout the country who heard, and accepted as fact, a Columbia broadcast dramatizing H. G. Wells' fantastic novel, "War of the Worlds."
In South St. Louis whole families ran into the streets and searched the skies for signs of the invaders.
Telephone calls to newspaper offices, Police Headquarters, and the studios of KMOX, which broadcast the program locally, swamped the switchboard facilities.
Two men, alarmed by the broadcast, hurriedly entered St. Rose's Catholic Church, Goodfellow and Maple avenues, and found places in a front pew. The pastor, the Rev. Thomas J. Lloyd, was speaking from the pulpit when one of the visitors arose to interrupt him. He apologized for the intrusion, and spoke of a "great calamity" which "men from Mars" had brought about. Father Lloyd digressed for a moment to calm the excited visitors and proceeded with his sermon.
Most of the credulous were quickly reassured when they were told that it was "just a radio show," but word spread from mouth to mouth and long after the program ended, at 8 o'clock, inquiries were still being received by telephone.
One man, overheard on a street car this morning, was still unconvinced by denials and expressed the opinion what was described in the radio program might really have happened.
A woman who telephoned the Post-Dispatch mentioned that three women had fainted in her home during the broadcast, and a police-man told a reporter at headquarters his mother-in-law had become hysterical.
Some of those who called in panic at first felt foolish and resentful when they had quieted down. They telephoned back to apologize for their original inquiry, but one man added, "It sure sounded real."
A frightened woman who telephoned Police Headquarters informed the operator there the men from Mars had crushed the Army and were on their way to St. Louis.
Almost invariably the callers wanted to know, first, if what they heard an the radio was true, and second, if there was any immediate danger in St. Louis.
Some St. Louisans telephoned or sent telegrams to friends and relatives in the East to inquire for their safety. The telephone company reported an increase of about 100 in the normal number of long distance calls after the program, and the telegraph companies reported slight but appreciable increases in outgoing messages. More than 700 telephone inquiries, including 25 long distance calls, were received at KMOX.
Be the first to know
Get local news delivered to your inbox!