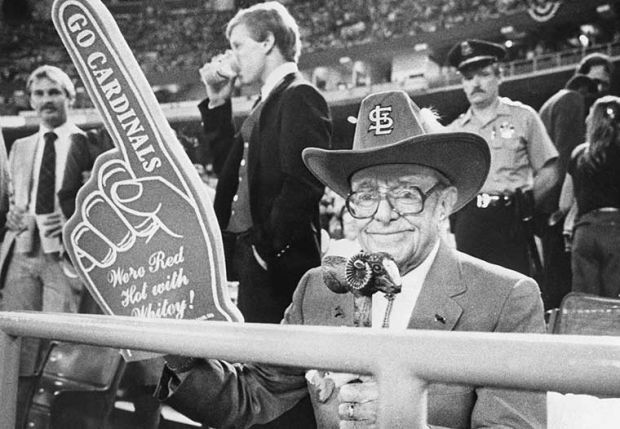 On Oct. 25, 1995, Anheuser-Busch announced it was selling the Cardinals baseball team, which it had bought in 1953. Here was the column Bernie Miklasz wrote at the time.
At promptly 2 p.m. Wednesday afternoon at Anheuser-Busch headquarters, the brewery sent out an articulate suit to address a bank of microphones. The Suit read a statement and performed an impressive fandango when pressed with tough questions.
We learned that Anheuser-Busch was selling the Cardinals, which means that anything is for sale at A-B - Clydesdales, heritage, maybe even Stan Musial. Make an offer. Soul for sale.
We learned there is no guarantee that the baseball team will remain in St. Louis. "We can't require a buyer to stay here," The Suit said.
We learned that August A. Busch III didn't bother to make an appearance to explain himself. "This is not a decision he looked forward to making," The Suit said.
I think of Whitey Herzog's gloomy prediction, issued from his office in 1989 when the miserly Cardinals failed to secure emergency aid for his battered bullpen during the September pennant race: "These people are going to kill the golden goose."
Let the record show that Whitey's metaphorical gander died Oct. 25, 1995. What was once the most profitable, enviable and beloved baseball franchises in America was strangled and put down by a serial row of dour attorneys, career brewery hacks and assorted "yes" men who let this franchise deteriorate into irrelevancy.
Gussie Busch paid $3.75 million for the Cardinals in 1953. Through the years, how many tens (hundreds?) of millions of dollars did the brewery make in profit - direct and indirect - off that modest baseball investment and, later, Busch Stadium?
And during a strike-plagued, losing 1995 season, the St. Louis National League Baseball Club lost $12 million.
Waive the franchise. Turn from fans who have so vigorously supported you - remarkably well, really, even during the lean summer of 1995. And don't even calm the fans by assuring them that the team won't be sold down the river to out-of-town interests.
We were reminded once again of the benign contempt that Busch III has for baseball and baseball fans in this faithful city. Wednesday, ABIII spoke through a written statement. What do we expect? He came to Busch Stadium once a year, usually on opening night, squirmed through three innings and left. Baseball was his daddy's toy, and ABIII didn't want to play with it.
No, on Announcement Day, Busch III was off to Tampa, Fla., to close a brewery and put about 400 people out of work despite his company's superb achievement of record sales, earnings and beer market share in the first nine months of 1995. The brewery is on a roll, selling 44.3 percent of the beer consumed in this great nation.
Sell the baseball team that has been in the family since 1953. Shutter a plant in Florida and add to the list of the nation's unemployed. BY ANY MEANS NECESSARY, ENHANCE THAT BREWERY STOCK!
This was a business decision, and probably a sound business decision, and a lesson that sports are all business. And nothing is surprising. (See: Los Angeles Rams.)
And I would respect Busch III for selling if he made it clear that he's sick of major-league baseball, and Don Fehr, and paying utility infielders $2 million, and goofy owners who can't control their spending. We're all disgusted by baseball's gluttony. But Busch III can't turn against baseball's establishment, not if he wants to keep the Budweiser signs in the major-league ballparks.
So ABIII is selling without protest, ensuring that he'll keep Anheuser-Busch products flowing in the stadiums. Perfect. Here's my favorite line from the official Fleishman-Hillard news release distributed to the media: "It is anticipated that the sale of the Cardinals will result in a substantial gain which will be recognized when the sale is completed."
You bet. The Cardinals, the stadium and the parking garage is a deluxe package that should attract intense interest, even in baseball's lagging economy. The Cardinals can be a profit machine again, with the right owner.
That this franchise failed to make money is more of a reflection on the incompetent brewery executives who ran it (current team President Mark Lamping excluded). If the brewery just would have sent some signal, given the fans any real reason to believe that winning was a priority. If, if, if . . . 3 million fans still would be coming through the turnstiles each summer. And profits would be healthy.
This is, and always will be, a thriving baseball market. Any new owner would be insane to move the franchise. Given the Cardinals' regional fan base, and multi-state drawing power, the property is a winner right here. Matter of fact, the brewery hired Tony La Russa and is sprucing up the ballpark to fatten up this weak team before it goes to market.
That said, Busch III owed the fans one sacred promise: That he wouldn't sell without a 100 percent commitment from the buyer to keep the team here.
The good news is that maybe Cardinals fans will get what they deserve, when all of the brokering is completed: a caring, interactive owner. That person is out there. (HELLO, STAN KROENKE?)
Lamping said he believes the Cardinals will benefit from private ownership. Why? Because that owner can worry about winning and losing. The owner can be content to make a small profit, or break even. He won't be obligated to maximize profit to appease shareholders.
Who knows? A carpetbagger could get control, demand a new stadium, threaten to move, hold out for ransom. The caveat that any buyer must also purchase Busch stadium means nothing; hungry cities are willing to overpay and do whatever it takes to hijack a team. (See: St. Louis Rams.)
We are venturing into unchartered territory. Anheuser-Busch obviously provided a level of security; as long as the brewery owned the Cardinals, the ballclub was at least safe (if mediocre). So now we lose that protection, hoping that the trade-off will be a more dedicated, sensitive owner.
The Suit spoke of something else Wednesday afternoon. He said that Gussie Busch would have signed off on this.
"Gussie would trust the fact that this is a different time," The Suit said.
I have one request: Take the monument of Gussie Busch out of the Busch Stadium lobby right now, because he surely wouldn't want to be associated with this shameful betrayal.
The Anheuser-Busch Clydesdales celebrate their 80th anniversary. Take a stroll through photos from 1933 to present day.
Apparently not everyone loves Anheuser-Busch like St. Louisans.
What a history it was: Looking back at Anheuser-Busch, the brewery founded in St. Louis in 1852
Waiter serves beer to customers in 1933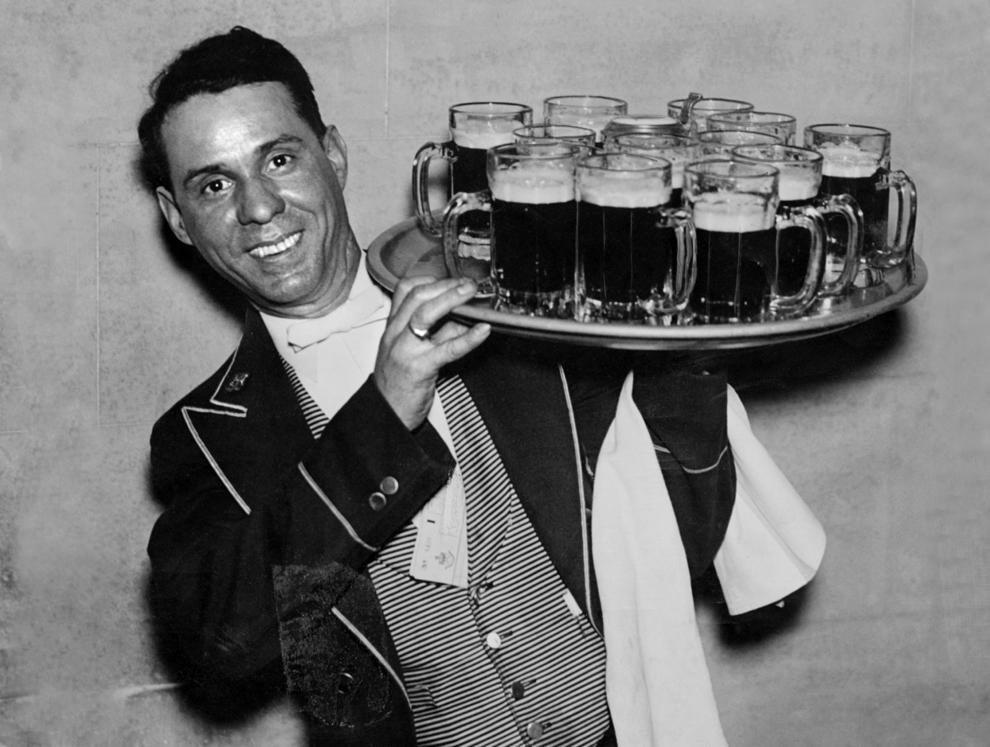 Anheuser-Busch Beer case, 1933
August Busch IV toasts 75th anniversary of repeal of prohibition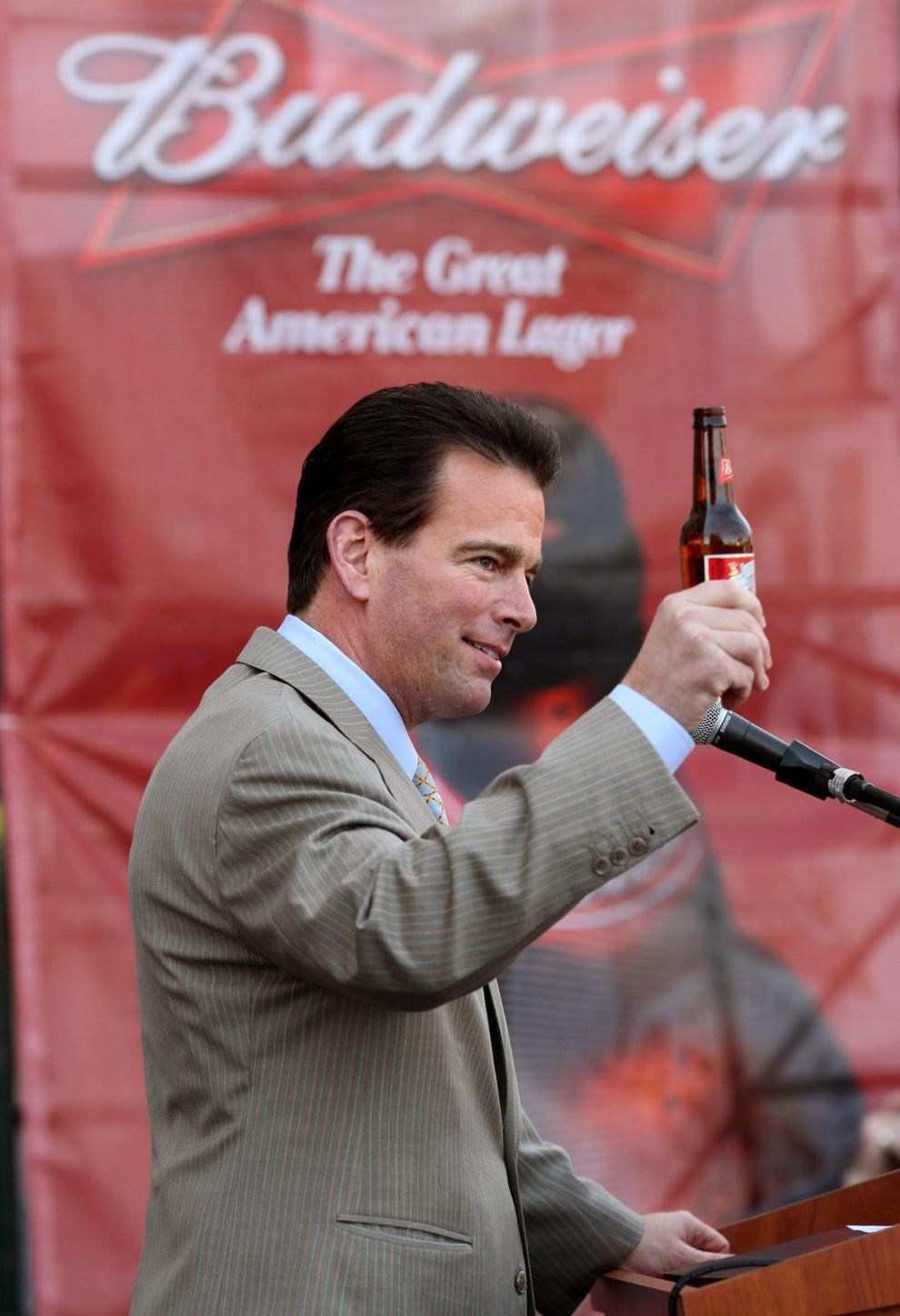 Anheuser Busch delivers beer to New York governor in 1933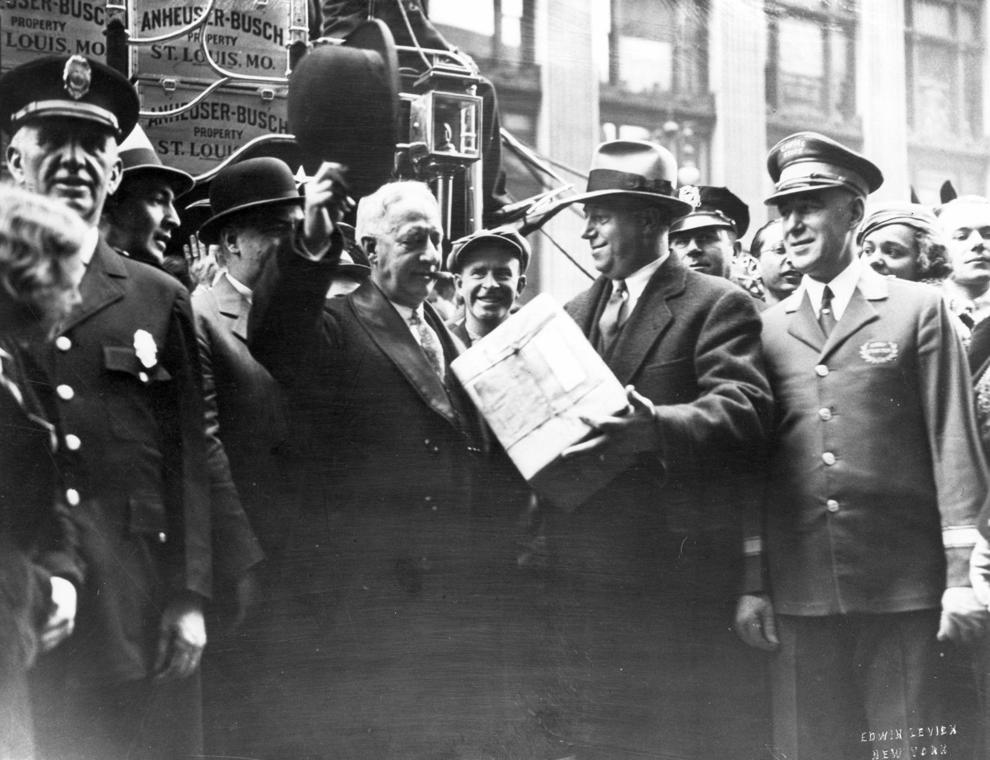 August A. Busch waves from beer wagon in 1983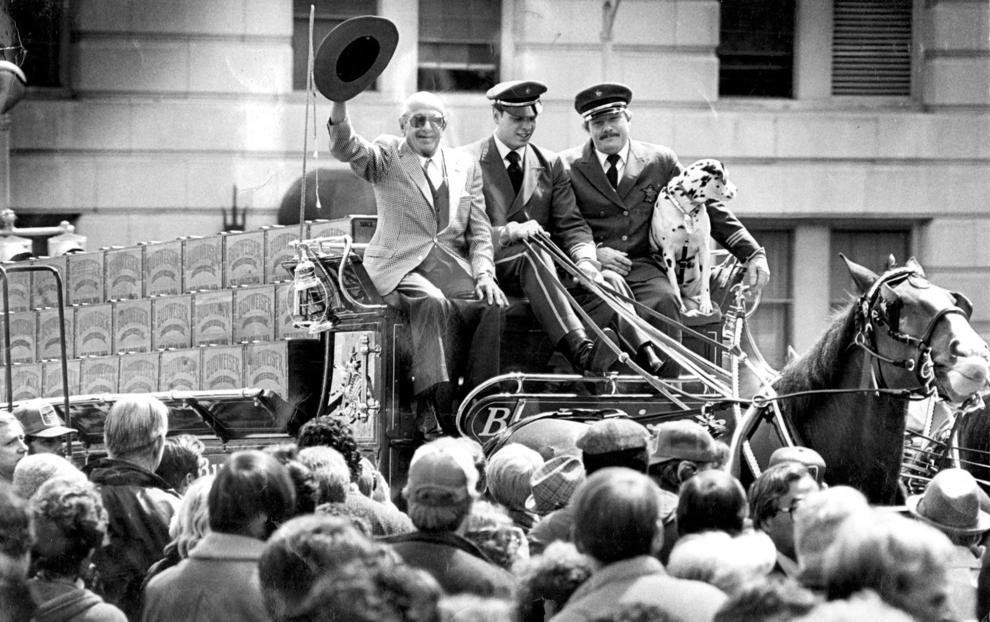 Wagon filled with post-prohibition beer leaves A-B brewery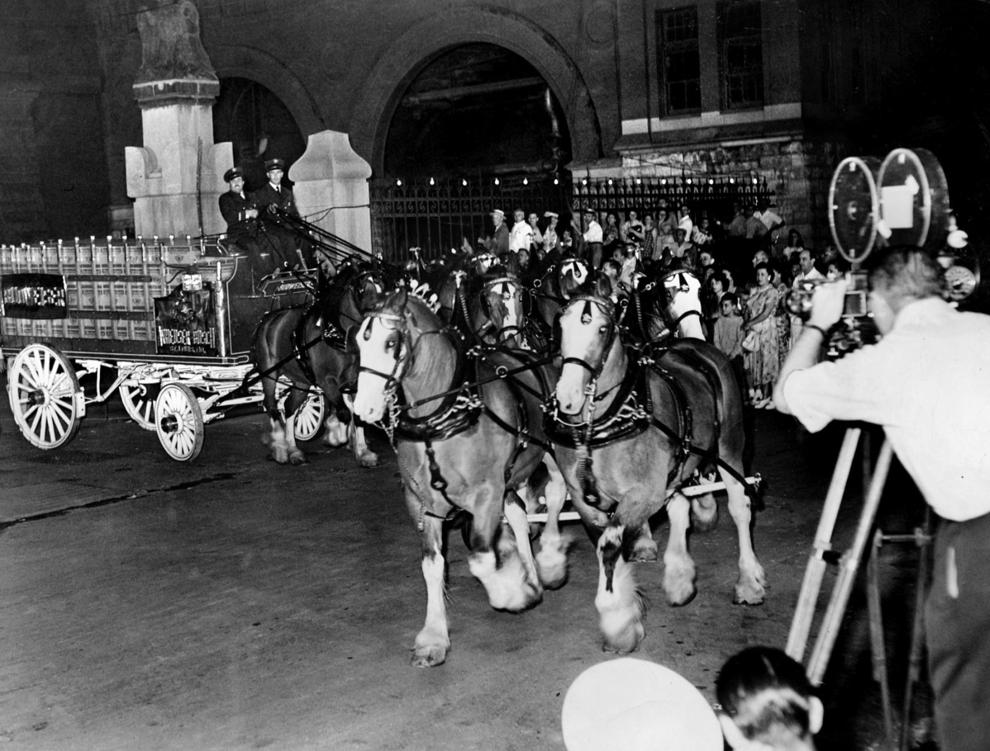 August A. Busch Jr. celebrates 10 million barrels of beer in 1964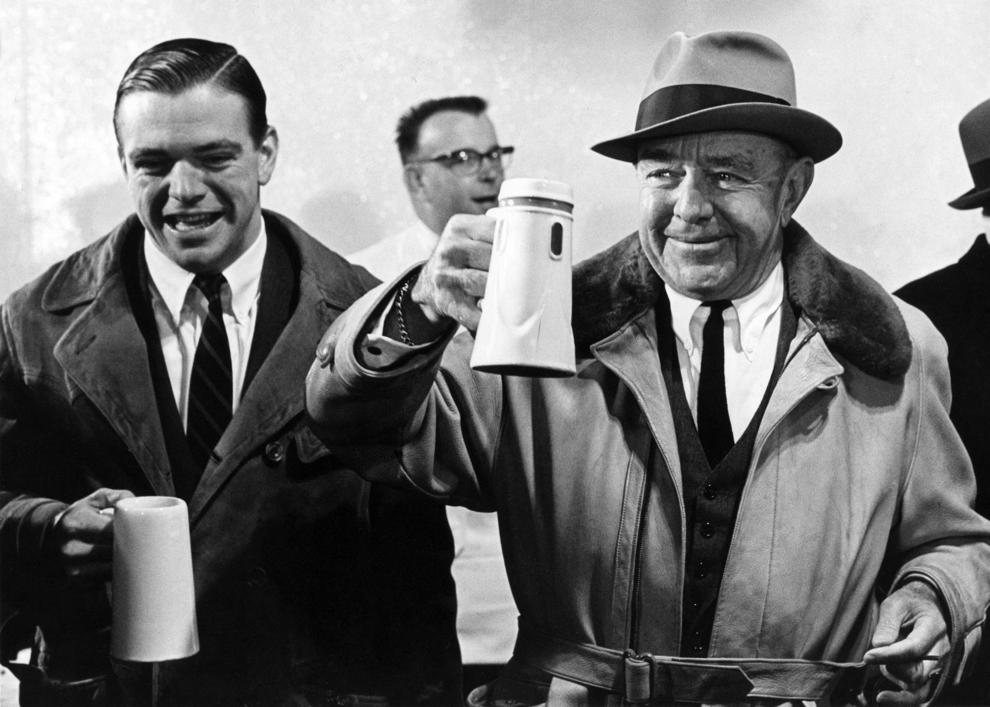 Testing trackless train for Grant's Farm in 1954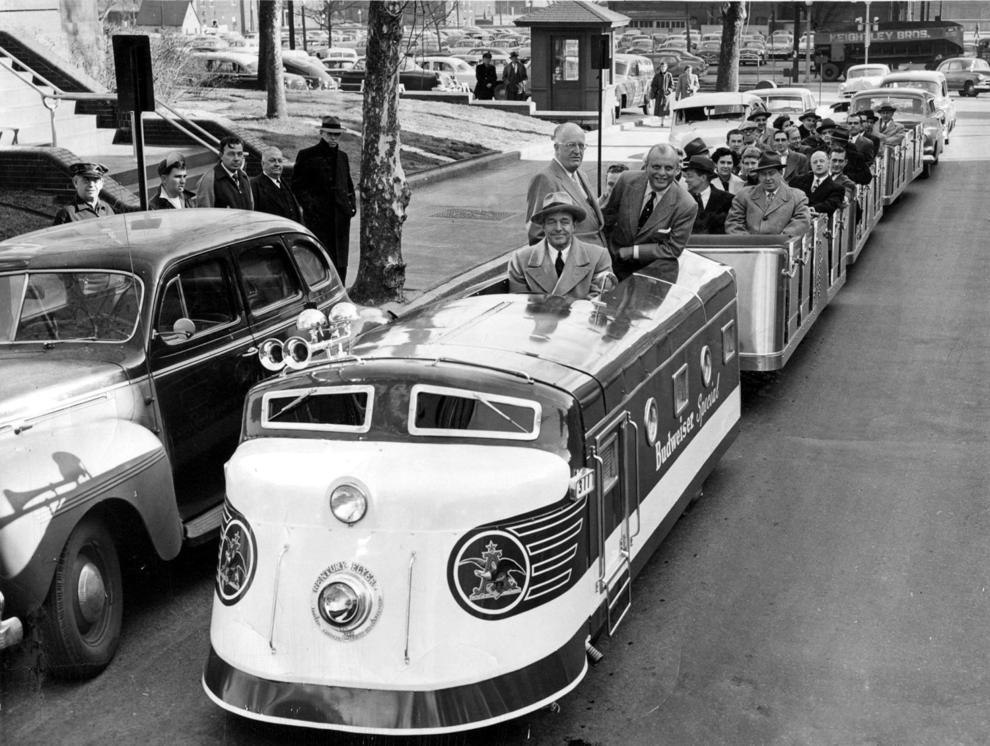 Anheuser-Busch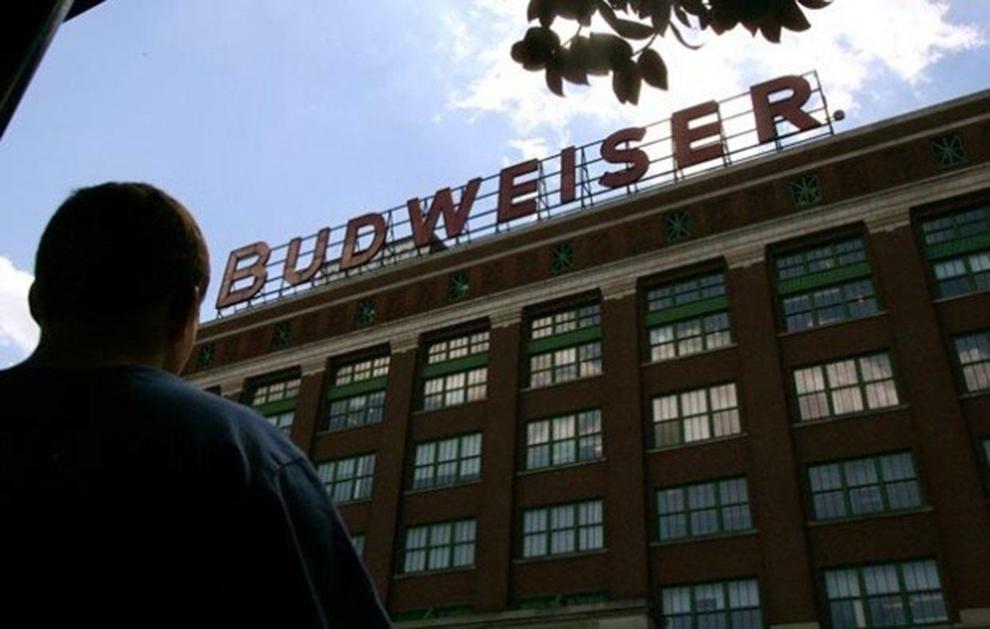 Workers at Anheuser-Busch Brewing Association in 1891.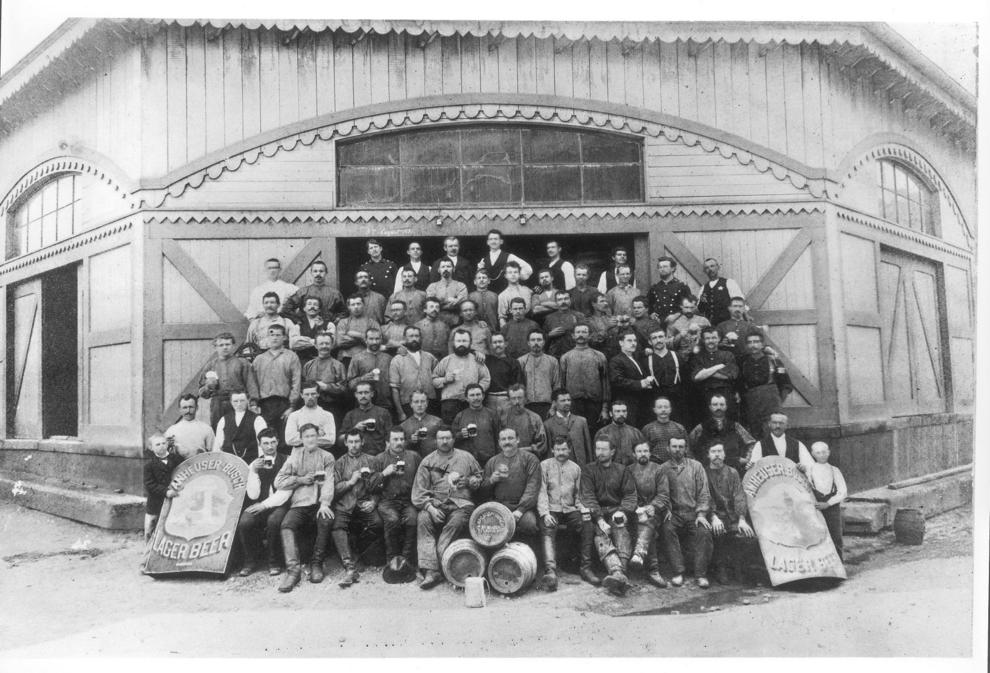 Busch family poses with first case of post-prohibition beer in 1933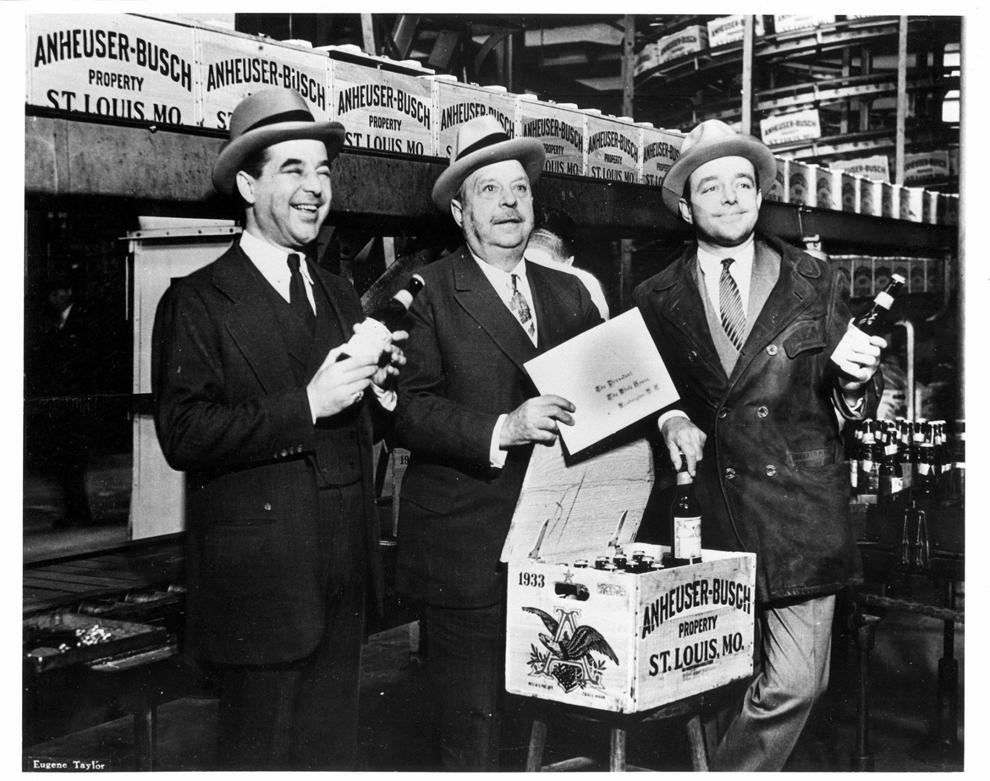 Teamsters rally after In-Bev buys Anheuser-Busch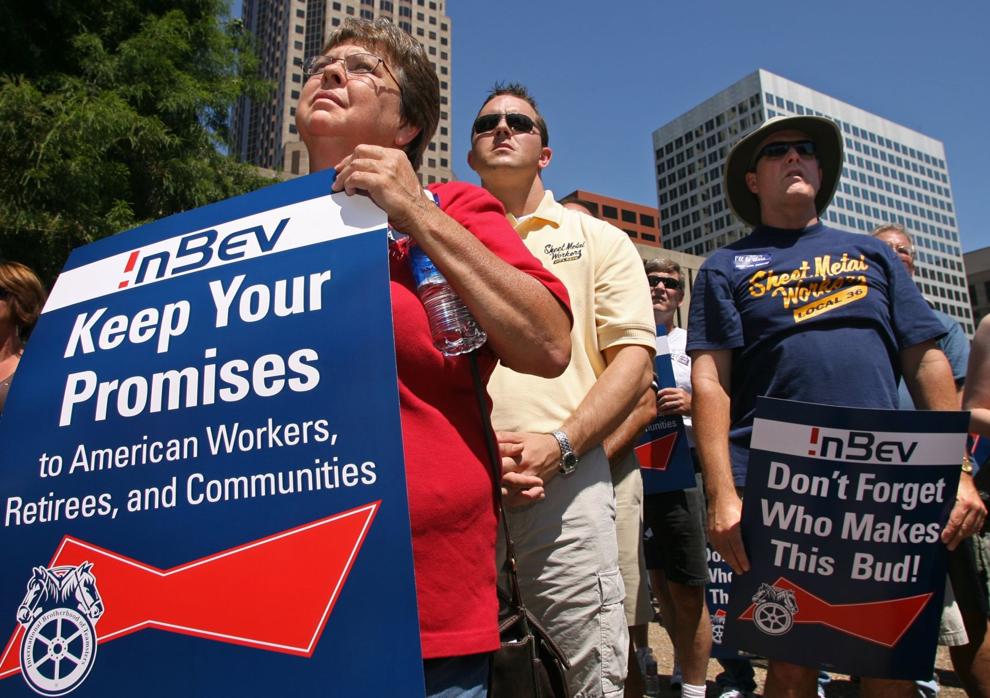 Teamsters rally after In-Bev buys Anheuser-Busch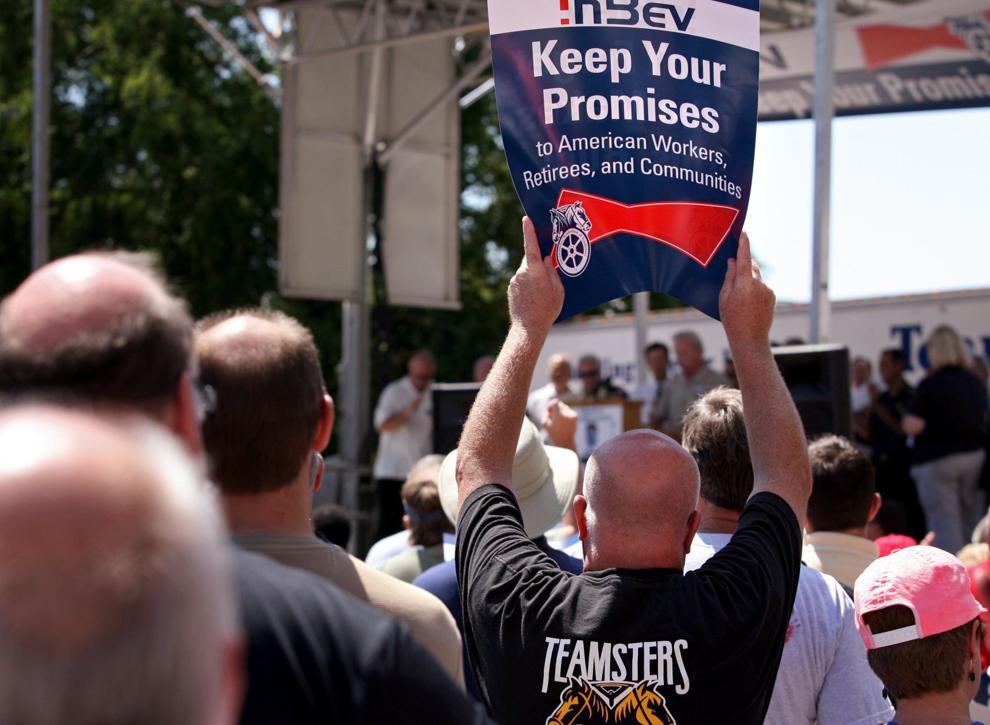 Workers load legal beer in 1933 after repeal of prohibition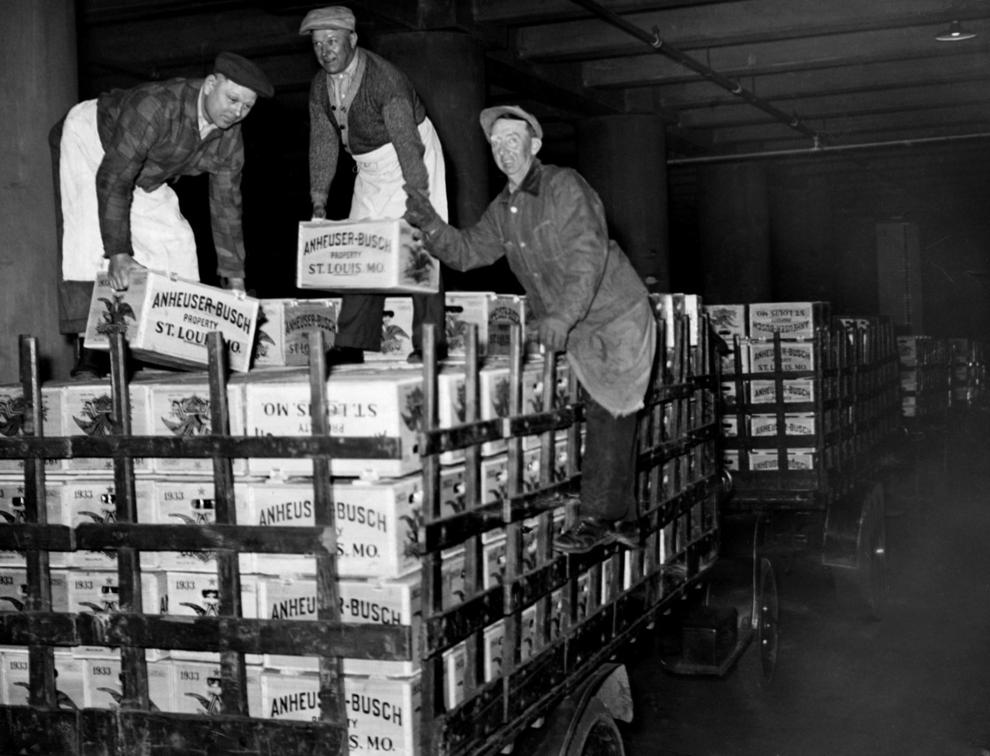 A-B president gets stock exchange gavel