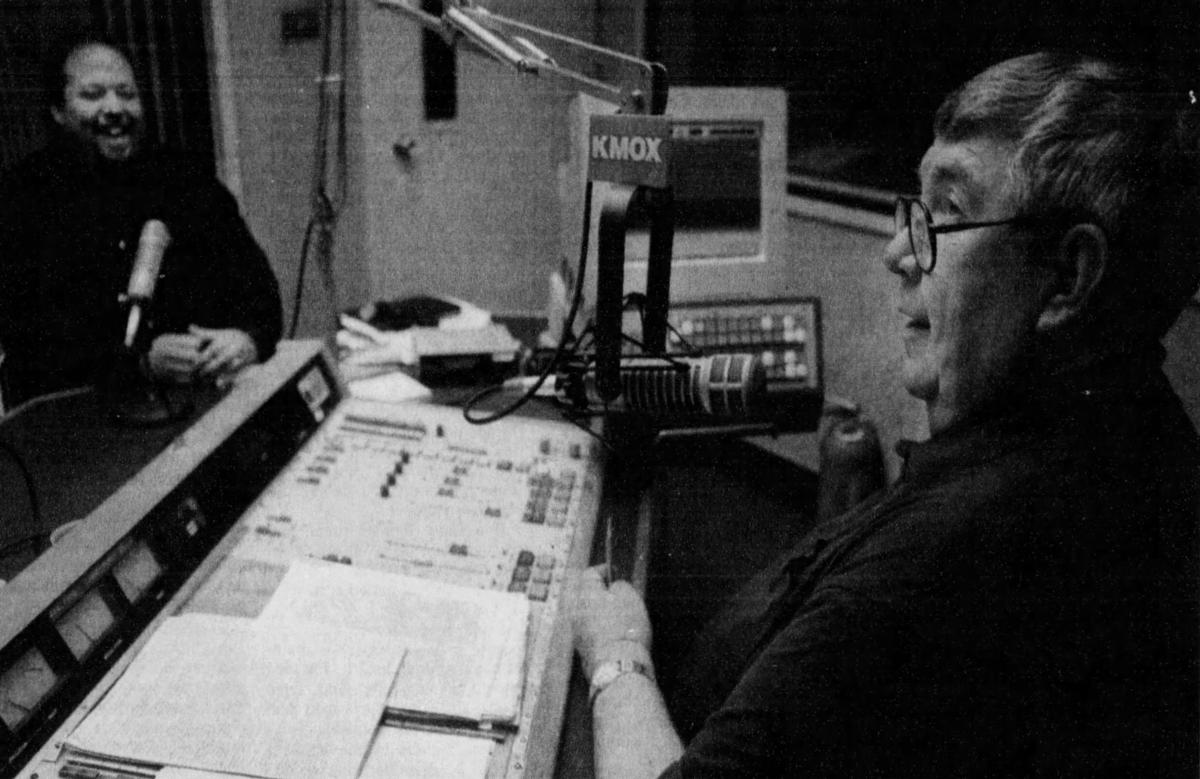 On April 8, 1999, after 30 years on his KMOX late-night call-in show, Jim White pulled the plug one last time and sailed away. Here was our original coverage.
Good night, Jim White, wherever you are. Wherever you and your boat end up, that is. We're talking about the 45-foot cabin cruiser "Patty Wagon," named in honor of your wife Pat and your father, a former police officer in Greensburg, Pa. After 30 years at KMOX radio, White has signed off as the voice of the night. In those three decades, with air-time stints spread across the clock, not just the wee hours, White did some pioneering things, notably becoming the first radio talker to do free-wheeling, n ot-tied-to-specific-topics, call-in shows. He called it a non-directed, open-line show. He believes he's the first radio personality in the country to do this.
The Whites are beginning what they call their "White-water" period. Beginning Monday, from Fairhope, Ala., they'll set off on a big looping nautical journey: From Mobile Bay west to the mouth of the Mississippi River, then back east across the Gulf of Mexico to Florida. Up the East Coast to the Hudson River, onto the Erie Canal, to Lake Ontario, the Great Lakes, Georgian Bay, Lake Michigan to the Chicago River. Returning to St. Louis sometime in September.
So, goodbye, "Big Bumper in the night," a name White gave himself. It was inspired by the Scottish prayer: "From ghosties and ghoulies, and l ong-leggedy beasties, dear Lord protect us (from things that go bump in the night). "
"And I'm not small, and I work at night," the Bumper added.
His old boss, the late Robert F. Hyland, hated the nickname. Hyland, CBS regional vice president and KMOX general manager, believed that all on-air personalities should conduct themselves in a dignified manner, and worship at the altar of Edward R. Murrow.
It was Hyland who hired White away from Pittburgh's historic KDKA, one of the country's first commercial radio stations. Like Hyland's station, KDKA is a clear-channel, 50,000-watt "heritage" station, granted the "monster signal" to disseminate information in the event of war. White went on the air on St. Patrick's Day in 1969.
Calling himself the Big Bumper was not White's first run-in with Hyland, a man facetiously known as "god" around the KMOX studios. Hyland really didn't like White's free-wheeling chat shows.
"We talked about everything, and allowed the thing to flow," White explained. "Hyland didn't like it. He didn't have a lot of faith in the great unwashed. So I'd still throw out some topics, but the public is totally unpredictable. There'd be some big news story, and you'd think, 'This is what they're going to talk about tonight.' But they didn't.
"So I went around and around with Hyland about this, this thing he called 'back fencing.' He was so upset that he said he'd fire me in 30 days if the new format didn't work. I was told: 'If the ratings aren't up, you're out.' Fortunately, turning over control to the listeners worked."
In fact, it gave White an idea for a bumper sticker: "Never let the facts get in the way of a good opinion."
It was about this time that White became the big bewitching-hour voice for this station with a nighttime "blow-torch" signal so strong that someday there may be a caller from Mars.
A Martian caller would be perfect for the Big Bumper. Chat-show radio's famous cutoff man, the man who's dominated the nighttime airwaves here for more than two decades -- often with bluster and abruptness, befitting someone who's nickname rhymes with grumper and thumper.
He chuckles at this, for White is famous for pulling the plug on night callers, who may have been telephoning in from Affton to Ashtabula, Ohio, to points beyond. KMOX's nighttime reach usually covered 44 states and occasionally foreign countries.
Thus, White could slam the phone down on people, almost from coast to coast.
"Usually, I'd be sitting there giggling when it happened," he said. "I guess it was in keeping with what Bob Hyland wanted: people to come on the air, ask their question, and hang up. But if a person starts getting boring, people start turning off the radio, so you have to hang up."
Now, White's hanging it up. His last regular broadcast was the night of April 1, and he'll complete his stint at KMOX in an on-air tribute tonight, from 8 to midnight.
The next voice you'll be hearing, usually from 10 p.m. to 2 a.m., is that of John Francis Carney III. It's a wonderful bit of broadcast symmetry. Carney's late father, Jack Carney, was the morning-slot juggernaut on KMOX from 1971 until his death in 1984. His market dominance was unprecedented in local broadcasting.
Karen Carroll, KMOX vice president and general manager, says John Carney, in his mid-30s, will do a different kind of show than White's, a show "with a little more structure than Jim has. John's developed a lot of special features."
"I'm really excited that John's taken over," said White. "He's come a long way as a broadcaster, and developed his own style. John's already ruffled a few feathers, as I have."
Carney will inherit some very good ratings, one of the largest nighttime audiences in the country. White's show has a 104,900 "cumulative," an Aribtron Rating Service figure covering how many different people tune in for five minutes or more. It's the highest nighttime "cumulative" in the market.
White never intended to come to St. Louis, and arrived for an interview 30 years ago "on a lark."
He was, after all, a native Pennsylvanian, a former electrical engineering major at Penn State University. He had no intention of being an on-air performer. A longtime ham radio operator, White wanted to work in the technical side of radio. But one day, at a small station in his hometown of Greensburg, 30 miles east of Pittsburgh, he found himself behind the microphone. "You've got a decent voice," the station manager told him.
"I had an eight-hour air shift. Played the national anthem at the end of the day, and then swept up the studio," he said.
This was good training for Hyland's KMOX, where things were piled on broadcasters "until you either broke, died or complained," said White.
He and the late Bob Hardy worked so many staggered morning and night shifts -- 4 to 5 p.m. and 9 p.m. to 3 a.m. -- that they were called them "the babbling bookends."
Former staffer Bob Costas, who went on to network fame as a sportscaster, called White's shift "the Bermuda triangle of broadcasting."
So it's no wonder that White might get a little grumpy with some callers.
"Hey, jerk, that's it," was a typical on-air response.
Then, the caller would be cut off, and the Big Bumper would giggle.