ST. LOUIS • On Jan. 16, 1919, the Prohibition amendment was passed, making St. Louis and all cities officially dry despite widespread flouting of the law. The last brave bartenders had shut their taps by 12:01 a.m. Jan. 17, 1920, the official start of constitutional Prohibition. Federal agents drove the streets and couldn't find any lawbreaking.
The Post-Dispatch noted dryly, "Prohibition has had an erratic career in St. Louis." So it would remain, sometimes rattled by machine guns, for 13 long years.
History remembers the first day under the 18th Amendment, but Congress had imposed partial prohibition the previous summer. Prohibitionists, or "drys," had seized upon saving grain and fuel for World War I, even though the war ended before they got their wish. Lower-alcohol beer (2.75 percent) flowed pending court challenges, but New Year's Eve 1919 was more damp than wet — revelers had to bring their own hard stuff from dwindling household stocks.
The federal Volstead Act, the law intended to enforce the 18th Amendment, made it illegal even to carry a pocket flask outside one's own home. On Jan. 19, John Goheen, proprietor of a rooming house on South 10th Street, was caught on the sidewalk hauling two suitcases filled with whiskey bottles.
The case for Prohibition, long sought by well-intended reformers to spare families from drunken fathers, also had more than a tinge of scorn for cities, immigrants and Catholics. In places like St. Louis, that kind of thinking went nowhere.
Prohibition was a bonanza for local gangs like Egan's Rats, Hogan's and the Cuckoos. Moving up from safecracking and banditry, they littered the streets with each others' bodies as they battled to satisfy the public thirst.
Prohibition did reduce cases of cirrhosis, but it also made a lawbreaker of anyone who wanted a bracer. Criminal gangs and ordinary citizens became clandestine brewers and distillers, with wildly varying results and lots of headlines.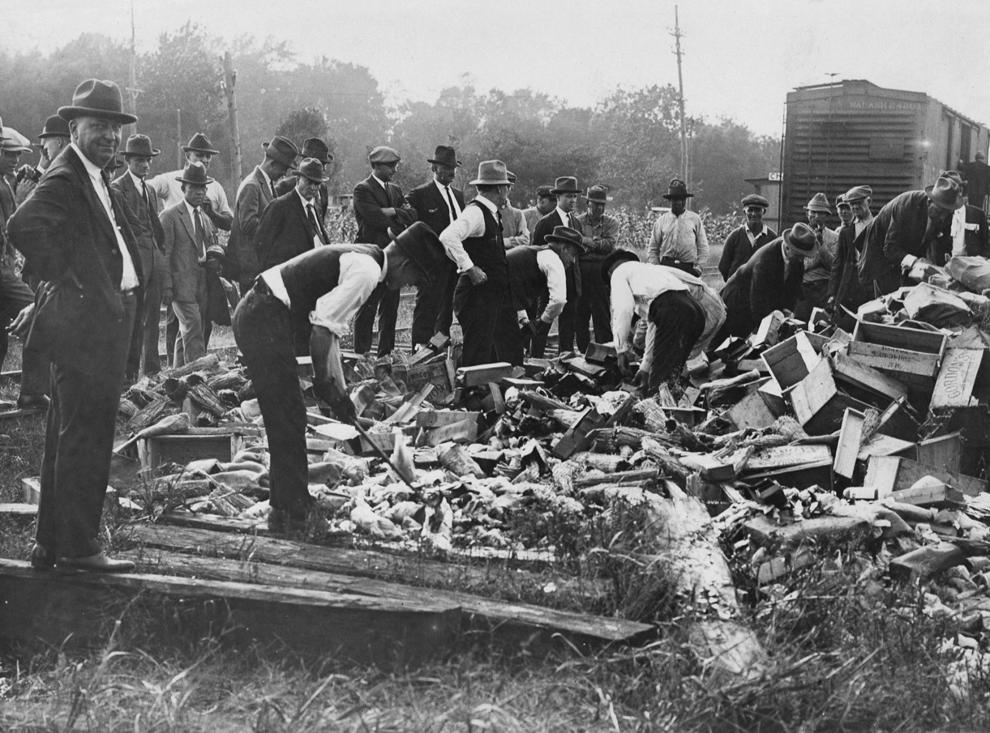 On July 22, 1925, St. Louis officers nabbed 179 suspected moonshiners, including Jennie Buttee of 5115 Daggett Avenue. She told officers she hadn't a clue how a vat of 5,000 gallons of mash got into her basement.
Enforcement never stopped the flow. Five years later, agents raided a fashionable home at 3733 Pine Street, a site that produced 250 gallons a day.
Seen from a distance of eight decades, the tale is comical. But most mobsters were bad people, and some of their product was sufficiently awful to kill. Here are some of the more memorable tales from Prohibition St. Louis:
WHEN A TABLECLOTH IS A DRESS
The hot ticket for New Year's Eve 1922 was the party at the new Chase Hotel, at Kingshighway and Lindell Boulevard. Management made the ritual warnings about obeying the law, but floor-length tablecloths made it easy to hide refreshments.
To celebrate the 250th anniversary of the founding of St. Louis, Tim O'Neil is reviewing the area's history.
At 1:30 a.m., five officers accompanying Gus O. Nations, a dedicated teetotaler and St. Louis' chief dry agent, strolled brashly into the hotel's Palm Room without removing their hats. Officers checked beneath tables.
A woman screamed, claiming an agent had grabbed her gown instead. Her escort slugged the officer. It was instant pandemonium.
As the force retreated, detective Ed Sullivan accidently fired a shot into the floor, winging three dancers. Henry S. Priest, a former federal judge who attended the party, sued Nations on behalf of one of the wounded. Ten days later, Priest led the Missouri Association Against the Prohibition Amendment with a rally attended by 2,000 people.
Priest battled Prohibition until his death in 1930, three years before repeal.
OUR OF THE BARREL, THROUGH THE HOSE, DOWN THE ALLEY...
In 1910, when Tennessee went dry by state law, the Jack Daniel distillery moved to St. Louis. As national Prohibition took effect, the plant at 3960 Duncan Avenue, near Vandeventer and Forest Park avenues, held nearly 900 barrels of the famous whiskey.
The Volstead Act allowed the sale of intoxicants only as prescription medicine. Federal inspectors guarded the Jack Daniel warehouse, but its inventory was just too tempting.
In August 1923, well-connected crooks methodically siphoned 31,000 gallons through a hose to trucks waiting down the alley. They refilled the barrels with vinegar and water, leaving one untouched — all under the easily distracted eye of chief guard William Kinney, who had family links to the Egan's Rats gang.
When a visiting inspector tasted vinegar, the notorious "whiskey milking case" was born. Two years later, in a federal trial in Indianapolis, 23 men were convicted in the scam, including several prominent St. Louisans.
Among them were former city Circuit Clerk Nat Goldstein and Arnold Hellmich, chief federal revenue agent in St. Louis and the man who had appointed Kinney. For their trip to prison at Leavenworth, Kan., they rented a private railroad car.
More than 4,000 admirers cheered them when the train backed into Union Station for a stop. Tom Foley, a local gambler and milking convict, scanned the crowd and said, "We can't be so bad after all."
Charlie Birger grew up in St. Louis and led a gang in Southern Illinois. Their main rivals were hoods led by the Shelton brothers, country boys named Carl, Earl and Bernie.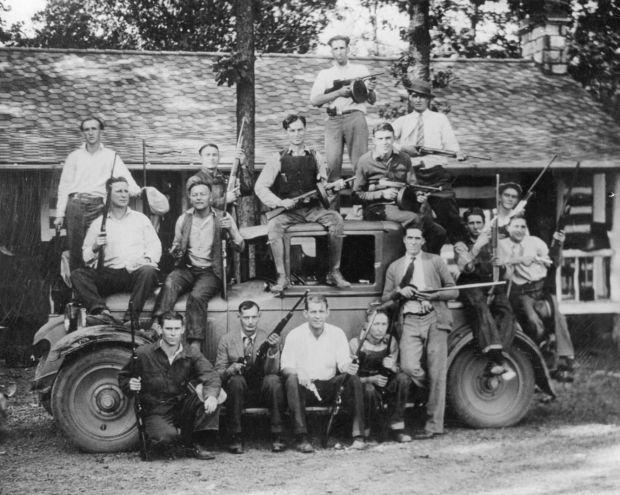 Birger's hideout was the Shady Rest, a former tourist stop 10 miles east of Marion, Ill. On Nov. 12, 1926, Birger gangsters shot up the home of a brother of Joe Adams, mayor of West City, Ill., and a Shelton ally. The retaliation was creative.
The Sheltons quickly hired a barnstorming pilot, who took one of their men up in a Curtiss Jenny biplane for a bombing raid over Shady Rest. The bombardier tossed three homemade dynamite bombs, only one of which exploded to no strategic effect. Birger men sprayed the sky with submachine-gun fire, missing the plane.
One month later, Birger assassins cornered Adams. Birger was convicted in the murder and went to the gallows in Benton, Ill., on April 19, 1928. Shortly before his death, he told the Post-Dispatch, "I've shot men in my time, but I never shot one that didn't deserve it."
Two weeks before Election Day in November 1932, Democratic candidate Franklin D. Roosevelt spoke at a rally in the St. Louis Coliseum at Jefferson and Washington avenues, then the city's main auditorium. Sensing victory, more than 12,000 giddy Democrats jammed the arena and an additional 5,000 crowded the sidewalks.
They applauded Roosevelt's ponderous 50-minute speech about farm policy and railroad debt, but roared when he called for restoring beer production.
"We want beer!" rose the chant.
On Nov. 8, four days before the election, President Herbert Hoover spoke at the Coliseum. St. Louis Republicans begged him to say a good word about alcohol, but he declined. Not that it mattered — with the Depression at its depths, Roosevelt won a 42-state landslide.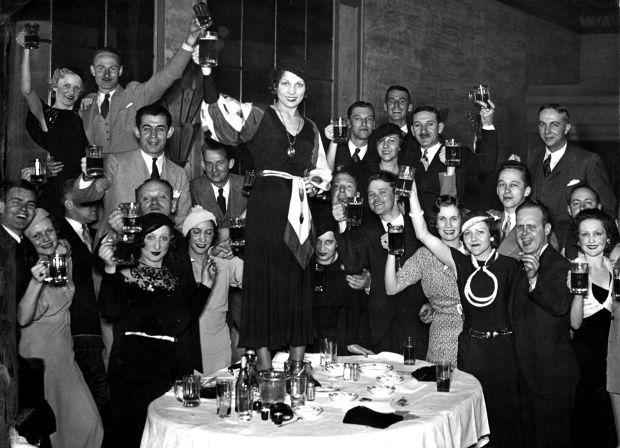 Beer drinkers got their wish at 12:01 a.m. on April 7, 1933. A decidedly wet Congress had begun the effort to repeal Prohibition, but that would take months. Meanwhile, it finessed the definition of "intoxicant" to allow beer with 3.2 percent alcohol content.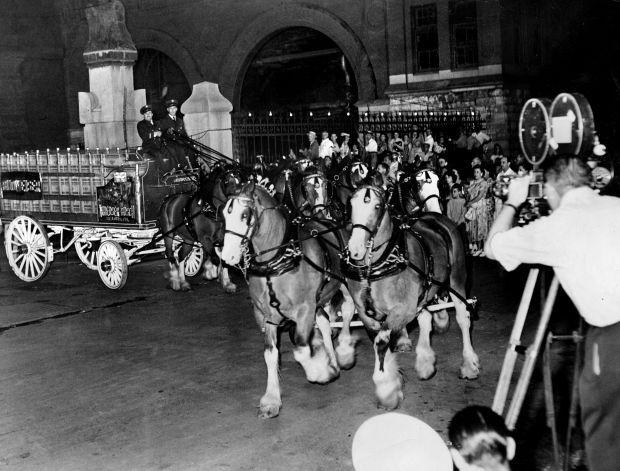 Festive crowds gathered at the Anheuser-Busch and Falstaff breweries as midnight approached. "Come and get it," shouted August A. "Gussie" Busch as truckloads moved through the crowds for deliveries to the lucky holders of federal permits to sell beer.
One was the Elks Club at 3619 Lindell Boulevard, where Mayor-elect Bernard Dickmann led the first round.
On Dec. 5, 1933, the 21st Amendment for repeal became part of the U.S. Constitution. Missouri legislators would dither a while more before striking the state's own ban against the full drink trade.
Not that it mattered. When police arrested a liquor-store owner, city Circuit Attorney Harry Rosecan refused to prosecute, saying, "This man has committed no crime."