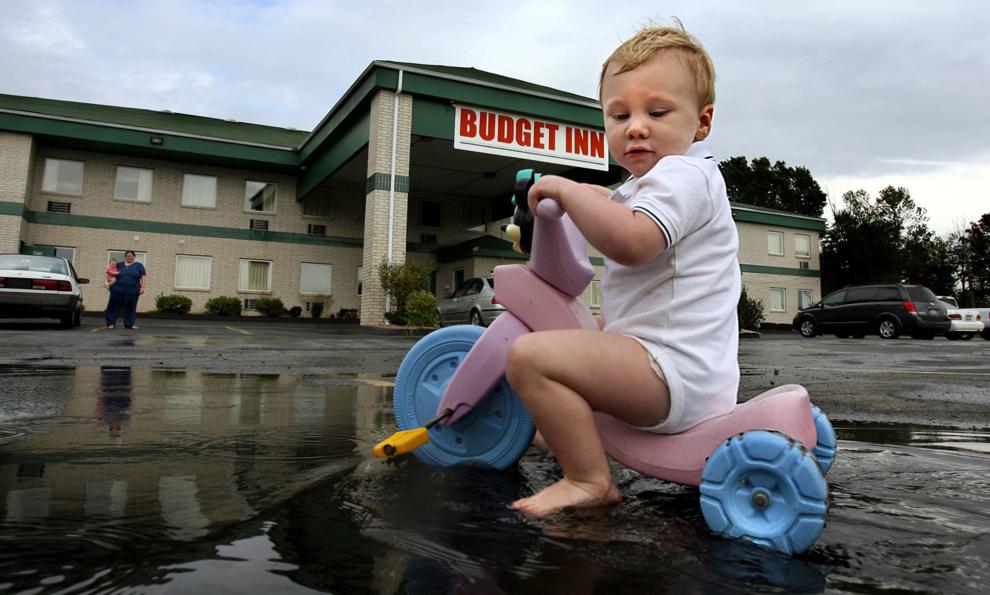 Wentzville - The power to the lights and TV blinked off and on, probably a warning from the front desk that it was time to go.
The motel room, cramped with toys and boxes of items from the food pantry, was stuffy - the air conditioner barely churning out cool air. The counter next to the sink was filled with clean sippy cups and other dishes. Underneath, a stack of dirty clothes awaited a day when Joe and Cherri Trantham would have enough money to go to a laundromat.
It's a typical sight these days at two Wentzville motels that have become home to the homeless. Because of a shortage of shelters in the county, charities and churches pay for homeless people to stay in motels until they can find work or other housing. But the groups can't support all those who need help.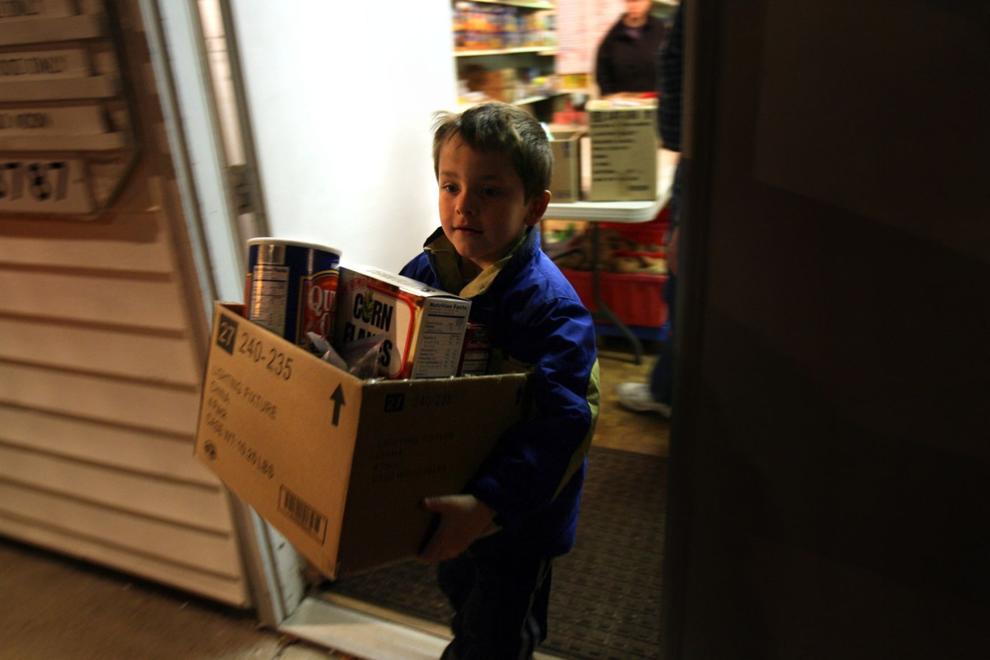 In her room at the Budget Inn earlier this month, Cherri Trantham crumpled the torn-out yellow phonebook pages and threw them on the bed. All of the area churches she called turned down her pleas for help. Her babies were fussy and crying. Drew, 2, had a bad cough. If they couldn't come up with $80, her family would be out of the Wentzville motel and on the street that night.
"My family is very desperate right now," Trantham said into the phone. "I'm at my wits' end."
She listened for a moment before murmuring a thank you and ending the call. "They said 'No funds,'" Trantham told her husband, Joe, who was reading her numbers while Mary, 10 months old, stood in the crib behind him.
The motel owners had let them stay last night, but they were already two hours past check-out time and not any closer to coming up with the money to keep a roof over their heads.
They had been here before, about to lose the only place they call home.
Suburbia meets national issue
The intersection of Interstate 70 and Highway 40, dubbed the "crossroads of the nation" by Wentzville officials, is also where suburbia meets a national problem. To some, the Budget Inn and Economy Inn are a place to grab a no-frills $36 room on a road trip. But for those with no place left to turn, these two motels have become a hub.
For several years, they have housed St. Charles County's chronically struggling, homeless and fragile families. The recession exacerbated the homelessness problem in a county where just one small shelter exists for families and single parents. And donations to organizations that help are dwindling.
A one-day count earlier this year found 98 homeless people staying in hotels in St. Charles, Lincoln and Warren counties - but Dottie Kastigar of the Community Council of St. Charles County suspects the number is much higher.
"I don't think we've hit the worst of it," she said. "I think it's going to be a really bad winter. Those (motels) are basically our homeless shelters in our community."
In otherwise affluent St. Charles County, the median household income is estimated at more than $70,000. Near the motels, newly built subdivisions have made Wentzville one of the fastest growing cities in the nation.
"You just don't think of St. Charles County when you think of homeless," said Patty Strunk, who began bringing hot meals to families at the motels about a year ago with co-workers and friends. "People don't realize there is that much of a need."
In St. Charles, Lincoln and Warren counties, the Salvation Army in O'Fallon, Mo., is the only shelter available to families and single parents and their children. It has just seven rooms, most of which have four beds, and frequently must turn families away.
Stopover for some, home for others
The parking lot at the Budget Inn has some older-model, beat-up cars belonging to the homeless, and a few newer models, usually belonging to travelers on I-70 stopping over for the night.
Those passing through might not realize that the motel houses the homeless unless they see the bulletin board in the lobby with a schedule of "Motel Meals for the Homeless" that volunteers bring a few times a month. They could also catch sight of a school bus stopping in the morning to pick up students. Or they might smell microwaved food (usually pasta, a food pantry staple) wafting through the hallways.
The Tranthams had checked into the Budget Inn about three months earlier. After Joe, 26, lost his job at McDonald's in Wright City, they were forced to move out of the mobile home they were renting.
They lived in another motel for a little while, then at Joe's mother's house, before someone connected them to Paul Kruse. His organization, First Step Back Home, pays for homeless people in the St. Charles County area to stay in motels until they can find work or other housing.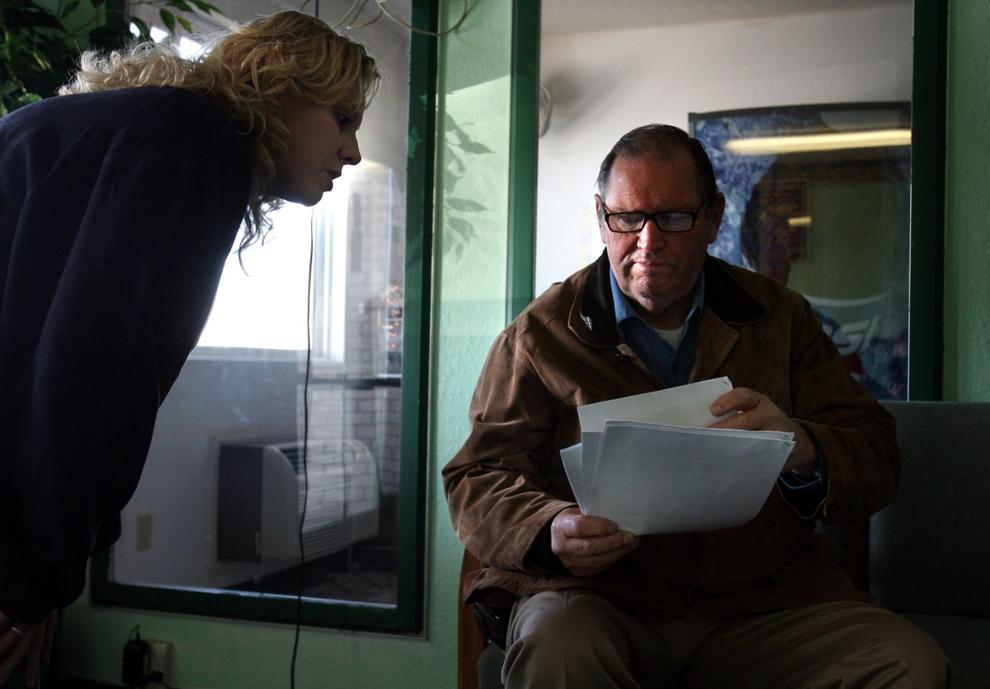 The Tranthams' room, with a double bed, holds all of the belongings they can fit. Two wooden cribs are pushed up against one wall for the children, Drew and Mary.
"When you go on vacation and stay in a motel, you know it's like, 'Ahhh, relaxation,'" Cherri Trantham, 32, said. "But when you live in a motel, you're like, 'When is this vacation gonna end?'"
The Tranthams got married in a courthouse wedding last month, partly so they would be eligible to stay at the Salvation Army family shelter in O'Fallon. But the shelter was full.
In October, Joe Trantham was looking for a job at a fast-food restaurant but hadn't found one. The minutes Kruse paid for on a cell phone for Joe as he applied for jobs ran out. At that point, so did Kruse's help.
Kruse, who established First Step Back Home about four years ago, has helped about 250 people so far this year get shelter in motels. He says he gets twice as many calls these days as he did before the foreclosure crisis. He averages 10 to 40 calls a day for help in getting shelter, gas or food.
But with fewer people donating in dismal economic times, he's had to turn away more people this year.
He details every call in a spiral notebook filled with little bits of information about the person calling, what they have (job, shelter, baby, etc.) and what they need. On a recent afternoon, he had 40 people waiting on the list for help.
At this time last year, First Step Back Home had received nearly $84,000 in donations. So far for 2009, the total is hovering around $50,000.
After spending more than $1,000 on helping the Tranthams, in October, he had to turn them down when they asked for more help. Joe had said for weeks that he had a lead on a job at McDonald's in Wentzville, but at that point, it had not come through. (A few weeks later he was hired.)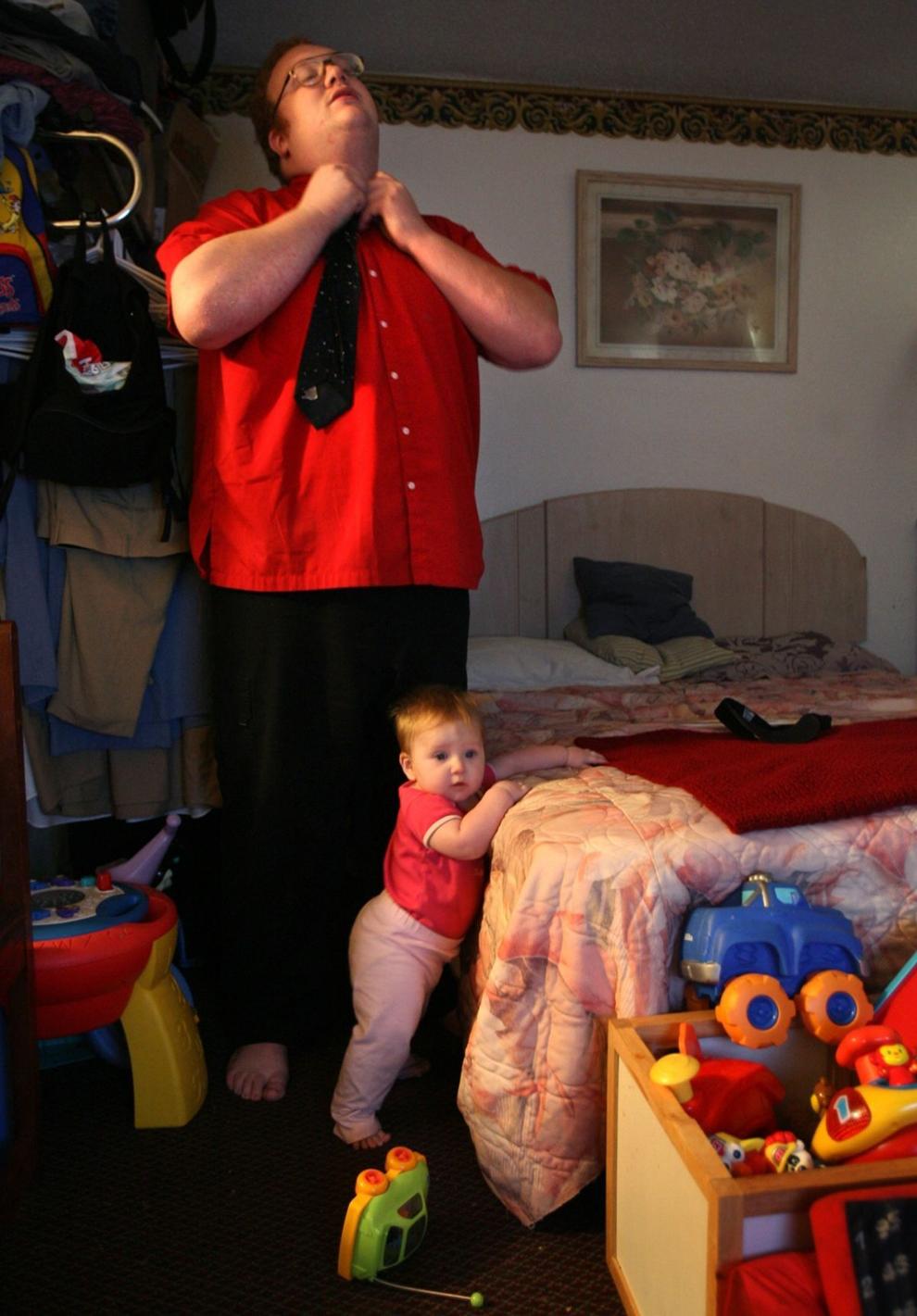 "I tend to spend more money on families with kids. But I just can't help them anymore," Kruse said. "I'm actually telling people I can only help you if you're working."
He often refers families to churches for help.
'You guys want some chili?'
A few times a month at the Budget Inn, volunteers bring a hot, home cooked meal. They carry in crock pots through the front desk area, making their way to a room that sits across from the motel's small indoor pool.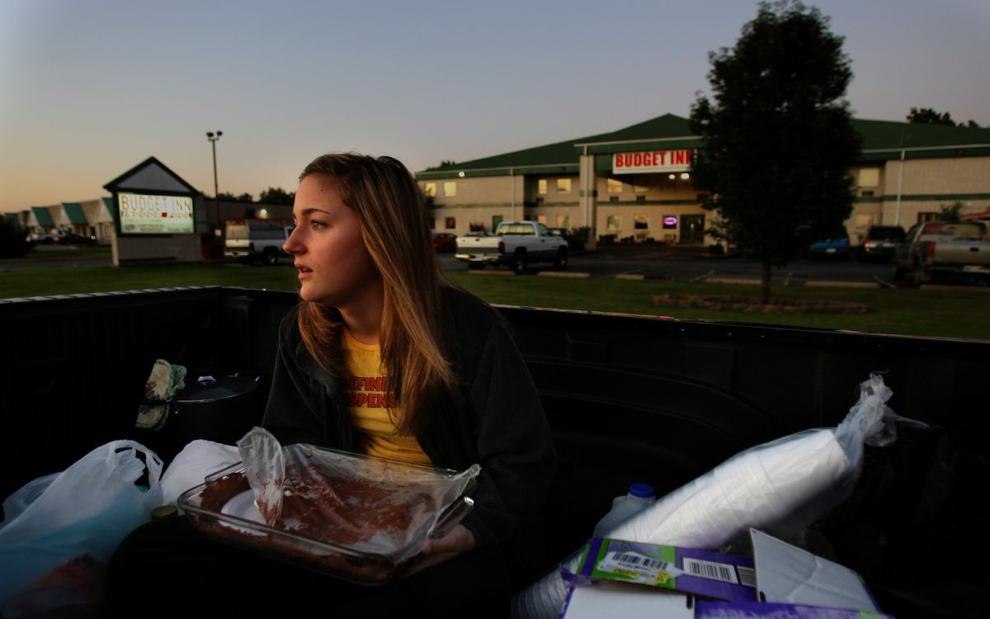 After setting up on the counter where the motel serves coffee and doughnuts each morning, Beth Banze on a recent day began to spoon up bowls of steaming chili she made in between shuffling her kids to piano lessons and taking care of a son with strep throat.
"Even though it's falling in the middle of my chaos, you put it into perspective," she said as she spooned peanut butter on one slice of bread and folded in it half, placing it next to the bowl on a plate. "Sometimes you think, if you don't go, who is going to?"
She and her husband, Todd, began bringing meals to the motel after a fellow church member, Bob Hessel, made an announcement at Faith Christian Family Church.
"Love you guys! Love ya!" Theresa Little, 48, called behind her back as she carried two bowls of chili up to her room, where she has lived for the past year. After she ate, Little was back, looking through plastic garbage bags of used clothing the church group had brought.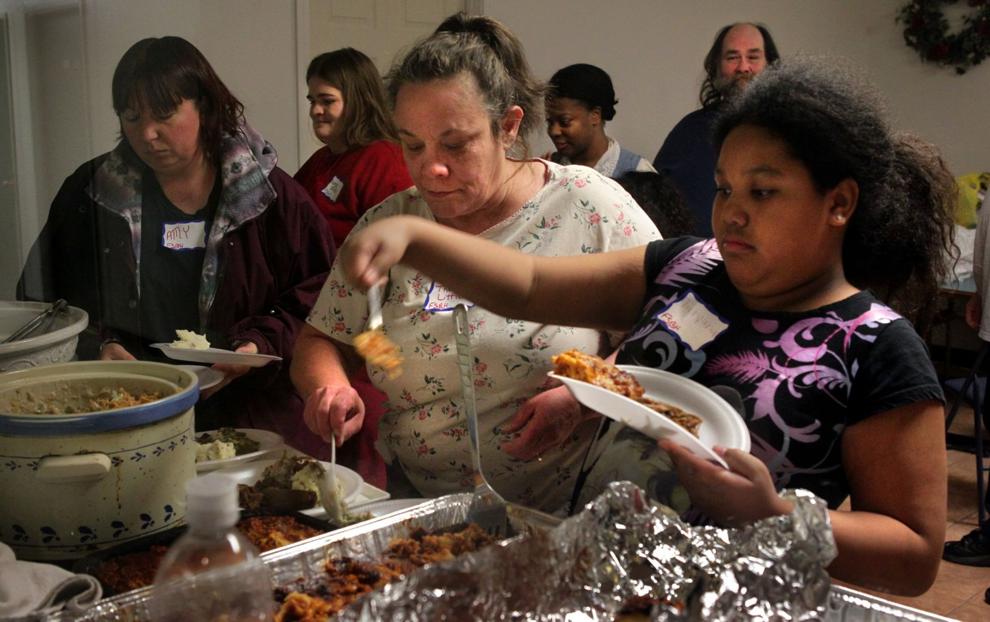 After about half an hour, Hessel's group loaded up their crock pots and headed down the service road in a caravan of three vehicles to their next stop - the Economy Inn. They pulled up outside and put the chili on the back of Hessel's truck. He and Todd Banze headed in to knock on doors.
Hessel, who knows each motel well, walked to the rooms where he knows people are staying long term and knocked.
"You guys want some chili?" Hessel asked as a mother answered the door with her 7-year-old daughter and a baby boy. They'd been living there about two months. The mother nodded and said they would come out.
"We just figure this helps a little bit," Hessel said, heading back to the food. "Some people have jobs, that's fine. If some people try to take advantage of us, that's how it goes."
Motel desk manager turned counselor
Most days, Darlene Morgan's job is more like a counselor than motel desk manager.
She's worked off and on at the Budget Inn for the past few years, seeing families come and go. Many end up returning when they once again need a roof over their heads.
When help has run out for them, they come to Morgan, 44. Behind the counter in the lobby, she'll get out phone books and make copies of the pages listing nearby agencies that might help pay for a room. She'll give directions to the food pantry. She might even put in a good word with her boss. But she's also the one who often has to say, "Money or out."
Someone in crisis, looking for the money to pay the motel bill for one more night, is "a constant thing," Morgan said.
"I've even let people come and live with me. Sometimes I get tired of being tough, and I can't walk away from the situation," she said. "It got to be so much stress working here that I quit for a while."
For the owners of the motel, there is good and bad that comes with having homeless guests, Morgan said. In the slow winter season, people staying for weeks or even months at a time provide a steady source of income. But they can also drive other guests away and drain the motel's resources for utilities and upkeep.
On that day earlier this month, it was the Tranthams who had to either pay up or leave.
Cherri Trantham was sniffling as she filled a few sippy cups for Drew so they could take him to a doctor and get his cough checked out.
Neither Joe nor Cherri said it out loud, but they knew that when they returned to the motel they might not get back into the room. The owners could move out their things. But there was too much to pack in their two-door Chevy Cavalier, and they were already late.
After the doctor saw Drew, the Tranthams stopped at a church in Warrenton. Joe went inside to ask for help, and Cherri waited in the car with the kids.
Cherri said they were parked next to another car, and a man came out and asked her name. He had overheard her husband inside asking for help. Then he handed her five folded $20 bills, she said.
"I just started crying and went to get out of the car and give him a hug. I told him he truly was a blessing," Cherri said. "He said, 'No, I just want your day to get better now.'"
The family had a place to stay - at least for another night.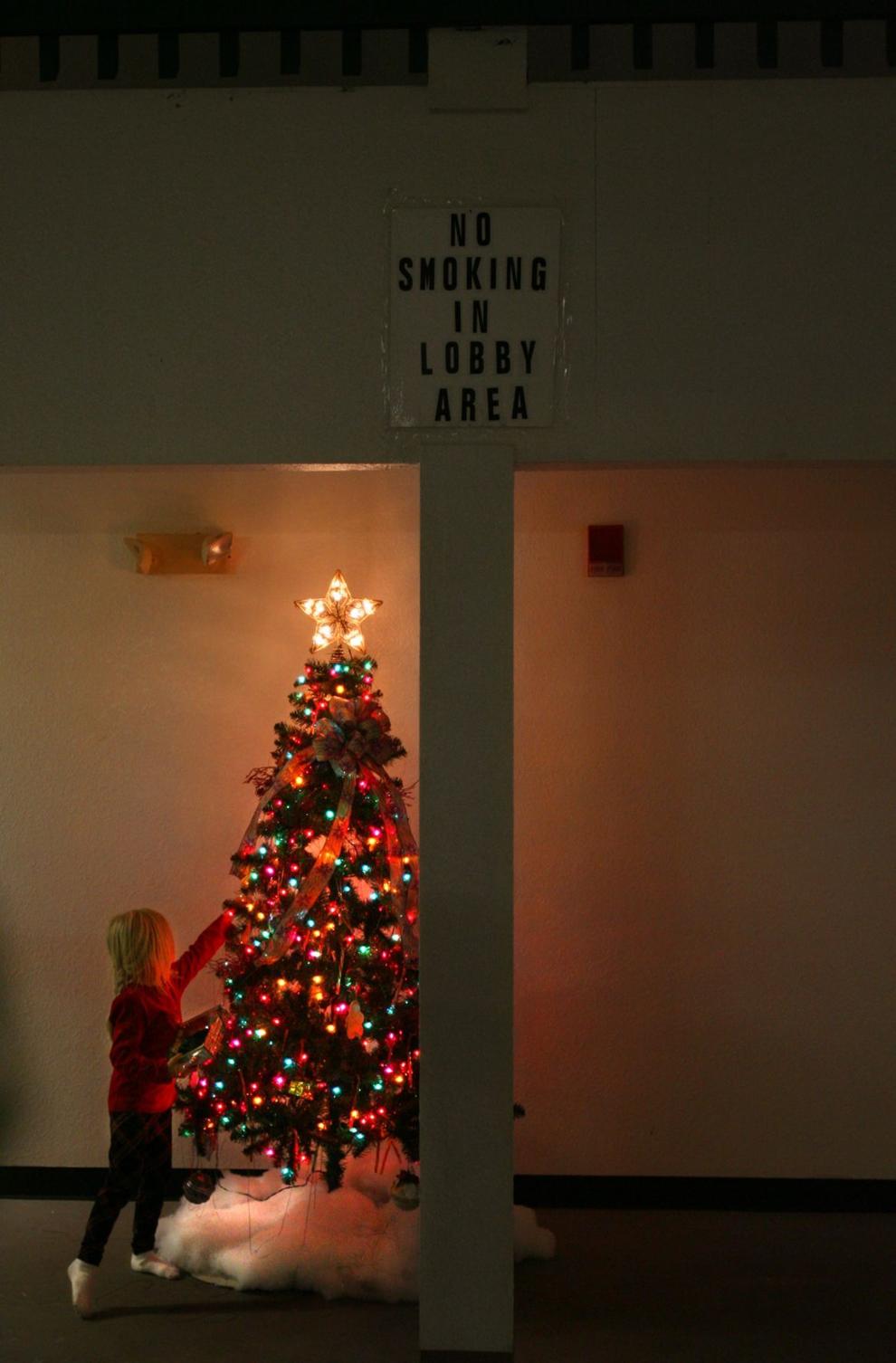 - First Step Back Home, contact Paul Kruse, 314-852-5288
- Sts. Joachim & Ann Care Service, 636-441-1302
- The Salvation Army, O'Fallon, Mo., 636-240-4969