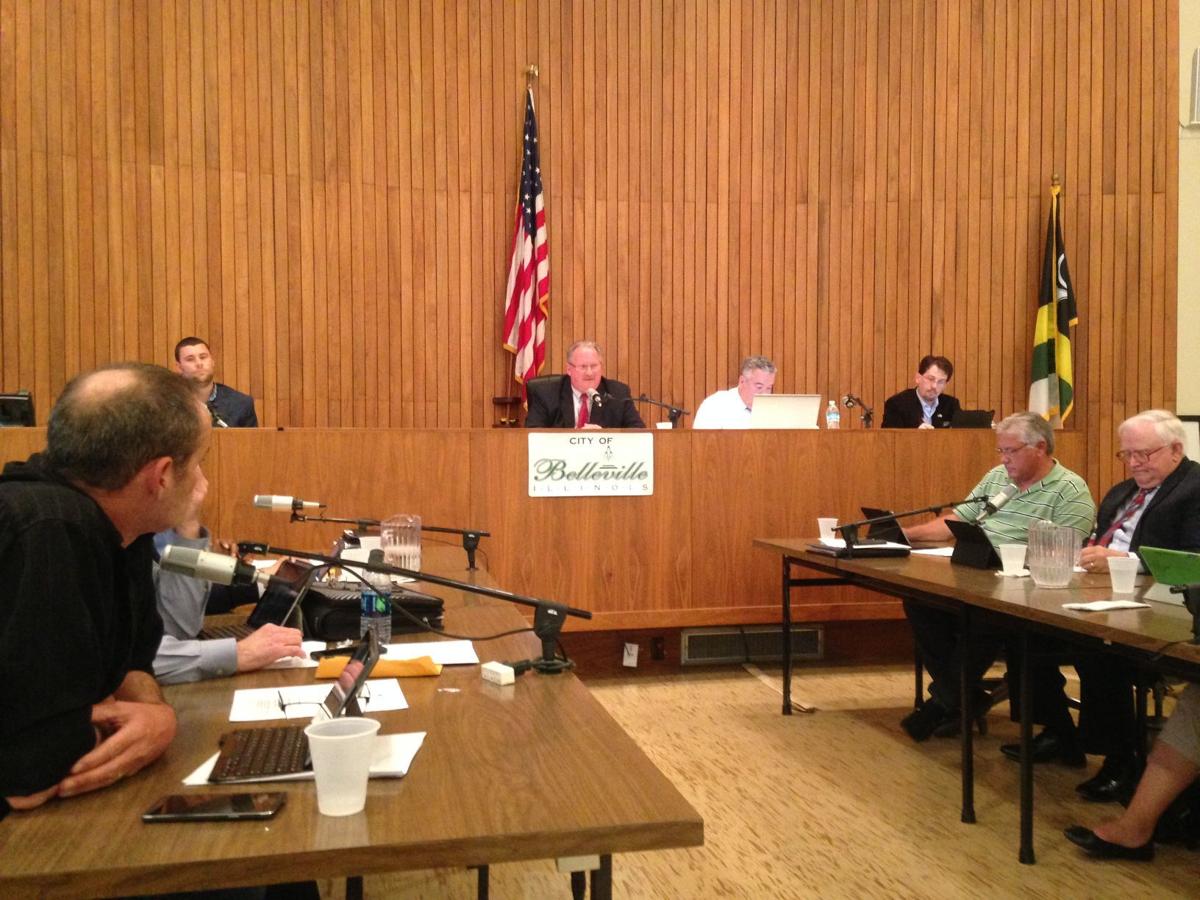 BELLEVILLE • The Belleville City Council voted unanimously Monday night to dissolve the city's own township, which gets hundreds of thousands of taxpayer dollars a year to do little more than provide financial aid to 40 needy people each month.
The city will take over the township's functions starting in May 2017. A task force will oversee the transition.
Now that the township will be dissolved, the city will only employ one part-time city worker to administer the same programs the township did. Belleville City Clerk and Township Clerk Dallas Cook projects the yearly savings to be about $260,000.
"We're providing the same services while saving the taxpayers hundreds of hundreds thousands of dollars," Cook said.
The township's trustees unanimously voted in January to dissolve the township because officials think it's a waste of taxpayer dollars to pay another government body to do something the city government can easily do.
Townships in Illinois are local government bodies that provide various services, such as road maintenance or senior programs, to residents in a certain area. They're particularly useful when they provide services to unincorporated areas that otherwise don't have a government body to provide certain services, said Cook.
But Belleville's township is a rare case of redundancy in that the area it serves is the same area that the city of Belleville already covers, said Cook, who spearheaded an effort to dissolve the township.
The township's main job is to dole out financial aid — up to $245 a month — mostly in the form of gift cards to residents who are not seniors or children, who have no income and receive no federal or state aid.
But that category of people is so small, the township only ends up giving financial aid to 40 people who qualify for it, in what is called the general assistance program, Cook said.
Other than that, the township gives aid to some community programs like senior services, food banks and summer camps.
The budget for the 2015 fiscal year showed revenue of $548,607 for the township, of which about half went to salaries ($221,358) and expenses ($54,747). The budget showed $83,798 going to general assistance and $89,644 to community projects.
Much of the salary expenses go to two-full time employees, but the township also pays each of its four trustees $2,500 a year. It also pays a township supervisor $20,000 a year and the township clerk $2,000 a year, according to its most recent budget. Other administration expenses include building rent and insurance.
The township supervisor, Dennis Korte, and the township's two employees could not be reached for comment Monday evening.
Because there are so many government bodies, Illinois residents on average pay the second-highest effective property tax rate in the country, which is 2.32 percent, according to the Tax Foundation.
Last August, Gov. Bruce Rauner signed into law a bill authored by State Rep. Jay Hoffman, D-Swansea, that allows cities with redundant townships like Belleville to adopt an ordinance to dissolve them. Before that, a city would have had to garner petition signatures from voters in every township in its county to put that decision to a vote, Hoffman said.
The Belleville township is the second in Illinois to be dissolved, Hoffman and Cook said.