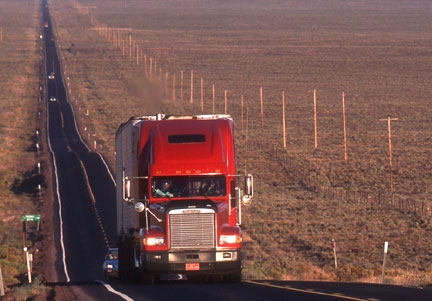 SPRINGFIELD, Ill. • Illinois Department of Transportation officials are urging lawmakers to put the brakes on a proposal that would bring big rigs up to speed with cars on four-lane rural highways throughout the state.
A proposal approved by the Illinois Senate would boost truck speed limits to 65 miles per hour, from the current 55 miles per hour, on parts of Interstate 270, I-255 and other stretches of rural roadways -- 307 of the 140,000 miles of highway in the state.
Cars already travel those roads at 65 miles per hour and the variation in speeds makes roadways more dangerous, the Illinois Truckers Association argues, because cars are constantly weaving around the slower-moving big rigs.
Uniform speeds allow for "less vehicle interactions, to make it a safer environment out there," said Matt Hart, executive director of the trucking association.
But IDOT opposes faster travel and claims speed is a threat to safety.
"The impact of a truck hitting another vehicle is over 30 percent greater, when traveling 65 miles an hour compared to 55 miles an hour," said Michael Stout, director of traffic safety for the department. "Trucks traveling at 65-miles-an-hour will cause more injuries, crashes and deaths."
Stout presented figures from 1996, the year Missouri raised the speed limit on four-lane rural highways to 65 miles per hour. Large truck fatalities rose from 97 in 1995, to 167 in 1996, Stout said.
According to data from the American Trucking Associations, fatalities in truck-related accidents nationwide have been trending downward in recent years, Hart said.
"The engineering is doing a good job on the road," he said. "The engineering of trucks and automobiles has greatly improved."
Lawmakers on the House Transportation Committee sent the measure to the full chamber on a 4-3 vote.