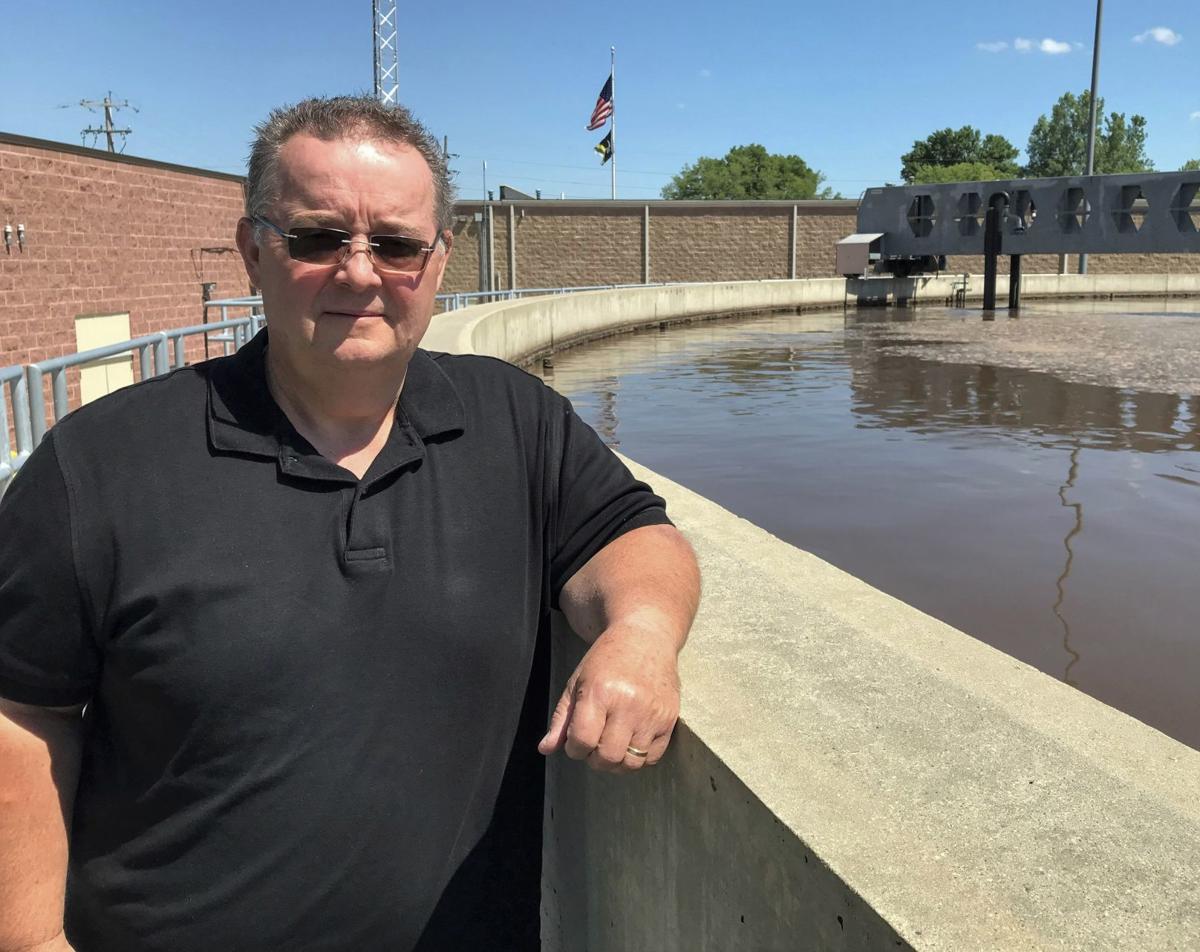 BELLEVILLE — Taped to a wood-paneled wall in Royce Carlisle's Belleville office is a faded piece of paper turned yellow by time that says, "If you build it, they will come!"
That variation from a line in "Field of Dreams," was shared with him years ago by an engineer. It speaks to Carlisle's efforts building and maintaining Belleville's wastewater facilities over the last 34 years.
Carlisle, 62, is retiring Friday as director of the city's wastewater treatment plant and sewer lines after 17 years in the position.
"It's been a wild ride," he said, in large part because of strange occurrences over the years, such as levitating manhole covers, car parts discovered in the sewer system and telephone poles in sewer lines.
"As a young man, I didn't anticipate a career like this," he said. "But I've grown to love this job, and all told we manage some of the most important things needed for the city to operate and for residents to live comfortably."
Beginning as a wastewater treatment plant operator in 1986, Carlisle said, working at the plant initially was simple. Go to work, make sure nothing bizarre happened, go home, get paid.
His supervisor sent him to a conference in Springfield, Illinois, where he met other wastewater professionals. The session inspired him, he said.
As an operator, he was in the trenches day by day, learning the basics of the plant. He described a time a telephone pole floated by at the city's "headworks," an area that every sewer line in the city streams into for the first phase of water filtering.
About 6 feet long, the pole floated at least a half mile down a sewer line. Carlisle explained Belleville has a combined sewer line system that also takes in rainwater runoff, which sometimes means items that shouldn't be in sewer lines flow in.
"We lassoed it out of there," Carlisle recounted as he shook his head.
And similar events happened again over the years, including in 2003 right after he took on the director role. His crew found tree roots and car parts in a sewer line that collapsed into a creek.
"When you find the front end suspension parts of cars inside your sewer lines? That's why I say a wild ride," he said.
He remembers a 150-pound manhole cover "levitating on a column of water" above the street. He said watching it was scary, but the water pressure problem that caused the occurrence was swiftly fixed.
That was about when Carlisle began to learn the issues surrounding Belleville's wastewater systems. Many of the pumps and pipes were at least a half-century old. Customer calls flooded the office because of backups, he said.
The city eventually received a letter from the federal Environmental Protection Agency.
"(They said) 'You're reaching capacity at your plant. This could affect future growth,'" Carlisle said.
If it didn't comply with EPA mandates, the city wouldn't have a permit to build sewer lines. If Carlisle has learned one thing over the years, it's that urban expansion requires sufficient sewer lines. Large developments won't move in without those pipes underground.
"It may look like you're wasting money at first, but eventually when a developer comes here one of the first things they're going to ask is, 'What kind of utilities are there? Is there sewer there?'" Carlisle said.
By 2007 Belleville's plan to upgrade the sewer system was approved by the EPA — a big win. But then came the work.
"From that point until now, we've been constantly working on construction projects to comply with (a) long-term control plan," he said. "To rehabilitate the whole entire sewer system in Belleville, it's just overwhelming. We've been taking it little pieces at a time."
The department operates on a budget of just under $5 million, which keeps the wastewater plant and pumps running, Carlisle said. More money has been allocated for special projects over the years.
"If you're leaving a legacy, that's to extend the city," he said. "(But) I did not do all this on my own."
On a recent sunny day, Carlisle walked through the graveled grounds of Belleville's Wastewater Treatment Facility and reflected on the technology he's seen develop since his start in the industry.
"We've made big strides so far with the city over my tenure here," he said.
Though there are problems Carlisle couldn't fix, issues that will come down the pipes in the future and a city that continues to expand, "It's time for me to go," he said.
Be the first to know
Get local news delivered to your inbox!