ST. LOUIS —Even though the calendar says fall, summer is hanging in there, at least for another few days.
The National Weather Service office in Weldon Spring confirmed a high on Tuesday of 92 degrees, breaking the record of 91 degrees for this date set on Oct. 1, 1952.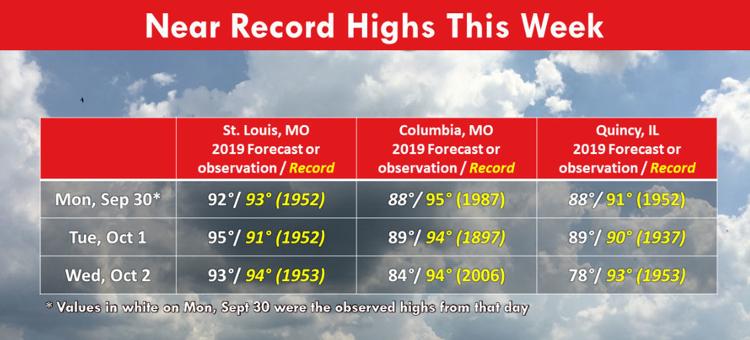 It has gotten as high as 94 degrees three times in the month of October: Oct. 3, 2006, Oct. 11, 1963 and Oct. 2, 1953.
Temperature logs have been around since 1874, kept by the federal weather bureau.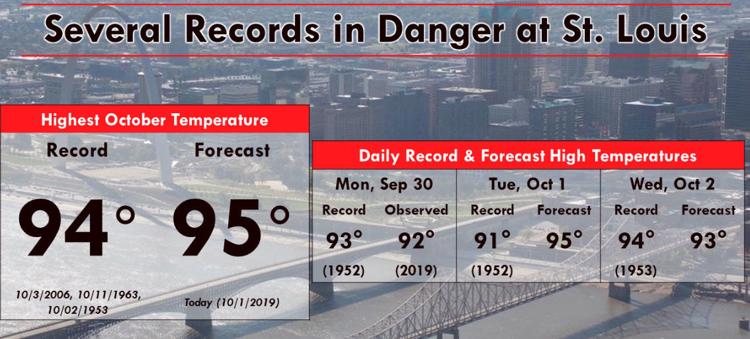 Jared Maples, a meteorologist with the National Weather Service, said the normal high on this date for St. Louis is 74 degrees.
"It really puts it in perspective, that we're going to be about 20 degrees above that," he said.
The unseasonably warm temperatures aren't just in St. Louis. Areas in the south and southeastern United States also are experiencing this summer-like pattern, he said.
Forecasters say Wednesday's high in St. Louis could be a near-record. The forecast for Wednesday is 93 degrees, which would be one degree shy of the record of 94 degrees on that date (Oct. 2) in 1953.
By the weekend, St. Louis weather should feel more like a normal fall. The weekend highs will be in the upper 60s and lower 70s.