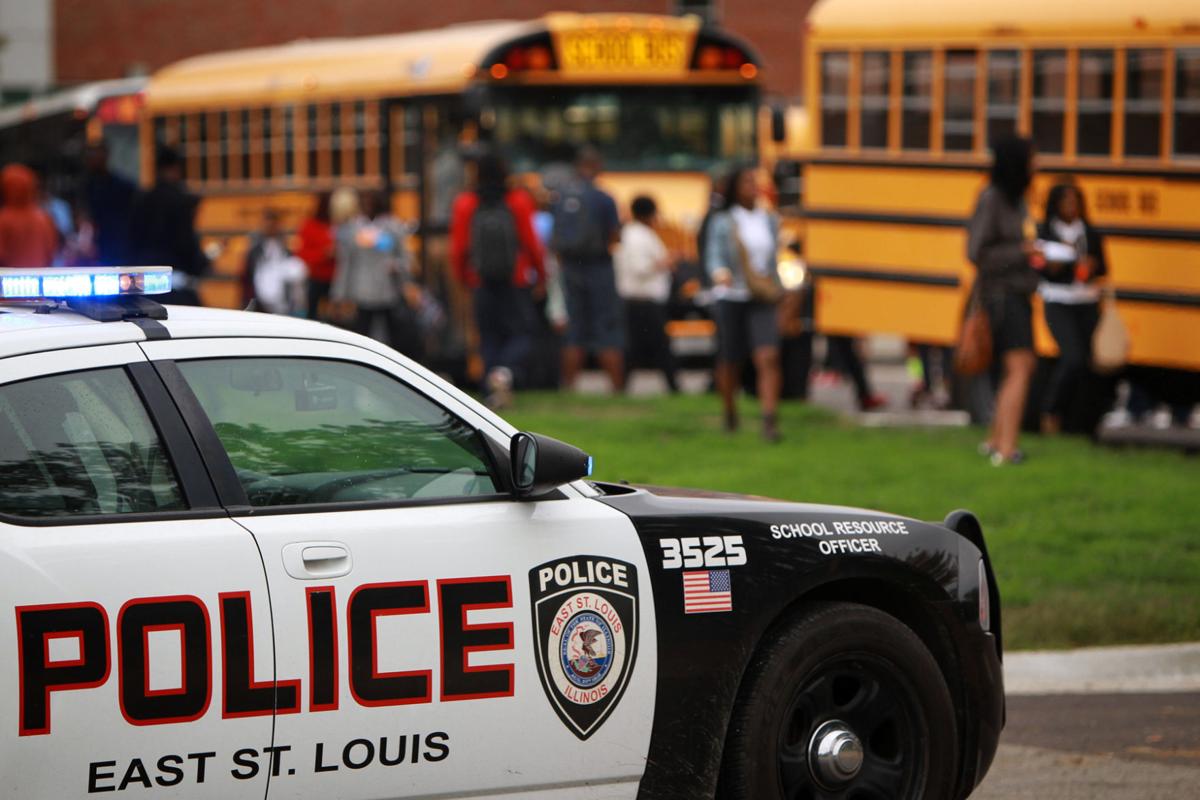 EAST ST. LOUIS • Of all the new restrictions Mayor Alvin Parks enacted this week to battle youth violence, the most controversial is limiting what colors male residents can wear.
Parks on Wednesday said anyone under 18 would be arrested if they were not in class during school hours, or if they were not home by 10 p.m. And even before 10 p.m., he said, children and youths only will be allowed to attend school, after-school programs, church or work unless accompanied by a parent or guardian.
But it was his pronouncement that males of any age would be banned from wearing royal blue or bright red clothing — colors generally associated with gangs — that attracted the most reaction.
Several residents on Thursday said the clothing limitations will be hard to implement, and an advocacy group said the order could infringe on civil liberties.
"How can you tell a person what color they can wear?" retired teacher Alfred Larry, 60, said Thursday afternoon while leaving the post office at 950 Old Missouri Avenue. "That's outrageous."
The color ban sparked conversations on social media websites Twitter and Facebook, where a group formed to oppose the mayor's actions.
Even Police Chief Michael Floore said he isn't sure how his officers will enforce the clothing restrictions. He said he hopes the focus will gradually turn away from the clothing and center on the children
"A lot of that, we've got to gradually do," he said on regulating clothing by color. "Realistically, we'll probably turn back from it. We just want to make sure these kids are going to school, make sure they're not on the streets."
In the legal community, some say the mayor's initiatives go too far — especially the color ban.
"You can't simply outlaw a color. It just doesn't work that way, especially when you're talking about possible detention or arrest," said Edwin Yohnka, director of public policy for the American Civil Liberties Union of Illinois.
Yohnka said police should only detain a person based on clothing or appearance if there has been an actual criminal event with a clear and detailed description that matches that suspect.
"We want to ensure that police are justified before they take the extraordinary step of stopping them on their way and detaining them," he said.
Yohnka said Illinois permits local governments to enforce truancy laws and enforce curfews. But he said those curfews should not be allowed to infringe on First Amendment rights. And he questioned their overall effectiveness.
"You're putting an awful lot of law enforcement's limited resources in enforcing these laws, as opposed to addressing the underlying causes of violence," Yohnka said.
Other places have enacted anti-gang laws regarding clothing and symbols but not without challenges.
One of the first was created in 1993 in Harvard, a suburb of Chicago. That ordinance forbade the display of any gang insignia or clothing, but it was rejected on an appeal. Judges said the Harvard ordinance could result in the prosecution of nongang members for wearing popular jackets and hats as a style choice, unaware that the apparel had originally been adopted by gangs as their symbols.
In the aftermath, the city rewrote its ordinance to be more specific, such as forbidding the altering of certain clothing to resemble a gang symbol. 
Earlier this year, New Orleans came under scrutiny by juvenile advocates and the Louisiana ACLU for trying to enact a citywide curfew for juveniles starting at 8 p.m. Detractors said such curfews do little to deter crime and that it unfairly targeted African-American youths.
But some East St. Louis residents say such dramatic moves are warranted, especially after four young people were killed in two incidents last weekend. One of the victims was 18; the others were older.
The Rev. Kelvin McNeil, an East St. Louis resident who leads The Body of Christ Worship Center in Centreville, said the broad tactics being used by Parks may be necessary.
"There's not going to be an easy answer, no matter what the mayor says," said McNeil, who said he lost a son to violence in East St. Louis several years ago. "But sitting back and doing nothing, if we do the same thing and expect different results, is insanity. We have to approach this as a serious emergency."
East St. Louis already is the focus of an enhanced law enforcement presence. St. Clair County State's Attorney Brendan Kelly has said several agencies are focusing new tactics to curtail crime in the city to some success. One of the areas the agencies are focusing on is the city's public housing facilities, watching for people loitering.
Just before noon Thursday, a group of women sitting beneath a tree in front of the Norman E. Owens public housing high-rise on 14th Street near Old Missouri Avenue said they often see young men gathering in front of their buildings and in an adjoining park. Those groups of men have become smaller since the summer began, they said, which they attributed to the project Kelly talked about.
"When you see these youngsters gathered together, it's a sign of danger," said Audrey Riggs, a resident at the Owens building. "I feel a little change. You don't see them as much. It's getting better."
Edna Mayes, 84, who also lives in the Owens building, said the mayor's actions were a long time coming. But she predicted that a lot of people will take issue with his restrictions on clothing.
"That's going to be hard," she said, wearing a blue Barack Obama for President hat. "These people are going to fight that. You're not going to tell them what to wear. Besides, I've seen (gang members) out here in white. What now?"
At the Mary E. Brown Community Center, teens participating in a program by the Lessie Bates Davis Neighborhood House said they were often away from home at 10 p.m. Kelly Henderson, 16, said he, for one, will change his ways.
"Sure, I'd like to see my friends and hang out, but it wouldn't be worth it," said Kelly, a sophomore at East St. Louis Charter High School. "There's nothing out there for you to do but get in trouble anyway."