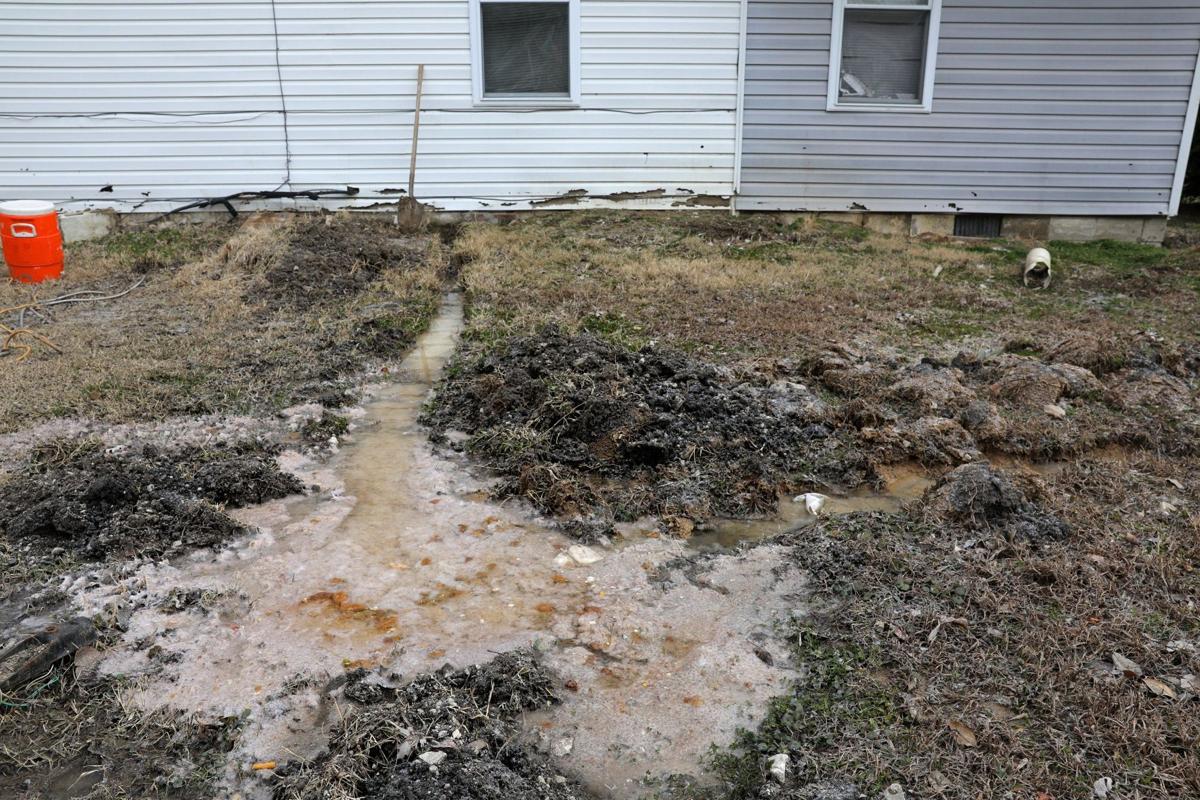 CENTREVILLE — They have filed a federal lawsuit. They've enlisted the help of Illinois' two U.S. senators. Now, Centreville residents are asking the governor and state environmental officials to intervene immediately in the city's flooding and sewage problems.
In a letter sent Wednesday to Gov. J.B. Pritzker and the Illinois Environmental Protection Agency, a group of residents pleaded for the state government to enforce environmental laws and require repairs to the city's failing wastewater and stormwater systems.
The letter was also signed by Equity Legal Services, Metropolitan St. Louis Equal Housing and Opportunity Council, Earthjustice and the Natural Resources Defense Council
The Post-Dispatch wrote about the problems plaguing Centreville — ranked last year as the poorest city in the nation — in a story on Feb. 23. The predominately African American city of about 5,000 people is 15 minutes from downtown St. Louis.
Wastewater and flooding are a constant for these residents, who watch as their homes deteriorate while public officials offer only temporary fixes. 
Residents have complained about sewage overflows, failing pump stations and leaking manholes for two decades. The letter accuses the state of not doing enough to hold local government agencies accountable.
The IEPA has been aware of the hazards since 2003, the letter states, yet little has been to done to require repairs. One couple has had an open sewer line continually flowing like a fountain in their front yard since 2007 or 2008.
The state's last violation notice to the sewer utility Commonfields of Cahokia was in 2013, despite ongoing issues.
"We are particularly concerned that IEPA may not be enforcing environmental protections in an equitable way," the letter states, noting that the state agency has enforced protections in nearby white, wealthier communities.
Elderly, retired hit hard
Many of the Centreville residents experiencing problems are elderly, retired and have purchased their houses. They can't afford to move and start over.
"We have invested greatly in our homes and deserve the opportunity to benefit from these investments, including the ability to enjoy our property free of sewage," the letter states. "Our environmental laws apply to all communities, and the state of Illinois should act accordingly to protect us."
Pritzker's office and IEPA did not respond Thursday to requests for comment.
The city's sewer system relies on nearly 30 above-ground pumps to move wastewater through the lines. Most are broken. Residents in Centreville can't flush their toilets and sewage backs up into their sinks and bathtubs. Many are forced to remove caps on their sewer line and let sewage flow into their yards.
In parts of the city, dirt trenches line the streets and drain runoff instead of storm drains. The trenches often overflow and mix with wastewater. Streets flood and trap residents.
Residents are left with rotting floors, mold-covered walls, crumbling streets and a stomach-churning smell. Many rely on donated bottled water because they are fearful the water system is contaminated.
The stormwater system is maintained by Centreville. The sewer system is maintained by the city as well as Commonfields of Cahokia. Some sewer lines are connected to East St. Louis' system, which also becomes overwhelmed and needs repair.
Residents say they have faced more than two decades of minor fixes and agencies finger-pointing and blaming the other for problems.
The letter asks the state to use grants or COVID-19 relief funds to replace broken pumps, investigate water pollution, issue violations and require fixes. It also asks for an outside party to inspect the sewer system and recommend repairs; and for East St. Louis to report failures within its system and make improvements.
Sens. Tammy Duckworth and Dick Durbin, both Democrats, sent a letter to Region 5 of the Environmental Protection Agency, asking the agency to enforce environmental laws, conduct water testing and identify solutions.
Duckworth and Durbin's letter also addressed the lack of response by the IEPA. They wrote: "The Illinois Environmental Protection Agency has been largely absent in taking enforcement action against the utility on Centreville residents' behalf, even though it has taken action against Commonfields on behalf of residents of nearby Belleville that resulted in system improvements for those residents."
The IEPA responded with a statement saying it "has been working with local leaders in the area as well as other potential stakeholders to identify the full scope of issues and determine possible remedies going forward. These issues will not be resolved by one agency, but will require a comprehensive approach and support from local communities, residents and stakeholders."
A federal lawsuit was filed two months ago on behalf of two Centreville residents in the U.S. District Court of East Louis. The lawsuit asks a judge to order local officials to immediately fix the sewer and drainage systems, made more urgent by the fear that the coronavirus could be spread by contact with wastewater.