CARBONDALE, Ill. • Last-minute clouds couldn't dampen the eclipse excitement of the tens of thousands of people gathered inside and around Saluki Stadium in Carbondale on Monday.
This Southern Illinois town had among the longest durations of totality in the country at 2 minutes and 38 seconds and expected some 50,000 spectators.
Saluki Stadium — the 15,000-seat football field at Southern Illinois University Carbondale — sold out tickets for its eclipse event. Tickets ranged from $25 to $10,000 for a 20-person suite.
Minutes from totality, the mostly covered sun peeked through an opening in the dark clouds over the crowd. It was clear skies 20 minutes before, and shortly again thereafter.
Still, the packed stadium got to experience the darkness — and the temperature — fall.
"Oh, I loved it," Los Angeles resident Malika Pizzo said, beaming while she continued to look up at the sun through her eclipse glasses a few minutes after totality.
Pizzo and her friends flew last-minute from Los Angeles to Chicago, and drove down to Carbondale during the middle of the night.
"The change of light was beautiful," said Pizzo's traveling companion, Evelyne Joan, in a thick French accent.
Despite the exhaustion of overnight travel, they all agreed they were revived by the excitement of the eclipse.
A tempered version of the excitement continued on in the stadium after totality, though most people packed up to leave.
SIU System President Randy Dunn watched from the roof of the press box, as did Illinois Gov. Bruce Rauner.
Dunn joked about the cloud coverage creating some frustration from the get-go, but like everyone else, he was grateful for some clearance at the last second.
"The level of exposure and visibility this has given our campus, I promise we couldn't have purchased with $50 million," he said.
There were SIU-themed eclipse glasses, fans and T-shirts all across the crowds of people.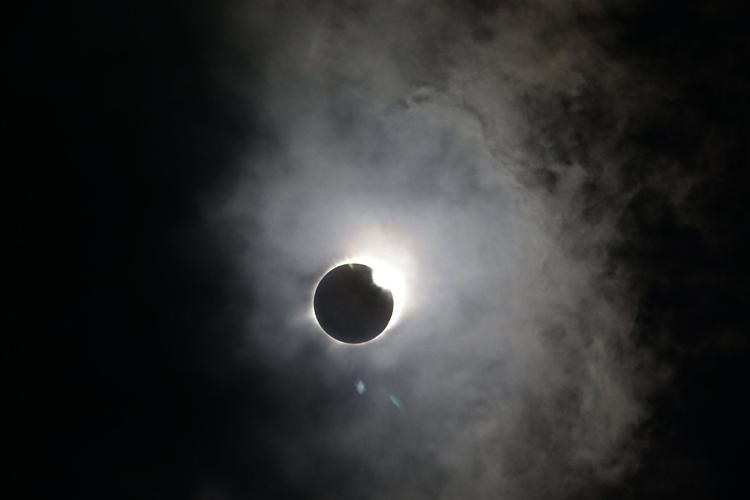 Just steps from the stadium, NASA broadcast a live four-hour "Eclipse Megacast" for NASA TV, local stations and national networks.
Cheryl Hidalgo got her two grandchildren and husband up at 4 a.m. Monday to leave St. Louis and drive to the stadium.
The family drove in from Williamston, Mich., and stayed in St. Louis for two nights, sightseeing during the day. The hotel room rates were doubled, but it was worth it, she said.
"Anything is always better if you can bring the grandkids," she said.